Just to continue in my reflections on life in Malaysia, I was struck yesterday by how few people were in the supermarket – in Europe the shops on Christmas Eve afternoon are a nightmare, with hordes of feverish shoppers desperately buying the last necessaries for food and presents. In Giant yesterday there were in fact less people than usual, and less aisles open too; at the
pasar malam
, there were less people too, as well as less stalls.
I'm feeling distinctly un-Christmassy this year; we didn't even put up decorations – been busy with other things and so on. Christmas always takes me a bit by surprise a bit here; in Europe there is always a long build up – the lights start appearing in the streets, peoples' decorations peek out from their windows and adorn their doors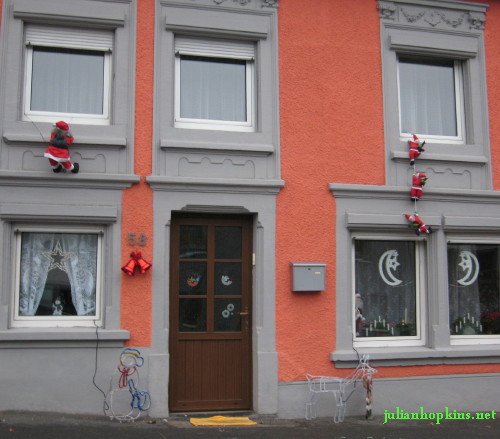 at the office decorations drape the filing cabinets and you start wishing people 'Merry Christmas' when you calculate that it's the last time you're seeing them before the date, an office party is organised, and a few lucky people tell you of their skiing plans or trips to the sun. In the bars, you can get special warming Christmas Ale, a good excuse for a tipple. At school, you may already have had Santa visit, and accumulated a few presents already.
The season prepares you for it too – the days have been getting darker and the home cosier; you know it's winter and winter means Christmas, you start to wonder whether there will be snow…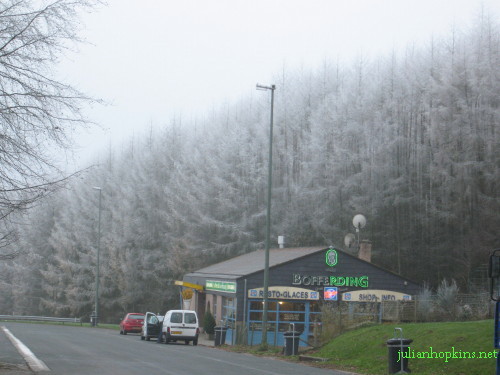 So for me, the lack of seasonal change and the general indifference about Christmas in Malaysia makes it easier to forget Christmas. The only place where they really lay it on is in the malls, but I try to avoid them as much as possible – and anyway they are always trying to celebrate some consumer-fest or another, so the decorations pass me by somewhat… I did all my Christmas shopping online this year anyway, since I send it all to Europe. I think the fact that I'm not working in an office makes a difference too – no office party, etc.
Of course, the fact that I live with Malaysian Chinese who don't place so much importance on Christmas is important too – there isn't that immediate social reinforcement. When I first came here I was surprised at the lack of interest in Christmas – most people I knew didn't care that much about it, and there were even many shops open! In UK, Christmas Day is the only day in the year that cinemas are closed. Just about
everything
is closed, and you spend the whole day at home and the next day (which is a public holiday in UK and Ireland, but not on the continent) recovering.
WW and I decided to have a typical Christmas lunch on the first Christmas we had in our home here, with turkey etc. (no ham though), crackers, and present giving – but even that concept had some difficulties as the 'Open House' concept was what some relatives and friends were expecting, and therefore had to be pushed to arrive on time for the lunch. It was a lot of work cooking for 16 people too! So since then we try just to do something a bit different - today we're going to eat 'beggar's chicken' in Ijok and, with luck, find some fresh toddy

Chinese New Year gets a lot more traction, when families come together and evenings of food, drink and gambling are planned. It feels more like Christmas to me in a way, as there is all that associated bustle, anticipation and preparations. I must say, I enjoy the gambling aspect of CNY – kind of like Monopoly, but with an edge

In Malaysia, you get used to there being a number of festivals celebrated by different groups, and it highlights the multicultural nature of Malaysia compared to the places I lived in Europe, where only the European/Christian festivals get any significant public participation. It's good to point out that not all Europeans celebrate it the same way though: on the continent most people have a big dinner on Christmas Eve, the Spanish exchange presents on the 6th of January, and the Orthodox celebrate Christmas on the 7th of January. Still, they all celebrate it and to a European it is unavoidable and natural. So, when I realised Christmas was not such a big deal here – it was a good lesson that shifted my Eurocentrism a bit; of course, I knew in theory that Muslims, Chinese, Indians, etc. have their own more important dates – but actually
experiencing it
brought it home to me in a different way.
But, at moments like this, I do miss my other family somewhat. Although we had our fair share of Christmas arguments and tensions (an unfortunate side-effect of Christmas in Europe and America – suicide rates and domestic disputes are always higher around Christmas), Christmas Day was given to family – sharing presents, eating till we burst, playing some games and watching a movie. As a kid, the day would start as early as possible, and we would be allowed to open one present in the morning – so we would pick it carefully. I would not go for the bigger one, but a smaller 'teaser' which would keep me going until the later orgy of paper tearing and surprises. As an adult, the feeling of having a day just for leisure and family is the enjoyable part.
Anyway, to my family in Europe, and all you out there for whom Christmas is important, here's wishing you a joyful celebration

And for the rest of you – take the chance to look around and be grateful for what we have, food and shelter, and people who care about us.
Peace and love to all