Friday, February 27. 2009
I came across an article recently on BBC, and the bitter irony of it struck me...
Basically, after the recent massacre in Gaza, a UN team and (separately) Hamas operatives went around collecting unexploded ordnance - it was all stored in a
"...storage site in Gaza City where more than 7,000kg of explosives was being housed.

It included three 2,000-pound bombs and eight 500-pound bombs, which had all been dropped from aircraft but failed to explode.

There was also a large number of 155mm shells for delivering the incendiary chemical white phosphorus.(BBC:17/02/09)
The UN was waiting for permission and special tools from the Israelis to be able to dispose of them, but
"On Sunday, when UN officials returned to the warehouse, which was under a Hamas police guard, they say they found most of the explosives had gone missing.

Israeli military spokesman Peter Lerner said the stockpile had been "commandeered by Hamas"." (ibid.)
Well - it hardly surprises me.
Imagine: there's all this lethal equipment that was meant to kill your people, and only by luck did not go off. Then, after collecting it you're meant to guard it, waiting on the permission from the people who dropped in on you in the first place, so that it can be taken from you and destroyed... It's just grotesque!

On a related matter, there's an interesting letter/article written by King Abdullah of Jordan in 1947 called
"As The Arabs See The Jews"
. It's worth reading for some historical perspective - here are couple of choice quotes:
"I was puzzled for a long time about the odd belief which apparently persists in America that Palestine has somehow "always been a Jewish land." Recently an American I talked to cleared up this mystery. He pointed out that the only things most Americans know about Palestine are what they read in the Bible. It was a Jewish land in those days, they reason, and they assume it has always remained so.
[...]
Only once, during the empire of David and Solomon, did the Jews ever control nearly—but not all—the land which is today Palestine. This empire lasted only 70 years, ending in 926 BC. Only 250 years later the Kingdom of Judah had shrunk to a small province around Jerusalem, barely a quarter of modern Palestine.

In 63 BC the Jews were conquered by Roman Pompey, and never again had even the vestige of independence. The Roman Emperor Hadrian finally wiped them out about 135 AD. He utterly destroyed Jerusalem, rebuilt under another name, and for hundreds of years no Jew was permitted to enter it. A handful of Jews remained in Palestine but the vast majority were killed or scattered to other countries, in the Diaspora, or the Great Dispersion. From that time Palestine ceased to be a Jewish country, in any conceivable sense.

This was 1,815 years ago, and yet the Jews solemnly pretend they still own Palestine! If such fantasy were allowed, how the map of the world would dance about!

Italians might claim England, which the Romans held so long. England might claim France, "homeland" of the conquering Normans. And the French Normans might claim Norway, where their ancestors originated. And incidentally, we Arabs might claim Spain, which we held for 700 years."
And another - remember that this was written in 1947, before Israel was founded and not long after the end of the Second World War
"We are told that we are inhumane and heartless because do not accept with open arms the perhaps 200,000 Jews in Europe who suffered so frightfully under Nazi cruelty, and who even now—almost three years after war's end—still languish in cold, depressing camps.

Let me underline several facts. The unimaginable persecution of the Jews was not done by the Arabs: it was done by a Christian nation in the West. The war which ruined Europe and made it almost impossible for these Jews to rehabilitate themselves was fought by the Christian nations of the West. The rich and empty portions of the earth belong, not to the Arabs, but to the Christian nations of the West.

And yet, to ease their consciences, these Christian nations of the West are asking Palestine—a poor and tiny Moslem country of the East—to accept the entire burden. "We have hurt these people terribly," cries the West to the East. "Won't you please take care of them for us?"
[...]

But we say that Palestine has already sheltered 600,000 refugees. We believe that is enough to expect of us—even too much. We believe it is now the turn of the rest of the world to accept some of them."
Just in case you're wondering - my stance on the Israeli-Palestine conflict is that I think an injustice was done by forcing Israel on the Palestinians, but it cannot be reversed now. They need to live side by side in a two-state solution that rests on the pre-1967 borders, and perhaps some land swaps for the largest Israeli settlements in the West Bank.
I read a comic recently, called
Palestine
. Actually, 'comic' doesn't describe it properly; the author Joe Sacco is described as a 'graphic journalist', and that's what 'Palestine' is – a graphic documentary on life in Palestine around 1990. He manages to render the atmosphere of resentment, resignation and simmering hatred very well.
One story that stuck in my mind is that of a lady whose son was shot in the head after Israelis raided the area in Rafah where she lived;

after seven hours, and being sent from one place to the next, they got to an Israeli hospital. He died about a day later, having had no treatment. Later, another teenage son was shot five times – perhaps after throwing stones, perhaps not.

He had been taken to a military hospital in Israel; after delays it was too late to take him to a better hospital in Jerusalem. He died too.
Each time, they were only allowed to bury the bodies in the middle of the night, guarded by soldiers.
Continue reading "Israeli soldiers speak out – why not Americans too?"
Wednesday, January 30. 2008
I saw this cartoon in
The Star
last week – interesting to see blogs mentioned in the funnies.

Also, with regards to the history of blogs, it's revealing that the person brings up the invasion of Iraq. I was just reading an interesting PhD thesis by
Geert Lovink
where he argues that one of the means by which blogs became more known was through 'war blogs' that debated the response to 9/11. He quoted an article by David Gallagher
in The New York Times
which I had a look at too:
"The war-blogging movement took off after Sept. 11 as people used blogs to vent their anger about the terrorist attacks. Though they are still commonly known as war blogs, these sites now address a wide range of news and political topics, usually from right of center…
As a result, some latecomers now think Weblogs are inherently political. That has perturbed some Weblog veterans, who say the war bloggers are rewriting history and presenting a distorted view of blogs. They say the diversity of Weblogs is being overshadowed by the attention-getting style of war blogs…
'The Weblog world before Sept. 11 was mostly inward-looking -- mostly tech people talking about tech things,' said Glenn Reynolds, a law professor at the University of Tennessee who publishes InstaPundit.com, a popular site in the war blog camp that attracts about 19,000 readers on weekdays. 'After 9/11 we got a whole generation of Weblogs that were outward-looking' and written for a general audience, he said." (Gallagher)
It also goes on to note that there was some bitching going on between the 'old guard' and the war bloggers.
In Malaysia also, most people associate blogs with politics – probably also because of the MSM, because they only pick up stories of blogs (mostly) when blogs start to compete with them in terms of forming public opinion. Which may also explain why
The Star
(I think) had an article about food blogs, as people can easily turn to blogs for recommendations of restaurants and it is also a traditional newspaper domain.
Works Cited.
Gallagher, David F. "A Rift among Bloggers."
The New York Times
. 10 June 2002. 30 Jan 2008
http://www.nytimes.com/2002/06/10/technology/10BLOG.html
.
Lovink, Geert Willem. "Dynamics of Critical Internet Culture (1994-2001)." University of Melbourne, 2002. 22 Dec 2007
http://eprints.infodiv.unimelb.edu.au/archive/00000768/01/phd.pdf
.
Wednesday, October 31. 2007
I wrote before (
here
and
here
) about the American government beating the war drum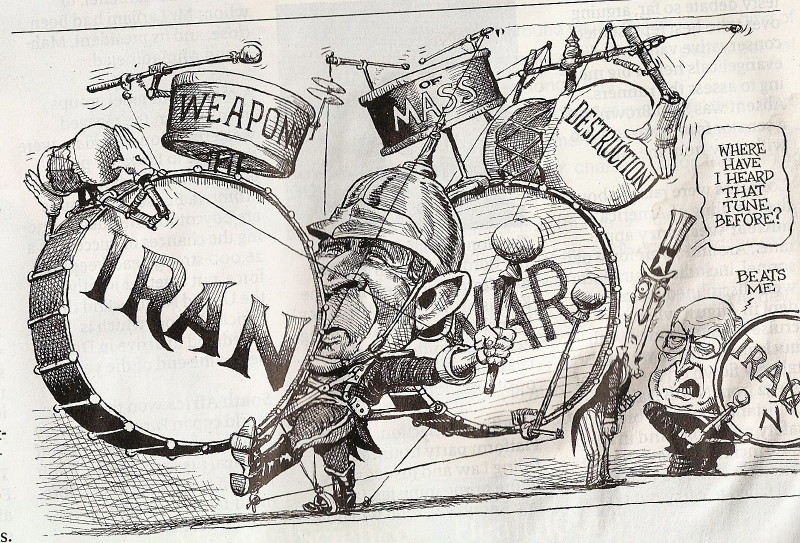 The Economist. 27 Oct-2 Nov.
An article by Seymour Hersh
gives a detailed outline of American activities in relation to Iran, and apparent preparations for an attack there. Read it: as usual he is lucid and believable.
The article suggests that the Americans know that they cannot sell a 'WMD' argument to Americans, so they need some excuse – to be able to attack in defence. Such an excuse could come from events in Iraq or Afghanistan, or even in Lebanon/Palestine/Israel, though that would be pushing it.
Amongst other things, a "European official" is quoted as saying: "once the Iranians get a bloody nose they rethink things."
Continue reading "More war?"
(Page 1 of 1, totaling 4 entries)