Saturday, January 17. 2009
Bush is soon to go, and while I'm no believer in Obama ushering in Nirvana, I'll be glad to see the back of that blithering idiot...
Here are some nuggets from the brain(?) of that sample of the worst America has to offer – ignorance, cultural imperialism, bigotism, and guns...
"As governor of Texas, I have set high standards for our public schools, and I have met those standards."
CNN, 30 August, 2000

"It's clearly a budget. It's got a lot of numbers in it."
Reuters, 5 May, 2000

"I know the human being and fish can coexist peacefully."
Saginaw, Michigan, 29 September, 2000

"I'll be long gone before some smart person ever figures out what happened inside this Oval Office."
Washington DC, 12 May, 2008 ("A look at some of George W Bush's best 'Bushisms'")
But the one that struck me the most was
"You know, one of the hardest parts of my job is to connect Iraq to the war on terror."
CBS News, Washington DC, 6 September, 2006 (ibid.)
Continue reading "Good riddance to the Shrub"
I have a terrible secret... I am subscribed to the
Human Events
newsletter

OK, maybe that doesn't mean much to most Malaysians, but no doubt for American bloggers that would mark me out as a foaming-at-the -mouth right-wing conservative. These are the people who say that McCain "
thinks like a liberal
" and he is
very disappointing on opposing tough, life-saving interrogation techniques, in wanting to close down Gitmo, and in favoring constitutional protections for enemy combatants.
Only liberals think like that. Only liberal instincts tell us that if we are tough on them, they'll be tougher on us -- as if they need any excuse to be barbaric toward us. They just are. (Limbaugh)
Damn Al-Qaeda loving pussy liberals! Opposing torture - what an idea!
Any way, one of the writers there is
Ann Coulter
, famous for saying (amongst other inanities) "I don't think I've ever encountered an attractive liberal woman in my entire life.", "It would be a much better country if women did not vote." (yes, she is a woman), and "As soon as the poor start paying their fair share of the tax burden, they'll get a tax cut too." (
cited here
)
...back to the nationality of God, here is the wonderful example of jingoistic nonsense she started her latest article with:
Last Friday, on the Fourth of July, the great American patriot Jesse Helms passed away. John Adams and Thomas Jefferson also went to their great reward on Independence Day, so this is further proof of God. (Coulter)
Anyway... why do I bother reading her you ask? Well, it's always good to listen to people you disagree with.
I read a comic recently, called
Palestine
. Actually, 'comic' doesn't describe it properly; the author Joe Sacco is described as a 'graphic journalist', and that's what 'Palestine' is – a graphic documentary on life in Palestine around 1990. He manages to render the atmosphere of resentment, resignation and simmering hatred very well.
One story that stuck in my mind is that of a lady whose son was shot in the head after Israelis raided the area in Rafah where she lived;

after seven hours, and being sent from one place to the next, they got to an Israeli hospital. He died about a day later, having had no treatment. Later, another teenage son was shot five times – perhaps after throwing stones, perhaps not.

He had been taken to a military hospital in Israel; after delays it was too late to take him to a better hospital in Jerusalem. He died too.
Each time, they were only allowed to bury the bodies in the middle of the night, guarded by soldiers.
Continue reading "Israeli soldiers speak out – why not Americans too?"
Thursday, February 21. 2008
I came across this the other day
It's the official seal of the Massachusetts Bay Colony, founded in 1629. You can't see it very well, but the Native American is represented as saying "Come over and help us"…
Interestingly, a Native American is also represented on the current day seal, though without the arrow (originally held downwards in a sign of peace) and no longer pleading to be force fed Christianity and foreign culture.
I wonder how many Native Americans are left in Massachusetts now? 0.6% of the population according to the
2005 census
.
So what you may ask? Well, an article (which I can't find anymore) made the point that the current attitude of Bush
et al.
, that they are doing the world a favour by spreading 'freedom' in Iraq and other places, is very much the same attitude that enabled the colonial nations to simultaneously destroy cultures and exploit people around the world while at the same time sighing about how tough it was to be so good to the natives…
Extracts from
The White Man's Burden
by Rudyard Kipling. It was written in 1889 after America took the Phillipines from Spain (
full text
)
Take up the White Man's burden--
The savage wars of peace--
Fill full the mouth of Famine
And bid the sickness cease;
And when your goal is nearest
The end for others sought,
Watch sloth and heathen Folly
Bring all your hopes to nought.
…
Take up the White Man's burden--
And reap his old reward:
The blame of those ye better,
The hate of those ye guard--
The cry of hosts ye humour
(Ah, slowly!) toward the light
"Why brought he us from bondage,
Our loved Egyptian night?"
Consider some more contemporary comments by American intellectuals (from
here
):
the US "has become an empire, the most magnanimous imperial power ever" Dinesh D'Souza
"And the truth is that the benevolent hegemony exercised by the US is good for a vast portion of the world's population. It is certainly a better international arrangement than all realistic alternatives." Robert Kagan
America has a "uniquely benign imperium." Charles Krauthammer
**Update 22/02**
Here's an
article about the American use of water torture in its colonisation of the Philippines
.
**Update 23/02**
Well, here's a quote that makes the point well I think, I came across it listening to a very interesting
BBC Radio documentary about Arab-Americans Marines who served in Iraq
. It's Bush announcing the beginning of the invasion of Iraq (18 March 2003):
My fellow citizens. At this hour American and coalition forces are in the early stages of military operations to disarm Iraq, to free its people, and to defend the world from grave danger. (George W. Bush)
... thanks, but no thanks mate.
Well, not particularly sweet, but it's short and it makes its point - I'll reproduce it in full here:
The Threat of Section 1222

By James Rothenberg

31/01/08 "ICH" -- -- The White House has given ever-shifting rationalizations for invading and occupying Iraq, running the gamut from a claim of self-defense to a purported mission of bringing democracy and thus freedom to the citizens of that country.

Dissenters claim that the two central tenets were instead the establishing of a permanent military presence in order to control Iraq's oil resources.

Who's right? The White House or its dissenters? Recently some new evidence has been uncovered. Firsthand source material.

Lets listen to Bush:

"Today, I have signed into law H.R. 4986, the National Defense Authorization Act for Fiscal Year 2008… Provisions of the Act, including sections 841, 846, 1079, and 1222, purport to impose requirements that could inhibit the President's ability to carry out his constitutional obligations to take care that the laws be faithfully executed, to protect national security, to supervise the executive branch, and to execute his authority as Commander in Chief. The executive branch shall construe such provisions in a manner consistent with the constitutional authority of the President."

The President is claiming that Section 1222 could inhibit his ability to defend the Constitution, so he claims the right to ignore it. The drafters of the bill were also sworn to defend the Constitution. What are the requirements in 1222 that the White House finds so inhibiting?

Here is the entire text of 1222:

No funds appropriated pursuant to an authorization of appropriations in this Act may be obligated or expended for a purpose as follows:

(1) To establish any military installation or base for the purpose of providing for the permanent stationing of United States Armed Forces in Iraq.

(2) To exercise United States control of the oil resources of Iraq

No, this is not a formal confession from the White House. But it is as formal as you can get.

James Rothenberg - jrothenberg@taconic.net
(Source)
I wanted to double check the text of 1222, thinking that maybe the author did a bit of selective editing - but it's exactly as he said, in
The Library of Congress
.
So Bush is saying he either wants to establish a permanent base in Iraq, or "exercise United States control of the oil resources of Iraq"> I think it's the first that's the real problem for him, as the second is never going to be done directly and formally, but as much control as possible is exercised via the oil companies that have been guaranteed advantageous contracts in legislation passed by the Iraqi government. See
Blood and oil: How the West will profit from Iraq's most precious commodity
, or
Whose Oil Is It, Anyway?
(free registration needed).
Wednesday, October 31. 2007
I wrote before (
here
and
here
) about the American government beating the war drum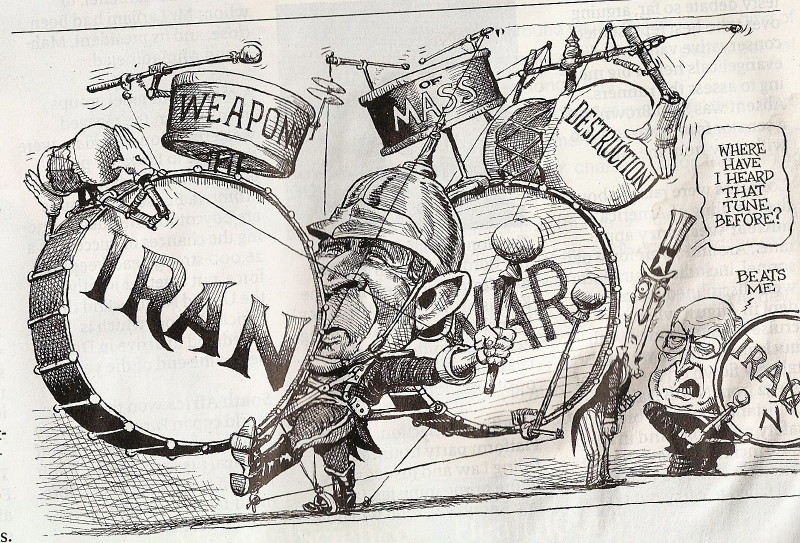 The Economist. 27 Oct-2 Nov.
An article by Seymour Hersh
gives a detailed outline of American activities in relation to Iran, and apparent preparations for an attack there. Read it: as usual he is lucid and believable.
The article suggests that the Americans know that they cannot sell a 'WMD' argument to Americans, so they need some excuse – to be able to attack in defence. Such an excuse could come from events in Iraq or Afghanistan, or even in Lebanon/Palestine/Israel, though that would be pushing it.
Amongst other things, a "European official" is quoted as saying: "once the Iranians get a bloody nose they rethink things."
Continue reading "More war?"
(Page 1 of 2, totaling 10 entries)
» next page