The recent plan by the American Federal Trade Commission to
"Fine Bloggers up to $11,000 for Not Disclosing Payments"
has got people talking about the ethical and legal aspects of paying bloggers for content, and apparently
"Singapore's Media Development Authority is considering mirroring the U.S. government's new tough stance"
. There has been discussion on the NPR program 'On Point with Tom Ashbrook' (
podcast here
), a blog post by Dave Gilmor -
A Dangerous Federal Intervention in Social Media
; and in Malaysia it was discussed on the
Digital Edge Podcast
, a
Twtpoll
by
@blogjunkie
, and various tweets by various people (please tell me about more if you know of any, thanks).
It's important to distinguish between paid advertorials, and reviews of products or reports of events. For the former, the client vets and approves the final content, and only pays if they are happy with it. For the latter, a blogger may be given a product, or invited to an event, and it's up to the blogger to write what they want, if anything. Of course, most people tend to feel more favourably disposed towards someone who gave them something - but my research suggests that if a blogger does not like a product or event, they are more likely to just not blog about it, rather than blog something bad about it.
It can be a very cheap and effective strategy for a company: for the cost of a freebie, or by including a few bloggers into a product launch party, they might get some exposure to a few thousand, or maybe even tens of thousands, loyal readers who value and trust the bloggers' opinion. Particularly when this audience is typically less likely to read a newspaper, watch television, and so on. Even advertorials, which can cost from a few hundred to a few thousand (I estimate), are much cheaper than - for example - a full page newspaper ad (average cost, RM10K?), and the post will stay online too, rather than ending up in a recycle bin (hopefully).
My research so far has indicated to me that some advertisers explicitly require bloggers
not
to disclose that the post is paid for, but these seem to be a smaller minority. Most bloggers do disclose in some manner: some in a very obvious way - in the title or at the head of the post - and most in a more subtle way, giving the post a tag such as 'advertorial', 'pocket money', or something like that. Other bloggers say that they do not need to disclose, as their readers will know when they are doing an advertorial anyway.
In the
myBlogS 2009
survey, I asked questions about disclosure, and the commercialisation of blogs. Here are some of the results.
The charts compare the responses by Bloggers (in pink; n = 356) and Readers (in green; n = 197); as well as the Monetisers - i.e. bloggers who try to make money from their blog (in orange, n=183) and the Non-Monetisers (in blue, n=173). If you see more on the right side, it means more agreed with the statement, and disagreements show up on the left; a peak in the middle means more were 'Neutral'. The more of a difference in their attitudes, the more of one colour you can see. You should also be aware that these graphs are not always directly comparable - because the scale on the y-axis changes sometimes.
There was a "Not applicable to me" option too: rather than including these responses in the graph, I've put them on the side in order to let the graphs show the trend of those who did address the question. Most of the time, the amount is only one or two percent. It's impossible to know why, when asked an opinion, people answer "Not applicable to me" - it suggests that either they don't understand the question, that it doesn't address their experience, or maybe that they have no opinion.

Here we can clearly see that most think that advertorials should be disclosed. The "Not applicable to me" answer was 4.4% for the Monetisers, and 10.4% for the Non-Monetisers (for some reason I couldn't get it on the picture). The high number for the Non-Monetisers suggests that some read the question as referring to them, rather than being a general opinion.
But anyway, there is a clear preference for disclosure; though there are more than a quarter who are neutral, suggesting that they believe it's up to the blogger to decide. The Monetisers are (unsurprisingly) the most likely to sit on the fence on this one.
What may be the impact of bloggers doing too many advertorials?

There is a tendency for bloggers and readers to think that blogs are too commercialised, but the readers seem to be less worried about it than the bloggers - this may reflect the fact that bloggers may have been around longer, and thus seen more changes. Both Monetisers and Non-Monetisers see the commercialisation as excessive, the the Non-Monetisers feel more strongly about it.

Continue reading "Do Malaysian bloggers think that blog advertorials need to be disclosed?"
davidlian
(who says many interesting things about blogs, advertising, and public relations, and tweeting) alerted me to a survey just recently completed by a PR firm Text100 (which he also works for I believe). There is a
press release
, a
Global report
, and an
APAC report
.
The press release quotes Prof. Michael Netzley of Singapore Management University as saying
"Very little data exists at a global level allowing us to compare blogger behaviours and preferences at both a regional and even country level. Text 100 offers what might be the most comprehensive data to date about bloggers and how they practice their trade." (here)
I'd agree very much about the lack of comparative data for blogs - it's something that bedevils me somewhat, because I have ideas about how Malaysia blogging practices may be different from elsewhere, but I have no way of checking it. However, I would also like to blow my own trumpet at bit, and suggest that the
myBlogS 2009 survey
is also a pretty comprehensive survey on "bloggers and how they practice their trade". Though, to be sure, I did not approach it from a business studies angle.
One of the most interesting aspects of the results are differences between APAC and European and American respondents. However, one methodological caveat is that the number of American bloggers is pretty small (the numbers for most answers are: APAC 233, EURO 189, USA 27) - which means that I would not be confident that the USA responses give highly reliable results.
Here are some quotes:
"Globally, more than 80% of bloggers say that they would acknowledge sponsorships of blog postings. Asia across the board is less likely or willing to acknowledge forms of sponsorship.
The cultural precedent for gift giving in Asia as a part of business practice, and not having to acknowledge this, is likely to contribute significantly to this difference." (Global Report: 8 )
However, there are still a majority that do think it's important. There are also less APAC bloggers (75%) who say that they should "clearly state their employer or association if
blogging on issues or topics that relate to their businesses" - the figures for EURO and USA are 87% and 96% respectively.
This is very interesting for me. Recently I was thinking about how there has been little reaction to the monetisation of blogs in the Malaysian blogosphere - you get the odd complaint about over-commercialisation and the most obviously paid-for-blogs (of the PPP/Izea type) don't seem to attract much traffic, but overall people don't seem to mind too much. Then I remembered how when I first got here, I was surprised by how the division between 'business and pleasure' or, more accurately, 'business and social life' is not as clear here as what I was used to in Belgium. For example, WW would get phone calls late in the evening about work; or dinners with friends and/or family would also double up as 'business meetings' where different commercial ventures were discussed; the way I was brought up was that if - for example - you are having a social meal with someone, it's kind of rude to start talking about 'money'.
Anyway. With that in mind, and thinking of other results from this survey such as
"In APAC, 88% prefer an introduction before receiving information from a PR firm or corporation with whom they have not had prior contact, compared with only 41% in the USA... Introductory face-to-face meetings with new contacts are more important in APAC than in Europe or the USA" (Global Report: 17)
it's clear that in order to understand the way in which blog monetisation is happening in Malaysia, I need to look more into culturally-specific business practices.
Which reminds me that I recently met up with
classyadele
, who is researching corporate blogs in New Zealand, and she also had some thoughts about different business practices in New Zealand. It was nice to meet someone who seems to spend as much time as I do thinking about blogs

It's a very interesting survey, and the APAC report breaks down the results into countries - such as:
"Computers, technology and the internet are the subjects most blogged by surveyed bloggers. Malaysian bloggers seem to be more interested in entertainment/arts/music and culture/community, while the latter is also most popular in Australia." (APAC Report: 10)
There are more comparisons - again, the numbers for each country are relatively low, but still there are interesting results.
What do you think? Is there a particularly Malaysian, or 'Asian' way of doing business which influences how the Malaysian blogosphere is developing?
Edit 04/07/09
: here are a couple of short videos by Text100 in case you're too lazy to read the pdfs

As promised, here is some more analysis of the survey. In this post, I'm going to compare responses to a series of statements that were asked to both bloggers and non-bloggers about their opinions on blogs in general. The idea behind this set of statements was to see whether there was some sort of consensus amongst bloggers and readers about what a blog should be like - i.e. is there an
ideal-type
blog that the members of the blogosphere believes should be a model to follow? There were some questions on more objective matters (e.g. photos or not, comments or not), and some more subjective matters (e.g. whether a blogger should be honest or not).
For me, often the most interesting questions are usually those that ask people to rate their level of agreement with certain statements (it's called using a
Likert scale
normally); social science is never an accurate science, and reflecting people's range of thoughts and practices accurately based on a structured questionnaire (i.e. with choices of answers) is very difficult, but this way does give one way of reflecting the many shades of gray that make up human behaviour.
You can see the details of the responses by clicking on the thumbnails below
but what I'll do here is compare them using area charts to get a feel for the trends. The charts compare the responses by Bloggers (in pink; n = 356) and Non-Bloggers (in green; n = 197). If you see more on the right side, it means more agreed with the statement, and disagreements show up on the left; a peak in the middle means more were 'Neutral'. Where there is more of a difference in their attitudes, you can see the colour stand out. You should also be aware that these graphs are not always directly comparable - because the scale on the y-axis changes sometimes.
Functional features
These compare the more 'functional features' that bloggers and non-bloggers prefer.

The clearest preference is for comments - overall just over 80% of bloggers and non-bloggers think that blogs should have a comments function; compared to the chat-box, you can see that there is a lot less interest as to whether or not there is a chat-box on a blog.

There's a general preference for photos, but many are Neutral, and about one-fifth think they are not a necessity. The Non-Bloggers tend to think this is more important.
Continue reading "The 'ideal type' blog?"
[
edit 11/09/09
: I just realised that the title of this post is a bit misleading - myBlogS 2009 was not the first Malaysian blog survey, what I meant was that these are the first results of the myBlogS 2009 survey.
Previous surveys have been done by
Tan Jun-E
and
syed syahrul zarizi
]
Well I've been kind of busy lately, and finally got round to submitting a paper to a journal (my first one! Wish me luck!) - it's based on the paper on
Blogwars and Authenticity
that I presented at MSC6 last year.
Anyway, I know a lot of people want to know what the results for the survey are, so I've decided to do it like this:
1)
Release the full summarised results for anyone who wants to look at them -
download them here
.
2)
Put up more detailed analysis of different portions as and when I complete them.
The reason I'm doing it this way is because I have no idea when I'll have completed the full analysis of the survey (it was quite long, and there are many angles to it), but at least people can have a look at the overall results.
I'll be happy to respond to any questions and requests for analysis on particular angles. For example, looking at the summarised results you can see that 54.2% of the bloggers that responded were female, and that 51.4% of the respondents are trying to make money from their blog; but you may want to know how many females were trying to make money compared to males. You can't tell that from the summary, but if you ask me I'll do my best to do the analysis for you and then put the results online. I'll also be putting different analyses online as I go forward - the first one will be comparing bloggers' and non-bloggers' views on blogs in general (question 10).
Limitations to the results
As with all social research there are limitations to the conclusions that can be drawn, here are the main ones that I can think of now:
• The survey was in English only - this tends to exclude the non-English language bloggers and readers. As such, it cannot claim to represent Malaysian bloggers as a whole, but a particular portion.
• The sample size is not insignificant, but not very large either. This will possibly induce bias in certain directions - in particular, it is more likely to reflect the kind of blogs I am focusing my research on, and who are more likely to have heard of me. That is, personal/lifestyle blogs.
• In addition, the sample is 'self-selected' - i.e. only people interested enough in the subject matter choose to respond to it, so this induces a bias in favour of a particular type of blogger and/or reader.
Some overall results
The survey was conducted online between March 9 and April 10 2009. 686 started the survey, and 561 completed it, giving a completion rate of 81.2%. Of those who completed it, there were 356 bloggers and 197 non-bloggers (i.e. those who read blogs only).
This is a rough portrait of the average blogger who responded:
The average respondent blogger is a young Malaysian female student, between 18-25 years old, living in KL or Selangor, and of Chinese ethnicity. She has had a blog, in English, for more than two years, updates at least once a week, and has less than 100 unique visitors a day. She is likely to use her real name on her blog, or be identifiable via photos or other information. She has a blog mostly because she likes writing; she wants to keep a track of things she wants to remember; and to keep in touch with friends. Her top three preferred blogging topics are friends, events and travel. She allows unmoderated comments - but will censor comments that are offensive, racially sensitive, make personal attacks or refer to her family.

Making money from her blog is not an important reason for having a blog, but nevertheless she is probably taking advantage of opportunities to make money. In practice she is making less than RM100 a month using Nuffnang, and is not likely to be doing paid advertorials; she has not received any free gifts/tickets/food as a result of her blog and is not likely to have a non-commercial ad or announcement on her blog.

She reads blogs every day, and follows up to ten blogs regularly - she may know her top three bloggers personally, but reads the blogs because they are interesting and/or useful. She will have met some of the bloggers in person, but not too many. She is likely to read the comments in blogs - but not always - and leaves a comment when she has something useful or interesting to add, and may respond to other comments for the same reason.
There's more information than that in the results, particularly about attitudes, but I'll get round to that afterwards.
Compared to most studies of blogs - e.g.
Technorati's 'State of the Blogosphere'
, or Tan & Zawawi's
'Blogging and Democratization in Malaysia
, this sample is younger and more female (though the
2006 survey by Microsoft
had more female bloggers too). The amount of bloggers with paid advertisements is less than those reported for Asian blogs by Technorati (51.4% and 60% respectively).
As usual, I would more than welcome any comments, suggestions and criticisms. Please feel free to use the comments area below, or to
send me an email
if you like.
For the myBlogS 2009 survey, those who finished the survey could enter the prize draw for
Platinum Movie Suite
vouchers (two pairs) and cinema vouchers (five pairs).
There were 327 people who left their emails - I used
RANDOM.ORG
to select the winners... and they are...
...
...
...
For the two top prizes of Platinum Movie Suite vouchers - congratulations to:
Chong Wei Ling who blogs at
Care For A Byte?
and
Jerral Khor who blogs at
Museless
And the runners up for one pair of movie vouchers each are:
Gunaseelan David Muthuswamy
K1F aka 3POINT8 who blogs at
3POINT8
Feeling good guy who blogs at
Open Heart, Mind & Soul
Ashley Tan
and
Nadia Syuhada binti Abdull Muain
Tahniah!!

Congratulations to all of you, and THANK YOU! again to all of you who took part in the survey

I know many of you want to see the results. I'll be working on them over the next month, and hope to post an 'executive summary' in about two weeks. If you left your email and said you wanted to see the results, I'll email you then - otherwise just keep an eye on this blog.
Just two more days to go!! I was
soooo stressed
when I launched this survey, and just hoping that I would get at least 100 responses, but now there have been 538!! 500 was my target, so that's cool

but I want more, more, more!! - muahhhahahahhaaha
No seriously, 500+ is great! And a big
to all of you who have taken the time to answer it

But the more responses there are, the more likely it is that the results really do represent Malaysian bloggers as a whole.
For those of you who have not heard of it yet – it's a survey that's part of my
PhD research for Monash University
, and it's asking what Malaysian bloggers and blog readers think of the increased monetisation of blogs – like the advertisements you can see on the right, or 'advertorials', when bloggers are paid to write about products or services.
It takes about 5-10 minutes for a blog reader, and 10-15 minutes for a blogger, and when you finish the survey you can enter your email for a prize draw for
Platinum Movie Suite
vouchers (or something similar near you, if you don't live in Klang Valley). I'll be posting up the results for all to see once I've compiled them.
It's completely anonymous, because I want people to be honest in their answers

So try it now before it's too late! It will be open until tomorrow midnight, so
do the Malaysian Blog Survey 2009 now!!
And my eternal and kow-towing thanks goes out to those who were kind enough to spread the word (previous ones
here
)
A particular mention goes to
Kenny Sia
who had a sidebar panel up for a week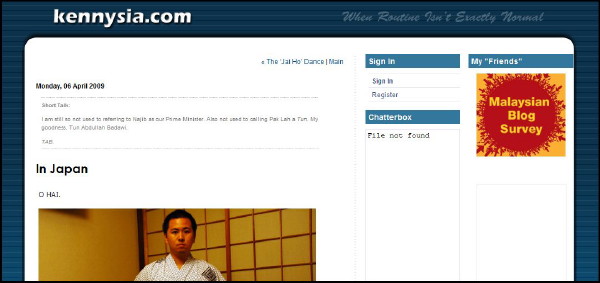 and thanks again to the others who also took the effort to make the survey more successful! (Please tell me if I've missed someone out)
• Hic Sunt Dragones:
myBlogS 2009: The Monetisation of Blogs in Malaysia
• deep inside:
myBlogS 2009 - Malaysian Blog Survey
• As Suanie Sees It:
elawyer law conference 2009 @ um
• Follow the cable:
Blogger turbulence.
And not forgetting tweets from
bytebot
,
kueee
,
ShaolinTiger
, and
synical
*Edit*
: Thanks to
Me, Mine, and Myself
also!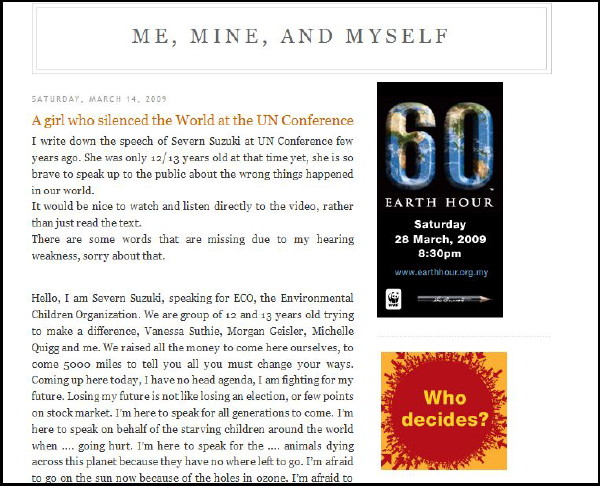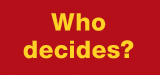 (Page 1 of 2, totaling 8 entries)
» next page