Entries tagged as sopo blogs
Saturday, February 19. 2011
This is an interesting paper about the Malaysian SoPo blogosphere – it uses social network analysis (SNA) techniques to crawl links and map the Malaysian SoPo blogs.
It doesn't seem to say when the data was collected, but the paper was published in 2010, and the crawl was done after the 2008 elections, so let's assume 2009. One worry I have is that they used the
SoPo Sentral of Malaysia
directory as the starting point of their crawl – but that was last updated in December 2008, and is not necessarily complete. On the other hand, it's probably the best place to start. But
Dr. Mahathir's blog
(which started in May 2008) is not mentioned which is surprising.
What they did was to take the 385 blogs in the SoPo-Sentral directory and follow the link to a depth of four (e.g. follow links from one blog, collect all the links it links to, then follow those, and again two times). From this they got 4,693 sites, and approximately 2,000 blogs. Another crawl using the same technique on blog posts mentioning 'Bersih' in the week after the Bersih demonstrations gathered 878 blogs.
So this suggests that there were about 2,000 Malaysian SoPo blogs. Which is less than I imagined.
Edit
: Actually, it's more likely to mean that there are between 878 and 2000 sopo blogs.
Here are some of the results. They also compare SoPo blogs to random Malaysian blogs.
• The almost paradigmatic polarisation of SoPo blogs demonstrated in the USA by Adamic & Glance is not replicated here. Instead there is a distinct clustering of smaller groups with scattered individuals forming 'bridges'.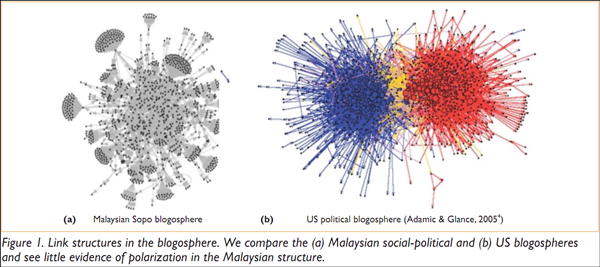 Source details below
My hunch here is that this reflects patronage-style politics – people affiliating themselves with individuals – rather than identifying themselves with ideology or political stances (to note however that
another SNA analysis of the Malaysian blogosphere did turn up a polarisation
– though it was not focused on SoPo blogs).
• SoPo bloggers are more likely (compared to random Malaysian bloggers) to be older males (this is the same as the US), and also to reveal details about themselves.
• 27.9% specify a political affiliation as follows: 10.2% UMNO, 7.1% PAS, 4.2% PKR, 2.5% DAP, 1.2% PSM. Surprisingly no other BN parties such as MCA, MIC, Gerakan, etc. Overall, it suggests that most SoPo bloggers see themselves as independents.
• SoPo blogs are four times more likely to be in English than BM ("the small amount of Chinese blog content in [their] data" were not dealt with).
• "the average sopo blogger has more in-links and comments than random Malaysian bloggers"
• Blogger.com (i.e. 'blogspot') "has more than 152,000 Malaysian profiles — many more than on Wordpress.com or similar services."
You can access the paper (in a somewhat garbled copy)
here on Scribd
, and the full details are:
ULICNY, B., M. KOKAR & C. MATHEUS 2010. "Metrics For Monitoring A Social-Political Blogosphere: A Malaysian Case Study".
Internet Computing, IEEE
14, 34-44.
Saturday, December 11. 2010
Problem: I kind of miss blogging
Problem: blogging takes up time which I don't have
Solution: limit blogging time to 15 minutes
Problem: blogging typically takes more than 15 minutes because I want to provide links, photos, given careful and balanced arguments, etc.
Solution: one link and one photo maximum, don't get hung up with having perfect posts. Warn people that:
**What you see below are my unprocessed thoughts, please
ask me
, or leave a comment, if you want more information or want to question what I'm saying. I may well be wrong.**
Which is what I shall try to do.
14.44
Yesterday I was invited to speak on a podcast,
'Tech Beat'
(there goes the link), which is hosted by John Lim. It was interesting and with interesting co-invitees (or whatever they're called).
Anyway, I listen to many podcasts, and often find myself wanting to butt in, or wondering why the person said what they did. But I found out that it's not as easy as it sounds: I came away from the recording wondering if I should have said what I did, and how I could have said it differently.
There's one thing I want to develop a little more. John asked about the impact of blogs on the political scene in Malaysia, and will they make a difference in the next election. I said something about how they were really groundbreaking back in 2004-5, but now many of the SoPo blogs have lost something of their independence (e.g. Jeff Ooi, or Rocky's Bru), and there are also many more pro-government blogs. I concluded by saying that they may make some difference, but the elections will be decided on other things.
The last statement is obvious, people vote based on a whole host of factors.
Anyway, what I
should have said
was: it's not just blogs anymore. Back in the period leading up to March 2008 blogs were the driving online voice, and they brought a practical information distribution factor that bypassed the MSM, and also a - very important - symbolic energy that encouraged people to speak out and to imagine alternatives.
It's not just blogs. It's all the online media: Facebook, Twitter, blogs, etc etc. These have let the cat out of the bag. The powers-that-be will never have it the same again, where they could control information distribution quite effectively. Historically, it goes back before blogs also, to email and websites during the Reformasi period.
OK, that's it
14.59
Wednesday, February 4. 2009
OK I'm dead tired - been a long day and tomorrow will be too. But here is my thought for the day.
Going back to 2004, when I first started blogging (you couldn't upload pictures to Blogger in those days), blogs were not well known at all. Mention 'blog' to average Joe and Jane in Malaysia, and they would be clueless.
Fast forward to 2009 and 'everyone' has heard of blogs. Even if they have never gone on the Internet, if they follow the news they will have heard of them. But they may not know much about them - in fact, they are most likely to assume that blogs are politically motivated tools for attacking the government
à la
RPK
.
In fact, however, most blogs are written by young (under 25) people, and cover relatively mundane topics such as films, shopping, restaurants, thoughts on life and friends, etc. Politics come very little into them (not to say that the bloggers mostly don't care about politics, but they don't talk about it much on their blogs in any case). For a sample of this kind of blog, check out Nuffang's
Innit
.
And, something your average Jack and Jill don't know either, some bloggers are making decent amounts of money from hosting advertisements and writing advertorials.
So - how did the SoPo blogs help the advertisement industry, in spite of the fact that most of them don't have ads? Well, this is just a tentative thought, but when you think of it, the main way in which blogs got more well known was via the political aspect – this is what first got noted in the MSM and so on. Later on other types of blogs started popping up in the press too - 'hot bloggers', food bloggers, drug blogger,...
The oldest newspaper clipping I seem to have is from 26 February 2006 - 'Bold Bloggers, Beware!' in The Sunday Star Education section; and Shaolintiger was one of the earlier bloggers to be
featured in a newspaper
in May 2005. But the first time I remember seeing Malaysian blogs mentioned was after Jeff Ooi was investigated in late 2004 because of a religiously sensitive comment about Islam Hadhari (ironically, it turned out to be a Muslim who had made the comment...) - this story first broke in
Berita Harian
on October 2, 2004 (more details
here
).
So in a way the SoPo blogs attracted the attention of the MSM, which generated the publicity which enabled lifestyle blogs to penetrate public awareness and attract attention from advertising agents, etc.
Just a thought...
(OK done my post for the day!

)
(Page 1 of 1, totaling 3 entries)