Thursday, January 17. 2013
Bateman, P., J. Pike, N. Berente & S. Hansen 2012. Time for a Post-Mortem?: Business Professionals' Perspectives on the Disillusionment of Virtual Worlds. Journal of Virtual Worlds Research 5 (available on-line: http://journals.tdl.org/jvwr/index.php/jvwr/article/view/6324/6299, accessed 17 January 2013).
Abstract
Virtual worlds (VWs) are powerful three-dimensional technologies where users can assume identities and interact with others. While designed as open-platforms for creativity, expression, and experimentation by recreational users, VWs were once lauded for their potential applications to business. Today, much of the business community has either moved on from the hype of VWs or struggles to understand whether value can be obtained by using VWs. This paper attempts to provide an understanding of these outcomes through the analysis of assessments written by 59 business professionals, who each spent an extended period of time in a popular VW during the peak of the hype. From these assessments, four broad perspectives on the value of VWs to organizations (or lack thereof) were identified, along with challenges facing use of VWs if they are to become more widely used within business.
Overall
• A useful paper – good analysis of hype, why hype did not materialise in the VWs with regards to business opportunities/being a space for business activities
- Notes a prediction in 2007 that "80 percent of active Internet users would have a VW presence by the end of 2011 (Gartner Research, 2007)." (p2)
--> This might have been the key point - if there were loads of people in VWs, there would be business potential (see p11 also). Since there wasn't such an influx, there wasn't - hence the real question might be: 'Why weren't more people in VW?'
--> Surely, e.g. in gaming, there are many opportunities for advertising, but in a relatively limited market?
• Data derived from an exercise done by postgraduate students in business course who were asked to go into Second Life and develop opinions as to the usefulness for business. Only those with prior business experience were used
• Overall (p7) – 36.8% saw it as having some value, 41.4% no value, 14.3% contingent value, 7.5% future value
- Most value seen as advertising platform, enhance customer experience, training, meetings
- Main problems seen as need to learn the platform, inability to control the environment, technology no fast enough, wrong kind of users
--> This actually suggests the need for a limited form of virtual world, tailored for business users only. On the lines of LinkedIn or something.
• The argument revolves around affordances, and how the technologies are relevant in one context but not in another [i.e. relational] – thus SL is good for people who want freedom, gaming environment, but this is not useful for businesses
--> The environment of freedom etc. actually is not what businesses want… In fact, businesses thrive on limited social openness - i.e. they need to lock people into certain discourses, perceptions, etc which will lead them to directed purchase decisions [- this must relate to the markets approach somehow – Callon etc…. i.e. markets are about developing assemblages with particular dynamics…]
• Good point about hype (p11) – that for much research
- "the primary focus is on how business might use VWs, not if. This approach creates an unspoken assumption underlying prior work – creation of affordances naturally leads to business utilization. However, capabilities of a technology do not determine use (Wasko, et al., 2011). In fact, additional capabilities and functions afforded by virtual worlds have been found to be harder to utilize, even for experienced users, thus reducing willingness and expectations of use for business activities (Luse, Triplett, & Mennecke, forthcoming)." (p11; original emphasis).
--> Good point I think - i.e. hype-discourse assumes the potentials will be used, and thus develops a number of positive scenarios. By focusing on a couple of examples, e.g. IBM, this is taken as proof that they will be used, hence the positive assumption is taken as justified and then developed
Please note - these are rough notes only, based on a first reading. They may be useful to someone interested in an alternative perspective on this paper.
However, these notes do not necessarily represent a final opinion, and are subject to revision in the future.
A recent post by danah boyd (and Bernie Hogan) called
Would the real social network please stand up?
makes some interesting points about the dangers of assuming all social networks are comparable and concludes
"The truth of the matter is that there is no "real" social network. It all depends on what you're trying to measure, what you're trying to do with those measurements."
She outlines three types of networks:
• "Sociological 'personal' networks": measured in different ways, these would be 'ego networks' with the person in the centre choosing to associate themselves with all the others - e.g. by saying they are people who they would trust with a secret.
• "Behavioral social networks": these would be networks based on common practices. They may be observed but not experienced as important by the people involved, e.g. people taking the same train to work, or they may be more important to the persons - e.g. Grateful Dead fans.
• "Publicly articulated social networks": 'articulated' means that you consciously list them somehow (e.g. your list for Christmas cards), and the public part comes about when you tell others - the obvious example being Facebook 'friends', or blogrolls. These networks may be made of all kinds of people, some of whom may not reciprocate the social tie (e.g. think of an inveterate name-dropper); and these networks may serve different purposes. The symbolism of the ties are important here - i.e. I may friend you as a follow-up to an offline meeting, but there may be no real intention of deepening the relationship.
What are blog networks?
I was thinking - how would you classify blog networks? The common identification of the 'blogosphere' seems to be a behavioural network - from outside bloggers are often bunched together as one group, but from within most bloggers do not identify with the group as a whole. One publicly articulated social network is the blogroll - but there are different views on how useful they are in explaining meaningful ties for bloggers (e.g.
Schmidt 2007
). Leaving a comment, and responding to them, is a practice central to establishing and maintaining a 'publicly articulated social network' in blogging, but of course not every comment has the same meaning (e.g. see my
10 types of commenters
).
I'd agree with Bernie Hogan (aka
blurky
) that it's important not to 'reify' networks, even though they can be visualised in compelling ways. Blogrolls have limited usefulness, but I would argue that mapping the comments reveals more meaningful relations. Here is an interesting example: at bit less than two years ago, bloggers who had clustered around the launch of All-Blogs, met up in 'Blog House' (
Bloggers Allied
). This is a mapping of the comments made on blog posts that discussed the blogmeet (the blue squares are blogs that received comments, and the red circles are people that made comments).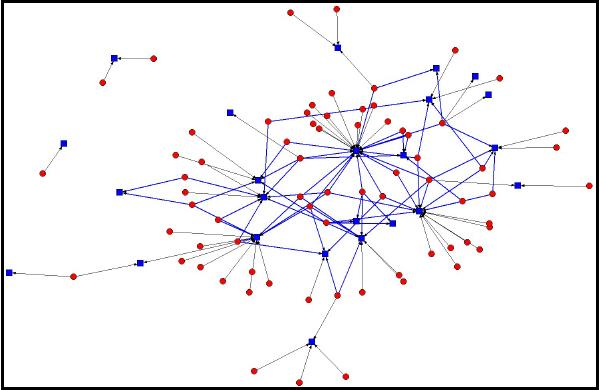 OK - it's all a bit confusing, but we can focus in on the two blogs with the most comments - who, not coincidentally, were the two major figures there.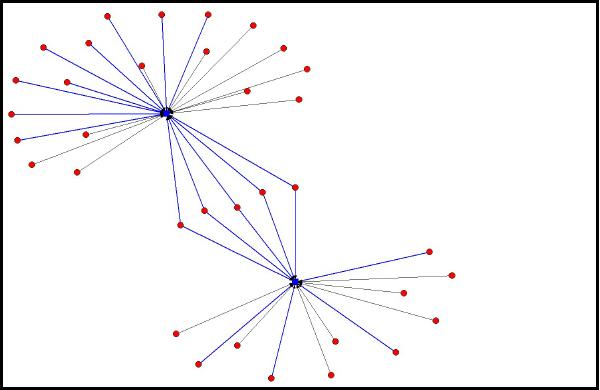 With hindsight, it's interesting to notice how the two major figures there had little common online commenters - suggesting that their networks have different bases. These two leading bloggers were ostensibly working together towards a common purpose, but after the March 8, 2008 elections there was what was touted as a 'split in the blogosphere' - where they both had a public spat. When I asked some of those involved about the 'split', a common answer I got was: 'there never was a blogosphere - there are all kinds of bloggers, and they can do whatever they want'.
When analysing the social dynamics in the blogging field, it would be useful to think of different types of networks that are enrolled in different contexts: in practice, the networks only exist ephemerally, at the moment of their articulation - the danger of 'reifying' them comes from the ability to trace them on the web, which gives them a misleading permanency. A blogroll link may have been added two years ago, a comment may have been made pretty much at random in any blog.
I think that comments are a fundamental practice of bloggers, and investigating those is more important than - for example - looking at blogrolls or other links; though of course they are relevant too. Too many studies of blogs overlook comments, possibly because: 1) they are more difficult to crawl/mine with automated bots; 2) there is a decreasing rate of significance of comments as they increase in numbers (apart from being an index of the importance of the blog and/or the post) - studies that concentrate on the biggest blogs may therefore overlook them. The way I see it, a blog without the option of commenting is just a website, and analysing blogs without taking account of the comments is like trying to understand the social dynamics of a pub without paying attention to the pub goers.
Thanks to
@SurindRaj
I just heard about the most recent Facebook attempt to use your data to make money
From what I understand, this means that they want to use your pictures (e.g. your profile picture) in conjunction with ads to - for example - say 'Hey Julian loves ChokkyNutz why don't you try them?'. Actually I guess they wouldn't be allowed to say that, but in any case they clearly want to make their ads more appealing by using pictures of you. An example of this being misused by a third-party application was when a man saw
his wife's picture used by a dating site

Being Americans, I'm surprised they didn't try to make zillions by instigating a law suit, but the story sped around the web, and
Facebook responded
, basically saying it wasn't their fault and the picture shouldn't have been used in that way.
Anyway - the best thing to do is to stop them by changing your settings in Facebook: Settings > Privacy > News Feed and Wall > Facebook Ads > Drop box: select 'No One' > Save changes.
While you're at it, have a look at some of the other Privacy settings. What do you want people who search for you (and this includes spammers and identity thieves) to see (Privacy > Search)?

And how about this one (Privacy > Applications > Settings)?
"Facebook Beacon is a way for you to bring actions you take online into Facebook. Beacon works by allowing affiliate websites to send stories about actions you take to Facebook… If you click "No, Thanks", no stories or information will be published anywhere on Facebook. Any information that was sent to Facebook's servers will be deleted…
[if you don't click 'No thanks'] The next time you visit your home page, you'll see a message remind you that this story is being sent. There are three things you can do with this story: approve the story by clicking Okay, remove the story by clicking "Remove", or ignore the entire message by doing nothing." (How does Beacon work?)

Basically - have fun with Facebook, but don't forget that it's there to make money off you, not to help you make friends.
You can also check out a previous related post too -
Facebook owns YOU!
Wednesday, January 9. 2008
Some thoughts…
Consider this quote from
Castells
, talking about the difference between data, information, knowledge, wisdom, and judgement:
"we must consider how much the recurrent interaction between computers' programmed decisions and the feedback from their environment can influence future programs, thus modifying the information base and, with it, the knowledge base for decision. In other words, is there self-evolving programming capability?... this does not seem to be the case nowadays. However, there is a co-evolution between the human brain and the computer, learning from each other, but learning from an individual human brain, so that the co-evolution is always specific to a given personality system. So a computer cannot become a subject in its own right, but I could have (actually my grandchildren may have) a computer as an extension of the mind, whose reactions and help affect the mind, inducing individualized co-evolution between people and their machines. So knowledge-management software is a low-level application for routine operations that can be truncated and distributed, but cannot respond to an evolving context, where the critical decisions have to be made." (Castells 2003:137)
interview with Jay Giedd, for example
).
Therefore, the more we use computers to extend our brains, the more our brains will become less able to perform those functions that the computer takes over. The pessimistic possibility is that we just develop the skills of using a computer (like when you spend ages trying to fix a bug in the wireless connection just so you can send an email…); the more optimistic option is that our brains get liberated from the more mundane tasks and reach 'higher levels' – whatever they might be…
Anyway, to get to the social software part. If there is such a thing as 'social intelligence', i.e. a form of consciousness that specifically develops with and through dynamic social interaction, then as we use more software to manage our social life (from the contacts function in Outlook, to dating via social networking sites, where 'compatible' potential partners are selected for us), what 'social intelligence' that we now take for granted will become atrophied? What will replace them? Will it make any difference?
Works cited
Castells, Manuel, and Martin Ince.
Conversations with Manuel Castells
. Cambridge: Polity Press, 2003.
Giedd, J. (n.d.). Interview with Jay Giedd. frontline: inside the teenage brain: interviews: jay giedd, m.d. | PBS. Frontline. Retrieved 27 July 2004, from http://www.pbs.org/wgbh/pages/frontline/shows/teenbrain/interviews/giedd.html
Wednesday, August 15. 2007
If you're anything like me, and I guess 99.9% of internet users out there, you never bother checking those long and boring terms of service that you have to confirm you've 'read and understood'.
Recently, I decided not to accept Google Desktop tracking all my searches to 'give me better service', and although I have a gmail account (which I use for throwaway registrations and the like) I don't much like the idea of everything being scanned for advertising purposes. There are a number of issues, but basically it seems to revolve around Google storing loads of data for ages, and not giving you much/any control over what happens to it.
Wikipedia
,
CNET
and
Google Watch
comment on this.
Interesting:
"2.3 You may not use the Services and may not accept the Terms if (a) you are not of legal age to form a binding contract with Google" (
Gmail Terms of Service
)
does this mean minors cannot get a Gmail account?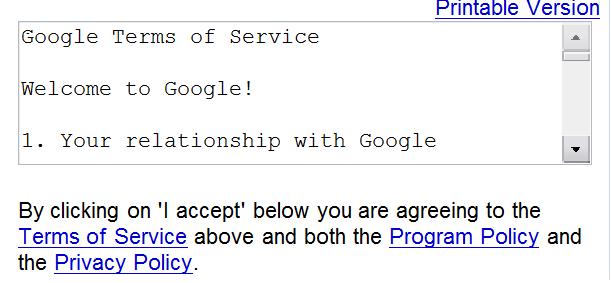 This is a scary one:
"11.1 You retain copyright and any other rights you already hold in Content which you submit, post or display on or through, the Services. By submitting, posting or displaying the content you give Google a perpetual, irrevocable, worldwide, royalty-free, and non-exclusive licence to reproduce, adapt, modify, translate, publish, publicly perform, publicly display and distribute any Content which you submit, post or display on or through, the Services. This licence is for the sole purpose of enabling Google to display, distribute and promote the Services and may be revoked for certain Services as defined in the Additional Terms of those Services." (Gmail Terms of Service)
Continue reading "Facebook owns YOU!"
There's been a lot of discussion about Facebook recently, most notably surrounding
danah boyd's exploratory essay
discussing class and social network sites (SNS)
Facebook
and
MySpace
. At home, also, my spouse has become an avid 'Facebooker': she has been able to connect with numerous friends, as well as others who have not been in touch for a while. It's been interesting to watch the dynamics of the whole thing – one thing that struck me is that, compared to blogs, Facebook provides one with an 'instant network'. Blogs are also used as a way to keep in contact with friends, to accumulate a certain amount of social capital, but there's a lot more work involved there – you have to understand a little html code to do your blogroll, search out other blogs and links, etc. With Facebook, it's all there in an instant, and you don't have to spend time writing posts either.
I've been avoiding joining, mainly because I can see it taking up more time, I don't really see the point of being registered with yet another online service; also, I am one efficient procrastinator and don't need any more excuses. But I have finally given in… I joined the
Media Anthropology Network
, and was told that other members are on Facebook, with details of their profiles and what they're working on. This was the final straw: the
Association of Internet Researchers' email list
(recommended, by the way) had also recently mentioned forming a Facebook network, and a friend recently joined and told me about other long-disappeared-off-the-map friends who are on it too.
This is what greets you when on the first page of Facebook. It's interesting to look at the meaning of "the people around you", it could be read in a utopian, or dystopian way: a dystopian would ask: why do you need an online service to connect with people 'around you'? This draws up images of people communicating via Facebook rather than talking face-to-face. The utopian would read 'around you' as meaning you now have the world as your clamshell, so to speak – i.e. wherever you are, as long as you have access to Facebook,
everyone
is 'around' you.
What is the more realistic likelihood? Well, my guess, much inspired by danah boyd and related discussions, is that the people 'around' you are probably the people 'like' you – i.e. similar social, economic, ethnic, etc, background.
(Page 1 of 1, totaling 6 entries)