Entries tagged as sarawak
Wednesday, August 13. 2008
A constant backdrop to our visit to Sarawak was
Mount Santubong
. Actually, to be more precise, we visited a small part of Sarawak – Kuching and Bako: Sarawak is huge! I think it's bigger than all of 'Semenanjong' (as they call Peninsular Malaysia).
From Bako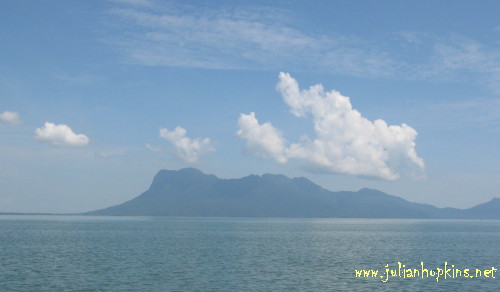 also from Bako at sunset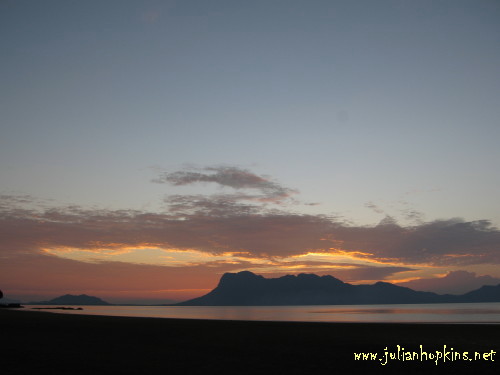 again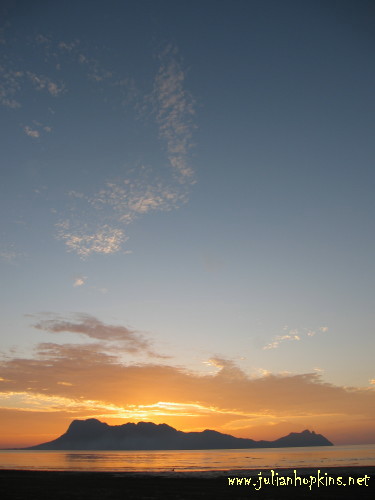 One from an amazing sunset in Kuching – Santubong is in the background. I couldn't get over the fact that I was in the centre of a city, but could still hear the birds serenading an amazing sunset – it was so peaceful

(this photo credit to my wife)
Continue reading "Mount Santubong"
Bako Park was really nice, a perfect place for a day trip from Kuching or more. We spent two nights there, and did a six-hour easy walk on the second day. For me, I love watching monkeys, and there were three kinds there – two I had not seen before.
Around the accommodation area there were Long-tailed Macaques (
Macaca fascicularis
). These are the common type you often see in Malaysia – they're also known as 'Crab-eating macaques', I suppose because they eat crabs; however, these ones spend most of their time hanging around the canteen in order to steal food.
This guy was on a branch overlooking the back of the kitchen
There are rare monkeys there too, the Proboscis Monkey (
Nasalis larvatus
) is an endangered species and one of the highlights of Bako. On the first day we managed to spot a few at dusk, and on the third day we went out early to try to see some. We spotted about five moving around the treetops. They're easy to hear when they're near – when they move from tree to tree there is a loud rustling; but as they stay high in the canopy they are difficult to see, and even more difficult to photograph – this is the best I got!
But if I had a super zoom lense, a tripod, lots of time and mosquito repellent, I might have been able to get this

Continue reading "Monkeys at Bako National Park"
We ate at a food court place in Carpenter Street (where I the
shop signs
are). A very nice seafood porridge (just as I like it, with a tasty soup and non-mushy rice), and some kuey chap - which is a local speciality
The kuey chap is mix of various fried bits of pork in a slightly sourish thin brown sauce. To be honest, I didn't really like it a lot, but the spouse did.
And of course, it was accompanied by some cheap Kuching beer - a large bottle of Tsing Tao for RM7! Beer is very cheap everywhere here (e.g. RM3.80 for a can of Tiger in the supermarket) - I think it has something to do with Labuan, and 'closing one eye'

**Forgot to say - we're off to Bako until Sunday, will update after that**
I finally did my presentation, and I'm now officially on holiday! Aaaaahhhh feels good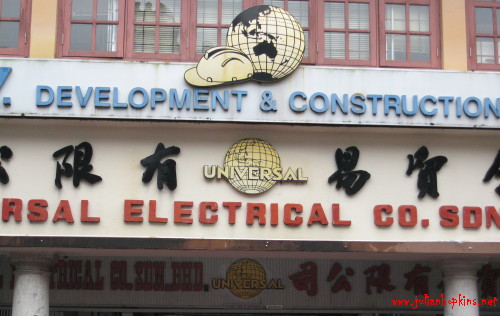 After paying for the rooms at the
Bako National Park
, I wandered back to the hotel through some of the old streets of Kuching – it's a charming place, with old shophouses still thriving (apparently anyway).
Here are some photos of shop signs – they show the old and new overlapping, and the different languages and scripts reflect the pluralistic foundations of Sarawak.
Malay, Chinese and Jawi
Malay, Chinese and English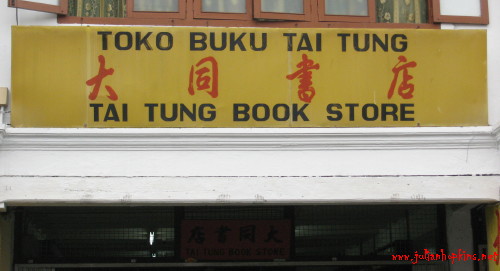 The blinds are used to shade from the sun, and as decorative space
...and the ever-present, real thing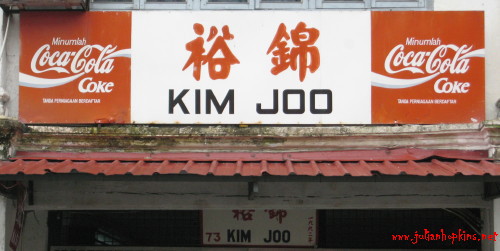 Wednesday, August 6. 2008
For those who don't know, 'kuching' means 'cat' in BM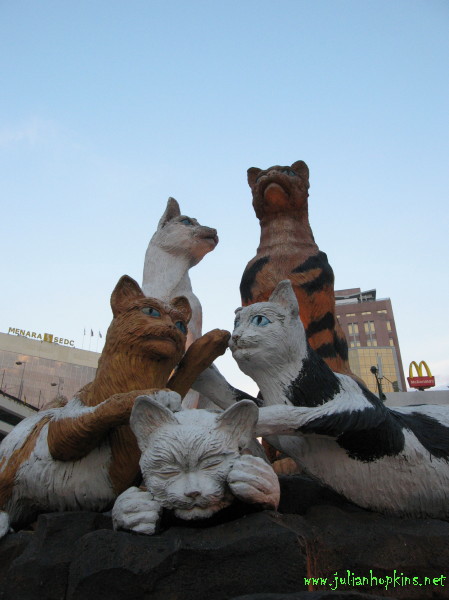 This is a statue in the centre (? I haven't really worked out where the 'centre' of Kuching is yet - it seems to sprawl along either side of a large river, with large buildings sprouting up amongst scattered low housing).
I can't help noticing how the human patriarchal family structure has been reproduced in the statue. Note the female cat gazing adoringly at the tomcat who stands proudly over his brood: in real life he's off as soon as he's delivered his dose of feline goo!
Here's the same at night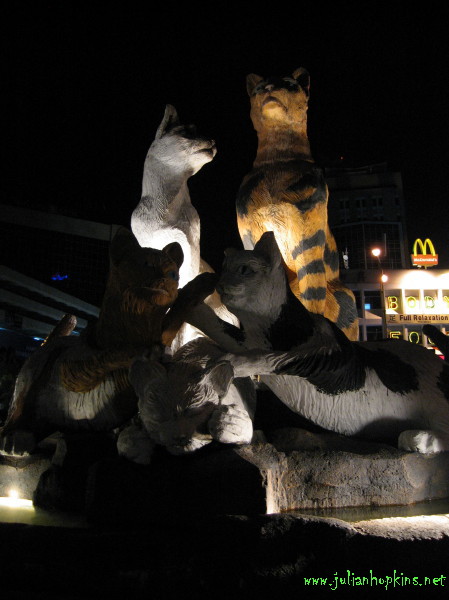 I took it after interviewing my second A-list blogger - very interesting interview, quite long (thanks again!

). It's really confirmed how important these interviews are for my research - there's so much information I could never get myself, unless I worked for years to become a top blogger.
OK, gotta rush and get back to the conference - there are a number of papers on blogs today, I'll try to report back the gist of them.
It's 4.20 am - I woke up after some dream that involved I can't remember what, and my upcoming presentation. I'm getting pretty nervous about it... I woke up with the order of the slides running through my head: authenticity, blogwars, values,... I'm going to do some work on it, but got a little distracted by the view from the back.
We're staying at
Lodge 121
; which is so far very pleasant - a basic, clean, budget hotel with shared bathroom and free wireless. RM79 for both of us. The room is not much larger than the bed, but it's fine.
What is a bit spooky is the view from the back bathroom area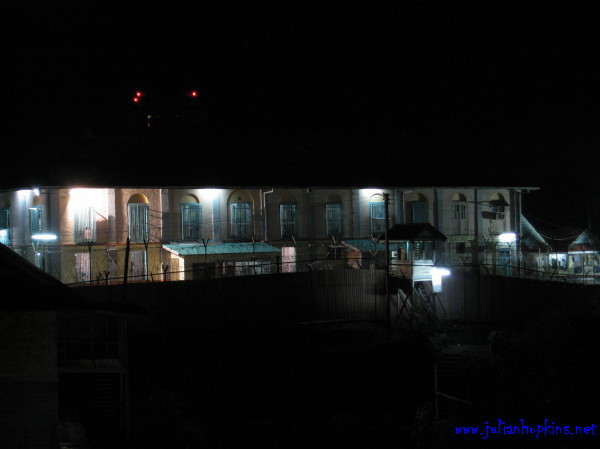 at moments like this, I'm so glad I'm on the outside looking in, rather than the opposite! (Touch wood

)
(Page 1 of 2, totaling 7 entries)
» next page