Entries tagged as research
Tuesday, September 25. 2012
GUNTER, B. 2008. Media Violence. American Behavioral Scientist 51, 1061 –1122.

Some overall points
• Gunter paper is a review of behavioural research on media effects on violence - extensive and useful, goes over the different types of research, etc
• The most fundamental difficulty is that everyone is different, media effects get filtered through individual cognitive and cultural screens, "certain forms of media violence can exert certain kinds of effects on some media consumers some of the time." (p1113)
– Real or fiction: people more likely to respond and be affected by real violence (or violence said to be real, e.g. in experiments)
– Also legitimacy: when violence is shown as legitimate, people more likely to repeat/be violent
– The lab experiments (mostly with college students) tend to show effects (violence analogue, electric shock, 'angered' subjects) - aslo the Bandura one - tend to support media violence causality, but these are always artificial situation (altho eg when children left to play after the experiment has 'finished' then arguably natural, socially complex, environment) (see also p1111)
– More effects on younger children - hardly surprising
– Tend to be more males apparently affected, but this leads to on bias present in many - people who are already violent probably prefer violent media content and therefore there is not necessarily a causal link, only an associational one
– Literacy: positive results when children taught to interpret the texts - this implies that without such training, there is more likely to have negative effects
– Statistical significance: what does it mean exactly? Correlation /= correlation... (pp1109)
– Many studies done on violence, and on youth - why? (Ruddock's political point). Somewhere in Gunter he speaks of this bias also, and one (meta analysis I think) showed that depending on initial assumption (violence, neutral, or non violent) the outcome tended to support the assumption (see also p1111)
– "A simplistic, unidirectional model of media effects therefore may hamper the achievement of a comprehensive understanding of why individuals respond to media violence the way they do." (p1112)

A Prezi which summarises the main points

Wednesday, January 4. 2012
Well, it was a long year - most of which was spent writing my thesis which I handed in at the end of September! That was a relief, but immediately followed by the realisation that when it comes back from the examiners, there will be revisions, and no doubt some difficult questions. So it didn't have the release that one usually gets from finishing exams, or a school year, when there is nothing more to be done.
The Australian doctoral system does not have a
viva
(i.e. an oral defence of the thesis) as is common everywhere else. Someone explained to me that this is due to historical reasons - previously it was too difficult to arrange for Australians to defend in person when their examiners were typically in the UK or the USA. Instead, the examiners write an evaluation and can ask questions which have to be answered in written form.
It's kind of excruciating waiting for the examiners' responses, which I hope to get soon, from time to time it pops into my head, and I wonder what they are going to say. No doubt they will have detailed questions and they are sure to find some flaws somewhere... That's their job after all.
OK. Here goes for a rapid review of 2012.
January: Of course, Charlie has been the most enjoyable part of the year. I stopped posting about him because I started to feel a bit uncomfortable about pasting him on the internet - after all, it's his life and he may not appreciate all his baby photos being online when he gets older

Anyway, in January he was
learning to drink from a cup
. By now that is not a problem and he is walking, talking, and just started his first (pre)school yesterday! Apart from that, the highlight of January was being invited to present at the
Pecha Kucha
event organised by
Niki Cheong
and the British Council. It was a good night, and the principle (20 slides, 20 seconds each) is a great discipline.
February: More
Charlie and baby-led weaning
. BLW basically means no spoon-feeding. It works and we're happy we did it.
March: No blog posts. The whole year, up until September, I was trying to block off any other activities. Dividing time between taking care of Charlie for 2-3 days a week, reading, writing and analysing, with little sleep and much stress, sometimes I found myself despairing.
April: Only one post about the
1Malaysia email
. It doesn't seem to have had much take up yet, but I still think that eventually, having a state-certified online identity will become commonplace.
June & May: No blog posts. More writing. Doing a PhD thesis is probably the most difficult thing I have ever done. More than starting my first term teaching with five new courses, and about 250 students. The difference is that with a thesis, you need a lot of self-discipline - it's easier to work with tight deadlines when you can go from one day to the next, completing each task as it comes to you. The whole point of a PhD thesis is to write something that nobody else has done - so, in the end of the day, you are all alone.
July: One post on
Visualising Assemblage
. For various reasons, I decided to use Deleuze & Guattari's theories for my thesis. This meant a whole lot of reading and trying to understand this complex theory. I think it was worth it, but it probably added a couple of months onto the thesis.
August to October: No posts. Heh. Sometime in July or August I realised that when I don't sleep enough I get very bad tempered. I also started to feel extremely burned out. I learnt that you just can't do without enough sleep for too long. It's really not healthy and is unsustainable.
Actually, after I handed in the thesis we went to the UK and Belgium for a month. That was very nice, and after a couple of weeks I started to feel alive again. Spending the time with Charlie was great too, and he really took to travelling well - to our relief, as I was dreading a twelve hour flight with screaming toddler

November and December: only one post about
Forced Labour in Malaysia
. I cannot ever look at foreign labourers the same again after reading those harrowing witness accounts.
So that was my year. Christmas was on the beach near Port Dickson - chasing crabs with Charlie and eating some homemade mince pies. New Year was a few beers and a great view of the fireworks over KL thanks to some friends.
But... that's **not** all folks...
Please say hello to Neil!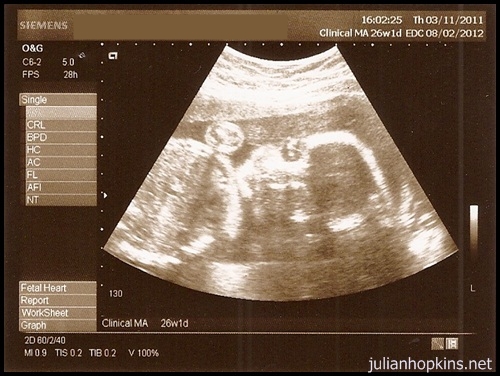 We're so happy to have another addition to our family - due in about five weeks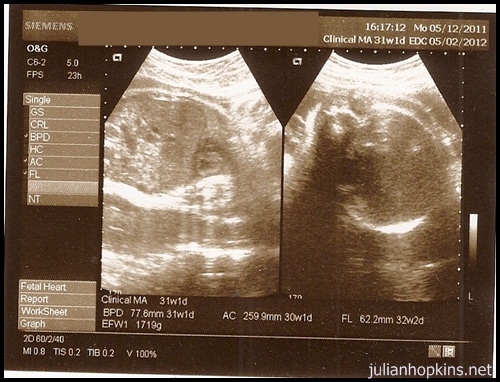 All the clichés are true - having has a child has changed our life, and also brought us the most consistent source of joy ever. To think that soon we will have two is really exciting, and we are so looking forward to seeing them play together and grow up together (touching wood - I get superstitious sometimes).
Finally - all my best wishes for the New Year to you, dear reader, with thanks for taking the time to read to the end of this post.
I'm feeling a bit lost without my camera, which is interesting as it says something about how important pictures have become for my blogging. For most of my posts, the process is like this: I load pictures (of a blogmeet, a place I've been, food I've eaten...) onto my computer, delete the ones that are no good, then do a simultaneous process of choosing which ones to use for a blog post and how I will tie them together with words... So now, without pictures, I have change my way of writing posts.
Anyway, I'm still very busy so I'll just do little stream-of-consciousness thing

I'm in Brisbane right now - attending the
OII Summer Doctoral Programme
, hosted by the
Creative Industries Faculty at Queensland University of Technology (QUT)
: basically, 30 PhD students from various disciplines who study the internet have been brought together, we are given seminars by luminaries from Internet Studies and explain our PhDs to each other. In other words, it's perfect for me and I am thanking my lucky stars (maybe the Southern Cross?

) for being here. It's tiring, but good.
Talking about lucky stars, the reason I don't have a camera is that WW's car was broken into and her bag stolen; and then I was loaned a camera to come here, but the card decided to die on me...
Brisbane is very nice! The public transport is great (the buses have their own roads!), people are friendly and helpful (though the Australians tend to mumble/swallow their words a bit - which I find difficult to follow), food is good, and you can even get a decent curry laksa! Another thing that struck me is that there are many local public libraries, and there was even one in a mall that I went to yesterday. Now that strikes me as a useful function for a mall! There was also a Post Office in the mall. I don't think that happens in Malaysia: I think that every mall should be required to fund some public services too - they could have a post office, a health clinic, a police station (may be more complicated), a library, a children's crèche, an arts centre... Not all of these necessarily, but at least a couple. When you think of it - all that money is spent on malls and for what? So people can spend money and give profits to (mostly) big shop owners and property developers. Not to say there isn't a social benefit in that too, but malls have become such an important focus of life that is almost completely dedicated to one narrow realm of our social life - the buying of material goods.
I'm here for one more week and will try to update more frequently.
Just two more days to go!! I was
soooo stressed
when I launched this survey, and just hoping that I would get at least 100 responses, but now there have been 538!! 500 was my target, so that's cool

but I want more, more, more!! - muahhhahahahhaaha
No seriously, 500+ is great! And a big
to all of you who have taken the time to answer it

But the more responses there are, the more likely it is that the results really do represent Malaysian bloggers as a whole.
For those of you who have not heard of it yet – it's a survey that's part of my
PhD research for Monash University
, and it's asking what Malaysian bloggers and blog readers think of the increased monetisation of blogs – like the advertisements you can see on the right, or 'advertorials', when bloggers are paid to write about products or services.
It takes about 5-10 minutes for a blog reader, and 10-15 minutes for a blogger, and when you finish the survey you can enter your email for a prize draw for
Platinum Movie Suite
vouchers (or something similar near you, if you don't live in Klang Valley). I'll be posting up the results for all to see once I've compiled them.
It's completely anonymous, because I want people to be honest in their answers

So try it now before it's too late! It will be open until tomorrow midnight, so
do the Malaysian Blog Survey 2009 now!!
And my eternal and kow-towing thanks goes out to those who were kind enough to spread the word (previous ones
here
)
A particular mention goes to
Kenny Sia
who had a sidebar panel up for a week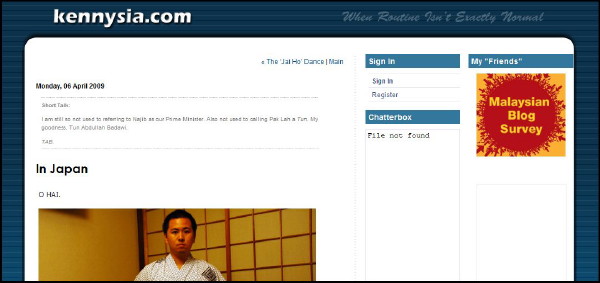 and thanks again to the others who also took the effort to make the survey more successful! (Please tell me if I've missed someone out)
• Hic Sunt Dragones:
myBlogS 2009: The Monetisation of Blogs in Malaysia
• deep inside:
myBlogS 2009 - Malaysian Blog Survey
• As Suanie Sees It:
elawyer law conference 2009 @ um
• Follow the cable:
Blogger turbulence.
And not forgetting tweets from
bytebot
,
kueee
,
ShaolinTiger
, and
synical
*Edit*
: Thanks to
Me, Mine, and Myself
also!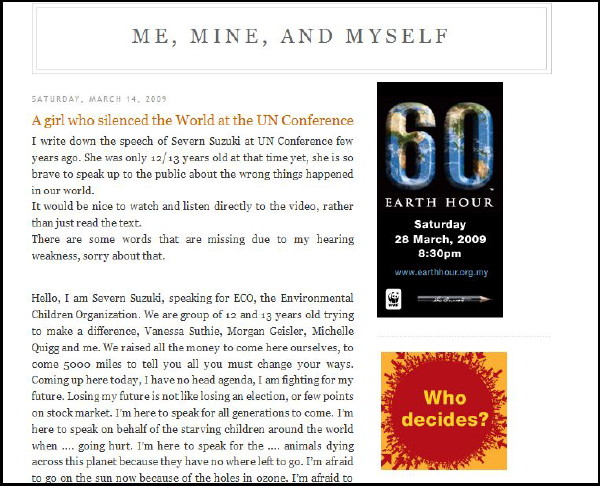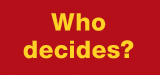 Wednesday, March 25. 2009
The
myBlogS 2009
survey has been running for two weeks now, and I'm really happy with the response so far - 329 responses!!


So, to everyone who has filled it out so far…
I was so stressed at the beginning! Just hoping that it would reach
at least
100, which my supervisor had said was the absolute minimum.
But it's not over! It's open until the 10th April, and the target is
500 responses
.
It's important to have a lot of responses because no one knows exactly who all the bloggers are in Malaysia, so you can't do a
stratified sample
(e.g. for Malaysia, you make sure you have a 50/50 divide of male and female, apprx. 60% Malay, certain percentages of old and young, etc.) that would help to make sure the results reflect the overall population of the Malaysian blogosphere. So the more people who answer, the less likely that there will be bias from a particular section of the blogosphere.
I can't tell you any of the results so far, because that might influence the results if you haven't done the survey yet, but I can say this:
Saya memohon maaf di atas ketiadaan versi Bahasa Malaysia untuk borang kajiselidik ini kerana tidak mempunyai kemampuan serta pengetahuan untuk penterjemahan. Saya berterima kasih jika anda mencuba dan kerjasama serta jawapan anda amatlah saya hargai.
Seriously, I wish I could have it in Chinese and Tamil too, but I just can't do it now

I hope that maybe in future I'll be able to collaborate with someone to redo it in other languages.
Click here to do the Malaysian Blog Survey 2009 now!
You can win
Platinum Movie Suite vouchers
too

And it's not just for bloggers, but for anyone who reads Malaysian blogs.
A big shout out and Thank You! to everyone who has been kind enough to
spread the word
about the survey - by email, or on their blog:
• Domeless w0nderb0y:
~~ DragonBall Evolution Premiere Screening ~~
• ? ?w?s?më??ss ?år?? ?:
Dragonball Premiere Screening
• jelas.info:
Abdullah deserts loyalists?; Book launches with Zaid, Nik Aziz, Anwar; Blog survey
• kuE:
of blogging & law—
• Open Heart, Mind & Soul:
To all..
• The Ranting Cynic:
myBlogS 2009 - Malaysian Blog Survey 2009
• The Tiny Tapir:
Malaysian Blog Survey - Free movie tickets!
• w w w . x e s . c x:
eLawyer Law Conference 2009 - Blogging & Law
and last, but not least
• Malaysiakini:
Vox Populi
and
•
The Star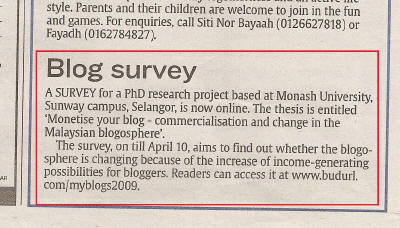 (if I've missed anyone out, please tell me and I'll add you in)
*Update 31/03/09*
: • Itulah Aku:
Malaysian Blog Survey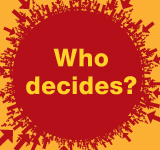 • Who are Malaysian bloggers?
• Why do bloggers blog?
• Is monetisation changing the Malaysian blogosphere?
•
How many blogs would a blogging blogger blog if a blogger's blogging could blog blogs?
These are the questions I am trying to answer for a
PhD in Monash University Sunway Campus
. But of course,
the best people to answer these questions are bloggers and blog readers
, which is why I designed this survey.

You can read more about my research
here
, and throughout this blog.
It's
for all Malaysian bloggers and everyone who reads Malaysian blogs
. Have Your Say about the Malaysian blogosphere!
It will only take you 10-15 minutes and, to thank you for your time, you get a chance to
win a pair of Platinum Movie Suite tickets
(or similar service in a cinema near you). There are two pairs for the first two participants chosen, and five runners-up will each get regular cinema vouchers for two.
I'll be posting the results on this blog, and
the more people who do the survey, the better it will reflect what bloggers and readers really think
about the Malaysian blogosphere. Please help by mentioning it in your blog or telling your friends

(Nuffnangers can also help by Nanging this post

)
If you like, you can spread the word by putting one of a choice of banners or sidepanels on your blog - check them out
here
.
The survey will remain open until the 10th April, 2009 - but don't hesitate...
(Page 1 of 2, totaling 10 entries)
» next page