A while ago, a friend was visiting with her 6-year old daughter. While we were at one of the temples to consumerism that is 1Utama she spotted one of those sticker places (called 'Dream World'), and she was all for it. And I got an excuse to check out the place, as I have long been curious about what it's all about.
It is clearly aimed at female teenagers: the examples of what you can do, and the models used were all female; and the overall design style was clearly 'feminine' – i.e. cutesy, pink, etc. While we were there, there was one guy, but he was clearly tagging along with the girls he was with.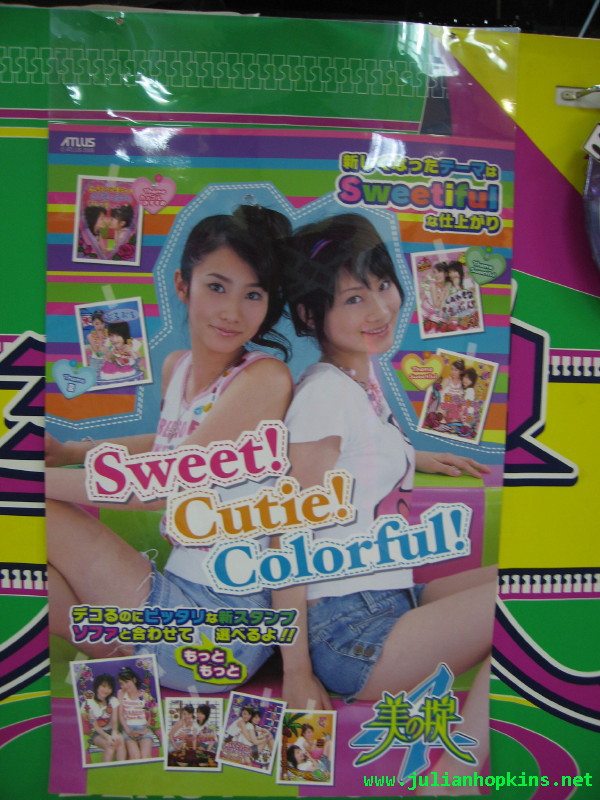 There were suggestions of what you can do with the stickers: decorate your phone, put them in keyrings, or swap them with friends. The general message was: do this with your girlfriends to have fun together, remember special events and be BFF...
One thing that surprised me was that there were no examples of stickers with a girlfriend/boyfriend motif – it seems to me that it would be a good marketing move, i.e. implant the idea in the girl's head, 'if you love me you'll take a photo together with me'. It also seems like an obvious way for teen couples to declare their relationship (and not so teen… I have to confess I have a set in my wallet of me and my wife when we were dating – though my excuse is that it was in the British Museum as part of a display on Japanese popular culture…). Perhaps encouraging couples to sit together in shielded booths is seen as somewhat unsuitable.
Continue reading "Purikura – maraysia-no"