Entries tagged as purikura
Just a quick one, as I really have to work on my upcoming paper (and seminar in Monash, will post details soon – it's about Blogwars!).
Thanks to
Nuffnang
, me and the wife got to see Hancock for free on Monday.
It was in Cineleisure at The Curve. We arrived earlyish, and I saw
joshuongys
and
amy
briefly before heading up.
There's a new
purikura
place at the top now, with an air hockey game which we tried out (the one near the door doesn't have enough power with the air blowing up… dunno about the others)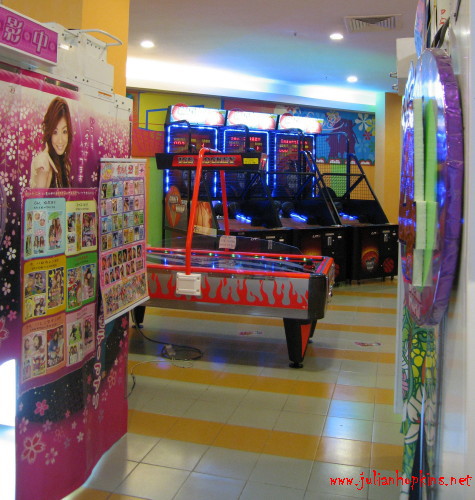 Then I went to get the tickets, the indefatigable Robb was there looking, well elegantly coiffed as usual but honestly also a little tired. Anyway, he had Hancock watching over his shoulder to encourage him on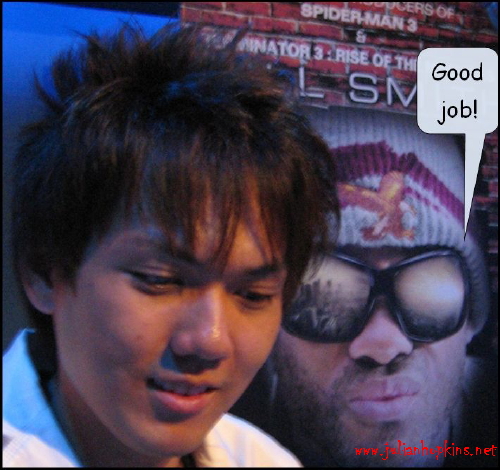 We also met
ShaolinTiger
, who gave me a couple of useful photography tips. Inside, the theatre was filling up with Nuffnangers and their guests. Looking at the photos, it seems like someone was trying to get my attention on the right… sorry, if you were calling my name – I heard something, then I wasn't sure if you were trying to get my attention or someone else…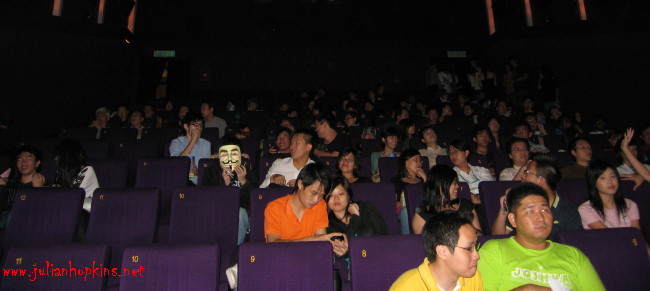 All in all, the film was OK, a different twist to the usual superhero film, and a small moral lesson in how we can make life easier for ourselves if we're nicer to others. I also met an ex-student which is always nice, so 'Hi Susan :)'
As usual, it is mostly young people – as opposed to, for example, the
Blog House
meeting last Saturday. Overall, if I were to guess, I would say the average age of the Nuffnanger is about 25.
See the full entry for a list of links of people who also blogged about the event
Continue reading "Nuffnangers meet for Hancock"
A while ago, a friend was visiting with her 6-year old daughter. While we were at one of the temples to consumerism that is 1Utama she spotted one of those sticker places (called 'Dream World'), and she was all for it. And I got an excuse to check out the place, as I have long been curious about what it's all about.
It is clearly aimed at female teenagers: the examples of what you can do, and the models used were all female; and the overall design style was clearly 'feminine' – i.e. cutesy, pink, etc. While we were there, there was one guy, but he was clearly tagging along with the girls he was with.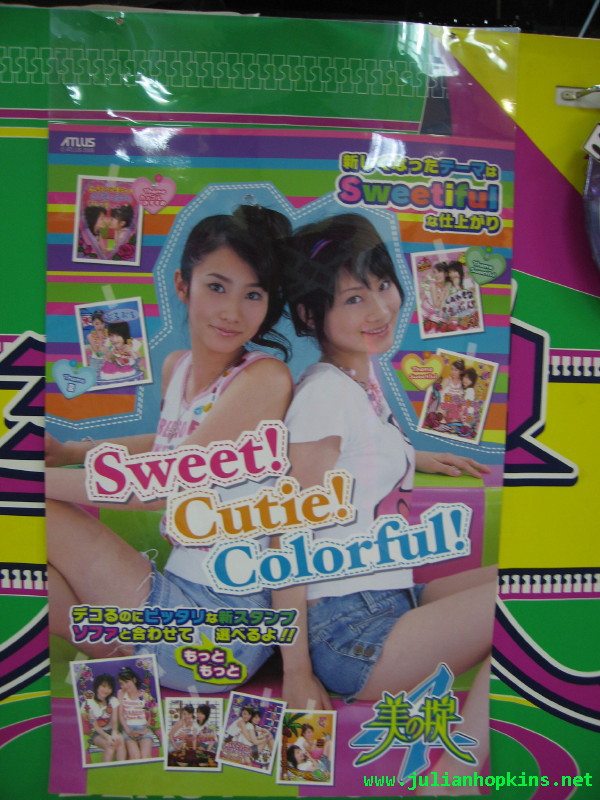 There were suggestions of what you can do with the stickers: decorate your phone, put them in keyrings, or swap them with friends. The general message was: do this with your girlfriends to have fun together, remember special events and be BFF...
One thing that surprised me was that there were no examples of stickers with a girlfriend/boyfriend motif – it seems to me that it would be a good marketing move, i.e. implant the idea in the girl's head, 'if you love me you'll take a photo together with me'. It also seems like an obvious way for teen couples to declare their relationship (and not so teen… I have to confess I have a set in my wallet of me and my wife when we were dating – though my excuse is that it was in the British Museum as part of a display on Japanese popular culture…). Perhaps encouraging couples to sit together in shielded booths is seen as somewhat unsuitable.
Continue reading "Purikura – maraysia-no"
(Page 1 of 1, totaling 2 entries)