Just a quick one, as I really have to work on my upcoming paper (and seminar in Monash, will post details soon – it's about Blogwars!).
Thanks to
Nuffnang
, me and the wife got to see Hancock for free on Monday.
It was in Cineleisure at The Curve. We arrived earlyish, and I saw
joshuongys
and
amy
briefly before heading up.
There's a new
purikura
place at the top now, with an air hockey game which we tried out (the one near the door doesn't have enough power with the air blowing up… dunno about the others)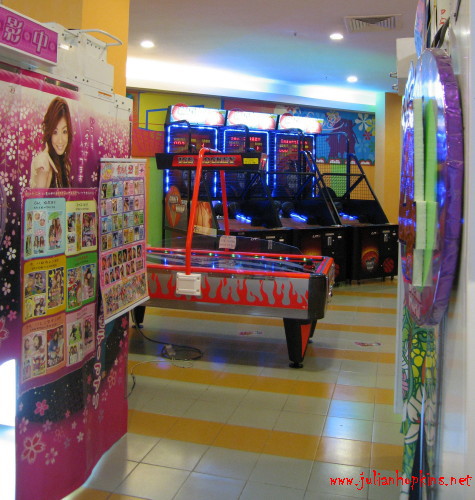 Then I went to get the tickets, the indefatigable Robb was there looking, well elegantly coiffed as usual but honestly also a little tired. Anyway, he had Hancock watching over his shoulder to encourage him on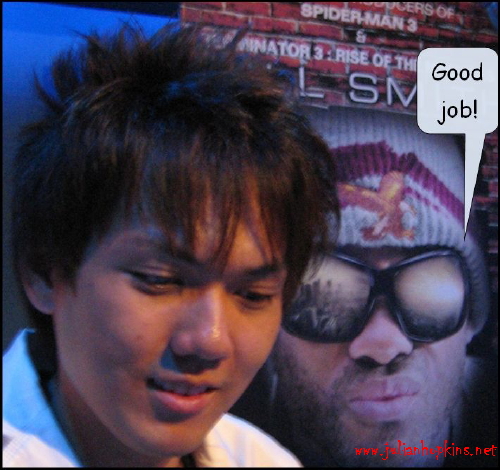 We also met
ShaolinTiger
, who gave me a couple of useful photography tips. Inside, the theatre was filling up with Nuffnangers and their guests. Looking at the photos, it seems like someone was trying to get my attention on the right… sorry, if you were calling my name – I heard something, then I wasn't sure if you were trying to get my attention or someone else…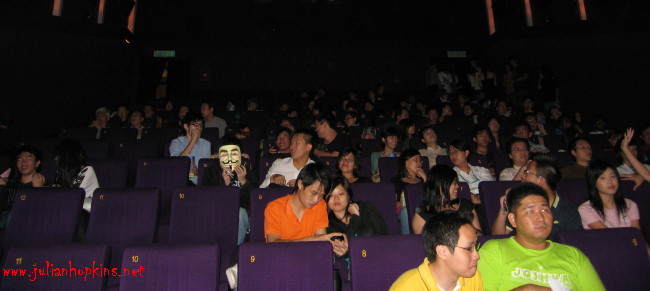 All in all, the film was OK, a different twist to the usual superhero film, and a small moral lesson in how we can make life easier for ourselves if we're nicer to others. I also met an ex-student which is always nice, so 'Hi Susan :)'
As usual, it is mostly young people – as opposed to, for example, the
Blog House
meeting last Saturday. Overall, if I were to guess, I would say the average age of the Nuffnanger is about 25.
See the full entry for a list of links of people who also blogged about the event
Continue reading "Nuffnangers meet for Hancock"