On Sunday 19 September, I went to the
#twestivalkl
tweetup at the
Mist club in Bangsar
. It was my first one and so I went along to check it out. At the back of my mind I was wondering how it might be different from a blog meet, but I was also thinking that I should try to give fieldwork a break for once, and just enjoy. Which may be why I ended up drinking too much beer and regretting it for two days afterwards...

They had stalls by 1901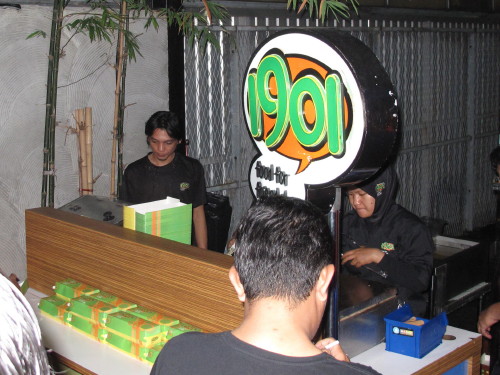 and New Zealand ice-cream
they were 'free flow', as was the Tiger beer (hence the morning after...)
I met a bunch of ex-students which was nice:
reubenhot
,
cheeChingy
, another guy whose name I forgot (I think it was Bryan? argh, sorry... beer...), and last but not least,
DJ Prem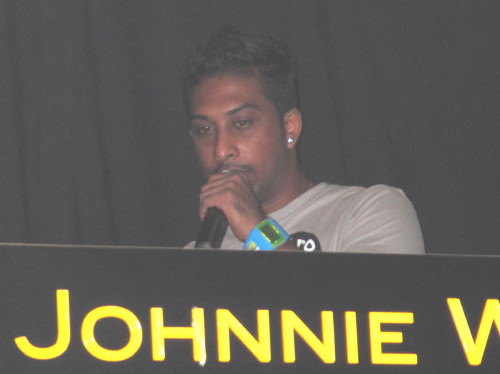 It always reminds me of my age to meet students who are now working in real jobs and so on, but it's also nice to see them outside of class. Honestly, teaching is a great job sometimes, and it's such an honour to have an opportunity to make a small difference in the life of so many people - sounds corny, but it's true. For a great rant on this topic - check out "What teachers make", by
Taylor Mali
.
Anyway, back to the twestivalkl.
It was a charity event too - in to help Destiny Starting Point (
video here
). It's there to help boys who have dropped out and got involved in various delinquency problems - helping them to get back into schooling and get back on track.
Here is the Pastor who founded the place handing over a donated Lenovo computer to the fortunate Lucky Draw winner (looks happy, doesn't he!)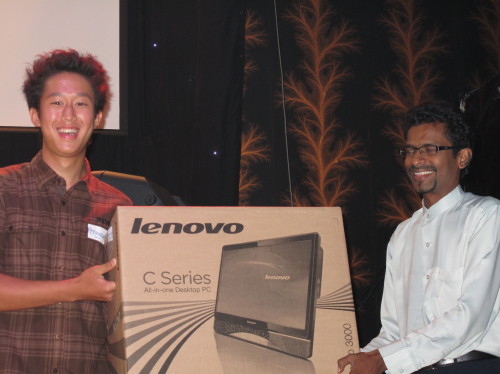 and here he is again with
@nikicheong
, one of the organisers of the event,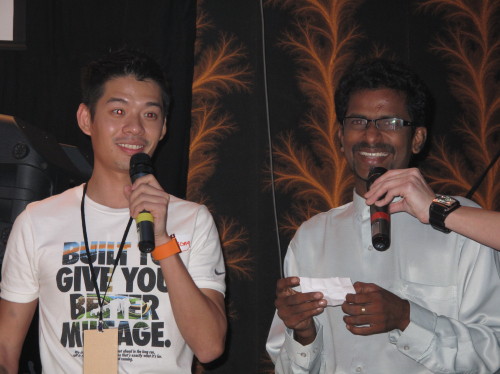 the others being
@davidlian
,
@suanie
,
@eevon
,
@radianceleong
,
@nigelais
, and
@Ling_Chan
Other prizes were a
Poken
, won by
@kellster
(who always seems to be winning things!)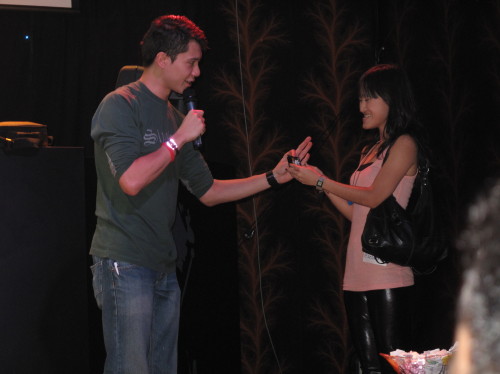 And here are various Poekeners - with
@aprilyim
invading from the left

There were also some of the usual suspects:
@dustyhawk
,
kruel74
,
@joshlim
, and the intrepid photographer -
@benjicajess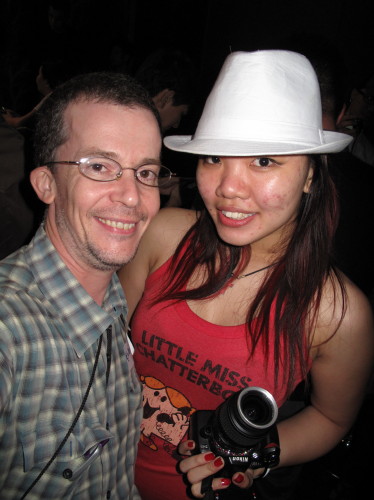 and others who I can't remember...
So. Were there significant differences with a blog meet-up? Basically, no. If they had had the live screening of tweets it could have made a big difference - with people interacting on and offline but in the same physical space. I'm sure that if I had a mobile access to the tweets it would have been different too - and would have contributed to and read what other tweeples were doing.
Many of those there are also bloggers, but not all. I reckon that many people who find blogging too much work, will enjoy tweeting a lot more. There would also be less of this kind of post happening after a tweetup (i.e. what happened, photos, etc). For a tweetup it's a lot more spontaneous and co-synchronous (happening at the same time). And once the event is over, there may be a 'thanks it was cool #twesitivalkl' tweet, and tweeple move onto whatever is happening in their life and tweetzone at that time.
[did a few edits - forgot to include a photo intially, some typos]