**Sticky post until 13/08/08 - Scroll down for new posts**
In a way, it's a story about blogs – you know how you randomly spot something in PPS or Innit, then click here then there, and end up somewhere you never expected?
It all started with a post by
yinhao
– through him I came to
Nikkiko
who was promising a link to anyone who posted a photo showing how not to use plastic bags. So,
I did
, and also set up a space in my sidebar for Bloggers who hate plastic bags.
Then I got a comment and an email from
The Tiny Tapir
: she has this
online shop
full of great enviro-friendly stuff, and was asking me if I wanted to review some reusable bags! Cool! My first review, and for environmentally friendly stuff summor

So, I've been using them for a couple of months, and here it is… Oh and you can
win one
, details at the bottom!
The first thing I noticed, was how small they pack up; the
manufacturers say
"our patent pending enclosure system enables three bags to roll up to about the size of your cup of coffee." Actually, the 'patent enclosure system' is a couple of velcro straps sewn onto the top, but they work very well and the bags arrived in one A3-size envelope, delivered two days after ordering online.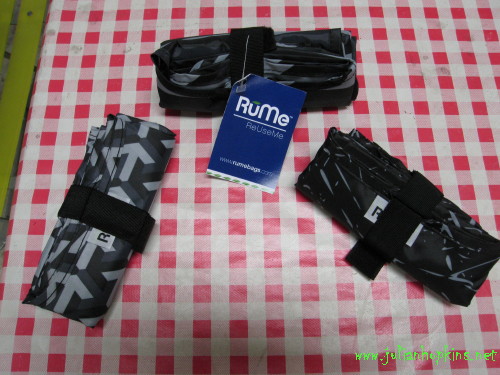 Radioactive Man vs. RuMe!
Continue reading "RuMe review and giveaway competition! Get a free reusable bag!"