There is at the moment a high-profile murder trial involving Abdul Razak Baginda, a close (ex?) political advisor of the Deputy Prime Minister (and assumed next PM) Najib Tun Razak, and two Special Branch policemen who are accused of murdering the ex-mistress, a Mongolian translator called Altantuya Shaaribuu, on behalf of the advisor. It's amply covered by the media and
Google News will give you details
; you could also check
Susan Loone's blog
or
Screenshots
, or many other blogs for coverage.
One hot issue is whether the DPM ever met the lady: he has said not, but there is said to be a photo with Altantuya, Baginda and the DPM at a dinner table. This was talked about before, and was brought up in court when Altantuya's cousin stated that she had seen it and was told by Altantuya that Najib Razak was one of the people in the photo.
The blogosphere became part of the politically charged trial when Tian Chua, the Information Chief for opposition party
Keadilan
, posted a doctored photo representing the alleged photograph ("
French dinner for 3
") and discussed the DPM's denial of ever having met Altantuya. This was denounced in Parliament by Government politicians, and via the MSM. Many people also visited the page, and 217 comments were left (as of 13 July). Many of the comments criticise Tian Chua for disseminating false information - e.g. "This is so sick, your credibility by posting this fake pic has gone down to the drain." (Comment no. 28, frankie), while others say that it is so obviously faked that it is clearly meant to be fake - e.g. "No need to over react on this picture . For anyone with a sense of humour, after seeing the picture knows that this picture is created by a rather creative artist." (Comment no. 41, Niuku)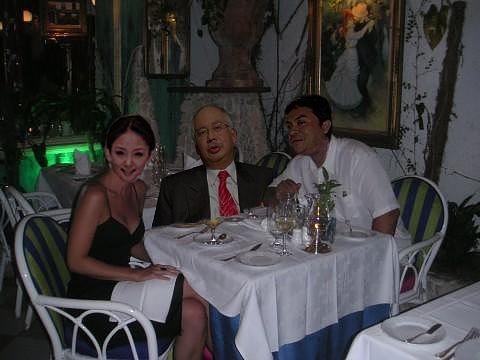 THIS IS A FAKE! The image is Photoshopped, and in no way is intended to represent an actual meeting between the people on the photo.
(The caption is my own, the original was "Najib doesn't want to be reminded with this romantic event" (Tian_a). Also to be noted is that the face of the lady is not Altantuya, but a Korean actress)
Others make a finer point, that he should have made the doctoring explicit - e.g. "May I recommend that, if you want to put up a picture as a PARODY, you must make it extremely overblown so as to avoid people actually assuming you are serious." (Comment no. 42, oster); and yet others question his political judgement, suggesting that this 'real fake' may possibly be used to cast a media smokescreen over the supposed real photo, allowing a confusion between the two, or that it can be used to discredit the opposition in general.
Continue reading "Remixing, blogging and authorship"