Entries tagged as parenting
I often hear parents telling me that television is a good way for their children (infants, toddlers) to educate themselves. I usually shudder inwardly and then tell them about
this research
that shows how too much television for infants is likely to cause short attention spans and possibly also slow learning of language, etc. (By the way he specifically mentions 'Baby Einstein' DVDs as being a bad idea; also note that Disney had to
*remove* claims that Baby Einstein was educational and offer refunds
after legal action was brought against them in the USA.) One of the main problems is that the editing of TV programmes is so snappy, with new scenes every 10 seconds or less. We have not had television for a few years now, and when I do see television, I start to get annoyed at the way in which everything moves so quickly.
One of the reasons for this is the need to keep people interested, and to stop them zapping onto another channel if they are not stimulated in the next 15 seconds. So, imagine a world without the remote control - it's an interesting way to think of the effects of technology on our lives.
The inventor of the remote control just passed away
, and he could reasonably claim to have been a major contributor to the current short attention span-friendly TV programming, with his invention of, as his patent application put it "a system to regulate the receiver operation without requiring the observer to leave the normal viewing position" (
Rosen
)
On the other hand, and in a good example of the need to avoid plain technodeterminism (i.e. the argument that technologies cause social change), it is instructive that one of the selling points of the 'Flash-Matic' was its ability to "tune out annoying commercials" (by reducing the volume,
Rosen
), and the ability to avoid advertisements is still a motivating factor for most TV viewers.
Toddlers want control, they need it. Which is why they keep saying 'No'. It's an important part of how they develop a sense of their own individuality in the world. So it doesn't surprise me that they (apparently) pick up the use of a remote very quickly, and one research reported that
One subject, three-year-old Jimmy, was incapable of articulate conversation and could neither recognize numbers nor tell time, but he "had mastered the basics of RCD use." He "primarily used the RCD to change channels on the TV in order to watch his favorite programs," and when told the time, clever Jimmy "knows if his program should be airing." (Rosen)
Frankly, I can't help thinking that if poor Jimmy hadn't been given free reign of the remote he might have learnt more words, numbers, and the time. Let's hope that he eventually managed to learn to read.
Sunday, February 13. 2011
I posted a video of Charlie eating papaya a while ago, but I felt like it didn't show baby-led weaning in the best way - because he was mostly just playing with the food.
So here's another video where you can see how he manipulates food, goes back for more, etc.
I'm sure all parents worry about the decisions they have to make about their child, but one thing that I'm really happy we did was try baby-led weaning.
The basic principle is no spoon feeding at all - **babies do not need to be spoon-fed**
The main advantages are:
1. The child gets to practice manipulating objects, recognising colours, etc. from an early age.
2. The child learns from the very beginning that eating happens at the table with everyone else. No running after a baby with a spoon.
3. The child learns to control his own food intake, and thus develops a good relation with food. He will try new foods easily.
4. It's easier to feed her, just lay the food in front of her and she gets on with it.
Check out a
website on baby-led weaning
, and also a
helpful forum
.
Disadvantages:
1. It can be very messy
2. It is often slower (but in the long run I think you save time).
13.56
How to do a 15 minute recap of the year?
Answer - check out the archives on the right if you're actually interested, and here is a potted version.
Travel: only one trip to Singapore - probabably the least travelling I've done since I was fifteen and went on my first trip without my mother to Spain, Morocco, and the Netherlands on an InterRail pass.
PhD: it is a painful process, and I needed to get an extension of 6 months in November. I now hope to hand it in by the end of April, but it's going to be tough. But, as I've been telling myself and telling others - this is my last New Year as PhD candidate! It's Doctorate or bust this year!!
Academic stuff: I'm proud to announce my first (co-authored) published work! We got a chapter in an edited volume of cutting edge internet research - the chapter is "Fielding Networked Marketing: Technology and Authenticity in the Monetization of Malaysian Blogs", and the book is
Nexus: New Intersections in Internet Research

. I'd like to take this opportunity to thank Neal Thomas, my co-author, with whom it was a pleasure to work with, and the indefatigable editors, Daniel Araya, Yana Breindl, and Tessa J. Houghton, who made it all happen.
I also quite liked the article I wrote for
Off the Edge
- '
Not the MSM?
'
Apart from that, and many interesting things such as the SMCKL meetings, getting to know Twitter better, doing two podcasts, the MOST important, literally life changing, thing to happen was of course the
birth of Charlie
! Being a father is a constant source of an unique kind of pleasure, pure affect I suppose (for the Deleuzian amongst you); and also a nagging anxiety about wanting to make sure he is getting the best possible. Anyway, credit where credit is due - WW has and is being a wonderful mother, and the grandparents have been an unflagging source of support for which I am really grateful. And kudos to any single parent out there! I have no idea how you do it!
Happy New Year. Live life. Explore. Acknowledge your fears. Love.
14.11
++++++++++
The 15-minute blog post.
I like to blog, but I can't afford to spend a lot of time on it. Solution: limit myself to 15 minutes per post.
One link, one picture maximum.
All comments, critiques and corrections are welcome. Thank you.
Saturday, January 1. 2011
Charlie's been slowly getting the hang of drinking from a cup by himself, this is a compilation of clips over the last couple of days. It's pretty impressive how, given the opportunity, example, and a little encouragement, he can learn so well!


Saturday, December 18. 2010
15.35
We're using the
Baby led weaning
method for Charlie's feeding. Basically it means no spoon-feeding at all, he went straight onto solids at 6 months. So far it's working fine (touch wood).
[OK it's 15.50 now, but the upload to YouTube is taking a while...]
15.04
The 15-minute blog post.
I like to blog, but I can't afford to spend a lot of time on it. Solution: limit myself to 15 minutes per post.
All comments, critiques and corrections are welcome. Thank you.
Wednesday, December 15. 2010
23.42
Charlie grows quickly. Born 3.25kg, now 7.5 more or less. When's the last time you doubled your weight in 7 months?!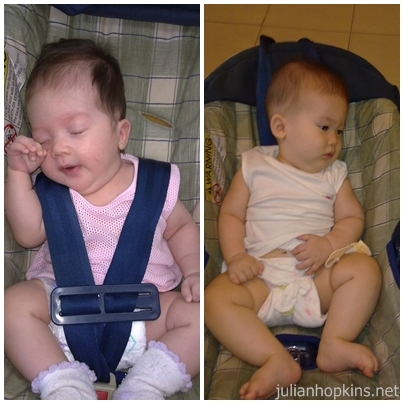 On the left 8 June 2010, on the right, 2 December 2010
OK time's up, had to include editing time too.
23.58
The 15-minute blog post.
I like to blog, but I can't afford to spend a lot of time on it. Solution: limit myself to 15 minutes per post.
All comments, critiques and corrections are welcome. Thank you.
(Page 1 of 2, totaling 10 entries)
» next page