Since I left my old job, I had to buy a new notebook. I have used Compaq and HP for the last four years, but frankly kept having niggling problems that prompted me to look elsewhere. Cost is also an issue, and looking around I found that the best price/quality option for the moment is an
Acer Aspire 5580
(specifically, 5584). When I buy a computer my basic principle is to get the best specs possible: I want it to last 3-5 years, so it has to be 'future-proof'. So, the Acer 5584 has what I was looking for: Intel Core 2 Duo, DVD writer, Bluetooth and Vista Premium; it also has a large hard drive (120GB), a webcam and 1GB of RAM. The recommended retail was RM3888, and I got it down to RM3488 on cash terms. It comes with two 512GB sticks of RAM, but I wanted 2 GB, so I had to trade in them to get two 1GB sticks for RM200. Total: RM3688 (USD 1088).
So far so good, though it doesn't seem massively faster than before: a restart is quiker though... I am used to a 15" screen, so this one (14.1") is significantly smaller. No one seems to do 15" anymore, and 15.4" wouldn't fit in my backpack (which may not be a great reason I agree...).
I wouldn't have gone for Vista yet if I could have avoided it, as there are sure to be some compatibility issues and the like, but so far it's fine (touch wood!).
Here are some comments:
Games: Microsoft has finally gone beyond the same old games it's been using for years. There's chess, mahjong (of the clear-the-pairs-of-tiles kind), 'Ink Ball' (an interesting one, where you draw lines to bounce coloured balls into the right holes, though it is kind of fiddly with a laptop touchpad), and "Purble [not 'Purple'] Place" which has three simple games designed for young children with cartoony graphics and characters to guide you.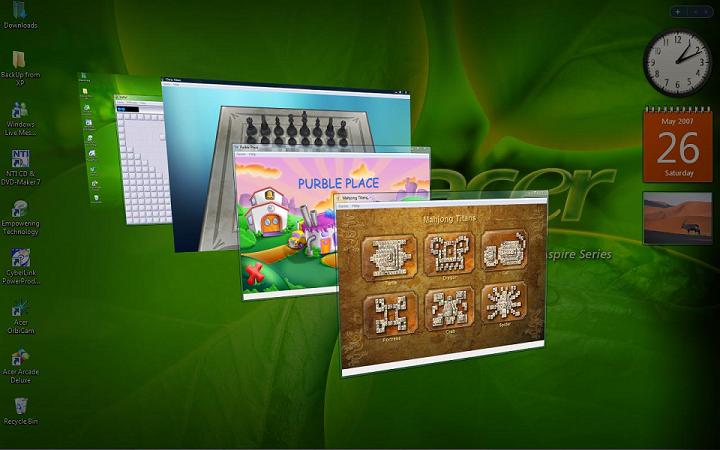 The much-vaunted 'Aero' system looks nice but doesn't really add much functionality. Basically you can cycle through the windows open on your desktop - like the Alt+Tab system, but with actual pictures of the content of the windows.
Happily, my Microsoft Natural keyboard, and trusty old A4 Tech wireless optical mouse, connected via an old USB hub (iBox MiniDock), installed and worked seamlessly. I was kind of expecting to have to get new drivers/hardware

Continue reading "New Acer Notebook and Windows Vista"