Thursday, October 8. 2009
I love travelling, and have blogged about
hitchhiking to Romania
,
drinking coffee in Laos
,
a room with a view in Provence
,
beers in Belgium
, being a
tourist in KL
,
shop signs in Kuching
,
a sunrise in Kelantan
,
clouds over Phuket
, and
a cute devil in Tasmania
.
Somehow, although I've been to Singapore a number of times, I've never blogged about it

Maybe because my trips were normally work-related, or quick day trips?
Nuffnang & Uniquely Singapore
are offering tickets to the Nuffnang Asia-Pacific Blog Awards ceremony, and an "exclusive Uniquely Singapore experience", which sounds intriguing

. But they want to know why I should be given this special opportunity to experience Singapore: for me, I would like to have the chance to discover more of its history and hidden secrets, and blog about what makes Singapore truly unique.
Singapore is a 21st century multicultural metropolis, steeped in the trading history of ancient Asian and colonial empires - it is discovered slowly, its different shades revealing themselves in the rich nuances that make up the character of this hidden gem of Asian culture and history. Inhabited for at least 1800 years, from the 7th to the 13th century it was part of the great Srivijaya Empire, and from 1819 onwards it grew rapidly under the British Empire. Known as an island city, it is sometimes difficult to see the history amongst the skyscrapers and the shopping malls, and to forget that it has natural areas of natural beauty too.
For my dream day in Singapore, I would want to start early with a Peranakan breakfast - perhaps
Otak toast
. While it's still cool, I would explore the park around the MacRitchie Reservoir, established in 1860...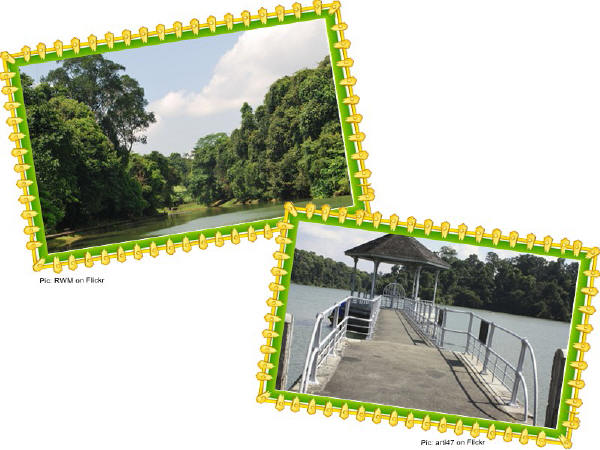 check out the
Treetop Walk
, enjoy the nature...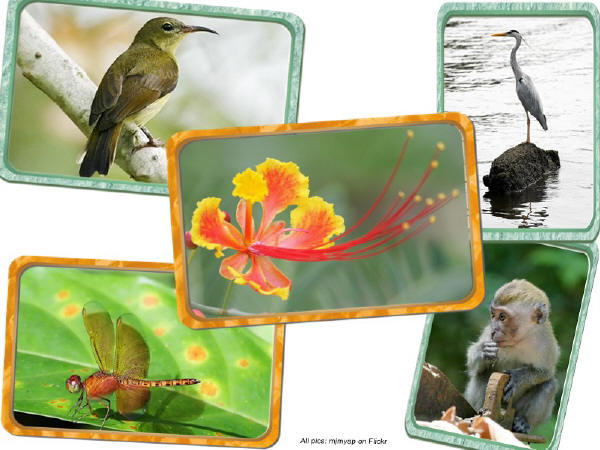 and dream of finding the elusive
Yamashita Gold

For lunch, the 19th century Convent of the Holy Infant Jesus, now a marvelously restored national heritage site known as
'Chimes'
, would give me a choice of fusion dining venues. To digest my light lunch, I could stroll around the cloisters, and view the stained glass windows in the restored chapel.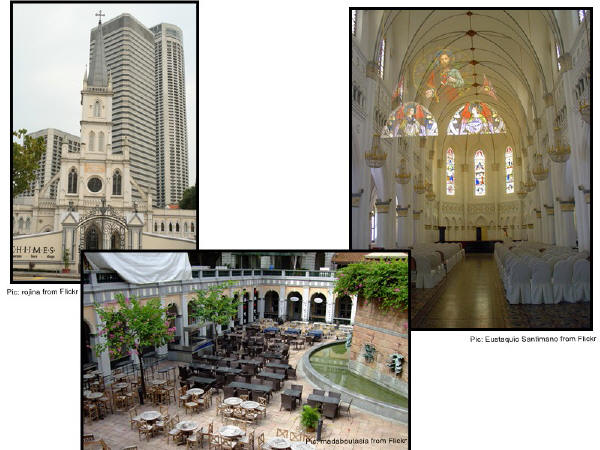 In the afternoon, tired of walking, the
Singapore Sightseeing Pass
which has unlimited access to hop-on, hop-off bus and boat tours looks ideal. I think I'd focus on the HiPPO River Cruise: Singapore was always first and foremost a naval city, which breathed the monsoon wind. A global city before globalisation was heard of.
Seeing Singapore from the river would bring back the perspective that the sailors and weary travellers would have seen, welcoming them from around the world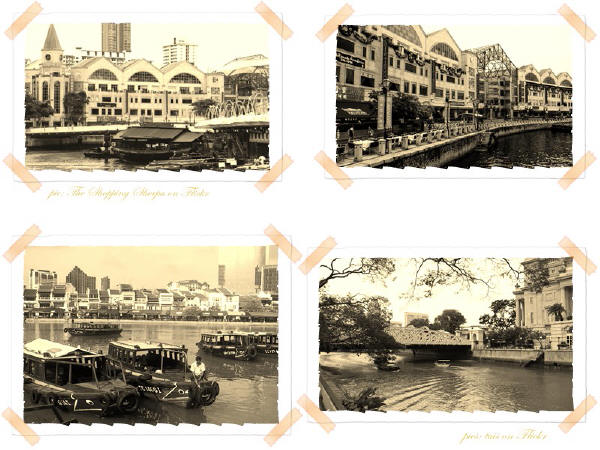 Followed by dinner at one of the relaxed riverside cafés of Boat Quay, and an evening of cocktails and jazz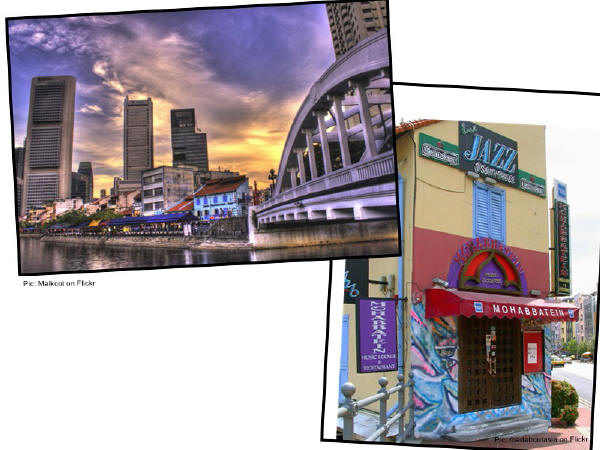 To finish a perfect day, I would luxuriate in the sumptuous comfort of the
Golden Chersonese Suite
of Raffles Hotel,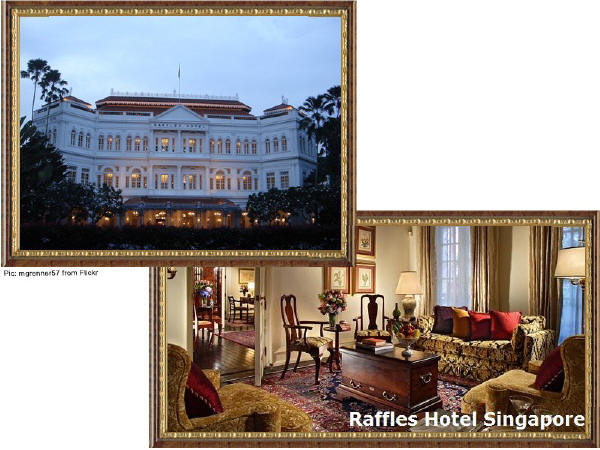 drifting into happy dreams and fond memories of the day when I was truly able to...
Indulge in the Uniquely Singapore experience

Pictures under CreativeCommons licenses, credits to:
arti47
,
Eustaquio Santimano
,
mgrenner57
,
mjmyap
,
madaboutasia
,
Rojina
,
RWM
,
The Shopping Sherpa
,
tuis
Bako Park was really nice, a perfect place for a day trip from Kuching or more. We spent two nights there, and did a six-hour easy walk on the second day. For me, I love watching monkeys, and there were three kinds there – two I had not seen before.
Around the accommodation area there were Long-tailed Macaques (
Macaca fascicularis
). These are the common type you often see in Malaysia – they're also known as 'Crab-eating macaques', I suppose because they eat crabs; however, these ones spend most of their time hanging around the canteen in order to steal food.
This guy was on a branch overlooking the back of the kitchen
There are rare monkeys there too, the Proboscis Monkey (
Nasalis larvatus
) is an endangered species and one of the highlights of Bako. On the first day we managed to spot a few at dusk, and on the third day we went out early to try to see some. We spotted about five moving around the treetops. They're easy to hear when they're near – when they move from tree to tree there is a loud rustling; but as they stay high in the canopy they are difficult to see, and even more difficult to photograph – this is the best I got!
But if I had a super zoom lense, a tripod, lots of time and mosquito repellent, I might have been able to get this

Continue reading "Monkeys at Bako National Park"
In American academic tradition, archaeology falls under the general discipline of anthropology. So, since Indiana Jones is American, and I taught in the American Degree Program, that kind of makes him and me colleagues!
See the resemblance? No? Try squinting hard, even closing your eyes!
OK, maybe he's a bit more 'athletic' than I am… But I also went on a quest, braving danger and near death, just to look for answers to impending environmental disasters

Crawling through caves…
almost drowning in hidden water traps…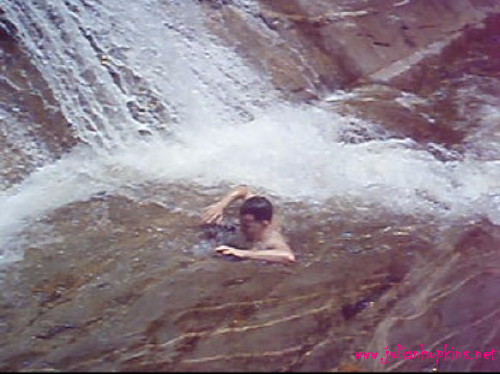 and then, when the summer equinox sun shone at 12pm through the hidden grove...
Continue reading "Indiana Julian and the Temple of Earth"
I took some photos of flowers and plants during our
trip to Gunung Stong
, intending to identify them with their Latin names and all that, but it turns out my book "Plants for Tropical Landscapes" really only focuses on plants for gardens, so I'll just tell you what I managed to pick up about the plants.
There are a number of wild ginger varieties there (the
Zingiberaceae
family). This is the flower of one - it grows on the ground, and as you can see it captures water in its cupped petals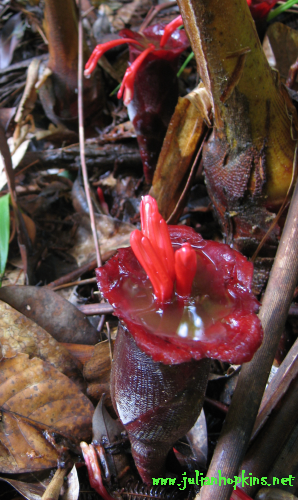 I was surprised that ginger plants actually grow long stems kind of like bamboo - I guess because I only ever see the root, I never thought about what happens above ground. These next two are ginger too - I think.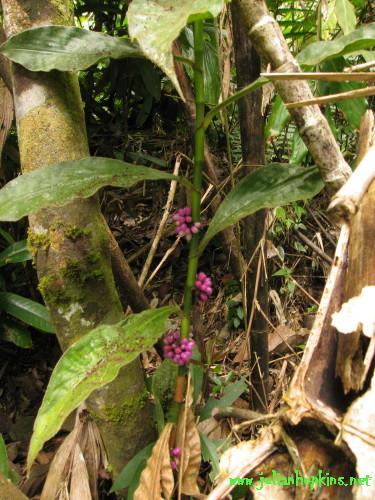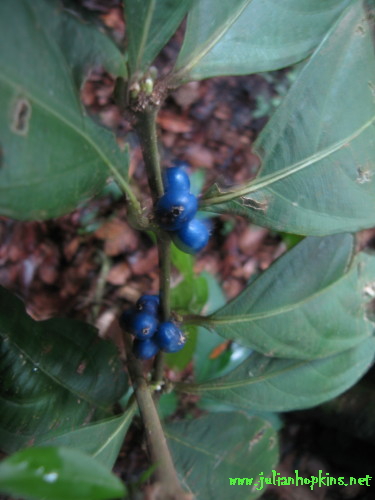 This is a palm that is particular to the Gunung Stong area
and this is a
Pandanus
of some kind, lots of them there
Continue reading "Jungle flowers"
I went on a nice hiking trip last week, to Jelawang Falls (aka Stong Falls) in the Gunung Stong State Park (GSSP) in
Kelantan
. It's said to be the highest waterfall in SE Asia (apprx.
300m
). In any case, there is an amazing view from the top, and we got to see a wonderful sunrise on the second morning – here's a short film I put together (length 1:20)
When I got back and was looking at the photos I noticed that for a while the sun seemed to be sitting in a cup made of light or something (can't find a good way to describe it…)
Continue reading "Sunrise at Jelawang Waterfall, Kelantan"
(Page 1 of 1, totaling 5 entries)