Entries tagged as myblogs2009
The recent plan by the American Federal Trade Commission to
"Fine Bloggers up to $11,000 for Not Disclosing Payments"
has got people talking about the ethical and legal aspects of paying bloggers for content, and apparently
"Singapore's Media Development Authority is considering mirroring the U.S. government's new tough stance"
. There has been discussion on the NPR program 'On Point with Tom Ashbrook' (
podcast here
), a blog post by Dave Gilmor -
A Dangerous Federal Intervention in Social Media
; and in Malaysia it was discussed on the
Digital Edge Podcast
, a
Twtpoll
by
@blogjunkie
, and various tweets by various people (please tell me about more if you know of any, thanks).
It's important to distinguish between paid advertorials, and reviews of products or reports of events. For the former, the client vets and approves the final content, and only pays if they are happy with it. For the latter, a blogger may be given a product, or invited to an event, and it's up to the blogger to write what they want, if anything. Of course, most people tend to feel more favourably disposed towards someone who gave them something - but my research suggests that if a blogger does not like a product or event, they are more likely to just not blog about it, rather than blog something bad about it.
It can be a very cheap and effective strategy for a company: for the cost of a freebie, or by including a few bloggers into a product launch party, they might get some exposure to a few thousand, or maybe even tens of thousands, loyal readers who value and trust the bloggers' opinion. Particularly when this audience is typically less likely to read a newspaper, watch television, and so on. Even advertorials, which can cost from a few hundred to a few thousand (I estimate), are much cheaper than - for example - a full page newspaper ad (average cost, RM10K?), and the post will stay online too, rather than ending up in a recycle bin (hopefully).
My research so far has indicated to me that some advertisers explicitly require bloggers
not
to disclose that the post is paid for, but these seem to be a smaller minority. Most bloggers do disclose in some manner: some in a very obvious way - in the title or at the head of the post - and most in a more subtle way, giving the post a tag such as 'advertorial', 'pocket money', or something like that. Other bloggers say that they do not need to disclose, as their readers will know when they are doing an advertorial anyway.
In the
myBlogS 2009
survey, I asked questions about disclosure, and the commercialisation of blogs. Here are some of the results.
The charts compare the responses by Bloggers (in pink; n = 356) and Readers (in green; n = 197); as well as the Monetisers - i.e. bloggers who try to make money from their blog (in orange, n=183) and the Non-Monetisers (in blue, n=173). If you see more on the right side, it means more agreed with the statement, and disagreements show up on the left; a peak in the middle means more were 'Neutral'. The more of a difference in their attitudes, the more of one colour you can see. You should also be aware that these graphs are not always directly comparable - because the scale on the y-axis changes sometimes.
There was a "Not applicable to me" option too: rather than including these responses in the graph, I've put them on the side in order to let the graphs show the trend of those who did address the question. Most of the time, the amount is only one or two percent. It's impossible to know why, when asked an opinion, people answer "Not applicable to me" - it suggests that either they don't understand the question, that it doesn't address their experience, or maybe that they have no opinion.

Here we can clearly see that most think that advertorials should be disclosed. The "Not applicable to me" answer was 4.4% for the Monetisers, and 10.4% for the Non-Monetisers (for some reason I couldn't get it on the picture). The high number for the Non-Monetisers suggests that some read the question as referring to them, rather than being a general opinion.
But anyway, there is a clear preference for disclosure; though there are more than a quarter who are neutral, suggesting that they believe it's up to the blogger to decide. The Monetisers are (unsurprisingly) the most likely to sit on the fence on this one.
What may be the impact of bloggers doing too many advertorials?

There is a tendency for bloggers and readers to think that blogs are too commercialised, but the readers seem to be less worried about it than the bloggers - this may reflect the fact that bloggers may have been around longer, and thus seen more changes. Both Monetisers and Non-Monetisers see the commercialisation as excessive, the the Non-Monetisers feel more strongly about it.

Continue reading "Do Malaysian bloggers think that blog advertorials need to be disclosed?"
As promised, here is some more analysis of the survey. In this post, I'm going to compare responses to a series of statements that were asked to both bloggers and non-bloggers about their opinions on blogs in general. The idea behind this set of statements was to see whether there was some sort of consensus amongst bloggers and readers about what a blog should be like - i.e. is there an
ideal-type
blog that the members of the blogosphere believes should be a model to follow? There were some questions on more objective matters (e.g. photos or not, comments or not), and some more subjective matters (e.g. whether a blogger should be honest or not).
For me, often the most interesting questions are usually those that ask people to rate their level of agreement with certain statements (it's called using a
Likert scale
normally); social science is never an accurate science, and reflecting people's range of thoughts and practices accurately based on a structured questionnaire (i.e. with choices of answers) is very difficult, but this way does give one way of reflecting the many shades of gray that make up human behaviour.
You can see the details of the responses by clicking on the thumbnails below
but what I'll do here is compare them using area charts to get a feel for the trends. The charts compare the responses by Bloggers (in pink; n = 356) and Non-Bloggers (in green; n = 197). If you see more on the right side, it means more agreed with the statement, and disagreements show up on the left; a peak in the middle means more were 'Neutral'. Where there is more of a difference in their attitudes, you can see the colour stand out. You should also be aware that these graphs are not always directly comparable - because the scale on the y-axis changes sometimes.
Functional features
These compare the more 'functional features' that bloggers and non-bloggers prefer.

The clearest preference is for comments - overall just over 80% of bloggers and non-bloggers think that blogs should have a comments function; compared to the chat-box, you can see that there is a lot less interest as to whether or not there is a chat-box on a blog.

There's a general preference for photos, but many are Neutral, and about one-fifth think they are not a necessity. The Non-Bloggers tend to think this is more important.
Continue reading "The 'ideal type' blog?"
[
edit 11/09/09
: I just realised that the title of this post is a bit misleading - myBlogS 2009 was not the first Malaysian blog survey, what I meant was that these are the first results of the myBlogS 2009 survey.
Previous surveys have been done by
Tan Jun-E
and
syed syahrul zarizi
]
Well I've been kind of busy lately, and finally got round to submitting a paper to a journal (my first one! Wish me luck!) - it's based on the paper on
Blogwars and Authenticity
that I presented at MSC6 last year.
Anyway, I know a lot of people want to know what the results for the survey are, so I've decided to do it like this:
1)
Release the full summarised results for anyone who wants to look at them -
download them here
.
2)
Put up more detailed analysis of different portions as and when I complete them.
The reason I'm doing it this way is because I have no idea when I'll have completed the full analysis of the survey (it was quite long, and there are many angles to it), but at least people can have a look at the overall results.
I'll be happy to respond to any questions and requests for analysis on particular angles. For example, looking at the summarised results you can see that 54.2% of the bloggers that responded were female, and that 51.4% of the respondents are trying to make money from their blog; but you may want to know how many females were trying to make money compared to males. You can't tell that from the summary, but if you ask me I'll do my best to do the analysis for you and then put the results online. I'll also be putting different analyses online as I go forward - the first one will be comparing bloggers' and non-bloggers' views on blogs in general (question 10).
Limitations to the results
As with all social research there are limitations to the conclusions that can be drawn, here are the main ones that I can think of now:
• The survey was in English only - this tends to exclude the non-English language bloggers and readers. As such, it cannot claim to represent Malaysian bloggers as a whole, but a particular portion.
• The sample size is not insignificant, but not very large either. This will possibly induce bias in certain directions - in particular, it is more likely to reflect the kind of blogs I am focusing my research on, and who are more likely to have heard of me. That is, personal/lifestyle blogs.
• In addition, the sample is 'self-selected' - i.e. only people interested enough in the subject matter choose to respond to it, so this induces a bias in favour of a particular type of blogger and/or reader.
Some overall results
The survey was conducted online between March 9 and April 10 2009. 686 started the survey, and 561 completed it, giving a completion rate of 81.2%. Of those who completed it, there were 356 bloggers and 197 non-bloggers (i.e. those who read blogs only).
This is a rough portrait of the average blogger who responded:
The average respondent blogger is a young Malaysian female student, between 18-25 years old, living in KL or Selangor, and of Chinese ethnicity. She has had a blog, in English, for more than two years, updates at least once a week, and has less than 100 unique visitors a day. She is likely to use her real name on her blog, or be identifiable via photos or other information. She has a blog mostly because she likes writing; she wants to keep a track of things she wants to remember; and to keep in touch with friends. Her top three preferred blogging topics are friends, events and travel. She allows unmoderated comments - but will censor comments that are offensive, racially sensitive, make personal attacks or refer to her family.

Making money from her blog is not an important reason for having a blog, but nevertheless she is probably taking advantage of opportunities to make money. In practice she is making less than RM100 a month using Nuffnang, and is not likely to be doing paid advertorials; she has not received any free gifts/tickets/food as a result of her blog and is not likely to have a non-commercial ad or announcement on her blog.

She reads blogs every day, and follows up to ten blogs regularly - she may know her top three bloggers personally, but reads the blogs because they are interesting and/or useful. She will have met some of the bloggers in person, but not too many. She is likely to read the comments in blogs - but not always - and leaves a comment when she has something useful or interesting to add, and may respond to other comments for the same reason.
There's more information than that in the results, particularly about attitudes, but I'll get round to that afterwards.
Compared to most studies of blogs - e.g.
Technorati's 'State of the Blogosphere'
, or Tan & Zawawi's
'Blogging and Democratization in Malaysia
, this sample is younger and more female (though the
2006 survey by Microsoft
had more female bloggers too). The amount of bloggers with paid advertisements is less than those reported for Asian blogs by Technorati (51.4% and 60% respectively).
As usual, I would more than welcome any comments, suggestions and criticisms. Please feel free to use the comments area below, or to
send me an email
if you like.
Just two more days to go!! I was
soooo stressed
when I launched this survey, and just hoping that I would get at least 100 responses, but now there have been 538!! 500 was my target, so that's cool

but I want more, more, more!! - muahhhahahahhaaha
No seriously, 500+ is great! And a big
to all of you who have taken the time to answer it

But the more responses there are, the more likely it is that the results really do represent Malaysian bloggers as a whole.
For those of you who have not heard of it yet – it's a survey that's part of my
PhD research for Monash University
, and it's asking what Malaysian bloggers and blog readers think of the increased monetisation of blogs – like the advertisements you can see on the right, or 'advertorials', when bloggers are paid to write about products or services.
It takes about 5-10 minutes for a blog reader, and 10-15 minutes for a blogger, and when you finish the survey you can enter your email for a prize draw for
Platinum Movie Suite
vouchers (or something similar near you, if you don't live in Klang Valley). I'll be posting up the results for all to see once I've compiled them.
It's completely anonymous, because I want people to be honest in their answers

So try it now before it's too late! It will be open until tomorrow midnight, so
do the Malaysian Blog Survey 2009 now!!
And my eternal and kow-towing thanks goes out to those who were kind enough to spread the word (previous ones
here
)
A particular mention goes to
Kenny Sia
who had a sidebar panel up for a week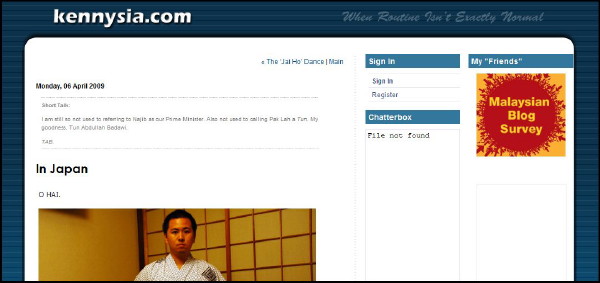 and thanks again to the others who also took the effort to make the survey more successful! (Please tell me if I've missed someone out)
• Hic Sunt Dragones:
myBlogS 2009: The Monetisation of Blogs in Malaysia
• deep inside:
myBlogS 2009 - Malaysian Blog Survey
• As Suanie Sees It:
elawyer law conference 2009 @ um
• Follow the cable:
Blogger turbulence.
And not forgetting tweets from
bytebot
,
kueee
,
ShaolinTiger
, and
synical
*Edit*
: Thanks to
Me, Mine, and Myself
also!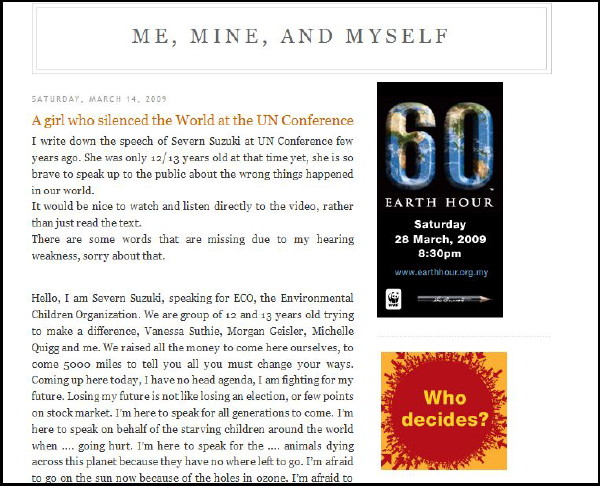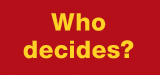 Wednesday, March 25. 2009
The
myBlogS 2009
survey has been running for two weeks now, and I'm really happy with the response so far - 329 responses!!


So, to everyone who has filled it out so far…
I was so stressed at the beginning! Just hoping that it would reach
at least
100, which my supervisor had said was the absolute minimum.
But it's not over! It's open until the 10th April, and the target is
500 responses
.
It's important to have a lot of responses because no one knows exactly who all the bloggers are in Malaysia, so you can't do a
stratified sample
(e.g. for Malaysia, you make sure you have a 50/50 divide of male and female, apprx. 60% Malay, certain percentages of old and young, etc.) that would help to make sure the results reflect the overall population of the Malaysian blogosphere. So the more people who answer, the less likely that there will be bias from a particular section of the blogosphere.
I can't tell you any of the results so far, because that might influence the results if you haven't done the survey yet, but I can say this:
Saya memohon maaf di atas ketiadaan versi Bahasa Malaysia untuk borang kajiselidik ini kerana tidak mempunyai kemampuan serta pengetahuan untuk penterjemahan. Saya berterima kasih jika anda mencuba dan kerjasama serta jawapan anda amatlah saya hargai.
Seriously, I wish I could have it in Chinese and Tamil too, but I just can't do it now

I hope that maybe in future I'll be able to collaborate with someone to redo it in other languages.
Click here to do the Malaysian Blog Survey 2009 now!
You can win
Platinum Movie Suite vouchers
too

And it's not just for bloggers, but for anyone who reads Malaysian blogs.
A big shout out and Thank You! to everyone who has been kind enough to
spread the word
about the survey - by email, or on their blog:
• Domeless w0nderb0y:
~~ DragonBall Evolution Premiere Screening ~~
• ? ?w?s?më??ss ?år?? ?:
Dragonball Premiere Screening
• jelas.info:
Abdullah deserts loyalists?; Book launches with Zaid, Nik Aziz, Anwar; Blog survey
• kuE:
of blogging & law—
• Open Heart, Mind & Soul:
To all..
• The Ranting Cynic:
myBlogS 2009 - Malaysian Blog Survey 2009
• The Tiny Tapir:
Malaysian Blog Survey - Free movie tickets!
• w w w . x e s . c x:
eLawyer Law Conference 2009 - Blogging & Law
and last, but not least
• Malaysiakini:
Vox Populi
and
•
The Star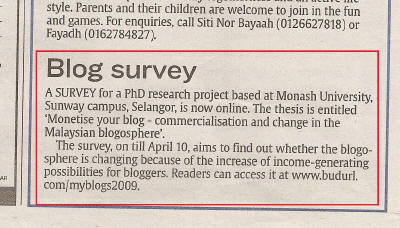 (if I've missed anyone out, please tell me and I'll add you in)
*Update 31/03/09*
: • Itulah Aku:
Malaysian Blog Survey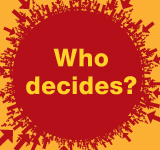 (Page 1 of 1, totaling 5 entries)