Entries tagged as monetisation
One of the main concerns that has been expressed regarding the recent Facebook IPO is whether or not it can monetise its massive user base properly. As Rushkoff (I think) has said, all of us who are on Facebook are its product, not its users. Our personal data is number crunched and requalified as advertising targets.
If you want to see this in action, just try changing your gender, or your age, your location or other data, and see the ads change.
There is a new feature on Facebook now that enables you to promote your posts (
all details and pics taken from here
).
So - in the example given. You take any post and say how much you want to spend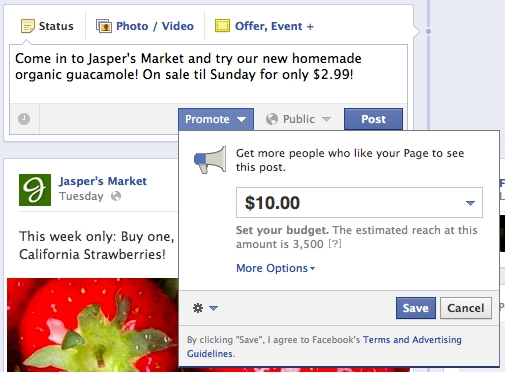 Then…
All promoted posts will show in the news feeds of the people who like your Page and, when they interact with the post, to their friends. These posts will be labeled as "Sponsored" in the news feed. Promoted posts will not be shown in the right-hand column of Facebook.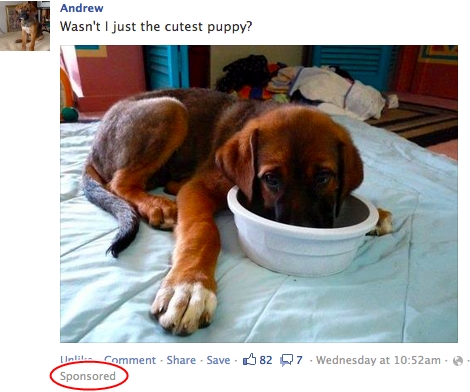 Your promoted posts will be seen by a larger percentage of the people who like your Page than would normally see it. It will also be seen by a larger percentage of the friends of people who interact with your post.
So – I guess this means that if you liked a page once, and never went back there (as happens), then instead of no longer showing up (as your feed is more likely to show those you regularly interact with) it will suddenly pop up. Also, it will be pushed to more of your friends.
It's not for everyone, you need to have at least 400 likes on your page, and it's limited to posts that you have done in the last three days. But the money is am "lifetime budget" so I guess if you pay a lot of money upfront it can keep running for a long time.
Also:
Just like with regular ads and sponsored stories, promoted posts will be reviewed by our Facebook Ads Team, but generally they should start running as soon as they're created.
I suppose this means that they do an automatic check for inappropriate content.
What does this mean? Well, just like all media we are going to have to get used to tuning out the advertisements, though these updates will look at first glance just like a normal one. By the time you have checked for the 'Sponsored' tag, you will have taken in much of the content. I doubt that Facebook will give you the option to not have any of these sponsored posts. One response could be to unlike the page, which may happen in some cases but most people will probably just live with it.
Over time, the interleaving of your personal posts and friends' posts with sponsored posts will highlight the commercial nature of Facebook, and therefore tend to make people more likely to leave to another service if they have the options.
This is a Prezi of a paper I presented last year at the 6th Asian Graduate Forum On Southeast Asian Studies at the NUS Asia Research Institute.
Here is the abstract:
Whereas the great majority of blogs are of the 'personal' genre - i.e. diaristic accounts of individuals' lives - academic research has focused mostly on the 'social-political' blogging genre and its relevance to the democratisation of the public sphere. Based on ethnographic fieldwork and drawing upon anthropological critiques of economic theory, this paper discusses the complexities of the articulation of personal blogging with existing models of media advertising in Malaysia. By conceptualising personal bloggers' provision of advertising space and 'advertorials' (paid blog posts), this paper argues that the monetisation of personal blogging has resulted in a new blogging genre, the 'lifestyle blog'.

The advertising industry in Malaysia has responded to the destabilisation of the advertising market enabled by blog affordances by seeking to internalise the bloggers who represent "voicy consumers" in the "economy of qualities" (Michel Callon). Robert Foster has argued that surplus value is created for brands "through the everyday practices in which consumers use branded goods to create social relations and shared meanings and affect." In effect, the diaristic practices of personal bloggers create both an opportunity for this process to take place and, for the more popular bloggers, a platform for advertisers to reach significant portions of a younger, more affluent, audience. By paying bloggers to incorporate brands in their blog posts, the advertisers seek to entangle the brand with the bloggers and their audience's shared network of meaning, or dynamic assemblage.

While these findings are based on the Malaysian context, they have particular relevance for Singaporean blogging, as well as potential relevance for blogging worldwide, which has seen an increased interest in blogs as an advertising platform embedded in local and contextualised markets.

Keywords: advertising, affordances, anthropology, blogs, Malaysia, marketing, media
Just a quick one to post a scanned copy of an article I had published in Off the Edge last month - it's about blogs in Malaysia and the future of blogs in general, hope you enjoy it -
click here for a pdf
.
The recent plan by the American Federal Trade Commission to
"Fine Bloggers up to $11,000 for Not Disclosing Payments"
has got people talking about the ethical and legal aspects of paying bloggers for content, and apparently
"Singapore's Media Development Authority is considering mirroring the U.S. government's new tough stance"
. There has been discussion on the NPR program 'On Point with Tom Ashbrook' (
podcast here
), a blog post by Dave Gilmor -
A Dangerous Federal Intervention in Social Media
; and in Malaysia it was discussed on the
Digital Edge Podcast
, a
Twtpoll
by
@blogjunkie
, and various tweets by various people (please tell me about more if you know of any, thanks).
It's important to distinguish between paid advertorials, and reviews of products or reports of events. For the former, the client vets and approves the final content, and only pays if they are happy with it. For the latter, a blogger may be given a product, or invited to an event, and it's up to the blogger to write what they want, if anything. Of course, most people tend to feel more favourably disposed towards someone who gave them something - but my research suggests that if a blogger does not like a product or event, they are more likely to just not blog about it, rather than blog something bad about it.
It can be a very cheap and effective strategy for a company: for the cost of a freebie, or by including a few bloggers into a product launch party, they might get some exposure to a few thousand, or maybe even tens of thousands, loyal readers who value and trust the bloggers' opinion. Particularly when this audience is typically less likely to read a newspaper, watch television, and so on. Even advertorials, which can cost from a few hundred to a few thousand (I estimate), are much cheaper than - for example - a full page newspaper ad (average cost, RM10K?), and the post will stay online too, rather than ending up in a recycle bin (hopefully).
My research so far has indicated to me that some advertisers explicitly require bloggers
not
to disclose that the post is paid for, but these seem to be a smaller minority. Most bloggers do disclose in some manner: some in a very obvious way - in the title or at the head of the post - and most in a more subtle way, giving the post a tag such as 'advertorial', 'pocket money', or something like that. Other bloggers say that they do not need to disclose, as their readers will know when they are doing an advertorial anyway.
In the
myBlogS 2009
survey, I asked questions about disclosure, and the commercialisation of blogs. Here are some of the results.
The charts compare the responses by Bloggers (in pink; n = 356) and Readers (in green; n = 197); as well as the Monetisers - i.e. bloggers who try to make money from their blog (in orange, n=183) and the Non-Monetisers (in blue, n=173). If you see more on the right side, it means more agreed with the statement, and disagreements show up on the left; a peak in the middle means more were 'Neutral'. The more of a difference in their attitudes, the more of one colour you can see. You should also be aware that these graphs are not always directly comparable - because the scale on the y-axis changes sometimes.
There was a "Not applicable to me" option too: rather than including these responses in the graph, I've put them on the side in order to let the graphs show the trend of those who did address the question. Most of the time, the amount is only one or two percent. It's impossible to know why, when asked an opinion, people answer "Not applicable to me" - it suggests that either they don't understand the question, that it doesn't address their experience, or maybe that they have no opinion.

Here we can clearly see that most think that advertorials should be disclosed. The "Not applicable to me" answer was 4.4% for the Monetisers, and 10.4% for the Non-Monetisers (for some reason I couldn't get it on the picture). The high number for the Non-Monetisers suggests that some read the question as referring to them, rather than being a general opinion.
But anyway, there is a clear preference for disclosure; though there are more than a quarter who are neutral, suggesting that they believe it's up to the blogger to decide. The Monetisers are (unsurprisingly) the most likely to sit on the fence on this one.
What may be the impact of bloggers doing too many advertorials?

There is a tendency for bloggers and readers to think that blogs are too commercialised, but the readers seem to be less worried about it than the bloggers - this may reflect the fact that bloggers may have been around longer, and thus seen more changes. Both Monetisers and Non-Monetisers see the commercialisation as excessive, the the Non-Monetisers feel more strongly about it.

Continue reading "Do Malaysian bloggers think that blog advertorials need to be disclosed?"
Thursday, October 15. 2009
This is just a little experiment with
nodeXL
, inspired by
this example of using it to visualise a Twitter network
. NodeXL is a very nice social network analysis (SNA) and visualisation tool. It works from Microsoft Excel, and is very light and easy to use. The
NodeXL Tutorial
provides instructions on how to use it.
One thing that's particularly nice, for an SNA neophyte like myself, is that nodeXL can both search the net
and
do the visualisation (you can do this on
VOSON
too, though). And you can search Twitter too.
Many people on the Malaysian twitterverse will have noticed
#xpaxblackberry
coming up fairly often recently, and it seems clear that
Xpax
had purchased the help, perhaps via
ChurpChurp
, of various key bloggers/tweeters to get the word out. In addition, Xpax was organising an event last Saturday (which I was able to go to, after entering a competition with Nuffnang) to launch their new prepaid Blackberry service.
So - I decided to see what would happen if I put the search term - "xpaxblackberry" into NodeXL.
This is what I got on the 8th October - two days before the launch party
This represents the tweeters who mentioned 'xpaxblackberry' in their tweet, and the lines represent who follows whom, within that group.
The size of the picture is relative to the "Betweenness centrality" of the tweeter: i.e. some people are more connected to other people, either directly or via other people, so they are 'in between' more people. For example: if I know Joe, Peter, and Jane, but none of them know each other, then I have a greater 'betweenness' value.
So, in the above graph, we can see that the four tweeters with the greatest centrality are
@kennysia
(BC value = 1),
@benjern
(BC value = 0.876),
@julesisapen
(BC value = 0.703),
@joycethefairy
(BC value = 0.671).
I also ran a 'Cluster' calculation, which calculates "the number of edges connecting a vertex's neighbors divided by the total number of possible edges between the vertex's neighbors." (
Hansen, Shneiderman & Smith, p16
). Basically, it tries to spot the clusters of nodes that are more interconnected amongst each other than to other people. They are represented by represented by the different colours, which can be seen easier here - four major clusters are visible.
The next time I ran it was on the 10th October, in the afternoon before the event.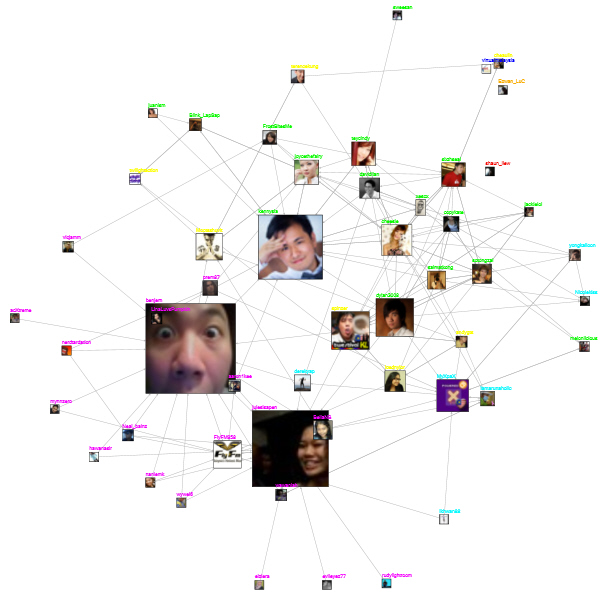 The top four this time are: @benjern (BC value = 1), @julesisapen (BC value = 0.834), @kennysia (BC value = 0.685),
@spinzer
(BC value = 0.357).
The third time was on the 15th October, the Thursday following the event.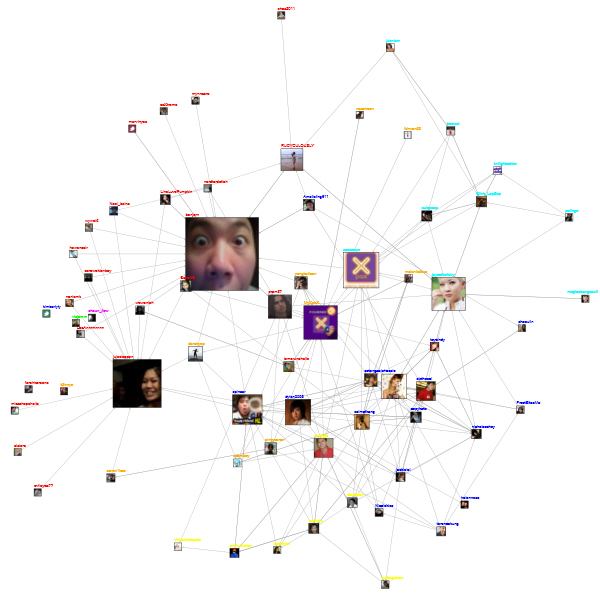 The top four this time are: benjern (BC value = 1), @julesisapen (BC value = 0.625),
@xpaxsays
(BC value = 0.432), and @joycethefairy and
@MyXpaX
are equal in fourth place (BC value = 0.398).
• There are clearly more people, but not many more clusters here.
• Two new tweeters are prominent, @xpaxsays and @MyXpaX - they are 'corporate tweeters'.
• One interesting point is that although @joycethefairy has 1,521 followers, and @MyXpaX has only 19 followers, they have the same degree of centrality in this particular snapshot of the twitterverse. This shows how much the sample can influence the result of the 'social network' being analysed: within this sample thirteen followers of @joycethefairy and @MyXpaX tweeted 'xpaxblackberry', meaning they have the same weight in this sample. What has happened is that @MyXpaX keeps retweeting/mentioning and following tweeters who mention 'xpaxblackberry'.
• @kennysia, who was initially the most prominent and central person, has disappeared right off the graph. This must be because the archives are only kept for so long, and he has not tweeted recently enough; or that the tweets have gone beyond the 10-page limit (discussed
here
, I'm not sure what the exact story is). Or nodeXL only limits itself to a certain amount of days.
Conclusions
• To do an experiment like this better one would have to analyse more carefully over time (e.g. doing a search every hour or something - for a more sophisticated example see
Tim Highfield's foray
).
• What's interesting is to note the shifting of the centre of this particular 'conversation'.
• To get an idea of the relative importance of the tweeters, or at least assumed importance, it would be necessary to include some computation of the number of followers each one has.
• The reciprocity of follower/following is important too. The more followers there are compared to following, the more significant that tweeter is likely to be.
• The connections between tweeters are generally quite dense - that is to say, although there is clustering of smaller groups, there are lots of ties between the groups too.
• Overall, the leading tweeters are also leading bloggers. For the moment, I would say that there's no clear differentiation between the Malaysian blogosphere and twitterverse.
davidlian
(who says many interesting things about blogs, advertising, and public relations, and tweeting) alerted me to a survey just recently completed by a PR firm Text100 (which he also works for I believe). There is a
press release
, a
Global report
, and an
APAC report
.
The press release quotes Prof. Michael Netzley of Singapore Management University as saying
"Very little data exists at a global level allowing us to compare blogger behaviours and preferences at both a regional and even country level. Text 100 offers what might be the most comprehensive data to date about bloggers and how they practice their trade." (here)
I'd agree very much about the lack of comparative data for blogs - it's something that bedevils me somewhat, because I have ideas about how Malaysia blogging practices may be different from elsewhere, but I have no way of checking it. However, I would also like to blow my own trumpet at bit, and suggest that the
myBlogS 2009 survey
is also a pretty comprehensive survey on "bloggers and how they practice their trade". Though, to be sure, I did not approach it from a business studies angle.
One of the most interesting aspects of the results are differences between APAC and European and American respondents. However, one methodological caveat is that the number of American bloggers is pretty small (the numbers for most answers are: APAC 233, EURO 189, USA 27) - which means that I would not be confident that the USA responses give highly reliable results.
Here are some quotes:
"Globally, more than 80% of bloggers say that they would acknowledge sponsorships of blog postings. Asia across the board is less likely or willing to acknowledge forms of sponsorship.
The cultural precedent for gift giving in Asia as a part of business practice, and not having to acknowledge this, is likely to contribute significantly to this difference." (Global Report: 8 )
However, there are still a majority that do think it's important. There are also less APAC bloggers (75%) who say that they should "clearly state their employer or association if
blogging on issues or topics that relate to their businesses" - the figures for EURO and USA are 87% and 96% respectively.
This is very interesting for me. Recently I was thinking about how there has been little reaction to the monetisation of blogs in the Malaysian blogosphere - you get the odd complaint about over-commercialisation and the most obviously paid-for-blogs (of the PPP/Izea type) don't seem to attract much traffic, but overall people don't seem to mind too much. Then I remembered how when I first got here, I was surprised by how the division between 'business and pleasure' or, more accurately, 'business and social life' is not as clear here as what I was used to in Belgium. For example, WW would get phone calls late in the evening about work; or dinners with friends and/or family would also double up as 'business meetings' where different commercial ventures were discussed; the way I was brought up was that if - for example - you are having a social meal with someone, it's kind of rude to start talking about 'money'.
Anyway. With that in mind, and thinking of other results from this survey such as
"In APAC, 88% prefer an introduction before receiving information from a PR firm or corporation with whom they have not had prior contact, compared with only 41% in the USA... Introductory face-to-face meetings with new contacts are more important in APAC than in Europe or the USA" (Global Report: 17)
it's clear that in order to understand the way in which blog monetisation is happening in Malaysia, I need to look more into culturally-specific business practices.
Which reminds me that I recently met up with
classyadele
, who is researching corporate blogs in New Zealand, and she also had some thoughts about different business practices in New Zealand. It was nice to meet someone who seems to spend as much time as I do thinking about blogs

It's a very interesting survey, and the APAC report breaks down the results into countries - such as:
"Computers, technology and the internet are the subjects most blogged by surveyed bloggers. Malaysian bloggers seem to be more interested in entertainment/arts/music and culture/community, while the latter is also most popular in Australia." (APAC Report: 10)
There are more comparisons - again, the numbers for each country are relatively low, but still there are interesting results.
What do you think? Is there a particularly Malaysian, or 'Asian' way of doing business which influences how the Malaysian blogosphere is developing?
Edit 04/07/09
: here are a couple of short videos by Text100 in case you're too lazy to read the pdfs

(Page 1 of 1, totaling 6 entries)