Just a rapid one as I'm pretty stressed out and well behind on my work, argh!

My
new gardening blog
has been online for about ten days now, and the first task is to make it visible to other blogs and bloggers. A blog with no readers is really no different from a diary stuck under the bed.
So, results so far: I submitted the site to Google, and the sitemap as well, so if I search for the url, it comes up

That took about four days to happen.
I have submitted the blog to various directories, including:
Blotanical
(which is a nice social network for gardeners, some very impressive gardeners in there!);
Blog Explosion
(they have a useful ping function – they took about 5-6 days to approve the blog); and
Garden Blog Directory
(which is a pretty basic directory).
So, today I tried to see if there are any incoming links to my blog. First I tried the classic 'link: your.url.com'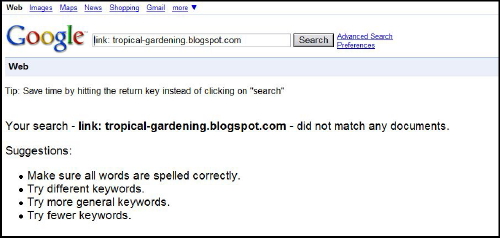 That got nothing. So I checked out the more advanced
Google Webmaster tools

which gave the same result… It says i'm in the index, but not the sitemap. I'll give it a bit more time - for example, I know that there's at least one link in from this blog. I suppose Google still needs to do more indexing of other webistes, and all that
I'll be giving updates on how it proceeds.