Wednesday, January 26. 2011
21.26
OK this is a new one: a restaurant - Jothy's Fish Head Curry Banana Leaf Restaurant - in Kota Kinabalu, Sabah, is suing Sixthseal.com, a well-known Malaysian blogger, for saying he did not like the food at the restaurant - in fact he said it was really awful. For some reason I can't access that blog right now, but here is a
screenshot of the original post
. I can't say that it's a good move by the restaurant, better just to make sure their food is good and it should sort itself out.
However, it's possible that the reason why they are so annoyed is that is was recommended in Lonely Planet, so they must have been making loads of money off the tourists, and with a prominent blog post coming sixth on the Google search first page, it could be affecting their business. On the other hand, the first result is a positive four star rating from tripadvisor.com.
Anyway, it seems to me that Sixthseal has expressed a subjective opinion, and if you're going to start suing every food critic who doesn't like a restaurant (ditto for art critics, book reviewers, etc.) then there are going to be a lot of changes.
But the next bit is the strangest, and it may be a first.
The restaurant is also suing Google
- I suppose for providing the search engine that enables people to see the blog post.
Well - this one may be a world wide first, so Malaysia boleh! Again. But honestly it's got to be dead in the water. If the courts agreed to this, then every company will be wanting to be tell Google what to show and what not to show. Though there may be precedent in terms of Google returning searches on porn, terrorist related sites etc.
21.40
++++++++++
The 15-minute blog post.
I like to blog, but I can't afford to spend a lot of time on it. Solution: limit myself to 15 minutes per post.
One link, one picture maximum.
All comments, critiques and corrections are welcome. Thank you.
Last Saturday I attended the
"eLawyer Law Conference 2009 - Blogging & Law"
. It was interesting, I got to meet up with some bloggers and also (of course) tell people about the survey –
myBlogS 2009
(there are 151 responses so far – have you had your say?).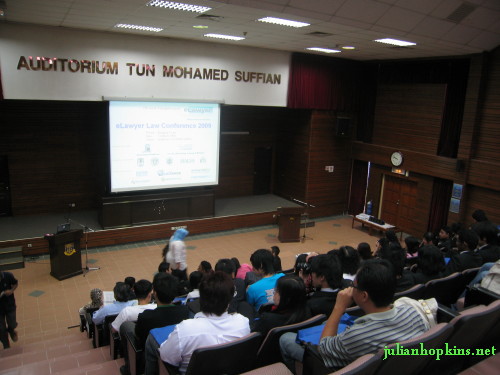 When I arrived I first spotted
Suanie
, then also
Foong Cheng Leong
and
Nizam Bashir
. I always have difficulties remembering Cheng Leong's name, because I really knew him first (before I met him) as
'xes'
- which is his blog that has been around a long time. I had met them before at the Bar Council
Blogging and Defamation Forum
, so I was familiar with quite a lot of what they said, but it struck me again that spreading this information around is really important for bloggers. I find that there are still too many bloggers who seem to think that just because you're online, suddenly there are no laws and you can start to act (figuratively) like
Marv
from Sin City.
I also met
kruel74
for the first time, and
DiEsE
- I forgot to take photos with them though (tsk tsk – lose two points for not being a proper blogger

).
kuE
and
CurryEgg
were also there, and have done a pretty good job summarising what was said in the two talks; I have also talked about some of the issues before (link above), but here are the ones which stuck in my mind:
First of all,
Eddie Law
opened the conference and explained what
eLayer.com
is all about; mostly it's for lawyers and law students (job announcements, online resources, etc.), but there are also some useful services for ordinary Joes and Janes like you and me.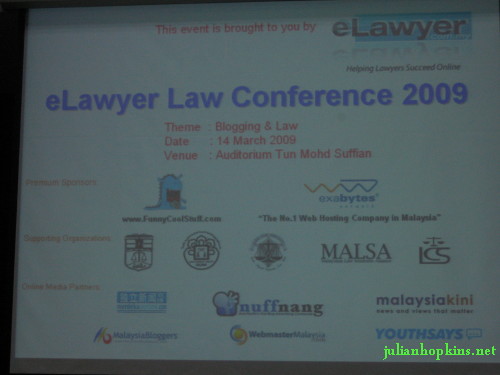 •
Legal Q&A
: you can submit legal questions and get a professional opinion.
•
Find a lawyer
: you can search for a lawyer near you, and with a particular specialism
•
S & P Legal Fee Calculator
: this will calculate legal fees for Stamp Duty and Sales & Purchase agreements.
Then we had the main talks.
Continue reading "eLawyer Conference - Be informed!"
Monday, November 17. 2008
Well I'm back home now, and I have a few more posts to do about Laos before I'm done

Laos is a great place, and I never felt threatened or harassed wherever I went. But that feeling changed a bit after I got some money stolen in Vang Vieng – here's the story.
It was my last afternoon (of two) in Vang Vieng, and seeing as I had missed out on the tubing, I wanted to see something around the small town before I went. Checking Lonely Planet, they recommend the "Tham Sang Triangle" as a half-day loop around some caves with a little walking. The book implied it was doable on your own – but frankly it could have been complicated, and I wouldn't go adventuring any distance in those caves without a guide.
Anyway, the scam might have started with the tuk-tuk driver, who suddenly dropped the price from 150,000 kip to 100,000 for a trip (there and back) to Tham Sang. Maybe he called ahead to announce a single visitor ripe for the picking? I dunno.
Anyway, I got to the village – Ban Tham Sang – and a self-appointed guide, a middle-aged man, short dark and wiry, with some kind of heavy-metal t-shirt, attached himself to me as I wandered in the direction of the first (and only) sign I saw pointing towards the cave. He called himself 'Han' (I think), and I didn't mind, expecting to have to pay him 10-20,000 Kip (2-3USD) but not wanting to get lost or something.
We walked through the rice fields, golden with the heavy ripe rice and the steep limestone karst mountains formed an impressive backdrop.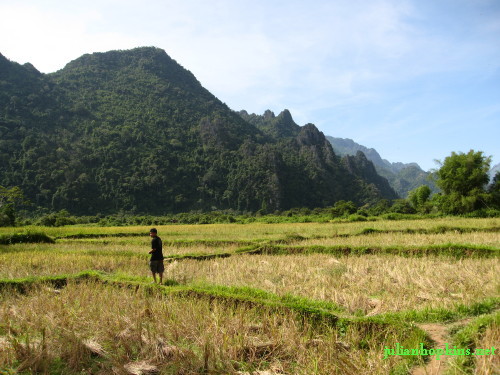 As we got to the caves, I had to buy a ticket from a guy under a concrete shelter, who also lent me a weak torch. The first was Tham Hoi – a large Buddha is at the entrance gazing serenely down at visitors.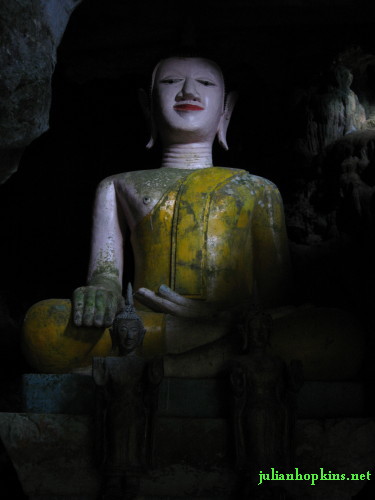 'Han' led me past the Buddha and on for a couple of minutes – the ground was a bit slippery and muddy, but easy enough. Then we got to what seemed like a dead end, and he suddenly laid down his torch and started to take off his trousers, indicating to me to do the same! WTF? I was thinking, and through gestures he explained that we would go through the pool of water at the end of the passage and, presumably, see some more caves. Running through my mind was the fact that I would be leaving my wallet, money belt (with passport, etc.) and everything there; also, I didn't really feel plunging into pools of murky water, going I don't know where. And I had shoes and socks on, rather than slippers. So, I told him I didn't want to go there.
So that was that, and we left to the next cave – Tham Sang, aka 'Elephant Cave' because of the elephant-shaped stalactite
Continue reading "Robbed in Vang Vieng, Laos"
(Page 1 of 1, totaling 3 entries)