Last Saturday I attended the
"eLawyer Law Conference 2009 - Blogging & Law"
. It was interesting, I got to meet up with some bloggers and also (of course) tell people about the survey –
myBlogS 2009
(there are 151 responses so far – have you had your say?).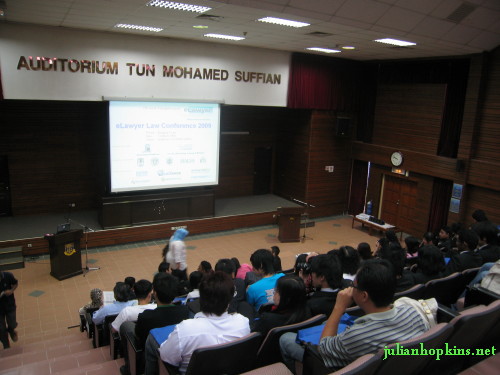 When I arrived I first spotted
Suanie
, then also
Foong Cheng Leong
and
Nizam Bashir
. I always have difficulties remembering Cheng Leong's name, because I really knew him first (before I met him) as
'xes'
- which is his blog that has been around a long time. I had met them before at the Bar Council
Blogging and Defamation Forum
, so I was familiar with quite a lot of what they said, but it struck me again that spreading this information around is really important for bloggers. I find that there are still too many bloggers who seem to think that just because you're online, suddenly there are no laws and you can start to act (figuratively) like
Marv
from Sin City.
I also met
kruel74
for the first time, and
DiEsE
- I forgot to take photos with them though (tsk tsk – lose two points for not being a proper blogger

).
kuE
and
CurryEgg
were also there, and have done a pretty good job summarising what was said in the two talks; I have also talked about some of the issues before (link above), but here are the ones which stuck in my mind:
First of all,
Eddie Law
opened the conference and explained what
eLayer.com
is all about; mostly it's for lawyers and law students (job announcements, online resources, etc.), but there are also some useful services for ordinary Joes and Janes like you and me.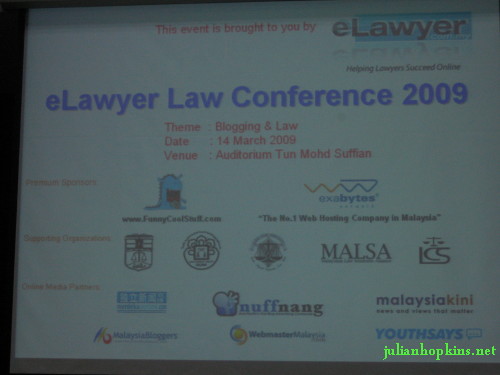 •
Legal Q&A
: you can submit legal questions and get a professional opinion.
•
Find a lawyer
: you can search for a lawyer near you, and with a particular specialism
•
S & P Legal Fee Calculator
: this will calculate legal fees for Stamp Duty and Sales & Purchase agreements.
Then we had the main talks.
Continue reading "eLawyer Conference - Be informed!"