Friday, November 21. 2008
Here is a short review of the hostels I stayed in while in Laos from in November 2008. Prices were between 50-70,000 Kip, about 5-8 USD, for a 'single' room (often with two beds, or one double bed) with fan and sometimes with a shared bathroom, sometimes with an ensuite bathroom; hot water was usually available with one of those electric heater things. Twice I was able to knock off 10,000 Kip off the price of a 'double' room (with two beds) by asking for a discount because I was alone. (For Malaysians, 1RM = apprx. 2300 Kip; so a room at 60,000 Kip would be RM26).
For this price you get a basic room with no frills, although often there is a towel, bottle of water and soap provided. None of them had particularly nice views (apart from in Vang Vieng) or anything else of particular note. Some places offer breakfast/food, but most did not have food. If you want to go cheaper, you have to look for dormitory rooms which are available, but not as common.
Generally the rooms and bathrooms were clean, and staff helpful and friendly - although the general lack of much English prevented much interaction. The bare switches and exposed wiring in bathrooms made me nervous occasionally. Laundry services were usually available (7-10,000 Kip per kilo), but the clothes never came back ironed, were damp once and also had a t-shirt missing once (they found it when I asked for it). In short, don't expect too much from the laundry service.
I mostly used the
Lonely Planet
guide and
Travelfish
to help decide where to go, but in the countryside I just had to take whatever there was.
Vientiane - Mixay Guesthouse
On Th. Nokeo Khumman, this guesthouse is conveniently located near the river and the centre. It was being renovated when I stayed there. There were two 'zones' with different prices (one dollar difference), I got the cheaper one though I'm not sure what the difference was. I got a single room with no window, fan, and shared bathroom for 6 USD; the room had a bed and a cupboard, the bathrooms were OK. Free coffee, tea, cake and fruits were available downstairs in the morning.
Travelfish review
here
; Lonely Planet review
here
.
Vientiane - Pathoumphone Guesthouse
On Th. Manthatulat, this is also close to the river and the centre. It cost 6 USD for a room (knocked down from 7 USD); the bathroom was OK but not kept clean all day and the room pretty dingy. There was a wide veranda useful for hanging out, and shoes were not allowed (which is always a good idea). I only stayed one night and left early in the morning to catch a plane, so I don't know if they had breakfast or food.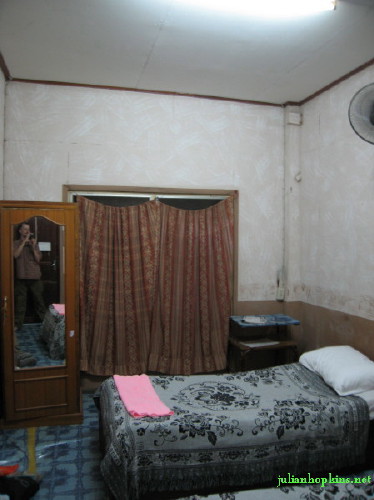 However, I can't recommend this place. There were
bed bugs
when I went there! Having bed bugs does not mean the place is dirty (they'll survive fine in very clean places); they can come from other travellers or in different ways, and can be very difficult to get rid of - so my sympathies are with any hotel that finds themselves with bedbugs. However, the reaction of the receptionist when I told her (she tried to convince me it was ants), would make me avoid ever going here again.
Kutsambath - Pheth Dao Heuang Guesthouse
Continue reading "Budget hostels in Laos"
Wednesday, November 19. 2008
My first experience of bedbugs, or
Cimex lectularius
, was in the Salvation Army Hostel in Bombay, in 1989. It was completely infested with them and some were still on my body three or four days later. The second one I remember was while sleeping on a bench in a train station in Poland in 1990; this time I could recognise them well, and did the only really possible thing to get away from them – go as far away as possible.
Well, there have been another few encounters since then (including in Kota Bahru, Kelantan), and in Vientiane on my last night in Laos I met those nasty buggers again. I stayed at the Pathoumphone Guesthouse, on Th. Manthatulat; for USD6 I got a basic room with shared bathroom – clean enough but not spick and span.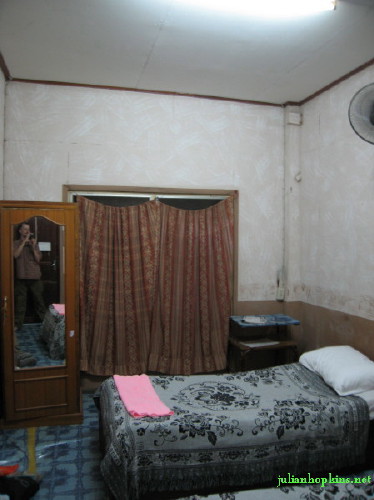 Although all the hostels I went to in Laos were generally clean, most of them have a thick blanket to sleep with as the nights get a bit nippy there. I couldn't help wondering how often they were cleaned… anyway, it's usually something not worth thinking about too much but here, about five minutes after I lay down with the blanket over me, I realised that I was getting itchy all over. I quickly threw off the blanket and realised I had been bitten.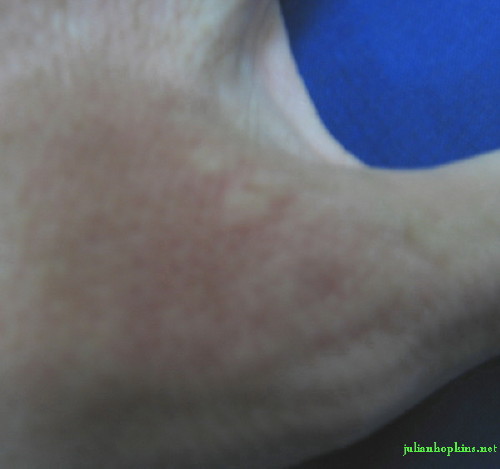 The three bites close together was an immediate giveaway – it was bedbugs! Argh! I hate those things! And there's not much you can do apart from leaving the hotel asap, which isn't really an option at 1am… They are difficult to kill, check out this video of a traveller
trying to kill one in a hostel in Kuala Lumpur
. They are very tough! But one thing he doesn't try is burning it, which is what happened to this one that I tracked down
Continue reading "Bedbugs in Vientiane guesthouse, Laos"
Monday, November 17. 2008
Well I'm back home now, and I have a few more posts to do about Laos before I'm done

Laos is a great place, and I never felt threatened or harassed wherever I went. But that feeling changed a bit after I got some money stolen in Vang Vieng – here's the story.
It was my last afternoon (of two) in Vang Vieng, and seeing as I had missed out on the tubing, I wanted to see something around the small town before I went. Checking Lonely Planet, they recommend the "Tham Sang Triangle" as a half-day loop around some caves with a little walking. The book implied it was doable on your own – but frankly it could have been complicated, and I wouldn't go adventuring any distance in those caves without a guide.
Anyway, the scam might have started with the tuk-tuk driver, who suddenly dropped the price from 150,000 kip to 100,000 for a trip (there and back) to Tham Sang. Maybe he called ahead to announce a single visitor ripe for the picking? I dunno.
Anyway, I got to the village – Ban Tham Sang – and a self-appointed guide, a middle-aged man, short dark and wiry, with some kind of heavy-metal t-shirt, attached himself to me as I wandered in the direction of the first (and only) sign I saw pointing towards the cave. He called himself 'Han' (I think), and I didn't mind, expecting to have to pay him 10-20,000 Kip (2-3USD) but not wanting to get lost or something.
We walked through the rice fields, golden with the heavy ripe rice and the steep limestone karst mountains formed an impressive backdrop.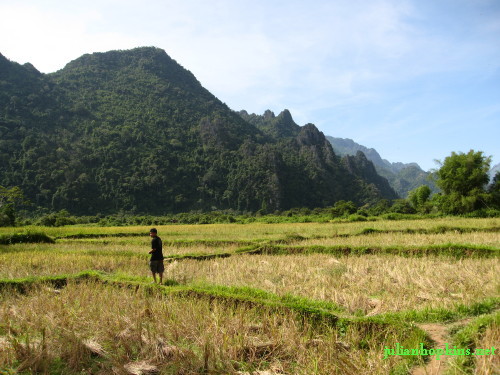 As we got to the caves, I had to buy a ticket from a guy under a concrete shelter, who also lent me a weak torch. The first was Tham Hoi – a large Buddha is at the entrance gazing serenely down at visitors.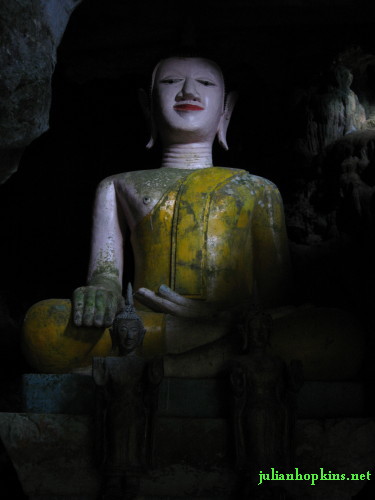 'Han' led me past the Buddha and on for a couple of minutes – the ground was a bit slippery and muddy, but easy enough. Then we got to what seemed like a dead end, and he suddenly laid down his torch and started to take off his trousers, indicating to me to do the same! WTF? I was thinking, and through gestures he explained that we would go through the pool of water at the end of the passage and, presumably, see some more caves. Running through my mind was the fact that I would be leaving my wallet, money belt (with passport, etc.) and everything there; also, I didn't really feel plunging into pools of murky water, going I don't know where. And I had shoes and socks on, rather than slippers. So, I told him I didn't want to go there.
So that was that, and we left to the next cave – Tham Sang, aka 'Elephant Cave' because of the elephant-shaped stalactite
Continue reading "Robbed in Vang Vieng, Laos"
Wednesday, November 12. 2008
Nice morning coffee near the jetty on the Mekong...
Cooked on woodfire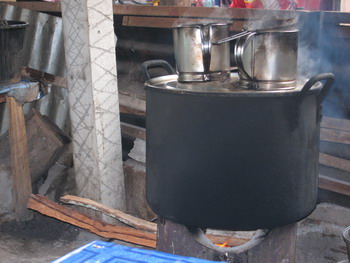 The wood stored on the steep bank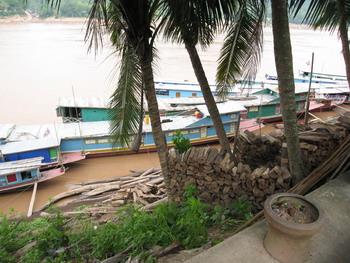 and is brought in by boat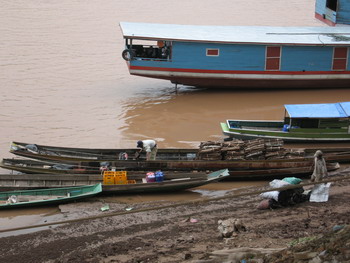 Laos by foot is lovely but, well... a lot harder than I thought!! Not to be done without good training! The first day, after 19 km I realised I was going to have to be flexible with my planning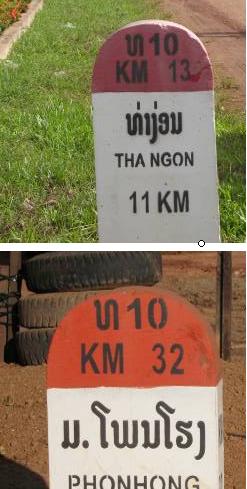 So, for the last three days I combined walking and 'songtheaw' (i.e. local pickup truck with seats in the back). I'm in Vang Vieng now for a couple of days of relaxing, and then on to Luang Prabang. I will try to do a bit more walking but not so much unfortunately. One reason: running out of time already; second reason - blisters!
The landscape I walked along was mostly flat riceland, lots of small villages separated by rice fields and the occasional temple. On the first day I was lucky to be able to have a nap in the grounds of a temple by a river - very nice and quiet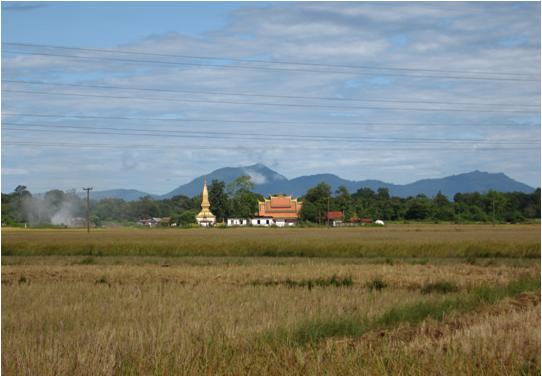 There are chickens, ducks, cows, goats and buffaloes all over. This one didn't seem to like me taking a photo very much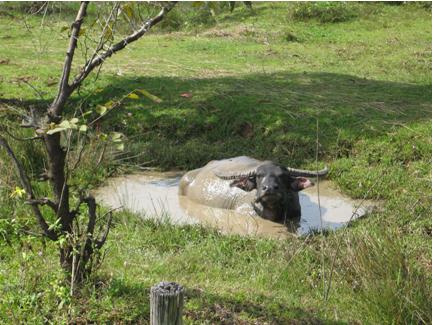 People are very easy-going, and I had no hassles at all. Even the dogs are mostly friendly! I got curious looks and many 'Sabaidee!', and a few offers of a lift but was otherwise left alone to my own sweaty self... or maybe that's why they left me alone! I was sweating a lot, drinking 4-5 litres a day and still feeling myself overheating sometimes. Good thing I had rehydration salts, and there were many places along the way where I could rest a moment in the shade and refill my water.
Food was easy to get, but not very varied. Basically, I had 'phoe' all the time - good but I was happy to have something else last evening.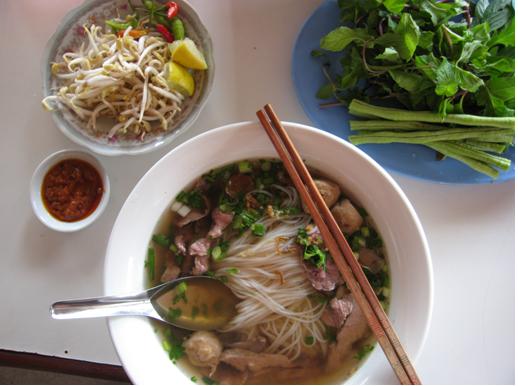 More to follow.
Wednesday, November 5. 2008
Well, Vientiane is very nice - a smallish town which is easy to walk around, with easygoing people and no hassles. I haven't got time to write much, but here are a few photos.
Last night there was a Chinese opera playing by the river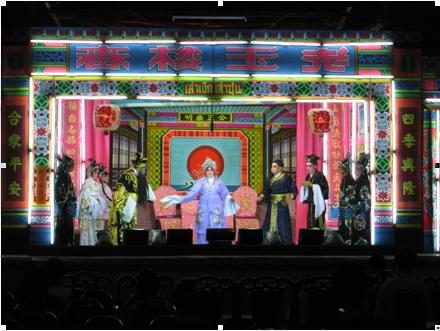 Walking around I came across this sign and shrine (?) which I found kind of nice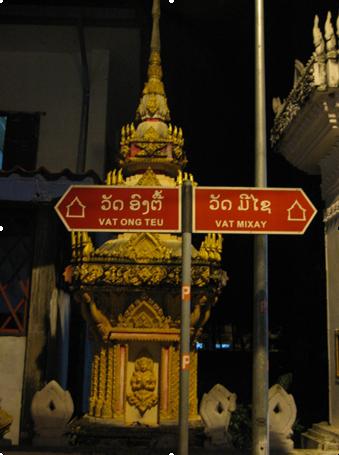 I met some guys and we finished the night at the bowling alley, which is the only place that stays open after midnight, apart from the clubs maybe. It serves beer too which is an attraction, and we had a lot of those yesterday

There was a reminder of Laos' status as a socialist state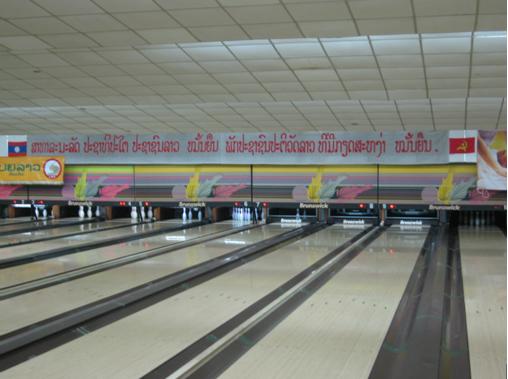 Today we took a walk to Pha That Luang - an important national monument and a venerated stupa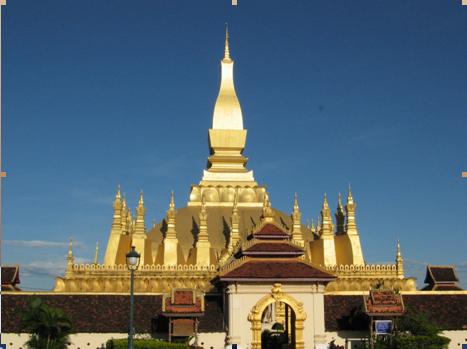 there was some work being done, perhaps because of the upcoming That Luang festival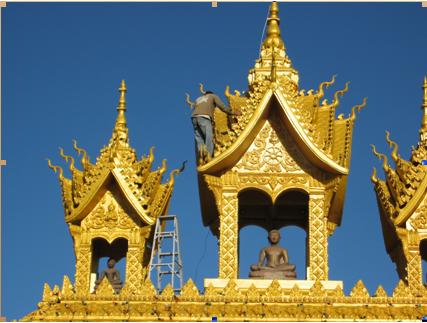 and here's me (just to prove I'm here), with my new hat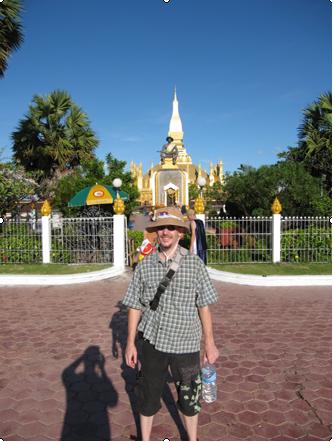 Tomorrow I start my walking! To be honest I feel a little scared, but that's normal. It's an early night tonight, and I want to get going by 6am tomorrow. Will update again as soon as I can.
(Page 1 of 2, totaling 8 entries)
» next page