Entries tagged as internet
I learnt about this very useful site the other day – it's called
Giveaway of the Day
and the principle is very simple: every day one program is made available for free.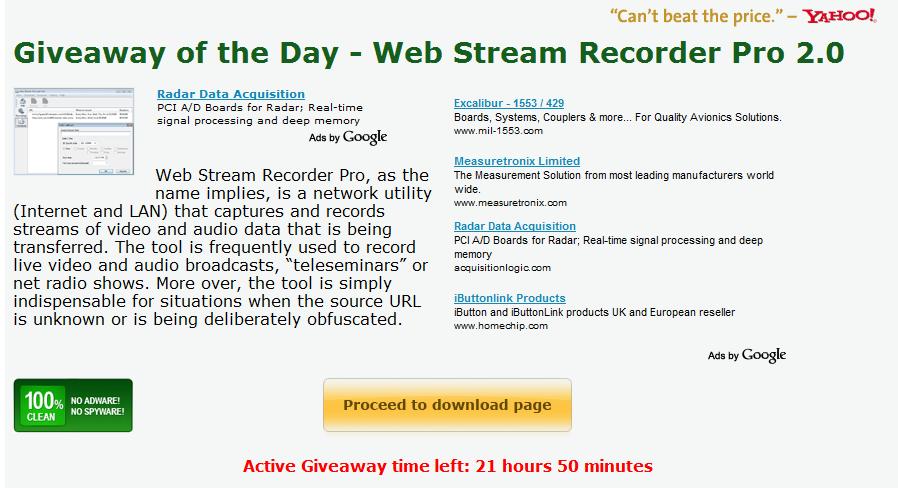 You have to download AND install it the same day (which I didn't know at first and so missed a useful looking program). The programs are all bona fide software without any adware or spyware or anything.
Seems too good to be true almost… but so far it all seems totally legit. The programs are usually the relatively basic, stripped down versions, and they do not offer any free updates or support.
Once you download and install it, you run a little activation key program that gives you the serial number.
Today I downloaded the one in the picture above – could come in use for my research: how many times have you wished you were able to record things on YouTube, for example?
Continue reading "Free software"
Wednesday, August 15. 2007
If you're anything like me, and I guess 99.9% of internet users out there, you never bother checking those long and boring terms of service that you have to confirm you've 'read and understood'.
Recently, I decided not to accept Google Desktop tracking all my searches to 'give me better service', and although I have a gmail account (which I use for throwaway registrations and the like) I don't much like the idea of everything being scanned for advertising purposes. There are a number of issues, but basically it seems to revolve around Google storing loads of data for ages, and not giving you much/any control over what happens to it.
Wikipedia
,
CNET
and
Google Watch
comment on this.
Interesting:
"2.3 You may not use the Services and may not accept the Terms if (a) you are not of legal age to form a binding contract with Google" (
Gmail Terms of Service
)
does this mean minors cannot get a Gmail account?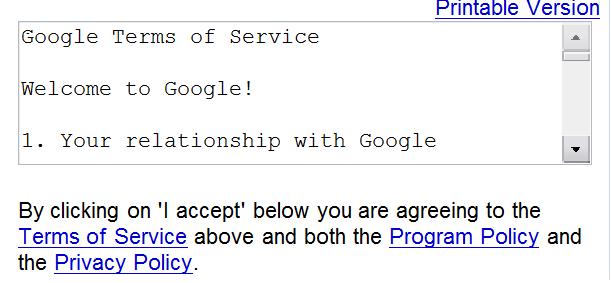 This is a scary one:
"11.1 You retain copyright and any other rights you already hold in Content which you submit, post or display on or through, the Services. By submitting, posting or displaying the content you give Google a perpetual, irrevocable, worldwide, royalty-free, and non-exclusive licence to reproduce, adapt, modify, translate, publish, publicly perform, publicly display and distribute any Content which you submit, post or display on or through, the Services. This licence is for the sole purpose of enabling Google to display, distribute and promote the Services and may be revoked for certain Services as defined in the Additional Terms of those Services." (Gmail Terms of Service)
Continue reading "Facebook owns YOU!"
There's been a lot of discussion about Facebook recently, most notably surrounding
danah boyd's exploratory essay
discussing class and social network sites (SNS)
Facebook
and
MySpace
. At home, also, my spouse has become an avid 'Facebooker': she has been able to connect with numerous friends, as well as others who have not been in touch for a while. It's been interesting to watch the dynamics of the whole thing – one thing that struck me is that, compared to blogs, Facebook provides one with an 'instant network'. Blogs are also used as a way to keep in contact with friends, to accumulate a certain amount of social capital, but there's a lot more work involved there – you have to understand a little html code to do your blogroll, search out other blogs and links, etc. With Facebook, it's all there in an instant, and you don't have to spend time writing posts either.
I've been avoiding joining, mainly because I can see it taking up more time, I don't really see the point of being registered with yet another online service; also, I am one efficient procrastinator and don't need any more excuses. But I have finally given in… I joined the
Media Anthropology Network
, and was told that other members are on Facebook, with details of their profiles and what they're working on. This was the final straw: the
Association of Internet Researchers' email list
(recommended, by the way) had also recently mentioned forming a Facebook network, and a friend recently joined and told me about other long-disappeared-off-the-map friends who are on it too.
This is what greets you when on the first page of Facebook. It's interesting to look at the meaning of "the people around you", it could be read in a utopian, or dystopian way: a dystopian would ask: why do you need an online service to connect with people 'around you'? This draws up images of people communicating via Facebook rather than talking face-to-face. The utopian would read 'around you' as meaning you now have the world as your clamshell, so to speak – i.e. wherever you are, as long as you have access to Facebook,
everyone
is 'around' you.
What is the more realistic likelihood? Well, my guess, much inspired by danah boyd and related discussions, is that the people 'around' you are probably the people 'like' you – i.e. similar social, economic, ethnic, etc, background.
Well I know that one problem I have is trying to deal with the vast amount of data out there: just trying to get an angle on what the 'Malaysian blogosphere' might consist of gets my head spinning. Information overload is something we have to deal with more and more now (one symptom of this is the kids dragging a trolley bag of books to school, I suppose): Nardi
et al.
suggest that blogs may be popular specifically because of the limited interactivity they offer: i.e. they offer a way to communicate with others, and present a digest of one's public face, that can be interacted with at one's one speed - though the more popular bloggers have also often noted the pressure to produce regular postings in order to keep their audience happy.
Anyway, there was an article on BBC recently about
"Warnings of 'internet overload'"
. Apparently the backbones of optic fibres are not an issue, as "scientists are confident that each strand can be pushed to carry almost limitless amounts of data in the form of light." (Kelly), but as more people use more video and other realtime connections, there is a possibility that routers and local copper wire loops cannot keep up with the demand.
As far as Malaysia is concerned, it seems like for once our ISP(s) are ahead of the times...
"The real issue that people are going to face, and are already noticing at home, is that ISPs are starting to cut back on the bandwidth that is available to people in their homes," said Mr Thompson. "They call it bandwidth shaping... They do this because they have a limited capacity to deliver to 100 or 200 homes, and if everybody's using the internet at the same time then the whole thing starts to get congested. Before that happens they cut back on the heavy users."
or perhaps it's just a case of being lapped?

A recent study reported in the Technology Review
gives a possible solution to the problem - using peer-to-peer connections to take some of the load off the "80 or so critical nodes" (Graham-Rowe) which form the centre of the internet network - not a lot when you think of it!
It's an interesting idea, though there must be security and privacy issues that would pop up.
Continue reading "Internet Overload?"
--This is an old post that didn't travel over into this blog: originally posted 27 Nov. 2006--
To be honest, I didn't pay much attention to this issue before; probably because, as
Danah of apophenia notes
, I didn't (don't?) really understand what it's about. Which I should, shame on me.
Anyway, she wondered how to make the issue more relevant to Mr. Joe Smith out there, and one of the commenters came up with this example which hit me... well the comments page is not displaying, so I'll say what I can remember: something about wanting to phone for your local pizza delivery store and being told that you'll have to wait two minutes to be connected to your local pizza store, but can get connected immediately to Pizza Big Brand if you want.
Another analogy might be: imagine a highway with many cars, at rush hour everyone goes slower, but everyone can use it in the same manner. The highway operator charges everyone a flat rate to use the road. Then one car who has paid for 'priority routes' (or something) comes along, preceded by escort cars that force everyone to clear one lane to let this car speed by, meaning everyone else will go slower.
You can also see a
short informative film on YouTube

Part 2
also available
Continue reading "Net Neutrality"
« previous page
   (Page 2 of 2, totaling 11 entries)