SMCKL
is a group that meets occasionally to explore matters relevant to social media and industry. The most recent one was about social media monitoring tools, and featured three presentations by
comScore
,
Brandtology
and
JamiQ
. They were interesting, but I was surprised that nobody was talking about social network analysis - so I thought I'd do a little demonstration here.
There was much tweeting going on before and after the evening, which was also an occasion for people to meet and network. Using
NodeXL
, I gathered all the tweets with the hashtag #smckl: in all there were 71 tweeters, and 757 'edges' (i.e. links in the form of 'Followed' relationships, 'Mentions', or 'Replies to'). The following examples only take into account the Followed relationship - i.e. I am only showing a link between tweeters when one follows the other.
A question for social media monitoring has to be: how influential is any particular tweeter? Here I'll look at two ways of visualising that.
Followers
A common measure is how many followers a tweeter has.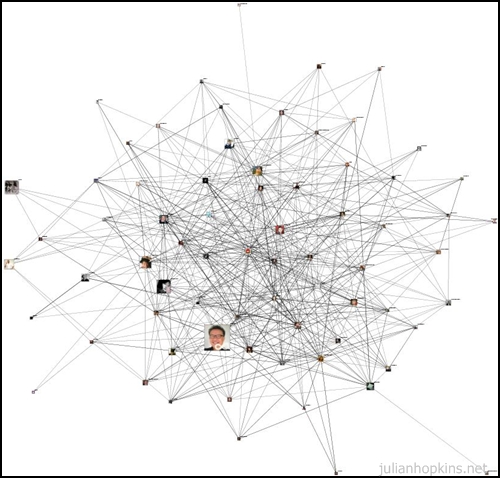 In these images, the size of the profile picture is proportionate to the number of followers - the bigger the profile picture, the more followers. Also, the more central the tweeter is, the more ties s/he has with the other tweeters. The person in the middle is the most embedded in the network - with the most ties to other people, directly or indirectly; on the other hand, as you can see, there are some really on the edge - with only a couple of lines attached them to the denser cluster in the middle. They are outliers, less likely to be influential within this group.
The first picture was very dense, so I have filtered out all tweeters with less than 500 followers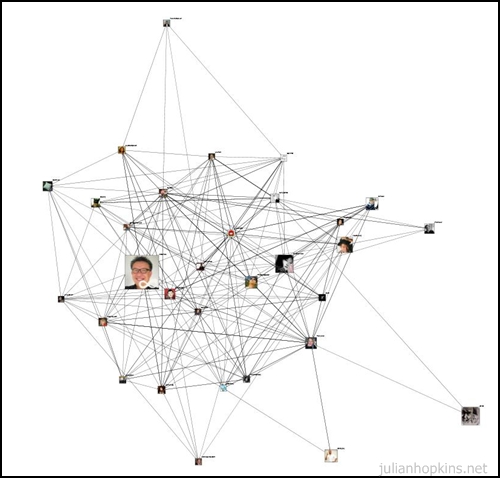 and with less than 1000 followers.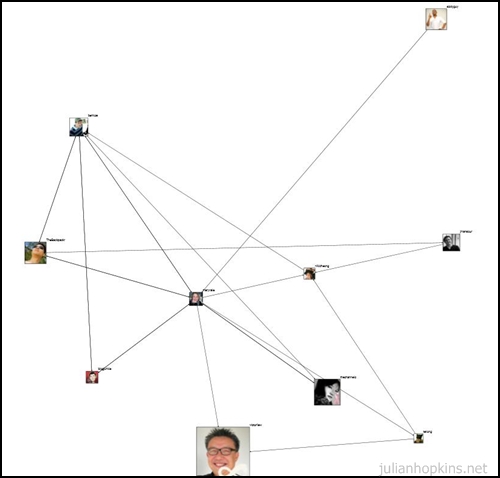 Again, a pattern emerges of a denser cluster in the middle with a few outliers. What this suggests is that most people at the SMCKL evening already know each other. But not all: I said above that outliers are less likely to be influential
within that group
- it's important to note here that the person with the most followers (
@victorliew
) is an 'outlier'. This suggests that he could be an important 'bridge' for this group to connect to another group. The question would be - who is he? And why are so many people following him?
Continue reading "Social Network Analysis of the Social Media Club - Kuala Lumpur"