I went to my first debating competition this week – the
Bar Council Human Rights Debate 2008
. It was fun, I liked the challenge of having to think up an argument and a strategy in fifteen minutes (because that's all the time you're given between the announcement of the motion to the time the debate starts), and having to react quickly to the other debaters' arguments once the debate starts. I had adjudicated for debates before when I was teaching at
HELP University College
, and since then I wanted to try debating.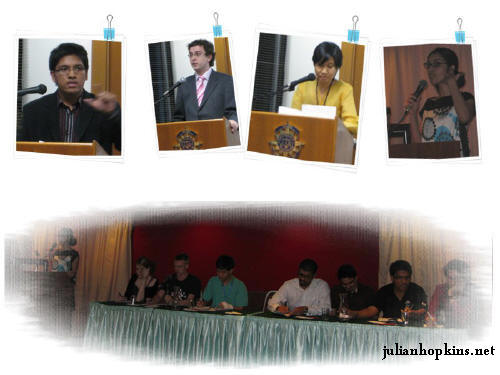 The debates I saw before had two teams of three debaters – with the opening speech, second and summing up speaker; the one this week was the
British Parliamentary Style
debate rules, which demand a more technical debate in some ways. There are four teams of two debaters each: Opening and Closing Government, and Opening and Closing Opposition; each one is separate, so although – for example – you are the closing government, and you have to follow the basic argument of the opening government, you won't know before they start what their definitions, context, and points will be. So you have to be ready to adapt to them, but still try to do better than them as the winning teams don't have to be on the same side of the house.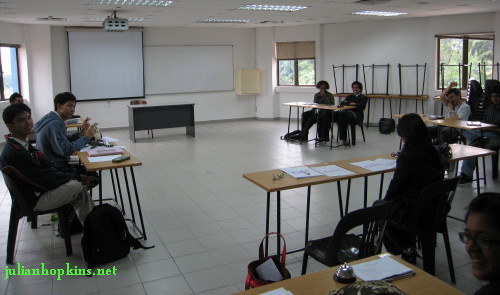 For Monash we had two inexperienced teams, and neither of us got past the qualifying rounds (five debates) to make the cut into the quarters; but that wasn't so surprising. I'm pleased that at least, my partner and I won one debate (i.e. came first out of the four teams)

It was on whether or not to have BM as the sole medium of instruction in schools; we had to argue against, which wasn't too difficult, as I have
thought about it before
.
In the finals last night, two teams were from NUS, one from IIU, and another was the 'WUPID' team (dunno why, WUPID is the name of an
international debate competition next week in KL
).
Continue reading "Bar Council Human Rights Debate competition"