Entries tagged as history
A recent statement by the Malaysian Information, Communication and Culture Minister - Datuk Seri Dr Rais Yatim (
Dewan Rakyat: 2 Million Bloggers Proof Of Media Freedom In Country
) affirmed that there are two million bloggers in Malaysia.
I wish I knew where he got that figure – with a population of more than 26m, that would mean that about 7.7% of Malaysians are bloggers. Although I do think that blogs are proportionately more popular in Malaysian than many other countries, I have my doubts about this figure, especially since, of course, not all Malaysians access the internet. In December 2009 there was 31.4% penetration of broadband (
Broadband penetration rate surpasses 2009 target
), and in June 2009, internet penetration was
64.6%
(for more information, many useful stats are available at the
Digital Media across Asia
site). 64.6% of Malaysians means about 16.6m people. If two million were bloggers, that would mean 12% of Malaysian internet users are bloggers.
As a researcher of Malaysian blogs, I have long wanted accurate statistics on the overall Malaysian blogosphere, but eventually came to the conclusion that it is very difficult, if not impossible to get them. In a nutshell, these are the problems:
• Most Malaysian bloggers use platforms such as
Blogger
, and
Wordpress
. These are hosted in the US (I think, but not in Malaysia anyway). Most Malaysian bloggers in my experience do state their location in their profile, but not all. So, a crawl of these sites that picked up profile information would capture many of the Malaysian bloggers, but not all. I suspect this is what
Sysomos
did recently.
• The more serious bloggers usually have their own domain. Hosting is a lot cheaper with American or European companies. Hence the core of Malaysian dedicated bloggers will have their blog hosted outside of Malaysia. And their blogs will not be picked up in crawls of .blogspot blogs, etc.
• Many bloggers have more than one blog. Some will have many blogs. Many of these will be inactive. Any survey of blogs needs to have some measure of how active they are – for example by deciding that one post in the last three months means the blog is active.
• Private blogs (with password protection) cannot be crawled (thanks to
Tim Highfield
for this point).
• A proper survey of Malaysian blogs needs to look for blogs in English, Bahasa Malaysia, Chinese (Mandarin), and Tamil (this is probably the easiest problem to overcome).
Here is a little survey of figures/estimates of the population of the Malaysian blogosphere that I have come across.
June 2010
A
survey by Sysomos
gives some idea of the relative popularity of blogs in Malaysia, but as I
blogged about before
, without more details on their methodology this survey is not reliable. As it stands, it implies that there were either 1.7m blog posts from Malaysia when the survey was done, or 1.7m bloggers. Maybe this is where the Rais got his data from?
October 2009
Around the time of the
Nuffnang Awards
, Nuffnang said in a press release it had registered "more than 100,000 blogs hosted on various platforms", and the Singapore Co-Founder said in a
radio interview
that they had 40K blogs registered in Singapore. A bit of informed guesswork on my part leaves 50K blogs registered with Nuffnang in Malaysia.
In the survey I did last year (
myBlogS 2009
), about 36% of the blogger respondents were registered with
Nuffnang
or
Advertlets
. Taking that as a benchmark, my guesstimate of active blogs in Malaysia is 150-200,000 blogs.
April 2009
The
Young Asians survey by Synovate
was reported as showing that "Malaysian youth are active bloggers with close to half (48%) spending a portion of their time blogging." This refers to those aged between 8-24 years old. One could extrapolate from that how many young bloggers there are, but I don't have an equivalent breakdown of the age of Malaysians.
April 2008
A newspaper article quoted Dr Abu Hassan Hasbullah from University Malaya saying there are 500,000 active bloggers in Malaysia (
Blogging in Malaysia ranks among highest in the world
). There were no more details on the research, and I tried contacting the person quoted, but to no avail.
September 2007
Some research based on Microsoft's 'Windows Live Spaces' (
Research confirms boom in Malaysia's blogging scene
) said that "41% of Malaysians […] own a blog account" – but this is probably 41% of the respondents, and the total number of Malaysian respondents is not known. A good critique that I read at the time (but can't track it down) noted that the Windows Live Spaces blogs at the time had a blog as a default option, and that selecting the option did not mean the blog was active. It was also pointed out that Microsoft had an interest in promoting their new blogging service.
July 2003
The Great Malaysian Blog List
had 393 blogs listed, and the "VOI Blog Directory" had 567 blogs listed. There may have been overlap between these, and overall perhaps less than 1000 Malaysian blogs at the time.
If anyone has more accurate data on the number of blogs in Malaysia I would love to hear from you! For the moment I will stick with my estimate of 150-200 thousand active blogs. But I wonder how come I am estimating so much less than all the other sources, and I could be way off the mark.
The
Cathedral of Our Lady
in Antwerp (Belgium) took one hundred and sixty-nine years to build (yes, 169 years!), and building stopped in 1521. In a modern city, its size and intricacy still impresses, so just imagine how it might have looked to a peasant arriving from a village, where a two storey house is already a significant achievement.
The point of the cathedral, just like huge skyscrapers and malls nowadays, was a reminder of the who has the power in the social system, and an invitation to come in and contribute towards the collective building of common value systems. Think of the Petronas Towers and how they are seen as representing Malaysia and the achievements of Mahathir's Barisan Nasional government.
Literacy was rare in those days, and masses were in Latin. So, you may ask, how did people learn about the religion then? Good question, and you can take it as a special assignment and come back tomorrow with an answer ;-P ...
OK - I don't know, I suppose there must have been some portion of the mass that was in the vernacular, the sermon I suppose. Which would leave it open for the priest to interpret the liturgy and the scriptures in whichever way he felt was most appropriate.
The
tympanum
is the hemispheric portion above the door; and for an illiterate looking closely at it, there are clear messages to take home. I read recently (can't remember where) that only 10% of European medieval children lived to the age of ten years old, death was omnipresent, and the promise of Heaven and the threat of Hell were probably the main tools of religious instruction. On this tympanum, the message is carved out clearly.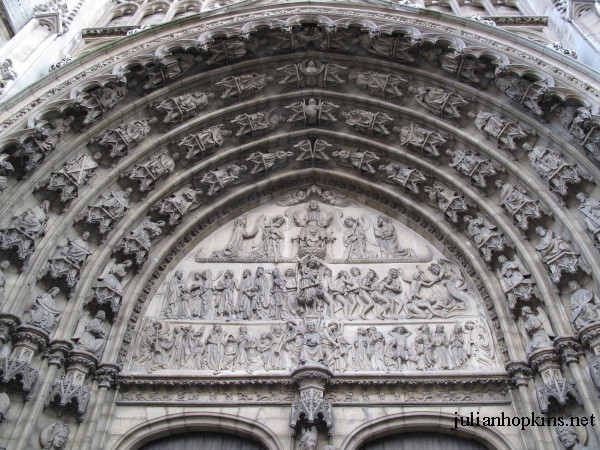 At the top sits the ruler, Jesus - who is also God according to Christians - sits at the top. On his right hand, you can see those who are chosen for eternal life and to the left are those consigned to damnation.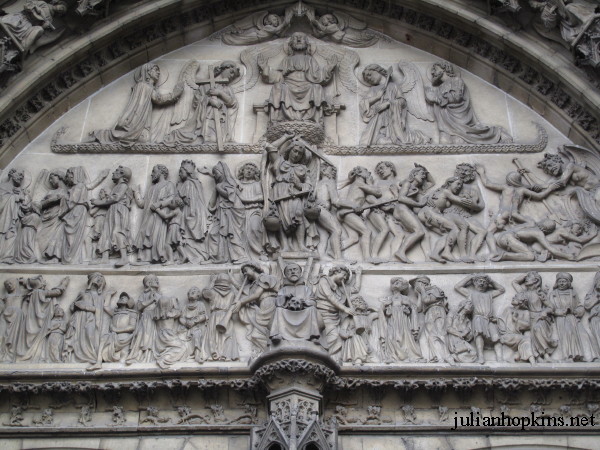 below him, the Archangel Michael (or Gabriel) holds the scales of justice and wields an unyielding sword. Below him is a monk with a skull, dunno who he is.
On the Archangel's left side, the despair and fear of those who were rejected is clear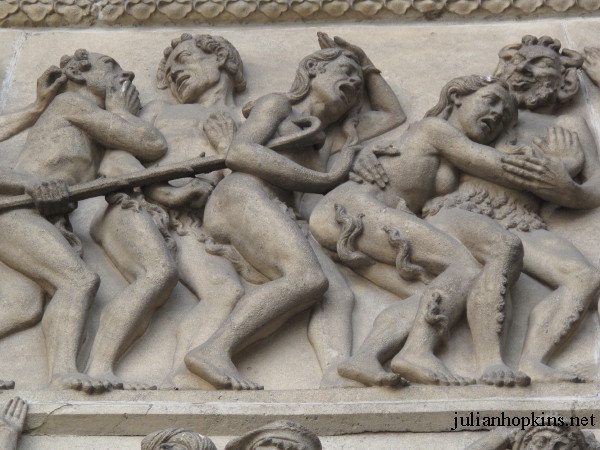 and we even have Satan, or a demon, grabbing the hair of a condemned sinner
Continue reading "Heaven and Hell in Antwerp"
OK, the title pretty much says it all

To get an overall view of the history of blogs in Malaysia, and my fieldwork, I've made a table.
Of course, this only represents what I know of, and the events and so that I was able to attend during my fieldwork. There are many many thousands of blogs out there, and I can never hope to cover all of what blogs have been to all bloggers over the years.
So - I'd really appreciate any feeback! Anything I've missed out, got wrong... please tell me!
It's too long to post as a table (or rather, I don't know how to convert the Word table into html), so I've
uploaded it as a pdf
.
Just to give you an idea of what it looks like, here's a screenshot - click on the picture to get the full version!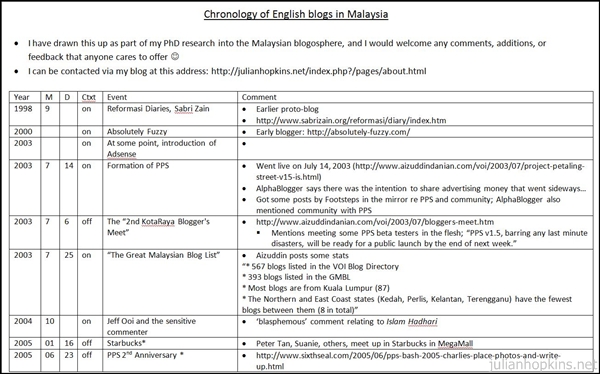 Saturday, December 19. 2009
August 1990
I spent about three weeks in Poland from August to September 1990. It was a depressing place at times - heavily polluted, and with communist style buildings everywhere. And it has a tragic history too - it was designated as the part of the
Lebensraum
('living space') by the Nazis, who intended to empty it out and fill it with German colonists (
Wikipedia
for more details). An example of this was
Zamosc
, a beautiful Renaissance-era town, which was emptied out and renamed 'Himmlerstadt' ('Himmler Town') after Heinrich Himmler, the head of the SS.
For anyone visiting Poland, a visit to Oswiecim is a must - renamed
Auschwitz
by the Nazis, it was the location of two of the camps built to kill Jews, Roma, homosexuals, Jehovah's Witnesses, Polish, Russian POWs, dissidents, and anyone the Nazis deemed sub-human or a nuisance. Those who weren't killed immediately, were used as slave labour until they died of malnutrition, disease or injuries.
A visit there is important, to bear witness to this horrific moment of the history of humankind - born out of racism and ethnocentrism.
I took this following picture in 'Auschwitz I', the smaller original camp.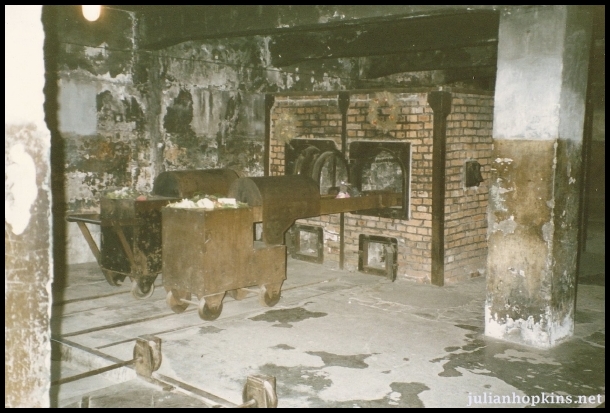 It shows the trolleys used for putting bodies into the crematorium. Although it felt voyeuristic and somewhat inappropriate, when I saw how it was so obviously made to put bodies in (note the shape and size), I felt that this photo could be a small way to show the truth to anyone who doubted it.
The camp itself was deceptively calm - red brick buildings and leafy trees (though the trees would be more recent).
The exhibit that shocked me the most was this
and on top of the hair, I saw a blond plait (maybe this one, not my photo though)
It made me retch. It's one of the most horrible things I've ever seen.
At Auschwitz, they would use every part of the people they murdered - and this included making rough cloth out of the human hair. For that, hair was stocked - when the Russians liberated Auschwitz, they found 7 tons of hair, packed and ready to be shipped out.
A final note: while I was taking the bus to the camp from the train station, I started talking to an old man who spoke some German. I asked him how he knew German, and he said that he had had to learn it at school in Ozwiecim during the war; so I had to ask him - did he know what was happening in the camps? He shrugged and said Yes, everyone knew. How? I asked. He held his nose and said, 'The smell', waving his other hand to demonstrate the smoke wafting over the small town.
It's difficult, almost impossible really, to imagine what happened. But it did. And we should never forget it.
Wednesday, October 7. 2009
This is one of my most valuable souvenirs - it may not look like much, but for me it's from a time that I will never forget.
In April 1989 I flew to India on the Polish Airlines, LOT. When I came back in October, Poland had liberated itself from the Soviet Union and the totalitarian communist dictatorship. The way I noticed this was through the greater choice of drinks in the plane: on the way out the choice had been "Orange or beer?", the diluted concentrate and warm beer being served by a brusque stewardess holding two one-litre bottles in each hand. Coming back, I remember soft drinks, cartons of cheap fruit juice, and more. And a smile.
I arrived at Glasgow University late, and signed up to do English, Sociology and Arabic. Eastern Europeans were ripping the geopolitical landscape of my childhood apart in one momentous shove after another. By Christmas, when we watched TV reports of armed skirmishes in Romania, and the
hurried dispatching of Ceau?escu
, Europe was transformed beyond all expectations.


Back in Glasgow for a second term, I was unhappy with my courses and chafing to get back on the road; although I loved Glasgow, I felt I was missing out on history. So, I decided to start university again the next year, and go to Eastern Europe - specifically, Romania, which seemed like the most exciting place to be. Elections were scheduled for May 20th, and I decided to be there.


I hitchhiked from Brussels to Vienna - via Luxembourg and Nuremberg, and from there across the border into Hungary. From then on I took the train: at Budapest a man hit me in the face while I was walking in the street - I can't remember why, he must have been drunk and I looked at him the wrong way or something. Or he knew I was a foreigner perhaps. Anyway, it didn't hurt much, and nothing else happened. I was scared for a while though.

I got a train to the town closest to the border with Romania: international train tickets usually cost more, so by getting across the border on foot or something, and taking the train in the new country, I would try to save money. Anyway, that was the theory, but in this case the town was too far away from the border or something, so I had to get an overnight international train anyway. I took the cheapest ticket, but was able to pay the conductor five Deutschmarks and get a first class sleeper cabin for the night. I slept really well that night



In the morning, I was woken by the border guard who wished me 'Welcome' - he was friendly, and that set a pattern for most of my time in Romania. Everywhere, people were welcoming - in the two months that I eventually stayed there, I stayed in a hotel for only about seven nights in total. The rest of the time I stayed with people I met.

So, back to the tatty envelope, with a photocopy of a 'V for victory' hand and my name... When I got to Bucharest, I went straight to what was then being called 'Piata Libertilei' (I think, or 'Libertati'); it was the place where thousands of demonstrators were gathering every day and protesting against the newly elected FSN government, made mostly of Communist apparatchiks who had orchestrated the coup against Ceau?escu. They were called 'Golani' (hooligans) by the government, and so they called this space of protest '
Golaniad
'.
Most people came and went. But some slept there in the tents that had sprung up on what must have been a lawn. And when you stayed there, you had to register with the committee in charge, who gave you an 'identity badge' so that you could be marked out from informers, and random others. I was number 269.
Sunday, September 27. 2009
I'm starting a new category, to talk about things from my past. I used to travel quite a lot, and although earlier on I was 'too cool' to take photos (because that's what 'tourists' do), I do have some. So I'll try to have a picture and few comments about it.
This is my first one: taken in either Berlin or Warsaw in August 1991. I was with S; we had hitched from Brussels to Berlin, and took the train to Warsaw. The Soviet Union still existed then, though it was in its last throes, and the sleeper wagons that came from the USSR had the coat of arms of the United Socialist Soviet Republics embossed on the side.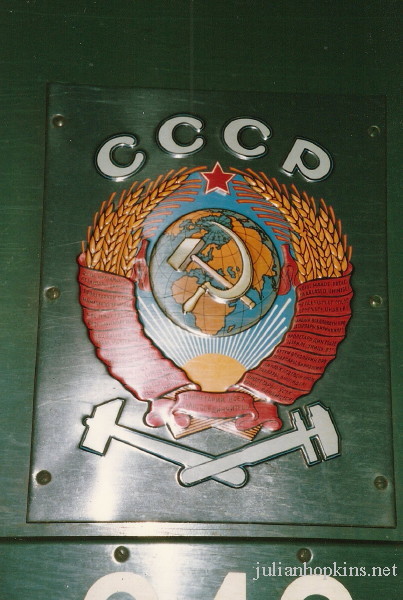 During the Cold War, there was a constant diet of warnings of how the Communists/the Russians/the Soviets wanted to take over the world. I was always suspicious of this propaganda, but later learned more about how deeply the Soviet Communist Party managed to infiltrate many organisations in the West.
This symbol, with the hammer and sickle stamped on the globe, was a powerful symbol of the internationalism of the Soviet/Communist ambitions and it was a bit creepy in a caricatural way.
The writing around the edges translates as "Proletarians of the world, unite!" and it's written in all the languages of the USSR I suppose (
clearer picture here
). It's a slogan from
The Communist Manifesto
by Marx & Engels.
(Page 1 of 2, totaling 10 entries)
» next page