Entries tagged as fieldnotes
OK, the title pretty much says it all

To get an overall view of the history of blogs in Malaysia, and my fieldwork, I've made a table.
Of course, this only represents what I know of, and the events and so that I was able to attend during my fieldwork. There are many many thousands of blogs out there, and I can never hope to cover all of what blogs have been to all bloggers over the years.
So - I'd really appreciate any feeback! Anything I've missed out, got wrong... please tell me!
It's too long to post as a table (or rather, I don't know how to convert the Word table into html), so I've
uploaded it as a pdf
.
Just to give you an idea of what it looks like, here's a screenshot - click on the picture to get the full version!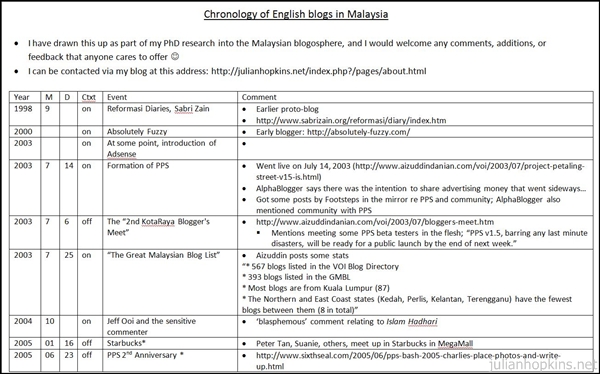 One useful thing about blogs is that they also serve as a kind of '
digital memory
' - like a diary, memories and thoughts are stored for a future time when you can go back and be reminded of what you've been through. How some things you thought were so important at the time have turned out to be insignificant, and others have developed into so much more.
Anyway - here's my retrospective of 2009
January
Nine posts. As for most of the year, I was reflecting and thinking about blogs - the topic of my PhD. I was ruminating about the importance of comments in
The Commentosphere
, and
Bloggers, transparency, truth and personhood
.
Also, as Chinese New Year and the
Dancing God of Prosperity!
beckoned, I made one of my many failed resolutions 'blog every day' in
Decisions, decisions: ethnographic focus
.
February
Sixteen posts for this month, which is probably a record. More thoughts on comments with
The 10 types of commenters
, musings on
How SoPo blogs helped the advertisement industry
; a fieldwork experience at
Profit Blogging Bootcamp - Meeting for money?
; and a cryptic references to events in Perak in
Silver transformations
.
Apart from helping me to get a cinema premiere ticket in
I'm Going Kame Hame Ha with Dragonball Evolution
, our dog Gambit appeared in The Star in
Canine Car Seat Belt

(yes it was just a pose, no we didn't actually strap him in like that).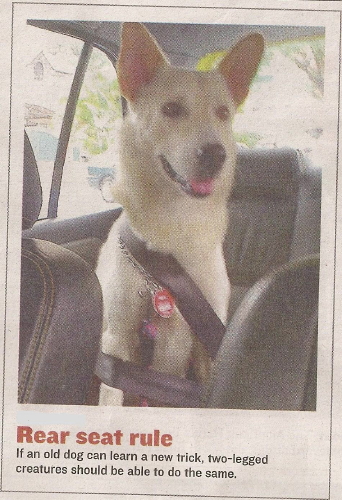 March
Eleven posts in March; I tried initiating a map of
Recycling Centres in Petaling Jaya
, and did a little
Tourist in KL
post after a friend visited.
But the most important thing for me this month was on March 9 -
myBlogS 2009 - Malaysian Blog Survey now open!
. I relentlessly promoted and harassed anyone I could about it for a month, including at the
Dragonball Evolution Premiere and my Thought Bubble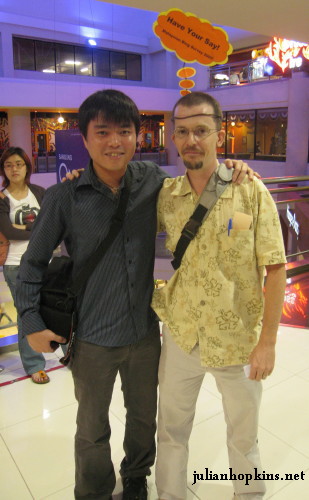 and the
eLawyer Conference - Be informed!
.
And amongst a few food posts, I admitted to
My food fetish - Cili goreng!
April
Nine posts for this month, which saw quite a few events - I won a PS3 for dressing up as Bob Marley at the
Nuffnang Music Bash - Super prize!
. Due to that, and the myBlogS survey (
myBlogS 2009 - 538 already and only two more days left!
), I got some attention from The New Straits Times, who did a full page spread on me, boosting my readership (temporarily) by thousands, thanks to mentions by other bloggers, leading me to remark that
Bloggers are not journalists, and blogs are not newspapers
May
Eight posts this month (note the decline

). Thanks to
AMBP
, I met some
Star Trek Camwhores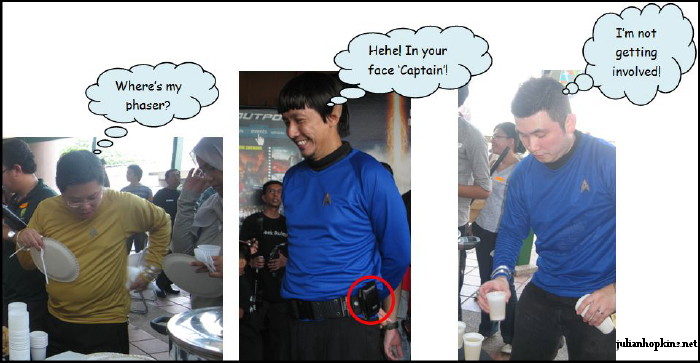 Continue reading "My 2009"
This is an account of the speech by Tun Dr Mahathir at the Bloggers Universe Malaysia 2009 blogmeet, and some thoughts about blogs in Malaysia. It's a bit long, but I thought it worthwhile to recount what he said (about blogs) in some detail.
A very brief historical outline
Love him or hate him, most Malaysians would agree that Tun Dr Mahathir is the single most influential person in twentieth century Malaysia, and he still has enormous stature and influence as we near the end of this first decade of the twenty-first. Educated as a medical doctor, and initially working as a civil servant, he won a parliamentary seat for UMNO (the dominant Malaysian party since
Merdeka
(Independence)) in 1964. He lost the seat in 1969, and afterwards was sacked from the UMNO Supreme Council for openly criticising the then Prime Minister; he went on to write the controversial book
'The Malay Dilemma'
, which - although it was banned until 1981 - laid the ideological foundation of the 'New Economic Program', a positive discrimination scheme aimed at reducing poverty and redressing the economic balance between the different ethnic groups in Malaysia. He rejoined UMNO in 1972, and eventually rose to being Deputy Prime Minister in 1978, and PM in 1981. From then on until October 2003, he presided over a period of accelerated development that transformed the country (source:
Mahathir bin Mohamad
).
In terms of blogging, he has significance in three ways. Laws that restricted the action of the mainstream media (MSM) were passed during his time (namely - the Printing Presses and Publications Act 1984), and he was also infamous for closing down newspapers in the
Ops Lalang
in 1987. He established the principle of no censorship on the Internet in the Communications & Multimedia Act in 1998 (however section 233 of this Act that addresses "Improper use of network facilities or network service" (
MSC Malaysia
) has recently been invoked to charge some internet users - e.g.
here
or
here
). Last but not least, in 2008 he started his own blog -
Che Det
- which rapidly became the most popular blog in Malaysia, attracting one million visitors in the first month, and almost 19 million in one year.
So, at the
BUM 2009
gathering last week, it was as a SoPo blogger that he was asked to attend, and although unfortunately the attendance for the event was a bit disappointing, he was clearly the star attraction. The place filled up for his talk, with many media too.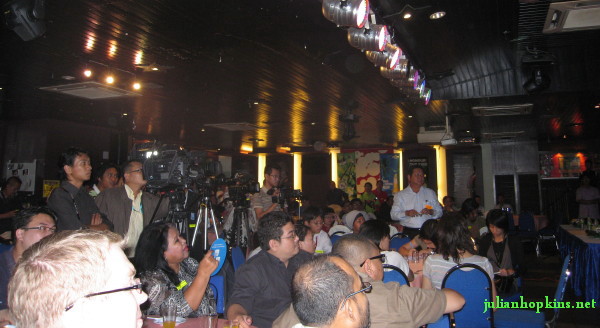 He spoke for about 30 minutes, then answered questions for about 40 minutes. I must say that he was an impressive public speaker, speaking clearly and with little use of notes, and with a disarming charm that kept the audience interested and occasionally amused.
The speech
He was introduced by
Ahirudin Attan @ rocky
, ex-editor of the Malay Mail, Protem President of All-Blogs, and President of the National Press Club - and of course a leading blogger himself. He explained that Dr Mahathir's engagement with bloggers went back to 2005, when bloggers were invited to the
Perdana Leadership Foundation
; this was a time when bloggers were at the margins of the political and media scene in Malaysia, which was similar to Dr Mahathir's situation at the time.
Continue reading "Dr Mahathir on blogs and the media in Malaysia"
A key feature of blogs are the comments, and rare are the bloggers such as
kinkybluefairy
who have disabled the comments. Interestingly, the reason she gave for disabling the comments - "Because i'm always thinking about what people perceive when they read thingsz" - relates to the reason why I see comments as an integral part of a blog: for me, a blog's authors are both the blogger and the commenters. First because people read blogs for different reasons, but reading the comments is one of them; also because the blogger is influenced by the comments, and to a greater of lesser degree the feedback from the comments will influence the content of the blog.
People also no doubt leave comments for different reasons - and most bloggers know that one way to publicise one's blog, and to make others aware that there's a 'new blog on the block' is to leave comments in other blogs, with a link. On the extreme of that practice, are 'free-loaders': bloggers who leave a comment such as:
'Hi great blog, check out mine http://anexampleblog.blogspot.com'
(this is why so much comment spam now looks like this – spammers are very good at tapping into people's interests and motivations to make people click on links)
or, in a manner more relevant to the post:
'Hi, I blogged about this too here: http://anexampleblog.blogspot.com/a-similar-post.html'
Anyway, most bloggers like to leave comments in other blogs from time to time, for various reasons, and it's most definitely a way to expand one's personal blogosphere.
Baumer, Sueyoshi & Tomlinson
is the only paper that I know of that looks specifically at blog readers. This is a good idea. However, in their study "only three of the fifteen participants do not have their own blog." (1117); so basically, they are mostly bloggers talking about their reading practices. Hopefully, someone else will look more at the blog readers – in my upcoming survey, I will allow for them to answer questions even if they don't have a blog.
There are three levels to blogs in terms of the blogosphere: the bloggers, the commenters, and the readers.
Also to be noted that, in terms of influence, the bloggers are the opinion leaders, trendsetters, and so on. So power radiates out from those who engage the most in the formative practices of the blogosphere.
There are some differences in terms of types of blogs though. In the 'normal' blogs (i.e. personal/lifestyle which are the majority), most of the commenters tend to also have a blog; but in the SoPo blogs this is less likely. This may also be because people in Malaysia are more careful about giving political opinions in public.
I have also started to notice what I'm starting to call 'professional commenters'. The name isn't quite right, as they are not making money or anything, but what I mean is that these commenters regularly comment in blogs, becoming a fixture of particular blogs comment space, but don't have their own blogs. It seems that these are more common in the SoPo blogs, such as
rocky's bru
, or
Che Det
.
Those two blogs are high traffic blogs, and Baumer, Sueyoshi & Tomlinson also note that there is a "tendency for the non-bloggers to read only popular, highly trafficked blogs" (
ibid.
:1117). However on
kennysia.com
, with a readership of apprx. 15-20K readers a day, and whose posts usually get 1-300 comments, there are a greater proportion of commenters who have blogs too (or, at least, who leave their blog url).
So, a conclusion is that SoPo blogs are less of a meeting space for bloggers, and more of a place for people to engage in political discussion. Duh. It also means that if one is looking for examples of 'pure' blogging, it's not in the SoPo blogs that you'll find it.
By 'pure' (an essentialist and flawed notion I know), I mean people who blog more for the sake of blogging, rather than to achieve non-blogging oriented goals such as political influence. Blogging is basically a socialising activity, a way for people to share interests and concerns, meet others and display one's social eligibility.
Oops. I titled this post 'The Commentosphere' and now I've gone off track a bit. I guess my main point is that it would also be fruitful to study blogs just by looking at the comments. There are many kinds of interactions and practices there that say a lot about blogging, on the one hand, and also could perhaps be considered separately from blogs.
What do you think?
Thursday, December 25. 2008
Just to continue in my reflections on life in Malaysia, I was struck yesterday by how few people were in the supermarket – in Europe the shops on Christmas Eve afternoon are a nightmare, with hordes of feverish shoppers desperately buying the last necessaries for food and presents. In Giant yesterday there were in fact less people than usual, and less aisles open too; at the
pasar malam
, there were less people too, as well as less stalls.
I'm feeling distinctly un-Christmassy this year; we didn't even put up decorations – been busy with other things and so on. Christmas always takes me a bit by surprise a bit here; in Europe there is always a long build up – the lights start appearing in the streets, peoples' decorations peek out from their windows and adorn their doors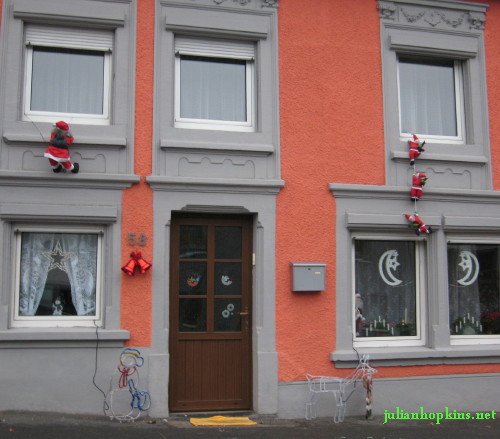 at the office decorations drape the filing cabinets and you start wishing people 'Merry Christmas' when you calculate that it's the last time you're seeing them before the date, an office party is organised, and a few lucky people tell you of their skiing plans or trips to the sun. In the bars, you can get special warming Christmas Ale, a good excuse for a tipple. At school, you may already have had Santa visit, and accumulated a few presents already.
The season prepares you for it too – the days have been getting darker and the home cosier; you know it's winter and winter means Christmas, you start to wonder whether there will be snow…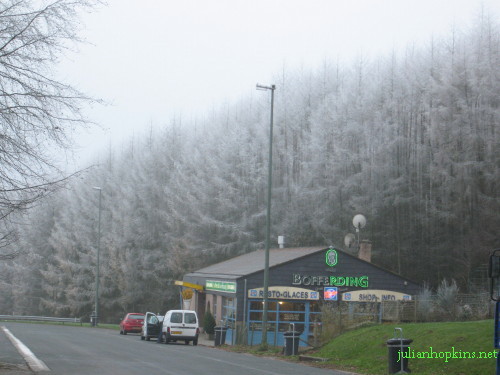 Continue reading "Merry Christmas - The unseasonal Malaysian season"
Saturday, December 20. 2008
In the classical anthropologist situation, the anthropologist arrives as a stranger in a new place, and starts to observe how things happen. Although she has the disadvantage of not knowing what to do, how to speak the language, and so on – this is also an advantage, because everything that people around her take for granted stands out to her and she may be able to spot patterns and connections that those who are embedded in the system cannot.
As my supervisor has pointed out, I have both the advantage and disadvantage of having been here in Malaysia for a while now, and being involved with blogging for a while too. The advantage is that I know more, the disadvantage is that I may take things for granted now that would stand out to a newcomer; I'm going to try to remedy this by doing a series of posts on my blog that reflect upon how Malaysia felt to me when I first got here, and how blogging first seemed to me.
So, I'm going to start a series of posts in which I try to recall how both Malaysia and blogs seemed to me at first – they will be in new subcategories of the 'Anthropology' category: I'll call the Malaysia ones 'Malaysianisms', and the blog one I'll call… hmm… 'Blogisms' I guess.
So, here goes for my first trip down memory lane – Malaysian telephone etiquette.
The phone would ring and I pick it up –
'Hello? Julian speaking.'
'Mrs Wong ah?'
'No, this is Julian. Mrs Wong is not in for the moment.'
'Where is she ah?'
'I don't know, she had to go out.'
'What's her handphone?'
[I'm already a bit flustered at the lack of introduction, and the rapid fire questions. The request for the number is the last straw to me – why should I give someone's number to a complete stranger?]
'If you would like to leave your name and number and a message, I'll ask her to call you.'
'Say Ah Chong called.'
'Mr Ah Chong… and does she have your number?'
'Ya ya, got got. OK' -He hangs up-
…'OK'

• Not introducing oneself at the beginning of the call.
• Asking for personal information – what was 'Mrs Wong' doing, what's her handphone number.
• The lack of polite niceties, such as 'Hello', 'please' and – in particular – putting down the phone without saying goodbye! That one took a lot of getting used to

I eventually learnt that conversations usually end with the end of the matter in hand, and a word such as 'OK', or 'Thanks'.
Initially, I would find myself being distinctly disgruntled at such calls, in particular the perceived rudeness of (for me) cutting off a conversation without proper disengagement. I learnt to deal with it, and now often don't say goodbye, depending on who I'm talking to – I'm more likely to take this approach when speaking to my in-laws, friends or trades people such as my mechanic or plumber, but less likely when I'm speaking to colleagues or people I need to deal with for work. I also learnt to use the call ID function more – so when 'Joe' calls, I'll answer the phone with 'Hello Joe, wassup?' or something, in a way doing the introduction part myself rather than waiting for the caller to do it.
I've found that very often my 'western style' is too formal and there are too many words - sometimes people will have trouble understanding me because - I suppose - I use a lot of words that serve no apparent purpose

OK, that's it for the first of the Malaysianisms posts – any comments?
(Page 1 of 2, totaling 8 entries)
» next page