Entries tagged as facebook
One of the main concerns that has been expressed regarding the recent Facebook IPO is whether or not it can monetise its massive user base properly. As Rushkoff (I think) has said, all of us who are on Facebook are its product, not its users. Our personal data is number crunched and requalified as advertising targets.
If you want to see this in action, just try changing your gender, or your age, your location or other data, and see the ads change.
There is a new feature on Facebook now that enables you to promote your posts (
all details and pics taken from here
).
So - in the example given. You take any post and say how much you want to spend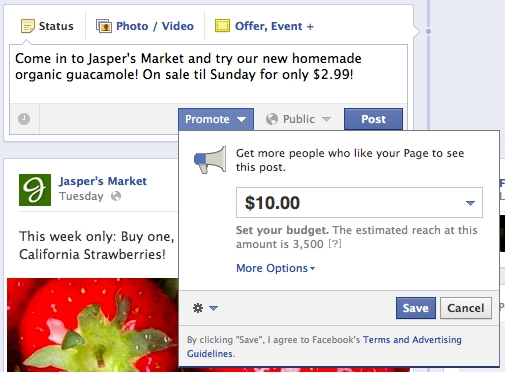 Then…
All promoted posts will show in the news feeds of the people who like your Page and, when they interact with the post, to their friends. These posts will be labeled as "Sponsored" in the news feed. Promoted posts will not be shown in the right-hand column of Facebook.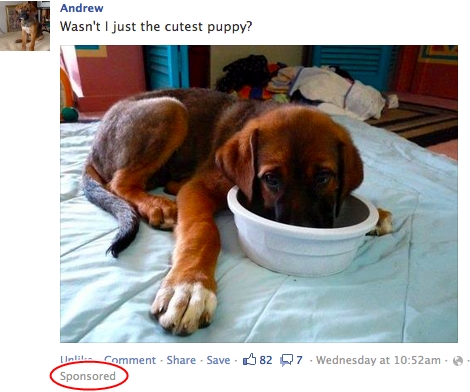 Your promoted posts will be seen by a larger percentage of the people who like your Page than would normally see it. It will also be seen by a larger percentage of the friends of people who interact with your post.
So – I guess this means that if you liked a page once, and never went back there (as happens), then instead of no longer showing up (as your feed is more likely to show those you regularly interact with) it will suddenly pop up. Also, it will be pushed to more of your friends.
It's not for everyone, you need to have at least 400 likes on your page, and it's limited to posts that you have done in the last three days. But the money is am "lifetime budget" so I guess if you pay a lot of money upfront it can keep running for a long time.
Also:
Just like with regular ads and sponsored stories, promoted posts will be reviewed by our Facebook Ads Team, but generally they should start running as soon as they're created.
I suppose this means that they do an automatic check for inappropriate content.
What does this mean? Well, just like all media we are going to have to get used to tuning out the advertisements, though these updates will look at first glance just like a normal one. By the time you have checked for the 'Sponsored' tag, you will have taken in much of the content. I doubt that Facebook will give you the option to not have any of these sponsored posts. One response could be to unlike the page, which may happen in some cases but most people will probably just live with it.
Over time, the interleaving of your personal posts and friends' posts with sponsored posts will highlight the commercial nature of Facebook, and therefore tend to make people more likely to leave to another service if they have the options.
Thanks to
@SurindRaj
I just heard about the most recent Facebook attempt to use your data to make money
From what I understand, this means that they want to use your pictures (e.g. your profile picture) in conjunction with ads to - for example - say 'Hey Julian loves ChokkyNutz why don't you try them?'. Actually I guess they wouldn't be allowed to say that, but in any case they clearly want to make their ads more appealing by using pictures of you. An example of this being misused by a third-party application was when a man saw
his wife's picture used by a dating site

Being Americans, I'm surprised they didn't try to make zillions by instigating a law suit, but the story sped around the web, and
Facebook responded
, basically saying it wasn't their fault and the picture shouldn't have been used in that way.
Anyway - the best thing to do is to stop them by changing your settings in Facebook: Settings > Privacy > News Feed and Wall > Facebook Ads > Drop box: select 'No One' > Save changes.
While you're at it, have a look at some of the other Privacy settings. What do you want people who search for you (and this includes spammers and identity thieves) to see (Privacy > Search)?

And how about this one (Privacy > Applications > Settings)?
"Facebook Beacon is a way for you to bring actions you take online into Facebook. Beacon works by allowing affiliate websites to send stories about actions you take to Facebook… If you click "No, Thanks", no stories or information will be published anywhere on Facebook. Any information that was sent to Facebook's servers will be deleted…
[if you don't click 'No thanks'] The next time you visit your home page, you'll see a message remind you that this story is being sent. There are three things you can do with this story: approve the story by clicking Okay, remove the story by clicking "Remove", or ignore the entire message by doing nothing." (How does Beacon work?)

Basically - have fun with Facebook, but don't forget that it's there to make money off you, not to help you make friends.
You can also check out a previous related post too -
Facebook owns YOU!
I've been told that I can use the
Flog Blog
application in Facebook to have my blog appear there too... Here goes for a test of the automatic ping...
**Update 17/7/08**
OK, that seems to work, but it's not exactly what I wanted. My newsfeed says I've done a new post, but you can see it unless you click on it...
There used to be an application called '
Blog Friends
' that would show the whole post. Unfortunately, that closed down in March - an explanation by the developers
here
.
**Update 17/7/08 AGAIN**
Ah, it does display in the profile, it was just hidden down below... will have to check if it does pictures, etc.
There's been a lot of discussion about Facebook recently, most notably surrounding
danah boyd's exploratory essay
discussing class and social network sites (SNS)
Facebook
and
MySpace
. At home, also, my spouse has become an avid 'Facebooker': she has been able to connect with numerous friends, as well as others who have not been in touch for a while. It's been interesting to watch the dynamics of the whole thing – one thing that struck me is that, compared to blogs, Facebook provides one with an 'instant network'. Blogs are also used as a way to keep in contact with friends, to accumulate a certain amount of social capital, but there's a lot more work involved there – you have to understand a little html code to do your blogroll, search out other blogs and links, etc. With Facebook, it's all there in an instant, and you don't have to spend time writing posts either.
I've been avoiding joining, mainly because I can see it taking up more time, I don't really see the point of being registered with yet another online service; also, I am one efficient procrastinator and don't need any more excuses. But I have finally given in… I joined the
Media Anthropology Network
, and was told that other members are on Facebook, with details of their profiles and what they're working on. This was the final straw: the
Association of Internet Researchers' email list
(recommended, by the way) had also recently mentioned forming a Facebook network, and a friend recently joined and told me about other long-disappeared-off-the-map friends who are on it too.
This is what greets you when on the first page of Facebook. It's interesting to look at the meaning of "the people around you", it could be read in a utopian, or dystopian way: a dystopian would ask: why do you need an online service to connect with people 'around you'? This draws up images of people communicating via Facebook rather than talking face-to-face. The utopian would read 'around you' as meaning you now have the world as your clamshell, so to speak – i.e. wherever you are, as long as you have access to Facebook,
everyone
is 'around' you.
What is the more realistic likelihood? Well, my guess, much inspired by danah boyd and related discussions, is that the people 'around' you are probably the people 'like' you – i.e. similar social, economic, ethnic, etc, background.
(Page 1 of 1, totaling 4 entries)