This is an account of the speech by Tun Dr Mahathir at the Bloggers Universe Malaysia 2009 blogmeet, and some thoughts about blogs in Malaysia. It's a bit long, but I thought it worthwhile to recount what he said (about blogs) in some detail.
A very brief historical outline
Love him or hate him, most Malaysians would agree that Tun Dr Mahathir is the single most influential person in twentieth century Malaysia, and he still has enormous stature and influence as we near the end of this first decade of the twenty-first. Educated as a medical doctor, and initially working as a civil servant, he won a parliamentary seat for UMNO (the dominant Malaysian party since
Merdeka
(Independence)) in 1964. He lost the seat in 1969, and afterwards was sacked from the UMNO Supreme Council for openly criticising the then Prime Minister; he went on to write the controversial book
'The Malay Dilemma'
, which - although it was banned until 1981 - laid the ideological foundation of the 'New Economic Program', a positive discrimination scheme aimed at reducing poverty and redressing the economic balance between the different ethnic groups in Malaysia. He rejoined UMNO in 1972, and eventually rose to being Deputy Prime Minister in 1978, and PM in 1981. From then on until October 2003, he presided over a period of accelerated development that transformed the country (source:
Mahathir bin Mohamad
).
In terms of blogging, he has significance in three ways. Laws that restricted the action of the mainstream media (MSM) were passed during his time (namely - the Printing Presses and Publications Act 1984), and he was also infamous for closing down newspapers in the
Ops Lalang
in 1987. He established the principle of no censorship on the Internet in the Communications & Multimedia Act in 1998 (however section 233 of this Act that addresses "Improper use of network facilities or network service" (
MSC Malaysia
) has recently been invoked to charge some internet users - e.g.
here
or
here
). Last but not least, in 2008 he started his own blog -
Che Det
- which rapidly became the most popular blog in Malaysia, attracting one million visitors in the first month, and almost 19 million in one year.
So, at the
BUM 2009
gathering last week, it was as a SoPo blogger that he was asked to attend, and although unfortunately the attendance for the event was a bit disappointing, he was clearly the star attraction. The place filled up for his talk, with many media too.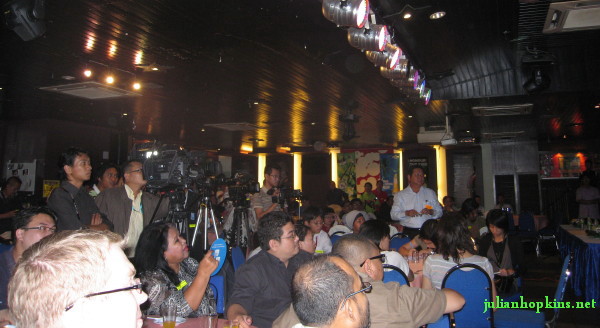 He spoke for about 30 minutes, then answered questions for about 40 minutes. I must say that he was an impressive public speaker, speaking clearly and with little use of notes, and with a disarming charm that kept the audience interested and occasionally amused.
The speech
He was introduced by
Ahirudin Attan @ rocky
, ex-editor of the Malay Mail, Protem President of All-Blogs, and President of the National Press Club - and of course a leading blogger himself. He explained that Dr Mahathir's engagement with bloggers went back to 2005, when bloggers were invited to the
Perdana Leadership Foundation
; this was a time when bloggers were at the margins of the political and media scene in Malaysia, which was similar to Dr Mahathir's situation at the time.
Continue reading "Dr Mahathir on blogs and the media in Malaysia"