I went to the
Fiesta Feminista
last week – it was well worth the time and I saw a number of interesting speeches, though I was also helping out so I wasn't able to see them all. I was also rapporteur for a
National Media Monitoring Survey
(organised by AWAM) workshop project that also provided gender awareness training for media practitioners.
I attended a talk about migrant workers – seemed interesting, and being a life-long immigrant myself, something I feel some resonance with, though I have always been on the privileged edge of it…
As part of the talk there was a testimony by a brave lady (whose name I didn't get though, sorry – her talk was being translated). She has no, or very little, education, but her intelligence and integrity shone through as, choking back tears, she told how she had lived through virtual slavery for about three years, in order to provide for better education for her children.
She came to Malaysia with the promise of a job paying RM400/month; once she got here she was told it was reduced to RM370. She swallowed that, and began her gruelling work: up at 6am every day she worked until 12pm for a family of 15 people – cooking, cleaning, and washing all the clothes by hand, being forbidden from using the washing machine. In the afternoon she had to help her employer's sister make kuih for the market. On Saturdays she had to wash the 3-5 cars the family owned, and on Sundays she had to get up at 4am so as to be able to do her usual tasks, and go to clean her employer's mother's house in the afternoon.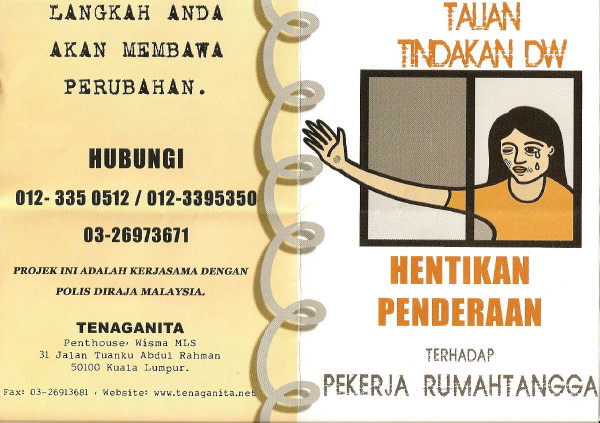 Tenaganita leaflet
Continue reading "Domestic Hell…"