In the last year, I've noticed that more and more bloggers put chat boxes on their blogs. For me, it's a bit inconvenient because I may miss some of the 'conversation' that occurs around the post – i.e. if there are only comments, all responses to the post are visible under the post. This is one of the great things about blogs (from a research point of view) because I get to see everything that readers thought important enough to say in response to the post; well, almost everything, because bloggers may also respond by doing their own post – but often you can 'hear' about that in the comments too.
But anyway, I can't expect bloggers to act in the way I want just to make my research easier, so I have been asking around a bit as to why people have chatboxes. Some bloggers have told me that they are more likely to use the chat box for casual 'hellos', or to say something that is not relevant to the post. Others have said that basically it's just easier to use the chatbox as opposed to the comments (less windows to open, etc.)
Today, I saw something new –
Annaling
responded to comments in her chatbox in a new post (original post
here
, and the chatbox comments recorded on the 9/9/08).
These were the chatbox comments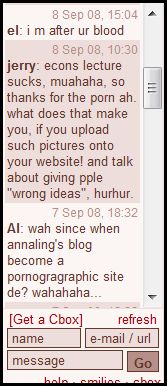 And this was the post in response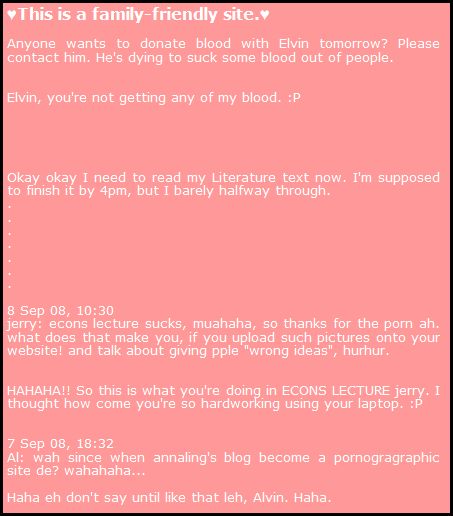 I've also seen a chatbox used as a means of advertisement, by
Race Against Time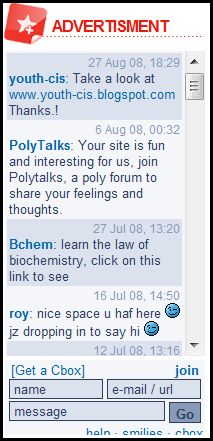 As far as advertisements go, using a chatbox has to be less advantageous – because the time it is visible is pretty uncontrollable… but one can imagine having a system whereby it comes up after every ten chats or something. It could benefit from the transitory environment by appearing more spontaneous, and therefore more 'real'.
I haven't put one on my site yet, mainly because I want to keep a track of any comments easily, but it may also be because I'm not really an IM type of person – I've never really got into using IM much, as I prefer being able to choose when to answer emails/comments rather than having to respond to messages that arrive at any time.
Anyway - what do you think? Chatbox or not? Why ah?