Nuffnang is at it again! This time there's a chance to go the
Nuffnang Music Bash 2009
.
The theme is "how you wish to be treated if you're a celebrity" - so I thought about it… You see, my problem is that I don't really look like any celebrity, and I don't have all the extra accessories to dress up and everything. I asked WW, 'Which celebrity has short hair?' – she looked at me and said 'David Beckham' (which shows just how blind love can be!

)
So Beckham it was. As you probably know, Beckham is famous for being metrosexual, leading the way for the 21st century man. A famous early episode was when he appeared with Victoria while
wearing a sarong
. Of course, being metrosexual he wasn't wearing one of those boring checked ones, but in fact had a more exciting woman's one.
Notice the football and the tattoos (just have to remind you just in case you don't see the resemblance with Beckham

)
So, if I was Beckham, I would want to be pampered in the best spas, and get massaged in a Balinese garden with frangipani flowers strewn around, perfuming the air with their delicate fragrance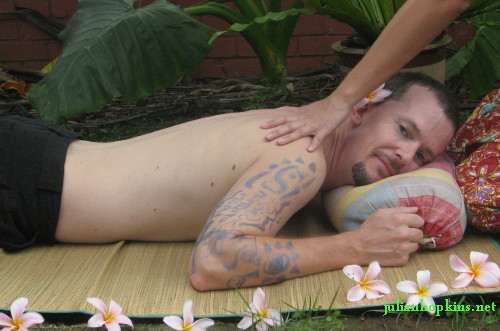 And of course, how could I do without the face mask? (infused with gold particles of course)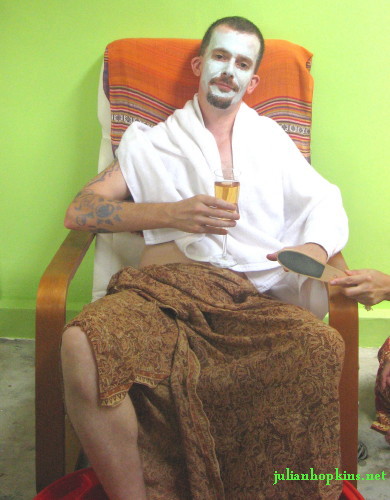 Not forgetting the manicure and pedicure, of course. Add a glass of champagne and - metrosexual life, here I come!
Hehe, so there you have it – my life as Beckham, being massaged, manicured, pedicured, relaxing in pamper-tastic spas and drinking champagne

(With thanks to WW: makeup artist, creative director and multi-talented extra

)
OK you may have noticed a problem, which I noticed too late. Nuffnang says they want 'Musicon Celebrities', so does Beckham count?? On the other hand, they say "Take a picture of yourself dressed up like a celebrity or impersonate any celebrity you want" – so I dunno… But I do want to go to the party! Please!!