Spiderman slammed for littering!
Sticky webs hanging from buildings cause major cleanup hassles for NY City Department
Ever wondered what happened to the trails of gluey arachnid goo the webbed one leaves in his 'Friendly Neighbourhood'?
Doris Wydedopolas is an angry lady after finding her laundry covered in sticky spider web – courtesy of the masked crime fighter. "Well he can fly around all he wants, but is he going to pay for the dry-cleaning? I can't remove this stuff from my Sunday dress!" Brandishing her spoiled polka dot dress, she showed our reporter her back yard where the clothes were hanging – strings of sticky goo had stuck her voluminous drawers together and was collecting flies. "With all the modern technology nowadays, why can't he just use something that doesn't stick?" her husband complained.
Aaron Giveadamovitz has also lodged a complaint after he found his cat dangling off the window ledge. "She must have been scared by the spinning Spider antics, and got caught in his web", he said tearfully, "Sheeba is my life, I don't know what I'd do without her. He's a menace to all pet lovers in the city!" The NY Fire Department is also planning to charge the webbed avenger for the cost of retrieving the mewing moggy from the twentieth floor window.
No so 'Friendly Neighbourhood' after all!
After knocking on a few doors, our reporter found that it's not such a 'Friendly Neighourhood' after all. A neighbour who declined to give his name, said "We don't want those foreign people dressed in gay outfits! It threatens family values and takes our jobs. You tell them Joe Rougegorge said that!". Another neighbour, a young student who was sleeping late, was the only one to voice support for the two-legged arachnoid – "Superheroes are always getting the bad end of the stick," Peter Parker said, "everyone expects them to be perfect but they're just ordinary people too you know!"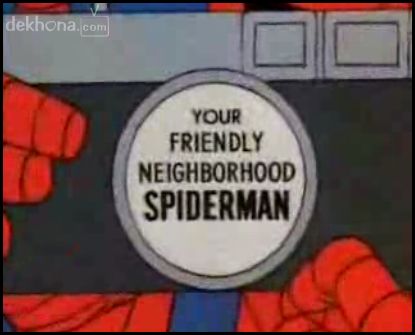 We tried to reach Spiderman for comment, but he was not available, however the City Department says that they will try to use more unconventional methods to contact him. It's thought they may have approached
Hancock
as a consultant, but he's reported to have said that he had a party to go to.
+++++
Pictures from
here
.