After getting my camera stolen a couple of months ago, I have finally got a camera again and feel like a real blogger again!

It was weird going to a blogmeet without a camera, and I would find myself reaching for my belt but grabbing thin air...
I'm no expert in cameras, but I liked my previous one (PowerShot S80) because it had quite a lot of manual options which means you can control the aperture and shutter speed; in particular, what I really liked was that the LCD screen would give you a preview of the picture with slower shutter, etc. So even an ignoramus like me could occasionally do some nice night shots and the like.
I don't want a dSLR, although they do good pictures I find them too much hassle to carry round - so although they have got pretty cheap, I was still looking for a 'prosumer' compact. After reading
DPReview
I found out that my best choices were either the Canon PowerShot G10, or the Lumix LX3; and
ShaolinTiger confirmed this
, with some extra useful information, as well as prices in Malaysia.
The general consensus is that they are both pretty good, although DPReview recommended the LX3 in the end
"If you want more SLR like controls and a longer zoom - and don't mind the bulk - go for the Canon G10. Me personally? By that point I'm using an SLR. For a carry anywhere 'walk around' camera I'd go for the LX3 every time" (DPReview)
I went and had a look at them: in Low Yat the LX3 was going for RM1550 (but a lot of places were 'stock finish already'), and the G10 was 1750 (cash prices). The G10 is definitely bulky, and the LX3 much more portable, but in the end I went for the G10 anyway because:
• It still has that 'preview' function when using the manual mode
• The lens cap is an automatic close-by-itself one, the LX3 is one that you have to take off and hold it or something (and then lose it)
• There's a three year guarantee on the current promotion, and I had good experience with the Canon service centre here before
So, here are a few photos - first, Lucky looking completely unimpressed with my new camera...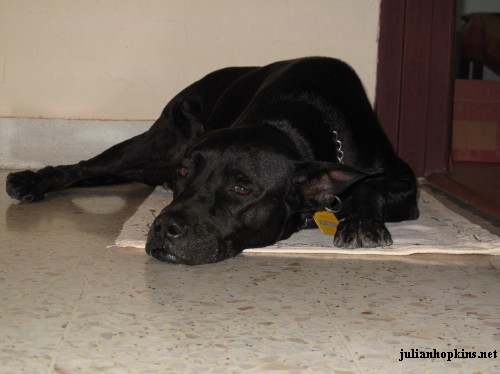 Gambit, however, is practising his best profile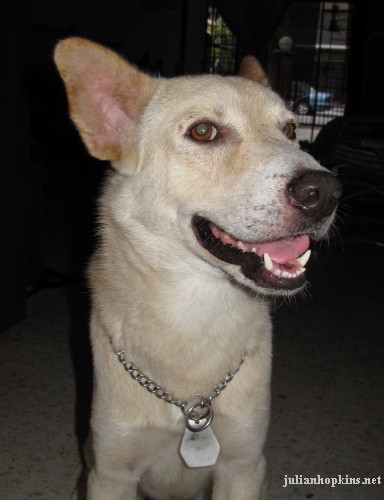 (why do dogs get 'green eye' and not 'red eye' with the flash??)
and this is a random shot of some pastis