I've been meaning to do this for more than a week now, but have been pretty busy (some previous thoughts
here
).
The KL Bar Council's Information Technology Committee has planned a series of forums on IT related issues, and this was the first one on "Blogging and Defamation". It started on time (unusually) and the panellists were three long-standing bloggers -
Nizam Bashir
,
Foong Cheng Loong
and
Jeff Ooi
.
The Chair of the Committee stareted by explaining that defamation was
'a statement calculated to injure another person or reduce willingness of others to associate with said person'
There is also civil and criminal defamation - which may be based on the same definition, but the criminal one can land you in jail for two years. He pointed out that there is
NO
special protection for bloggers, and even criticising someone's
char kuey teow
in Jalan Alor can be considered defamatory. By the way - 'slander' is oral, and 'defamation' is written - I think they have the same potential liabilities though.
Nizam Bashir (sorry no photo) gave a
detailed presentation
on the legal history and other facts about defamation and blogging. He pointed out the constitutional 'right to freedom of speech and expression', but there are provisos that limit this right in relation to security, contempt of court, 'morality' [not sure what this was exactly], defamation, incitement of an offence; and also relating to (Bumiputra, I suppose) privileges, religion, and the rulers.
Defences that can be used are:
• Truth: (if it's the truth it's not defamation, I suppose)
• 'Legal, social or moral duty' to say something to a particular person (e.g. a teacher telling a parent their child is no good at school). As relates to blogs, you could have a password protected post for particular person
• Expressing an opinion: the facts must be reasonably accurate and in the public interest - based on the concept of "fair comment"
He said that the key issue was where to place the boundaries to free speech. He said that Malaysians should be able to speak about some of the topics placed 'off-limits' - "we are made of sterner stuff". He also said that one of the consequences of the recent legal actions initiated against bloggers was a chilling effect on the freedom of speech; more people may want to stay anonymous - which affects the credibility of blogs; and overall more problems than solutions is the general result.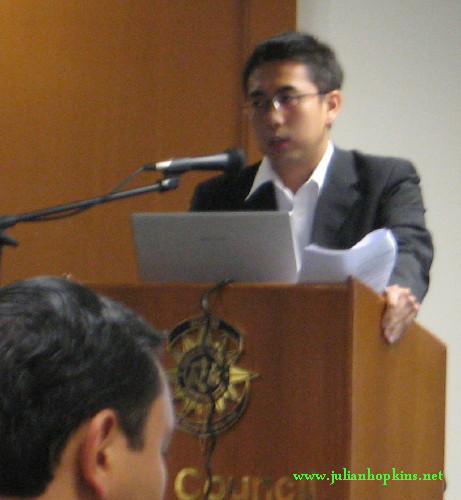 Continue reading "Blogging and Defamation - Part II"