I've been meaning to do this for more than a week now, but have been pretty busy (some previous thoughts
here
).
The KL Bar Council's Information Technology Committee has planned a series of forums on IT related issues, and this was the first one on "Blogging and Defamation". It started on time (unusually) and the panellists were three long-standing bloggers -
Nizam Bashir
,
Foong Cheng Loong
and
Jeff Ooi
.
The Chair of the Committee stareted by explaining that defamation was
'a statement calculated to injure another person or reduce willingness of others to associate with said person'
There is also civil and criminal defamation - which may be based on the same definition, but the criminal one can land you in jail for two years. He pointed out that there is
NO
special protection for bloggers, and even criticising someone's
char kuey teow
in Jalan Alor can be considered defamatory. By the way - 'slander' is oral, and 'defamation' is written - I think they have the same potential liabilities though.
Nizam Bashir (sorry no photo) gave a
detailed presentation
on the legal history and other facts about defamation and blogging. He pointed out the constitutional 'right to freedom of speech and expression', but there are provisos that limit this right in relation to security, contempt of court, 'morality' [not sure what this was exactly], defamation, incitement of an offence; and also relating to (Bumiputra, I suppose) privileges, religion, and the rulers.
Defences that can be used are:
• Truth: (if it's the truth it's not defamation, I suppose)
• 'Legal, social or moral duty' to say something to a particular person (e.g. a teacher telling a parent their child is no good at school). As relates to blogs, you could have a password protected post for particular person
• Expressing an opinion: the facts must be reasonably accurate and in the public interest - based on the concept of "fair comment"
He said that the key issue was where to place the boundaries to free speech. He said that Malaysians should be able to speak about some of the topics placed 'off-limits' - "we are made of sterner stuff". He also said that one of the consequences of the recent legal actions initiated against bloggers was a chilling effect on the freedom of speech; more people may want to stay anonymous - which affects the credibility of blogs; and overall more problems than solutions is the general result.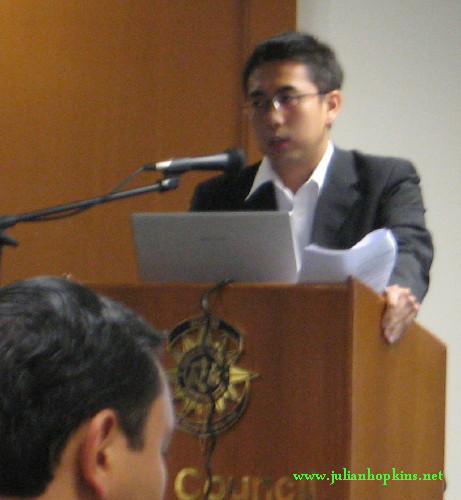 Continue reading "Blogging and Defamation - Part II"
Unfortunately, it's a Japanese plant so I can't understand what it says, but it certainly challenges the boundaries of blogging!

Check it out
here
.
This is for real, by the way - I read about it in BBC:
A potted plant at a cafe near Tokyo, Japan is entertaining customers by writing a regular blog about its feelings.

It is the work of a university engineer who has been studying how to communicate with plants.

He devised a sensor which he attached to the plant named "Midori-san" that measures bio-electric signals. These are converted into data by a computer next the plant and then translated into Japanese in the form of a blog.

The plant's latest entry reads: "It was cloudy today. It was a cold day." (BBC)
Just a rapid one as I'm pretty stressed out and well behind on my work, argh!

My
new gardening blog
has been online for about ten days now, and the first task is to make it visible to other blogs and bloggers. A blog with no readers is really no different from a diary stuck under the bed.
So, results so far: I submitted the site to Google, and the sitemap as well, so if I search for the url, it comes up

That took about four days to happen.
I have submitted the blog to various directories, including:
Blotanical
(which is a nice social network for gardeners, some very impressive gardeners in there!);
Blog Explosion
(they have a useful ping function – they took about 5-6 days to approve the blog); and
Garden Blog Directory
(which is a pretty basic directory).
So, today I tried to see if there are any incoming links to my blog. First I tried the classic 'link: your.url.com'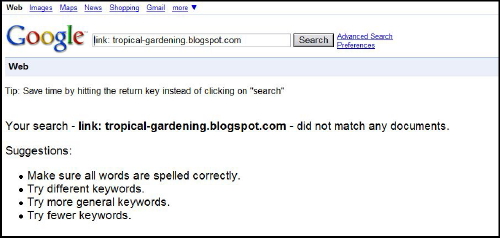 That got nothing. So I checked out the more advanced
Google Webmaster tools

which gave the same result… It says i'm in the index, but not the sitemap. I'll give it a bit more time - for example, I know that there's at least one link in from this blog. I suppose Google still needs to do more indexing of other webistes, and all that
I'll be giving updates on how it proceeds.
Tuesday, September 30. 2008
In the last year, I've noticed that more and more bloggers put chat boxes on their blogs. For me, it's a bit inconvenient because I may miss some of the 'conversation' that occurs around the post – i.e. if there are only comments, all responses to the post are visible under the post. This is one of the great things about blogs (from a research point of view) because I get to see everything that readers thought important enough to say in response to the post; well, almost everything, because bloggers may also respond by doing their own post – but often you can 'hear' about that in the comments too.
But anyway, I can't expect bloggers to act in the way I want just to make my research easier, so I have been asking around a bit as to why people have chatboxes. Some bloggers have told me that they are more likely to use the chat box for casual 'hellos', or to say something that is not relevant to the post. Others have said that basically it's just easier to use the chatbox as opposed to the comments (less windows to open, etc.)
Today, I saw something new –
Annaling
responded to comments in her chatbox in a new post (original post
here
, and the chatbox comments recorded on the 9/9/08).
These were the chatbox comments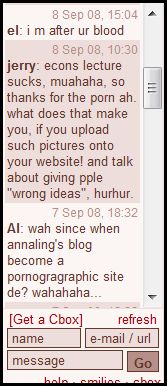 And this was the post in response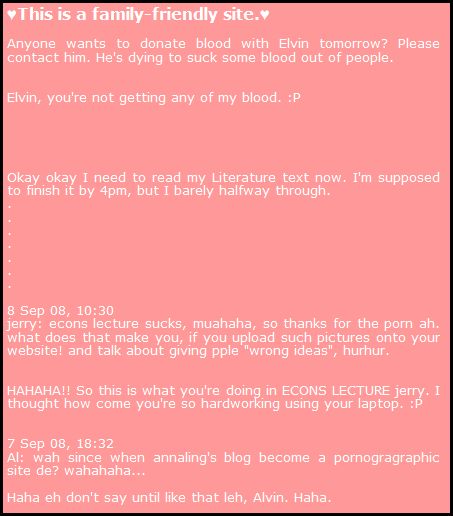 I've also seen a chatbox used as a means of advertisement, by
Race Against Time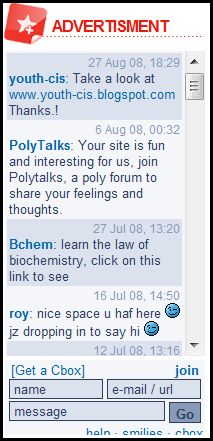 As far as advertisements go, using a chatbox has to be less advantageous – because the time it is visible is pretty uncontrollable… but one can imagine having a system whereby it comes up after every ten chats or something. It could benefit from the transitory environment by appearing more spontaneous, and therefore more 'real'.
I haven't put one on my site yet, mainly because I want to keep a track of any comments easily, but it may also be because I'm not really an IM type of person – I've never really got into using IM much, as I prefer being able to choose when to answer emails/comments rather than having to respond to messages that arrive at any time.
Anyway - what do you think? Chatbox or not? Why ah?
Wednesday, September 24. 2008
This email, in theory, should start a blog with this email as the first post on it. It must be the easiest way to start a blog, but I wonder how popular it will get - perhaps that also depends on other things such as being able to include photos, and stuff like that.

For example, if I paste a photo in this email, will it also come up in the blog?


And I suppose it will include links, anyway – such as one to my blog http://www.julianhopkins.net

And will you be able to Digg it?
[<]script src="http://digg.com/tools/diggthis.js" type="text/javascript">

It should create a blog using the part before the @ as the username – so it should be http://julian.posterous.com

(I learnt about this from http://kerim.posterous.com/ )

Let's see if it works, and how long it takes (it's 17.45 now). Sending…

++++++++++
Blog: www.julianhopkins.net
Skype: julhop
IM: jfprhopkins@hotmail.com
Well it worked! It was pretty much instantaneous, and you can see the results
here
.
I didn't get julian.posterous.com as some other Julian got it already, so it's julian_lzhga instead, but that can be changed.
The Digg script didn't work - I suppose it doesn't take html script, or java, or something.
Conclusion: not bad, for a rapid and easy blog. I can't see myself switching, but it might appeal to some people...
I did my first interview this week – it's kind of early but the blogger was around and I wanted to take the opportunity. My planned schedule for research is somewhat messed up because the 'traditional' read --> fieldwork --> write-up stages are getting mixed up; my 'fieldwork' is blogging, taking notes and recording aspects of blogs, and meeting bloggers, and I've been doing that for about a year already. And I was blogging before anyway.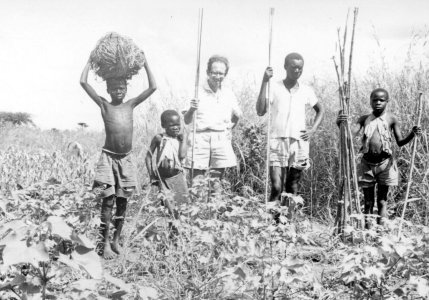 Fieldwork - how it used to be

(Source)
Anyway, I practiced on a fellow student last week (which was very useful), and met up with the first interviewee for about four hours. I'm calling this blogger 'AlphaBlogger': I decided to make them all anonymous, and this blogger gets 'A' as the first name – the blogger chose the name, I just said it should start with an 'A'. The next one will be something starting with a 'B', and so on.
Unfortunately for AlphaBlogger the aircon gas in my car needs topping up (something I noticed in the morning only), so I drove an increasingly sweaty blogger through a somewhat jammed Bangsar and into PJ to try to catch some duck rice at the famous 'Sunrise' place in Taman Paramount, but unfortunately we were too late at 13.30! That place really runs out quickly. So we ate somewhere else, and after went to Monash for the interview.
Anyway, AlphaBlogger was very friendly and easygoing, which made it easier for me. The interview went well, and was very interesting; I learned a few things about the history of blogging in Malaysia, and blogging in general that I never knew. AlphaBlogger mentioned
Blue's News
as one of the first 'bloggers' (not Malaysian) – apparently the website owner started a section called 'Out of the Blue', which was updates on his personal life and stuff. It's something that has never come up in the literature: Blue's News is a site related to gaming, whereas the typical chronologies are the one by (for example)
Rebecca Blood
, have blogs starting with tech/programmer-type people.
AlphaBlogger's name is somewhat appropriate, as AlphaBlogger is
[edited slightly - 1/8/08]
a very early Malaysian blogger. There were very few Malaysian bloggers then apparently, but AlphaBlogger didn't mention
Oon Yeoh
who's been blogging since 2001. One of those mentioned was
Absolutely Fuzzy
who (according to the Copyright information) has had a blog since 2000.
This is also different from the 'official' story I've heard before about the 'father' of Malaysian blogging, Oon Yeoh, and
Jeff Ooi
, etc… It may have something to do with the divide between SoPo bloggers and 'personal' bloggers; SoPo bloggers always get more attention in the MSM, and – it seems to me – represent in most people's mind what a blog is about. In fact, the great majority of blogs are not SoPo blogs.
Jorn Barger's '
Robot Wisdom
' is often cited as the first blog (1997), but I recently found out about
Justin Hall
who started in 1994 – said to be the first personal blogger. Again, it seems that in the conventional histories, the personal bloggers are often overlooked… interesting…
Anyway, it was very useful to talk to an 'A-list' blogger. I definitely learnt stuff that I would never know otherwise (unless I start getting thousands of daily visitors, which ain't gonna happen anytime soon). So, you know who you are, thanks again and hope to meet up sometime again

And if there's anyone who has any information about the history of blogs in Malaysia, please tell me! I'm about to start a chapter on it, and all information is good

« previous page
   (Page 2 of 8, totaling 43 entries)
» next page