Entries tagged as blogosphere
Saturday, February 19. 2011
This is an interesting paper about the Malaysian SoPo blogosphere – it uses social network analysis (SNA) techniques to crawl links and map the Malaysian SoPo blogs.
It doesn't seem to say when the data was collected, but the paper was published in 2010, and the crawl was done after the 2008 elections, so let's assume 2009. One worry I have is that they used the
SoPo Sentral of Malaysia
directory as the starting point of their crawl – but that was last updated in December 2008, and is not necessarily complete. On the other hand, it's probably the best place to start. But
Dr. Mahathir's blog
(which started in May 2008) is not mentioned which is surprising.
What they did was to take the 385 blogs in the SoPo-Sentral directory and follow the link to a depth of four (e.g. follow links from one blog, collect all the links it links to, then follow those, and again two times). From this they got 4,693 sites, and approximately 2,000 blogs. Another crawl using the same technique on blog posts mentioning 'Bersih' in the week after the Bersih demonstrations gathered 878 blogs.
So this suggests that there were about 2,000 Malaysian SoPo blogs. Which is less than I imagined.
Edit
: Actually, it's more likely to mean that there are between 878 and 2000 sopo blogs.
Here are some of the results. They also compare SoPo blogs to random Malaysian blogs.
• The almost paradigmatic polarisation of SoPo blogs demonstrated in the USA by Adamic & Glance is not replicated here. Instead there is a distinct clustering of smaller groups with scattered individuals forming 'bridges'.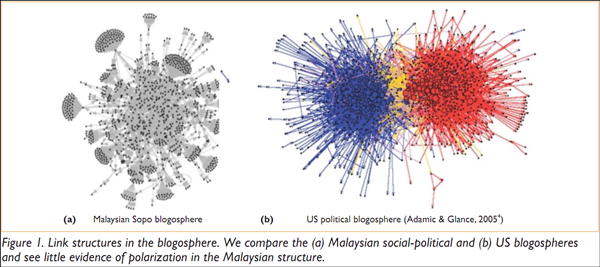 Source details below
My hunch here is that this reflects patronage-style politics – people affiliating themselves with individuals – rather than identifying themselves with ideology or political stances (to note however that
another SNA analysis of the Malaysian blogosphere did turn up a polarisation
– though it was not focused on SoPo blogs).
• SoPo bloggers are more likely (compared to random Malaysian bloggers) to be older males (this is the same as the US), and also to reveal details about themselves.
• 27.9% specify a political affiliation as follows: 10.2% UMNO, 7.1% PAS, 4.2% PKR, 2.5% DAP, 1.2% PSM. Surprisingly no other BN parties such as MCA, MIC, Gerakan, etc. Overall, it suggests that most SoPo bloggers see themselves as independents.
• SoPo blogs are four times more likely to be in English than BM ("the small amount of Chinese blog content in [their] data" were not dealt with).
• "the average sopo blogger has more in-links and comments than random Malaysian bloggers"
• Blogger.com (i.e. 'blogspot') "has more than 152,000 Malaysian profiles — many more than on Wordpress.com or similar services."
You can access the paper (in a somewhat garbled copy)
here on Scribd
, and the full details are:
ULICNY, B., M. KOKAR & C. MATHEUS 2010. "Metrics For Monitoring A Social-Political Blogosphere: A Malaysian Case Study".
Internet Computing, IEEE
14, 34-44.
Wednesday, January 26. 2011
21.26
OK this is a new one: a restaurant - Jothy's Fish Head Curry Banana Leaf Restaurant - in Kota Kinabalu, Sabah, is suing Sixthseal.com, a well-known Malaysian blogger, for saying he did not like the food at the restaurant - in fact he said it was really awful. For some reason I can't access that blog right now, but here is a
screenshot of the original post
. I can't say that it's a good move by the restaurant, better just to make sure their food is good and it should sort itself out.
However, it's possible that the reason why they are so annoyed is that is was recommended in Lonely Planet, so they must have been making loads of money off the tourists, and with a prominent blog post coming sixth on the Google search first page, it could be affecting their business. On the other hand, the first result is a positive four star rating from tripadvisor.com.
Anyway, it seems to me that Sixthseal has expressed a subjective opinion, and if you're going to start suing every food critic who doesn't like a restaurant (ditto for art critics, book reviewers, etc.) then there are going to be a lot of changes.
But the next bit is the strangest, and it may be a first.
The restaurant is also suing Google
- I suppose for providing the search engine that enables people to see the blog post.
Well - this one may be a world wide first, so Malaysia boleh! Again. But honestly it's got to be dead in the water. If the courts agreed to this, then every company will be wanting to be tell Google what to show and what not to show. Though there may be precedent in terms of Google returning searches on porn, terrorist related sites etc.
21.40
++++++++++
The 15-minute blog post.
I like to blog, but I can't afford to spend a lot of time on it. Solution: limit myself to 15 minutes per post.
One link, one picture maximum.
All comments, critiques and corrections are welcome. Thank you.
A recent statement by the Malaysian Information, Communication and Culture Minister - Datuk Seri Dr Rais Yatim (
Dewan Rakyat: 2 Million Bloggers Proof Of Media Freedom In Country
) affirmed that there are two million bloggers in Malaysia.
I wish I knew where he got that figure – with a population of more than 26m, that would mean that about 7.7% of Malaysians are bloggers. Although I do think that blogs are proportionately more popular in Malaysian than many other countries, I have my doubts about this figure, especially since, of course, not all Malaysians access the internet. In December 2009 there was 31.4% penetration of broadband (
Broadband penetration rate surpasses 2009 target
), and in June 2009, internet penetration was
64.6%
(for more information, many useful stats are available at the
Digital Media across Asia
site). 64.6% of Malaysians means about 16.6m people. If two million were bloggers, that would mean 12% of Malaysian internet users are bloggers.
As a researcher of Malaysian blogs, I have long wanted accurate statistics on the overall Malaysian blogosphere, but eventually came to the conclusion that it is very difficult, if not impossible to get them. In a nutshell, these are the problems:
• Most Malaysian bloggers use platforms such as
Blogger
, and
Wordpress
. These are hosted in the US (I think, but not in Malaysia anyway). Most Malaysian bloggers in my experience do state their location in their profile, but not all. So, a crawl of these sites that picked up profile information would capture many of the Malaysian bloggers, but not all. I suspect this is what
Sysomos
did recently.
• The more serious bloggers usually have their own domain. Hosting is a lot cheaper with American or European companies. Hence the core of Malaysian dedicated bloggers will have their blog hosted outside of Malaysia. And their blogs will not be picked up in crawls of .blogspot blogs, etc.
• Many bloggers have more than one blog. Some will have many blogs. Many of these will be inactive. Any survey of blogs needs to have some measure of how active they are – for example by deciding that one post in the last three months means the blog is active.
• Private blogs (with password protection) cannot be crawled (thanks to
Tim Highfield
for this point).
• A proper survey of Malaysian blogs needs to look for blogs in English, Bahasa Malaysia, Chinese (Mandarin), and Tamil (this is probably the easiest problem to overcome).
Here is a little survey of figures/estimates of the population of the Malaysian blogosphere that I have come across.
June 2010
A
survey by Sysomos
gives some idea of the relative popularity of blogs in Malaysia, but as I
blogged about before
, without more details on their methodology this survey is not reliable. As it stands, it implies that there were either 1.7m blog posts from Malaysia when the survey was done, or 1.7m bloggers. Maybe this is where the Rais got his data from?
October 2009
Around the time of the
Nuffnang Awards
, Nuffnang said in a press release it had registered "more than 100,000 blogs hosted on various platforms", and the Singapore Co-Founder said in a
radio interview
that they had 40K blogs registered in Singapore. A bit of informed guesswork on my part leaves 50K blogs registered with Nuffnang in Malaysia.
In the survey I did last year (
myBlogS 2009
), about 36% of the blogger respondents were registered with
Nuffnang
or
Advertlets
. Taking that as a benchmark, my guesstimate of active blogs in Malaysia is 150-200,000 blogs.
April 2009
The
Young Asians survey by Synovate
was reported as showing that "Malaysian youth are active bloggers with close to half (48%) spending a portion of their time blogging." This refers to those aged between 8-24 years old. One could extrapolate from that how many young bloggers there are, but I don't have an equivalent breakdown of the age of Malaysians.
April 2008
A newspaper article quoted Dr Abu Hassan Hasbullah from University Malaya saying there are 500,000 active bloggers in Malaysia (
Blogging in Malaysia ranks among highest in the world
). There were no more details on the research, and I tried contacting the person quoted, but to no avail.
September 2007
Some research based on Microsoft's 'Windows Live Spaces' (
Research confirms boom in Malaysia's blogging scene
) said that "41% of Malaysians […] own a blog account" – but this is probably 41% of the respondents, and the total number of Malaysian respondents is not known. A good critique that I read at the time (but can't track it down) noted that the Windows Live Spaces blogs at the time had a blog as a default option, and that selecting the option did not mean the blog was active. It was also pointed out that Microsoft had an interest in promoting their new blogging service.
July 2003
The Great Malaysian Blog List
had 393 blogs listed, and the "VOI Blog Directory" had 567 blogs listed. There may have been overlap between these, and overall perhaps less than 1000 Malaysian blogs at the time.
If anyone has more accurate data on the number of blogs in Malaysia I would love to hear from you! For the moment I will stick with my estimate of 150-200 thousand active blogs. But I wonder how come I am estimating so much less than all the other sources, and I could be way off the mark.
A distinct advantage of internet advertising is the ability to accurately measure the audience (through page views), and to know precisely how many people took an interest in the ad by clicking on it. 'Click fraud' (simulating different people by repeated clicking) is detected by automated software, and 'unique visitors' (based on the IP addresses) deals with the problem of the same person refreshing a page in order to simulate a different person.
This is how Google has made billions of dollars, so it must be pretty reliable overall.
However, how can 10,000 unique visitors equal an audience of 100? To answer this, we have to consider the network within which the ad is displayed. For this example, let's imagine a random
blog advertising network
- called 'BlogAdNet': BlogAdNet works by registering thousands of blogs, all of whom allocate space on their blog for advertisements to be automatically displayed as and when BlogAdNet wants to. They then go to potential clients and say, for example, 'Our network of blogs receives 10,000 unique visitors a day'; but this does not necessarily mean 10,000 different people. Imagine a very dense network of 100 bloggers, all of whom visit each other's blog every day - each blogger reads 99 other blogs every day. 99 x 100 = 9,900. So, the 10,000 unique visitors could in fact be 100 people, plus one other person (imagine BlogAdNet doing regular monitoring) visiting all the blogs.
I've used
NodeXL
(a useful
social network analysis
(SNA) tool that integrates with Excel), to think about a few examples that demonstrate how SNA can give more insight into the behavioural aspects of blog readers. Represnted in an SNA graph, the dense network of 100 readers would look like this (except that I've scaled it down to ten users to be easier to see):
Everyone is connected to everyone else, and nobody is more 'influential' than others.
However, this would be very unusual. Most networks are clustered - using the above ten blogs, I've chosen A, B and C as the 'top bloggers': everyone visits them, and they always visit each other (but don't visit the other). DEF always visit ABC, and each other. GHI are a similarly clustered sub-group. And J, who is visited by nobody (aww) always visits ABC (like everyone else), and also D, F, G and I.
Now, the same network, based on the same calculations, looks like this: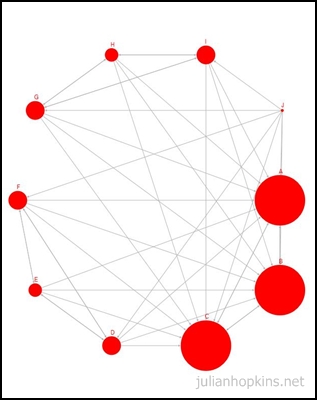 The size of the nodes are based on the 'in-degree' - i.e. the number of incoming visitors. So A, B and C are the biggest, and J the smallest.
You can also calculate 'Betweenness'. In a network, it's not only the direct connections that matter - someone 'between' you and another person may be relaying your thoughts, or enhancing your reputation.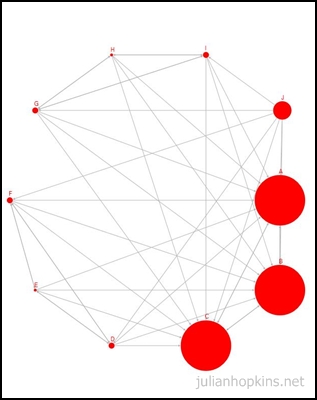 So, the node J is now bigger than the other two sub-groups DEF, and GHI. So, in theory, J could be seeing something on A's blog, and then telling others about it; or starting conversations in their comments section and acting as a 'bridge' between sub- groups DEF and GHI. Or maybe J is just a lurker, who never says anything? The only way to find out would be to go and look at what J does. This points to one of the limitations of SNA -
you can detect the presence of a link, but you don't always know what it means in practice
.
The Eigenvector Centrality calculation combines the above, looking at the number of connections each blog has, and the degree of the blogs it connects to: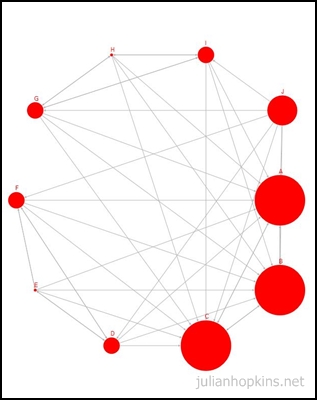 E and H are now smaller, because they have less overall connections. J remains apparently influential, but the lack of incoming links is not reflected here.
OK, I've got to stop this, and get on with writing my thesis!!

Some conclusions
The density of a blogger network tends to depend on a few factors such as: geographical location, shared cultural features, blog genre, gender, and interest. For example, Malaysian bloggers/readers are more likely to read other Malaysian blogs; or female bloggers/readers interested in fashion and makeup will read blogs that focus on that. The density will be increased when they go to events together, when they link to each other, and so on.
If you want to measure influence on the internet, relying on classic data that is based on non-contextualised quantities is not enough. For example, if you say 'There are 5,000 mentions of new product X since we launched the campaign'; this does not tell you the relative importance of each mention. You can combine that with unique visitors: '5,000 mentions of which 200 were on blogs that receive more than 2,000 daily unique visitors'. But still, what if all those 2,000 visitors are part of a densely clustered network who mostly read each other's blogs?
The subjective and 'thick' understanding of the contextual meaning of links still needs human eyes. But they can be helped by automated processes that, for example, detect key words, emotional content, etc.
What do you think? How important can SNA be in elucidating these more subjective social aspects of online interaction?
I'm still learning about SNA, and don't know much about what happens in social media monitoring companies, so if anyone has any corrections or advice, please use the comments section below. Thanks!

OK, the title pretty much says it all

To get an overall view of the history of blogs in Malaysia, and my fieldwork, I've made a table.
Of course, this only represents what I know of, and the events and so that I was able to attend during my fieldwork. There are many many thousands of blogs out there, and I can never hope to cover all of what blogs have been to all bloggers over the years.
So - I'd really appreciate any feeback! Anything I've missed out, got wrong... please tell me!
It's too long to post as a table (or rather, I don't know how to convert the Word table into html), so I've
uploaded it as a pdf
.
Just to give you an idea of what it looks like, here's a screenshot - click on the picture to get the full version!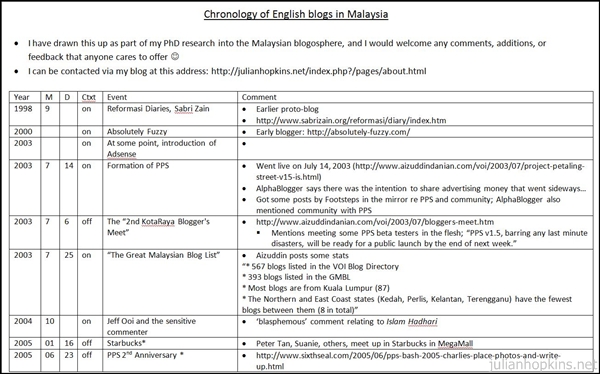 Tuesday, October 27. 2009
The
Nuffnang Asia-Pacific Blog Awards
were held last weekend, and various lucky nominees and bloggers were transported into Singapore from Malaysia, Philippines, and Australia. It was the first of its kind and, for me, the cut-off event for my data collection - from now on, it's time to start reviewing all my field notes, transcribing interviews and aiming to finish 100K word in one year.
Here is a rapid tour of how it was for me - we gathered at the Nuffnang offices in KL, and arrived at the
Link Hotel
at about 3pm.
Yee Hou
was our efficient shepherd, leading us safely to Singapore and back, even those who didn't declare cigarettes...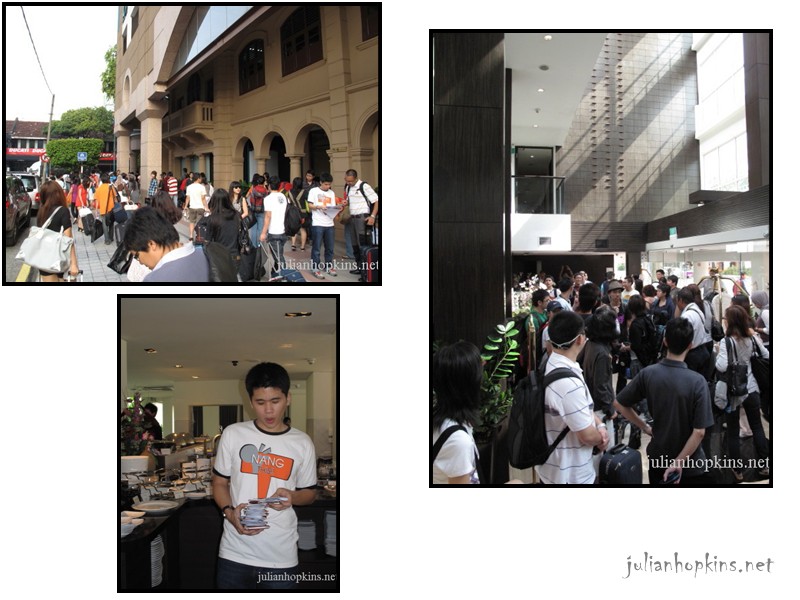 After we booked in (was a bit slow) - a welcome beer!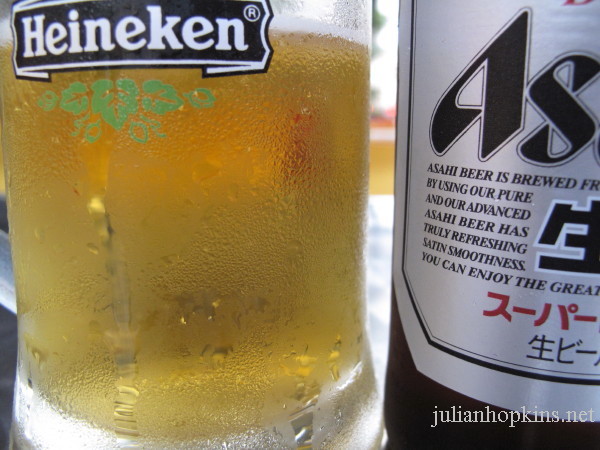 Then, off to the Awards ceremony! Efficiently run, nice food, nice people, many awards - nominees from all four countries where Nuffnang has a presence.
Blog celebrities
and
Celebrity Bloggers

(
list of the nominees and winners
)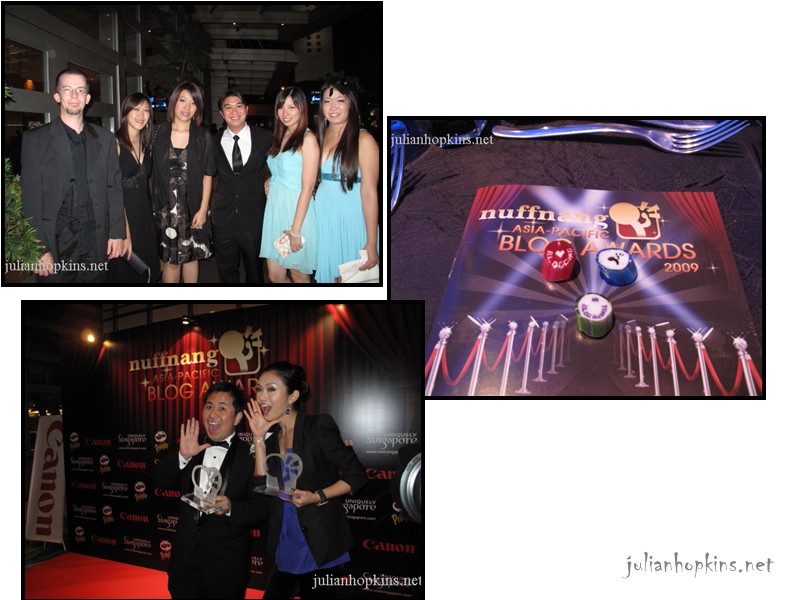 In the group photo (L-R): dork on the left, dunno who sorry,
Swee San
,
Soon Seng
, Wenli, and
Jolene
(click her name for a much more complete account of the awards).
Got back to the hotel for a pleasant surprise welcoming letter with a gift of cute cows from
Exabytes
, longtime advertisers with blogs
Continue reading "Nuffnang Awards - Whistle stop tour"
(Page 1 of 4, totaling 22 entries)
» next page