Entries tagged as blogmeets
Thursday, December 24. 2009
After blogging about
philosophy and potato chips
for
Nuffnang
, I got invited to the 'Mr. Potato Fiesta' last week.
It was at the Mist Club in Bangsar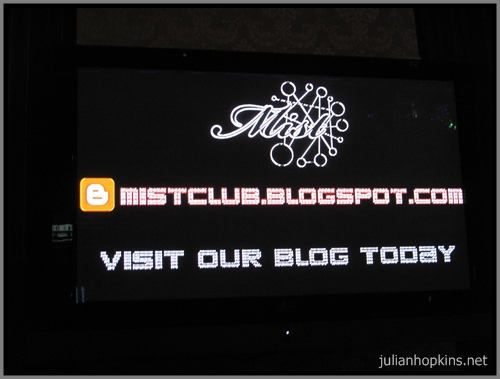 As usual with the Nuffnang events, there were prizes galore given out, food and drinks were provided - the beer was upstairs on the balcony for some reason and at first we missed it. The door gift was a big bag full of potato chips, a 'Mexican' hat (actually, it was one of those gardener's hats you see workers by the road using, painted in red - but it did the trick

), and a fake moustache. The bag is a good sturdy reusable bag, and I'm using it to go to the market now.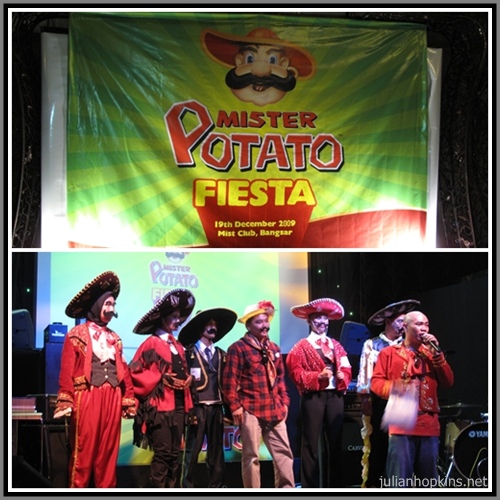 Mr Potato rocked with
Hujan
, while others took photos. Hujan were good - rock/punk mosh pit stuff.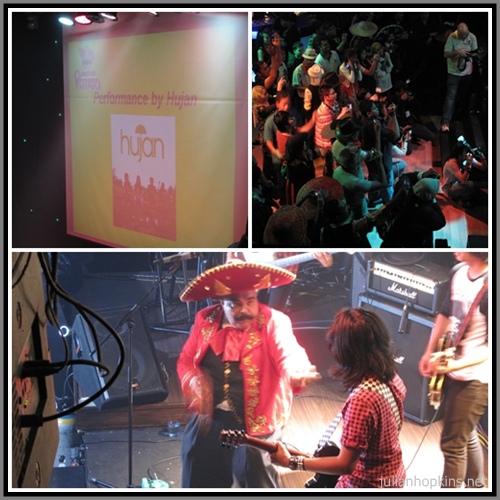 There were prizes for best dressed, and for the best blog post - top prize RM5,000! Nice! Second was 3K, and third 2K.
The top blogger was
Kecik
, second place was
The Egg Yolks
, and the third created a new blog for the entry -
Mr. Fussy
, which was pretty smart I think.
There were multiple hampers and giveaways, and as for me - I won something in a Lucky Draw!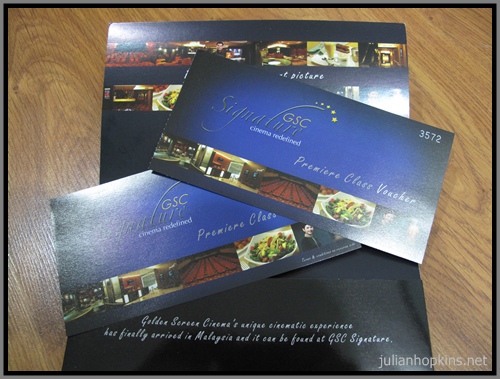 Two
GSC Signature
voucher

Actually, they're going to be an Xmas gift to my in-laws ('cos I'm massively skint at the moment), so I'll have to find out from them what it's like to luxuriate in wonderful seats, get service while watching the film, etc.
Thanks again Nuffnang, who have provided me with many enjoyable evenings and multiple freebies.
Tuesday, October 27. 2009
The
Nuffnang Asia-Pacific Blog Awards
were held last weekend, and various lucky nominees and bloggers were transported into Singapore from Malaysia, Philippines, and Australia. It was the first of its kind and, for me, the cut-off event for my data collection - from now on, it's time to start reviewing all my field notes, transcribing interviews and aiming to finish 100K word in one year.
Here is a rapid tour of how it was for me - we gathered at the Nuffnang offices in KL, and arrived at the
Link Hotel
at about 3pm.
Yee Hou
was our efficient shepherd, leading us safely to Singapore and back, even those who didn't declare cigarettes...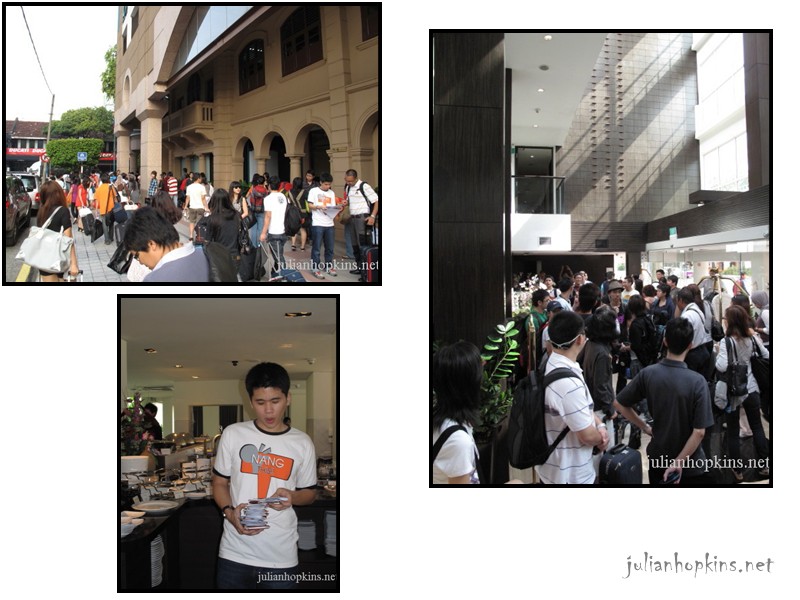 After we booked in (was a bit slow) - a welcome beer!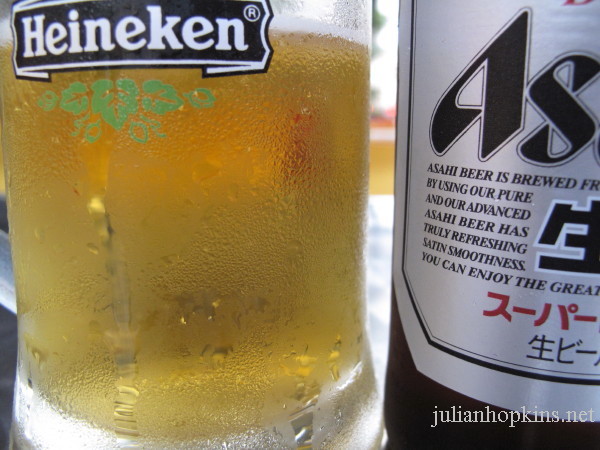 Then, off to the Awards ceremony! Efficiently run, nice food, nice people, many awards - nominees from all four countries where Nuffnang has a presence.
Blog celebrities
and
Celebrity Bloggers

(
list of the nominees and winners
)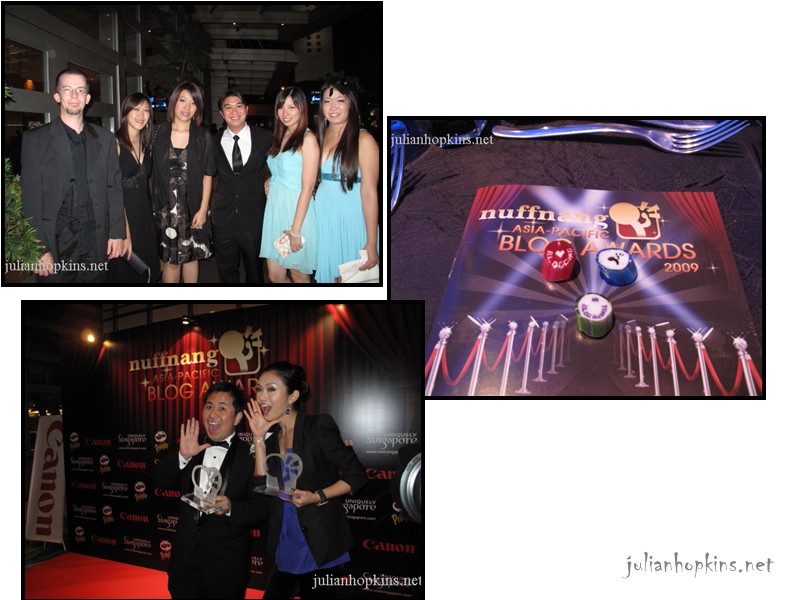 In the group photo (L-R): dork on the left, dunno who sorry,
Swee San
,
Soon Seng
, Wenli, and
Jolene
(click her name for a much more complete account of the awards).
Got back to the hotel for a pleasant surprise welcoming letter with a gift of cute cows from
Exabytes
, longtime advertisers with blogs
Continue reading "Nuffnang Awards - Whistle stop tour"
Saturday, October 17. 2009
Doing research as a blog anthropologist, I get sick of people saying, "But what's happening in 'real life'?"...
I mean, what's NOT real about talking, sharing and ranting with friends and acquaintances? Humans have been doing that since the first barbecue outside of a cave in Africa - is it more real because it's happening in a bar, at work or at school; then when it's happening while you're on the move and keeping in contact with friends around town, overseas, or at home? Does anyone ever say letters aren't 'real'?!
The point is - you can do BOTH of these! You can have a life online AND offline - each one complements the other, and that's the way the future's going to be. Get on the train (or more likely the maglev), and get with the future!
In the future, everyone is going to have presence online as well as offline. They'll even be provided by the government, and kids in playschools will be taught how to play online, just like they're taught how to cross the road safely. The technology will be portable nanocomputers, inserted under the skin and with controls directly from the brain (
for example
).
OK - we're not there yet

But to get a feel of it you are going to need one thing - that's a smartphone, like a
BlackBerry
. So you can surf the net, update your social media, call your family, write emails, play games (important that one) - basically, have your own communications centre wherever you go...
OK - any blogger, tweeter or Facebooker wants to be able to chat with friends, do some IM'ing or check Facebook while they're out and about, but... you're going to be worried about the cost, right? I mean, if each tweet, IM message or Facebook update costs money, the bill is gonna be stiff right?
Well - I have to say that Xpax have a good solution here - RM1 per day for prepaid UNLIMITED ACCESS! So - load up with RM 30 at the beginning of the month and you're safe for thirty days.
Check out the
details on the Xpax site
. The RM1/day deal is for social networking sites - for unlimited internet surfing, etc, it's RM2.50 a day.
"No hidden clauses, no upfront payment" - sounds good enough to me

So - the other problem with switching phones is changing your telephone number, right...? No - wrong! With Mobile Number Portability now available in Malaysia,
you don't have to change your number anymore
.
At the Xberry party the BlackBerry Curve smartphone 8520 was going at RM888, but if you hurry you can still get a special deal by going to any
Blue Cube outlet
: get a reload for RM50 and you'll be able to get the
Blackberry for RM998, one week free access, and an imported skin
.
Wait too long (after November 15) and the price will go back to RM1188.
I'm too skint at the moment even to get it at RM888, but at the Xpax Blackberry party, if I had been able to check Twitter I would have known that the prize draw was going on! And maybe won a free Blackberry!
OK you're gonna say - just pay more attention! But I was!
I was paying attention to an amazing beatboxer
Shawn Lee
and spotting celebrity bloggers such as
Cheesie
and and upcoming superblogger/journalist/allround party animal
jessie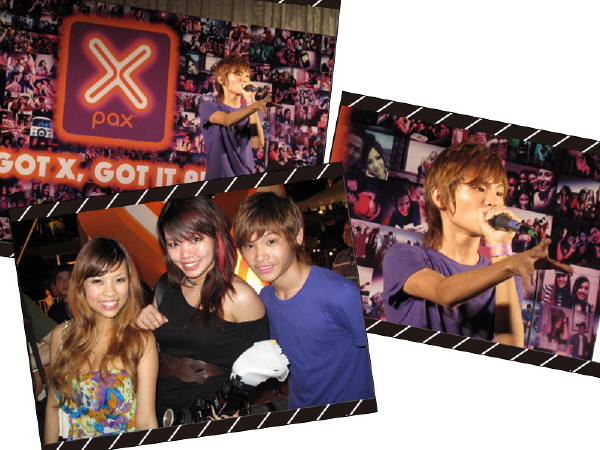 and
Flizzow
couldn't be avoided...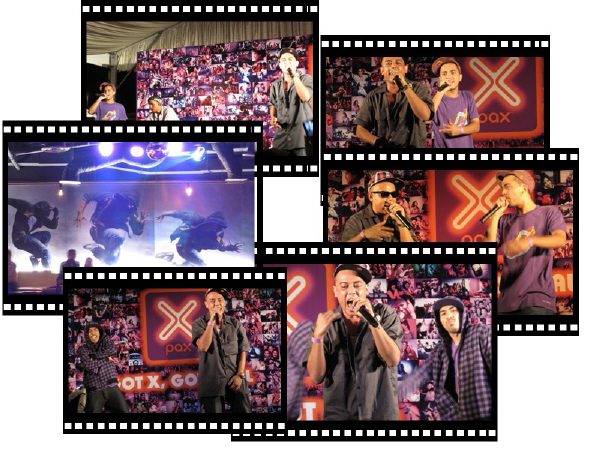 nor could
Arabyrd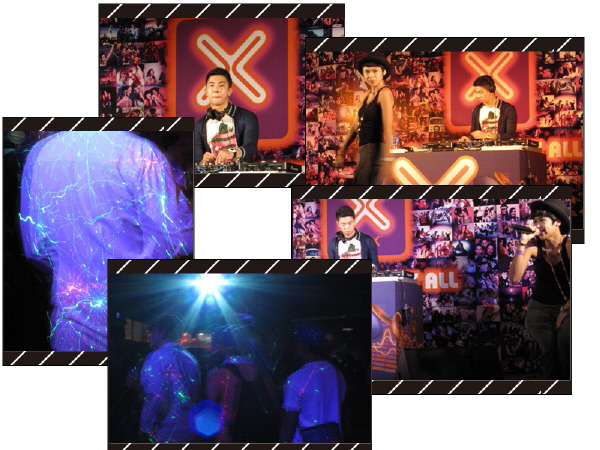 (not to forget the trips to the VVIP section for free flow, food and dancing...)
(and meeting
kruel74
,
dustyhawk
,
YapThomas
,
aprilyim
,
bernard
and others who I forgot...)
So all I can say is thanks
Xpax
and
Nuffnang
for the party!
Get a a Blackberry Curve to lead your life from in front - it's your life, your number, and your future

Sunday, September 6. 2009
Doing an interview recently, I realised that I am the epitome of the bad blogger! My crime? I am inconsistent - I blog in spurts, but not regularly. A good blogger needs to blog regularly (at least 3 times a week), or at least consistently (e.g. every Sunday), so that the readers know what to expect and don't waste their time. I suppose that with Google Reader or RSS one can get around that, but still...
Anyway, I will make an effort to be more consistent from now on (but I've said that before, haven't I?)
Anyway - a few things have happened since my last post: a couple of screenings ('District 9' - great!, 'Murderer' - pretty lame), a birthday party, I bought a new super chair, and continued to be stressed out by work

Yesterday, there was the launch of
'Project Alpha'
(recognise the design?)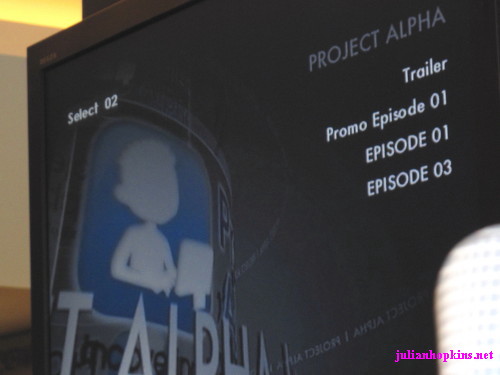 It was combined with an Adidas promotion at the Centre Court in Megamall - you could get a "Mystery prize" by saying the password. It's "Drymax", but don't all go rushing to use it. Unless you really want a sample of "Tropical Passion - Adidas fragrance for women" which is all I got, or even a keychain (
Tian Chad
got both). I was so not impressed...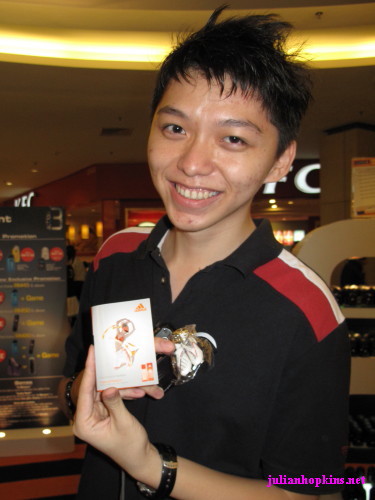 On the other hand, if you go there and buy Adidas shower gels and stuff like that to a value of RM45 or more (I think), you can win extra prizes (a bag, fragrance,...).
I also met
Casey Liew
, and
Dustyhawk
was also there, and helped me to choose a microphone afterwards, for my interviews.
After the trailer for Project Alpha was shown, there was a foosball competition. The
KennySia
and
Jojo Struys
team beat
Nicolekiss
and
(er sorry I'm not sure...)
beautifulnara
(thanks Casey!)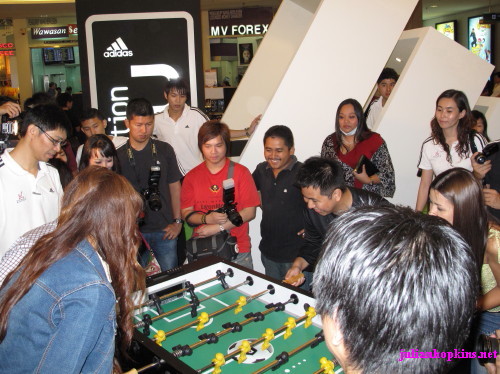 and, in spite of looking very focused,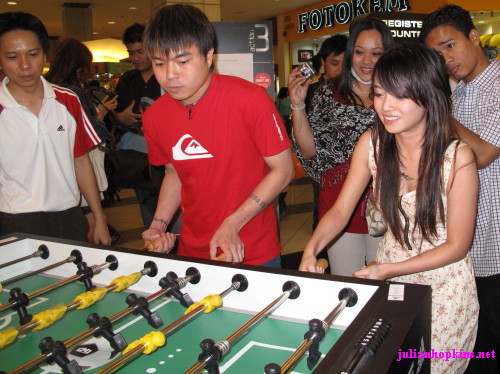 Sixthseal
and
Fourfeetnine
lost to
Redmummy
and
Budiey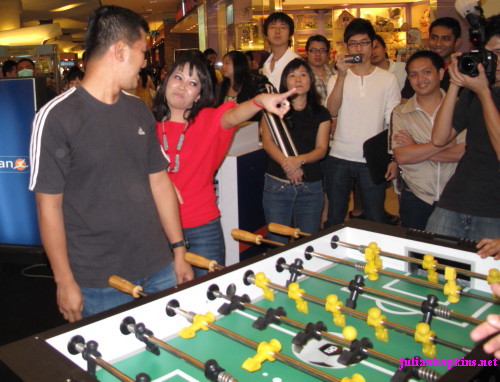 The final was won by the Kenny and Jojo team,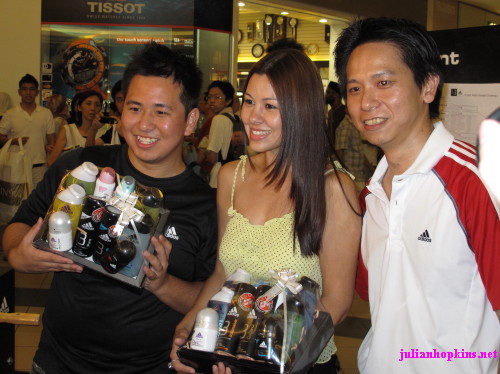 and everyone got something anyway

Ahh the life of a blogebrity, freebies galore...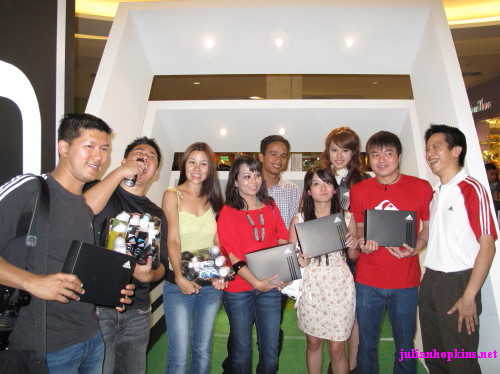 OK OK I know they work hard for it. By for example posting (and posing) regularly!
So that was that - I must say I'm intrigued by Project Alpha though - it's going to be an "Online TV Show" - kind of like the
Malaysian Dreamgirl
I suppose, but focusing on the life of bloggers.
When I think of it, calling it an "Online TV Show" is an interesting mix of terms - by definition, if it's online it's not television: in media studies terms I suppose what it means it is a television genre of programming, but it's distributed online.
It will feature one blogger every week, with a three minute segment every day. So it's like TV in that it is moving pictures with sound, broadcast at a certain time; but unlike TV because one can view it at any time, and it's short. Having it short suits online media - you can watch it in the time it takes to read a blogpost, and it's not going to take forever to download or cost too much if you're using a mobile device.
I must say, Malaysian blogging is always throwing up surprises. This is something of a glimpse into the future of new media I'd say. However, at this point the production of such a programme is taken over by professionals: my guess is that the next generation
produsers
, will be producing their own short videos. Sure you already have vlogs, but what I mean is that at some point, someone will be putting together an edited clip which would cover similar topics that blog posts do, in a way that is more than someone talking to a web cam.
I went to another blogger party last Thursday (participant observation is such a drag sometimes...

) - for once it was not a Nuffnang party, but one organised by
Advertlets
(I didn't have a camera, so I'm borrowing some pics from others - sources indicated)
The event was at
Envie
- a nice little club, with an 'interactive dance floor'. This is the best picture I could find
But actually it's more interesting than that - it's a 'touch sensitive' dance floor, and each square is like a 'pixel' and there are games possible. We played 'Musical chairs' on it (I got a Google t-shirt - uber geek!) - but that was the only game I saw, and I would have liked to see more. They're also a bit sensitive about the RM250K dance floor, and you're not allowed to be holding your drink while on it.
The emcees were the stars of the 8TV series
Blogger Boy
(I think you can watch the episodes online too) - there was free flow until 10, and lots of bloggers partying, camwhoring, drinking, doing silly things for prizes, and generally messing about

I met a few bloggers I know already:
kruel74
(who put me on the guest list, thanks!),
Tian Chad
, and
Dustyhawk
- and of course the founder/CEO/etc. of Advertlets himself - birthday boy
Josh Lim

I also met the sole employee of Google in Malaysia (who provided the Google t-shirts) - he told me that you can now get Blogger in BM, which was news for me. However, a lot of people prefer to use the English version because that's what they're used to already, even if they blog in BM.
It was a nice evening, smaller than the usual Nuffnang event - but with nice people and a good atmosphere as well. There were very few 'Nuffnangers' there - this fits in with previous observations of other meets I've been too: AMBP, All-Blogs, etc. Generally, most bloggers seem to stick with one group: this leads to questions about the 'blogosphere' as whole... Some bloggers have said to me that there is no real 'blogosphere' - what do you think?
Other blog posts about the event
(please tell me if I've missed any):
• Bitchy Mitchy:
Thursdays full of rainbow
• Let there be chaos:
Hatin' On the Club
• Life's Journey:
How are we, my Friday feathered friends?
• Mai Tomyam:
Malaysian Bloggers Evening 2009: Super Party Time for Bloggers
• nadea.maradana's blog:
Malaysian Blogger Evening by Josh Lim
• RowYourBoat Blog:
Party @ Envie Lounge
• Stephen's Blogs:
Malaysian Blogger's Evening - Party Like A Blogstar!
• Tian Chad @ ???:
Envie Club With A Little Surprise!
• Yantz.Yanttie lif3st0ry:
EVeninG p@rty for bl0ggErs
This is an account of the speech by Tun Dr Mahathir at the Bloggers Universe Malaysia 2009 blogmeet, and some thoughts about blogs in Malaysia. It's a bit long, but I thought it worthwhile to recount what he said (about blogs) in some detail.
A very brief historical outline
Love him or hate him, most Malaysians would agree that Tun Dr Mahathir is the single most influential person in twentieth century Malaysia, and he still has enormous stature and influence as we near the end of this first decade of the twenty-first. Educated as a medical doctor, and initially working as a civil servant, he won a parliamentary seat for UMNO (the dominant Malaysian party since
Merdeka
(Independence)) in 1964. He lost the seat in 1969, and afterwards was sacked from the UMNO Supreme Council for openly criticising the then Prime Minister; he went on to write the controversial book
'The Malay Dilemma'
, which - although it was banned until 1981 - laid the ideological foundation of the 'New Economic Program', a positive discrimination scheme aimed at reducing poverty and redressing the economic balance between the different ethnic groups in Malaysia. He rejoined UMNO in 1972, and eventually rose to being Deputy Prime Minister in 1978, and PM in 1981. From then on until October 2003, he presided over a period of accelerated development that transformed the country (source:
Mahathir bin Mohamad
).
In terms of blogging, he has significance in three ways. Laws that restricted the action of the mainstream media (MSM) were passed during his time (namely - the Printing Presses and Publications Act 1984), and he was also infamous for closing down newspapers in the
Ops Lalang
in 1987. He established the principle of no censorship on the Internet in the Communications & Multimedia Act in 1998 (however section 233 of this Act that addresses "Improper use of network facilities or network service" (
MSC Malaysia
) has recently been invoked to charge some internet users - e.g.
here
or
here
). Last but not least, in 2008 he started his own blog -
Che Det
- which rapidly became the most popular blog in Malaysia, attracting one million visitors in the first month, and almost 19 million in one year.
So, at the
BUM 2009
gathering last week, it was as a SoPo blogger that he was asked to attend, and although unfortunately the attendance for the event was a bit disappointing, he was clearly the star attraction. The place filled up for his talk, with many media too.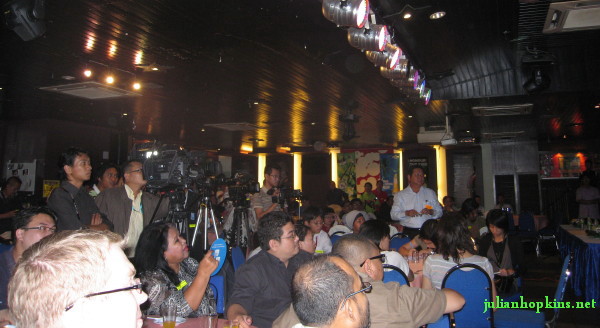 He spoke for about 30 minutes, then answered questions for about 40 minutes. I must say that he was an impressive public speaker, speaking clearly and with little use of notes, and with a disarming charm that kept the audience interested and occasionally amused.
The speech
He was introduced by
Ahirudin Attan @ rocky
, ex-editor of the Malay Mail, Protem President of All-Blogs, and President of the National Press Club - and of course a leading blogger himself. He explained that Dr Mahathir's engagement with bloggers went back to 2005, when bloggers were invited to the
Perdana Leadership Foundation
; this was a time when bloggers were at the margins of the political and media scene in Malaysia, which was similar to Dr Mahathir's situation at the time.
Continue reading "Dr Mahathir on blogs and the media in Malaysia"
(Page 1 of 2, totaling 12 entries)
» next page