Entries tagged as blogging
One useful thing about blogs is that they also serve as a kind of '
digital memory
' - like a diary, memories and thoughts are stored for a future time when you can go back and be reminded of what you've been through. How some things you thought were so important at the time have turned out to be insignificant, and others have developed into so much more.
Anyway - here's my retrospective of 2009
January
Nine posts. As for most of the year, I was reflecting and thinking about blogs - the topic of my PhD. I was ruminating about the importance of comments in
The Commentosphere
, and
Bloggers, transparency, truth and personhood
.
Also, as Chinese New Year and the
Dancing God of Prosperity!
beckoned, I made one of my many failed resolutions 'blog every day' in
Decisions, decisions: ethnographic focus
.
February
Sixteen posts for this month, which is probably a record. More thoughts on comments with
The 10 types of commenters
, musings on
How SoPo blogs helped the advertisement industry
; a fieldwork experience at
Profit Blogging Bootcamp - Meeting for money?
; and a cryptic references to events in Perak in
Silver transformations
.
Apart from helping me to get a cinema premiere ticket in
I'm Going Kame Hame Ha with Dragonball Evolution
, our dog Gambit appeared in The Star in
Canine Car Seat Belt

(yes it was just a pose, no we didn't actually strap him in like that).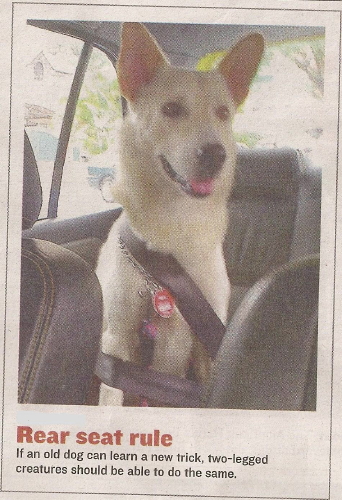 March
Eleven posts in March; I tried initiating a map of
Recycling Centres in Petaling Jaya
, and did a little
Tourist in KL
post after a friend visited.
But the most important thing for me this month was on March 9 -
myBlogS 2009 - Malaysian Blog Survey now open!
. I relentlessly promoted and harassed anyone I could about it for a month, including at the
Dragonball Evolution Premiere and my Thought Bubble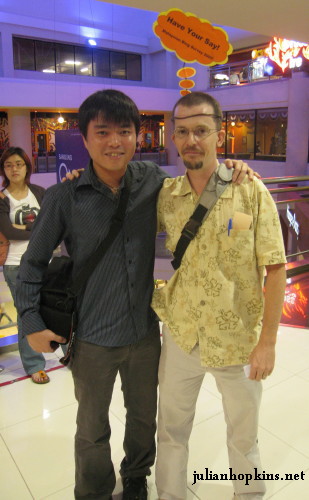 and the
eLawyer Conference - Be informed!
.
And amongst a few food posts, I admitted to
My food fetish - Cili goreng!
April
Nine posts for this month, which saw quite a few events - I won a PS3 for dressing up as Bob Marley at the
Nuffnang Music Bash - Super prize!
. Due to that, and the myBlogS survey (
myBlogS 2009 - 538 already and only two more days left!
), I got some attention from The New Straits Times, who did a full page spread on me, boosting my readership (temporarily) by thousands, thanks to mentions by other bloggers, leading me to remark that
Bloggers are not journalists, and blogs are not newspapers
May
Eight posts this month (note the decline

). Thanks to
AMBP
, I met some
Star Trek Camwhores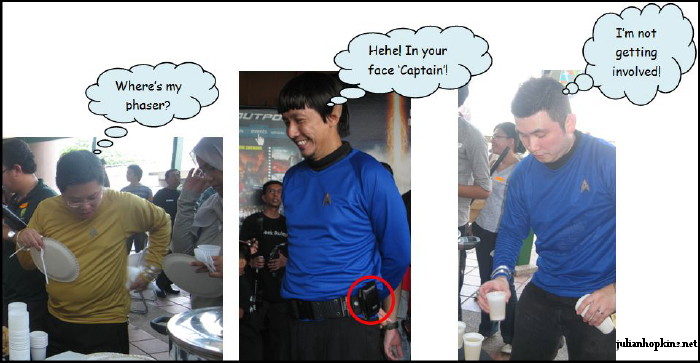 Continue reading "My 2009"
Tuesday, December 15. 2009
Home Minister Datuk Seri Hishammuddin Tun Hussein claimed that some bloggers, unlike local journalists, do not adhere to the rules and ethics of journalism in their bid to garner popularity.

Local journalists adhered to ethics but these bloggers did not, and this was what differentiated the journalists from these bloggers (The StarOnline, 15/12/2009)
I wonder what he would have to say about the two articles in The Star Online that
I blogged about last week
? "
Women with bigger breasts found to be smarter
" and "
Boob-staring good for men
" - both of which, through a simple Google search, can be proved to be fictional tabloid 'news' of the poorest quality.
Actually I had only noticed the latter article when I first blogged about it, but then another blogger (
Chang Yang - My Little Moments
) commented that he had seen a very similar one - and written to the Editor about it. Which reminded me that that was the responsible thing to do - maybe there's a rogue journalist, an inexperienced intern, or someone like that, who made an honest mistake. So I wrote to the Editor too.
Chang Yang sent an email on, or before, the 15 November; and I sent one on the 7 December. Well, frankly, I'm gobsmacked that the articles are **still** online!



I can't believe that there isn't someone in The Star who has the responsibility for reading 'Letters to the Editor', and who wouldn't do a simple double check of the articles! A serious newspaper's credibility, and revenue, depends on the accuracy of their reporting.
But then, given the hostility that the mainstream media often shows towards bloggers, I wondered whether it might have been because I mentioned blogging about it in my letter (though Chang Yang didn't)...
So, I thought I'd give it another try - here is the email i sent today, to editor@thestar.com.my
Dear Editor,

Two pieces carried by your online edition over the last two months are factually incorrect, and reflect the poorest journalistic standards. The articles are:

1. "Women with bigger breasts found to be smarter" (Compiled by WINNIE YEOH, NURBAITI HAMDAN AND A.RAMAN, 12/11/2009) - http://thestar.com.my/news/story.asp?file=/2009/11/12/nation/5092076&sec=nation
This is an invention that was originally reported in the "World Weekly News" in 2003. A simple Google search will confirm this.

2. "Boob-staring good for men" (Compiled by WINNIE YEOH, A. RAMAN and TEH ENG HOCK), 5/12/2009) - http://thestar.com.my/news/story.asp?file=/2009/12/5/nation/5241171&sec=nation
This fictional 'research' has been circulating since 1997. See this link for more information: http://www.snopes.com/humor/iftrue/breasts.asp

These articles have now been referenced by other newspapers and wire services, with The Star being quoted as the source. I think that you should investigate them and rectify the situation, in order to make sure that The Star's reputation does not suffer.

Yours sincerely,

Julian Hopkins

Address:
xxxxx
Kelana Jaya
Petaling Jaya
47301 Selangor

Telephone:
xxxxxxx

Anyway, this will be the last I post on the sorry affair (noting,
en passant
, that
The Sun's circulation has now surpassed that of The Star
).
[
edit 11/09/09
: I just realised that the title of this post is a bit misleading - myBlogS 2009 was not the first Malaysian blog survey, what I meant was that these are the first results of the myBlogS 2009 survey.
Previous surveys have been done by
Tan Jun-E
and
syed syahrul zarizi
]
Well I've been kind of busy lately, and finally got round to submitting a paper to a journal (my first one! Wish me luck!) - it's based on the paper on
Blogwars and Authenticity
that I presented at MSC6 last year.
Anyway, I know a lot of people want to know what the results for the survey are, so I've decided to do it like this:
1)
Release the full summarised results for anyone who wants to look at them -
download them here
.
2)
Put up more detailed analysis of different portions as and when I complete them.
The reason I'm doing it this way is because I have no idea when I'll have completed the full analysis of the survey (it was quite long, and there are many angles to it), but at least people can have a look at the overall results.
I'll be happy to respond to any questions and requests for analysis on particular angles. For example, looking at the summarised results you can see that 54.2% of the bloggers that responded were female, and that 51.4% of the respondents are trying to make money from their blog; but you may want to know how many females were trying to make money compared to males. You can't tell that from the summary, but if you ask me I'll do my best to do the analysis for you and then put the results online. I'll also be putting different analyses online as I go forward - the first one will be comparing bloggers' and non-bloggers' views on blogs in general (question 10).
Limitations to the results
As with all social research there are limitations to the conclusions that can be drawn, here are the main ones that I can think of now:
• The survey was in English only - this tends to exclude the non-English language bloggers and readers. As such, it cannot claim to represent Malaysian bloggers as a whole, but a particular portion.
• The sample size is not insignificant, but not very large either. This will possibly induce bias in certain directions - in particular, it is more likely to reflect the kind of blogs I am focusing my research on, and who are more likely to have heard of me. That is, personal/lifestyle blogs.
• In addition, the sample is 'self-selected' - i.e. only people interested enough in the subject matter choose to respond to it, so this induces a bias in favour of a particular type of blogger and/or reader.
Some overall results
The survey was conducted online between March 9 and April 10 2009. 686 started the survey, and 561 completed it, giving a completion rate of 81.2%. Of those who completed it, there were 356 bloggers and 197 non-bloggers (i.e. those who read blogs only).
This is a rough portrait of the average blogger who responded:
The average respondent blogger is a young Malaysian female student, between 18-25 years old, living in KL or Selangor, and of Chinese ethnicity. She has had a blog, in English, for more than two years, updates at least once a week, and has less than 100 unique visitors a day. She is likely to use her real name on her blog, or be identifiable via photos or other information. She has a blog mostly because she likes writing; she wants to keep a track of things she wants to remember; and to keep in touch with friends. Her top three preferred blogging topics are friends, events and travel. She allows unmoderated comments - but will censor comments that are offensive, racially sensitive, make personal attacks or refer to her family.

Making money from her blog is not an important reason for having a blog, but nevertheless she is probably taking advantage of opportunities to make money. In practice she is making less than RM100 a month using Nuffnang, and is not likely to be doing paid advertorials; she has not received any free gifts/tickets/food as a result of her blog and is not likely to have a non-commercial ad or announcement on her blog.

She reads blogs every day, and follows up to ten blogs regularly - she may know her top three bloggers personally, but reads the blogs because they are interesting and/or useful. She will have met some of the bloggers in person, but not too many. She is likely to read the comments in blogs - but not always - and leaves a comment when she has something useful or interesting to add, and may respond to other comments for the same reason.
There's more information than that in the results, particularly about attitudes, but I'll get round to that afterwards.
Compared to most studies of blogs - e.g.
Technorati's 'State of the Blogosphere'
, or Tan & Zawawi's
'Blogging and Democratization in Malaysia
, this sample is younger and more female (though the
2006 survey by Microsoft
had more female bloggers too). The amount of bloggers with paid advertisements is less than those reported for Asian blogs by Technorati (51.4% and 60% respectively).
As usual, I would more than welcome any comments, suggestions and criticisms. Please feel free to use the comments area below, or to
send me an email
if you like.
OK well the title says it all really - now I have to think of how to fill a whole post

Maybe I should just have tweeted it - but it does seem more appropriate to blog about this...
Yesterday, I was looking at a blog and noticed that it had a page rank of 4, and I thought - 'Hey how come he has four when I only have three??'. So I checked my Page Rank (had to go to a website to do it
PRChecker.info
, as the previous button had stopped working - and the result?
Woohoo! Actually I remember once it went up to six for a short while, then dropped again. So maybe that will happen again... hopefully not :S
OK - gotta do some real work now...
I've been meaning to blog about this but many things are happening...
Anyway, as readers of
joshuaongys
or
*fourfeetnine*
may have noticed, I appeared in an article by NST ten days ago.
Being interviewed was new to me - I've been asked my opinion on blogs a few times (e.g. by the
Committee to Protect Journalists
, the NST (last year sometime) and malaysiakini.tv - but nothing ever seemed to come out of it. This time, the journalist turned up with a photographer and the interview lasted almost an hour - with the photographer hovering around and snapping away constantly. It was an interesting chat, but it made me realise one thing for future reference - the journalist knows less about the subject than me, and therefore may not always be able to ask the right questions. No disrespect to the journalist here, who did a good job condensing my ramblings into coherent and concise points: it's a journalist's job to get information obviously, and if they knew everything they wouldn't have to interview people. But it made me understand more how politicians and people in the public eye must approach journalists - wanting to make sure that their own message is heard, whatever the journalist actually asks.
Another thought is how, as a blogger, I have already got quite used to putting stuff out there for all to see - which was initially a little worrying sometimes. With the interview it was different, however, because I had no control over what was written - the journalist was kind enough to do 'quote check' and show me the draft article for feedback, but in the end she could write whatever she wanted. With a blog I can think about it beforehand, and even if I want take it down afterwards (though that's not usually a good thing for bloggers to do).
Anyway, you can read the article and tell me what you think (click to enlarge).
In terms of research ethics, I also found myself thinking about how much I can say - I have done a few interviews with bloggers already, and learnt some things during them. But part of the conditions of the interview are that I only use that information for academic purposes, and also that I keep the information anonymised. So, for example in relation to how much people are paid for advertorials, I actually have more specific information but I thought that I had better not use it.
But in fact - not at all. It's been noted before (e.g.
by ShaolinTiger
) that appearing in the newspaper has little to no effect on incoming blog traffic; the same happened to me. See on the 18th (when the article came out) there is no change, but I got a huge boost of about 1800 hits on the 21st from
Audrey
whom I had mentioned in my Top 10 (check her out – refreshing attitude and daily whatevers are her thing). This really suggests one thing - people who read newspapers don't read blogs much, and vice-versa.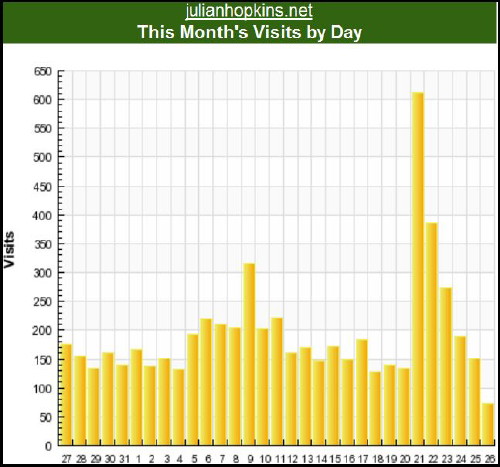 So, it's interesting to see how there are so many similarities between blogs and newspapers - they use words and images, they appear regularly and articles are written by individuals - but there are key differences. The blog is under the control of one person (with whom the readers can have some sort of direct relationship), but a newspaper is a large organisation; and although in theory they may share similar interests and concerns, their audiences are from different groups.
I use the term 'constitutive practice' quite often, but I'm not sure where I got it from - it sounds very
Bourdieu
-like though.
Basically, what I mean by it is that some things we do have a tendency to promote regular practices that in turn shape the 'habitus' (i.e. the dynamic collection of habitual practices that become normalised and taken-for-granted): it is very relevant to the study of the interaction of technology and culture.
A classic example could be the handphone and the appointment. Think of meeting up with someone twenty years ago: you arrange a time a couple of days before, and then you turn up. If you're late, you can't call them or anything and so you make a real effort no to be late. Fast forward to 2009 - you make an appointment, and if you're late what do you do? Text the person and tell them you'll be late. So, one can argue, the availability of the handphone means that people are more likely to be late to meet up, or cancel rendez-vous more easily.
Well, I don' t know if that's precisely the case, but it's possible. It's not the phone itself that is encouraging anyone to be late, but the practice of using it in a particular way.
The reason I mention this is because there's one particular practice relating to blogging that I think may have particular effects. One of the key requirements for a successful blogger is to do regular postings, I discussed once before how
part-time bloggers
have to find ways of managing their time, but ever since I have tried to make a point of blogging every day, there's something else I've noticed.
Blogging every day is not easy!

In fact I missed out on Saturday and Sunday because I had things to do, although I started this one yesterday. When you have to blog every day, finding something to blog about can be difficult, as well as finding the time to do it. So, one solution is to do shorter posts, and to blog on relatively simple matters.
One solution is using photos: put up three photos that tell a short story (meal at a restaurant, meeting with friends, attend an event) and link them together with short captions and narrative.
Another solution is something like what I'm doing here: writing quickly on a random topic, not worrying too much about the details or quality of the post. I'll be thinking something like: "As long it's not completely crap, it'll do. In any case, I'll have another chance to write a better post another day - some will be good, some not so good."
Another solution is to use content from another source - a newspaper article or another blog, for example. If it's done well, this can work, but too often some blogs just become a series of reproduced material. In fact there are some services that will send you stuff to blog on every day, something I'll talk about another time.
So, I can conclude something like this: as a technology, blogging lends itself to being done by an individual (as opposed to a newspaper, for example); the content also tends to be more time-sensitive - i.e. whatever you post goes online quickly, and after a day or two it's already old. So, regular short posts make practical sense. These regular short posts are the constitutive practice - the habits they induce are: a more informal tone, a less rigid quality control, the use of photos, and subject matters that are not too complicated or, at least, fit the readers expectations.
The last point may need a little more explanation: what I mean is that if the blog post has a relatively simple content, the reader can grasp it quickly and enjoy it. Rather like an advertisement, the message of which needs to be grasped in a few seconds. But this is not to say that all blogs just have brainless content - the specialist blogs cater to a niche audience that knows the subject well (e.g. photography) and can go straight into the topic; the SoPo blog addresses known issues and gives one slant to it; the emo blog moans about life; the personal blog discusses friends and parties; and so on.
(Page 1 of 3, totaling 13 entries)
» next page