Entries tagged as belgium
The
Cathedral of Our Lady
in Antwerp (Belgium) took one hundred and sixty-nine years to build (yes, 169 years!), and building stopped in 1521. In a modern city, its size and intricacy still impresses, so just imagine how it might have looked to a peasant arriving from a village, where a two storey house is already a significant achievement.
The point of the cathedral, just like huge skyscrapers and malls nowadays, was a reminder of the who has the power in the social system, and an invitation to come in and contribute towards the collective building of common value systems. Think of the Petronas Towers and how they are seen as representing Malaysia and the achievements of Mahathir's Barisan Nasional government.
Literacy was rare in those days, and masses were in Latin. So, you may ask, how did people learn about the religion then? Good question, and you can take it as a special assignment and come back tomorrow with an answer ;-P ...
OK - I don't know, I suppose there must have been some portion of the mass that was in the vernacular, the sermon I suppose. Which would leave it open for the priest to interpret the liturgy and the scriptures in whichever way he felt was most appropriate.
The
tympanum
is the hemispheric portion above the door; and for an illiterate looking closely at it, there are clear messages to take home. I read recently (can't remember where) that only 10% of European medieval children lived to the age of ten years old, death was omnipresent, and the promise of Heaven and the threat of Hell were probably the main tools of religious instruction. On this tympanum, the message is carved out clearly.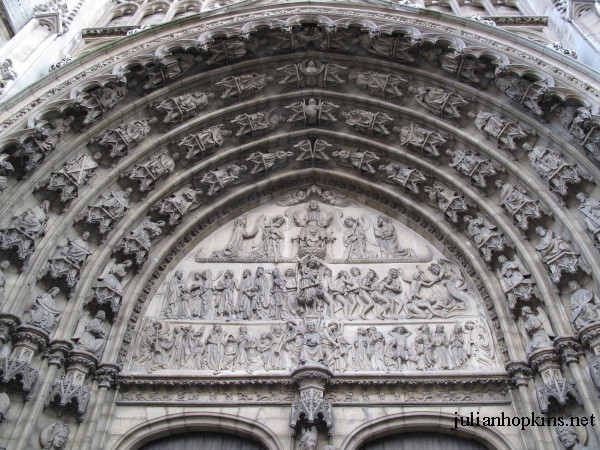 At the top sits the ruler, Jesus - who is also God according to Christians - sits at the top. On his right hand, you can see those who are chosen for eternal life and to the left are those consigned to damnation.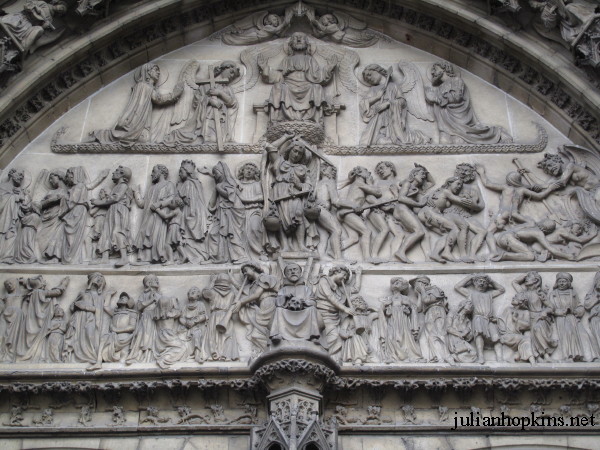 below him, the Archangel Michael (or Gabriel) holds the scales of justice and wields an unyielding sword. Below him is a monk with a skull, dunno who he is.
On the Archangel's left side, the despair and fear of those who were rejected is clear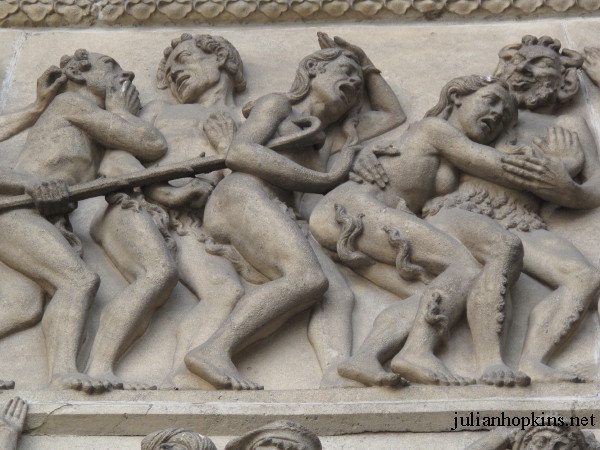 and we even have Satan, or a demon, grabbing the hair of a condemned sinner
Continue reading "Heaven and Hell in Antwerp"
Thursday, November 12. 2009
Wow I haven't blogged for almost two weeks! Actually, I was in Belgium for a week - it was my mother's 70th birthday, and we surprised her by all turning up for lunch. There are six of us children in all, and she only knew that my sister was taking her out to lunch. I guess I was probably the biggest surprise of all, seeing as she thought I was in Malaysia

Anyway, thanks to my brother for paying for the ticket, otherwise I wouldn't have been able to go.
We had a very nice meal in a typical Belgian restaurant called
Chez Vincent
; it's located in the 'Rue des Bouchers' area near the Grand Place - this is a warren of small streets packed with restaurants and some bars. Chez Vincent itself is somewhat upmarket I think, but serving the standard dishes of steak, cod, waterzooi, mussels, and so on…
It has a very nice décor, in particular the murals that were done around 1920, using tiles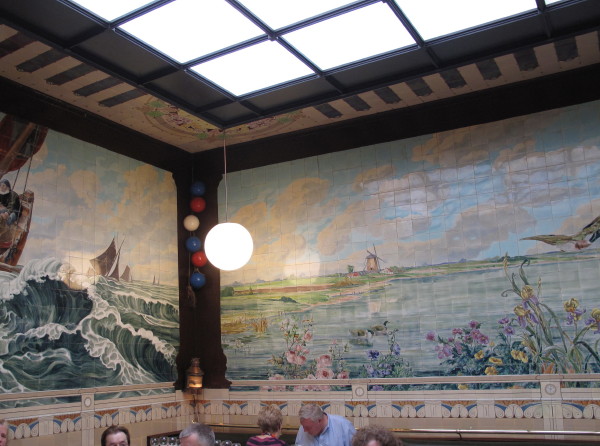 The amount of work that must have gone into the tiling is huge, it has to be all planned in advance, then each colour has to be fired separately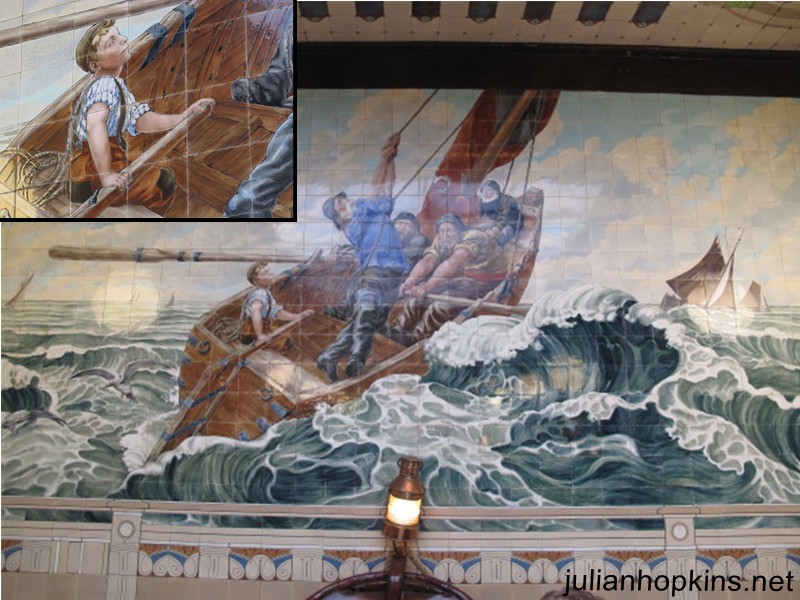 You enter the restaurant through the kitchen (I always find it reassuring to see the kitchen

)
The tiling was done by the Maison Helman, as you can see …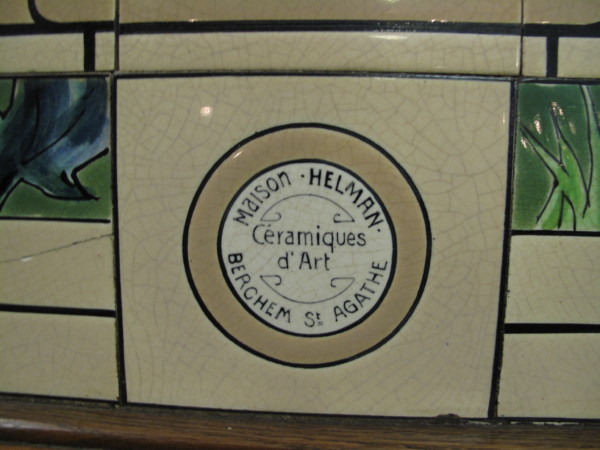 It's been there for about 90 years now!
Their specialty is mussels - but I'm not such a fan of mussels. As it was the hunting season, there was some game available – "Râble de lièvre, sauce crème ou sauce poivrade" (hare stew, I think) and "Suprême de faisan fine Champagne, pommes pins" (pheasant). I chose the pheasant, with a sauce 'fine Champagne'. It was very tasty, I had a recollection of pheasant as being somewhat gamey, but this was nice – more like turkey than chicken, but along those lines. It came with a baked apple topped with some berries.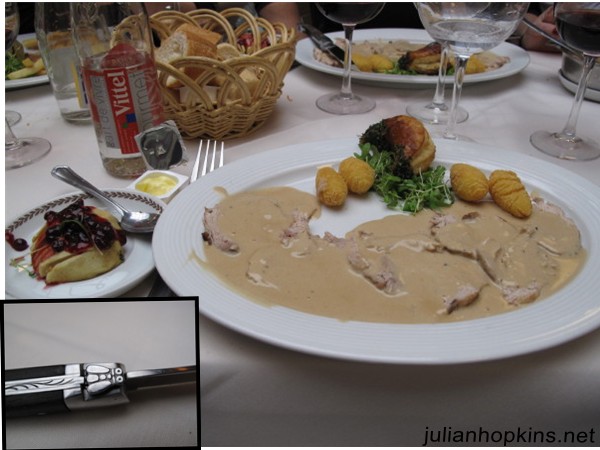 I dunno if it had anything to do with the game, but the knife I was given was a
La Guiole
knife; these are very good clasp knives, often used by hunters (those who can afford it, otherwise they get an
Opinel
). This one is not a clasp knife, but one made for the table, it looks the same but you can't close it.
It was not cheap, expect your dishes to start at 20 euros and go up from there, but it was good quality, very tasty, and in a unique environment. The service was fine, but the waiter got a tad confused with the orders after we changed places – I think he remembered the order by seating place, not by the person.
Been travelling for over a week now, and this is the first chance I got to do some updates. It will be quick, and about BEER!!
One of my goals back here is to try as many different beers as I can

I didn't take photos of them all, but here are a couple from the UK (OK one is a cider I know

)
I found out that Cornish beers/ales are generally pretty nice and smooth. Also, because the weather is kind of cold, warmer ales are much nicer than a cold lager!
Arriving in Belgium, we stopped at the first petrol station for some food, and here was the choice of beers (aaahhhhhh....)
I have to say, I wonder about the wisdom of serving beers in a motorway cafe, but I was not complaining

We had a 'Blanche' and a 'Kriek'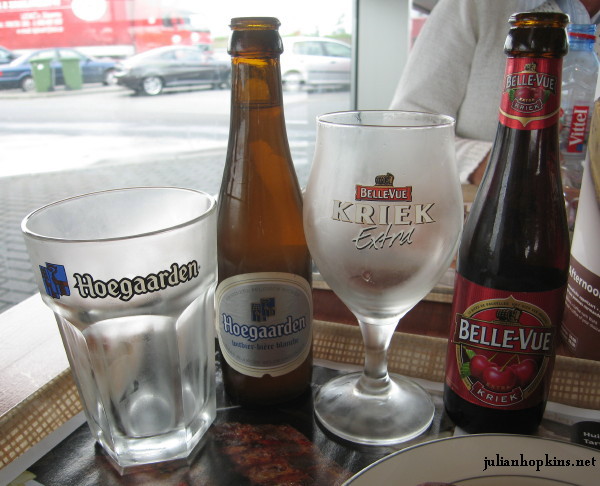 'Kriek' is cherry beer, usually the best type of fruit beer - refreshing tartiness. Note also that each has its own special type of glass.
Next day, to the supermarket - here are the shelves packed full! (and some more were around the corner of the aisle)
Continue reading "Beers!! Delicious! Enticing! Belgian!"
(Page 1 of 1, totaling 3 entries)