Sunday, February 13. 2011
I posted a video of Charlie eating papaya a while ago, but I felt like it didn't show baby-led weaning in the best way - because he was mostly just playing with the food.
So here's another video where you can see how he manipulates food, goes back for more, etc.
I'm sure all parents worry about the decisions they have to make about their child, but one thing that I'm really happy we did was try baby-led weaning.
The basic principle is no spoon feeding at all - **babies do not need to be spoon-fed**
The main advantages are:
1. The child gets to practice manipulating objects, recognising colours, etc. from an early age.
2. The child learns from the very beginning that eating happens at the table with everyone else. No running after a baby with a spoon.
3. The child learns to control his own food intake, and thus develops a good relation with food. He will try new foods easily.
4. It's easier to feed her, just lay the food in front of her and she gets on with it.
Check out a
website on baby-led weaning
, and also a
helpful forum
.
Disadvantages:
1. It can be very messy
2. It is often slower (but in the long run I think you save time).
13.56
How to do a 15 minute recap of the year?
Answer - check out the archives on the right if you're actually interested, and here is a potted version.
Travel: only one trip to Singapore - probabably the least travelling I've done since I was fifteen and went on my first trip without my mother to Spain, Morocco, and the Netherlands on an InterRail pass.
PhD: it is a painful process, and I needed to get an extension of 6 months in November. I now hope to hand it in by the end of April, but it's going to be tough. But, as I've been telling myself and telling others - this is my last New Year as PhD candidate! It's Doctorate or bust this year!!
Academic stuff: I'm proud to announce my first (co-authored) published work! We got a chapter in an edited volume of cutting edge internet research - the chapter is "Fielding Networked Marketing: Technology and Authenticity in the Monetization of Malaysian Blogs", and the book is
Nexus: New Intersections in Internet Research

. I'd like to take this opportunity to thank Neal Thomas, my co-author, with whom it was a pleasure to work with, and the indefatigable editors, Daniel Araya, Yana Breindl, and Tessa J. Houghton, who made it all happen.
I also quite liked the article I wrote for
Off the Edge
- '
Not the MSM?
'
Apart from that, and many interesting things such as the SMCKL meetings, getting to know Twitter better, doing two podcasts, the MOST important, literally life changing, thing to happen was of course the
birth of Charlie
! Being a father is a constant source of an unique kind of pleasure, pure affect I suppose (for the Deleuzian amongst you); and also a nagging anxiety about wanting to make sure he is getting the best possible. Anyway, credit where credit is due - WW has and is being a wonderful mother, and the grandparents have been an unflagging source of support for which I am really grateful. And kudos to any single parent out there! I have no idea how you do it!
Happy New Year. Live life. Explore. Acknowledge your fears. Love.
14.11
++++++++++
The 15-minute blog post.
I like to blog, but I can't afford to spend a lot of time on it. Solution: limit myself to 15 minutes per post.
One link, one picture maximum.
All comments, critiques and corrections are welcome. Thank you.
Saturday, January 1. 2011
Charlie's been slowly getting the hang of drinking from a cup by himself, this is a compilation of clips over the last couple of days. It's pretty impressive how, given the opportunity, example, and a little encouragement, he can learn so well!


Saturday, December 18. 2010
15.35
We're using the
Baby led weaning
method for Charlie's feeding. Basically it means no spoon-feeding at all, he went straight onto solids at 6 months. So far it's working fine (touch wood).
[OK it's 15.50 now, but the upload to YouTube is taking a while...]
15.04
The 15-minute blog post.
I like to blog, but I can't afford to spend a lot of time on it. Solution: limit myself to 15 minutes per post.
All comments, critiques and corrections are welcome. Thank you.
Wednesday, December 15. 2010
23.42
Charlie grows quickly. Born 3.25kg, now 7.5 more or less. When's the last time you doubled your weight in 7 months?!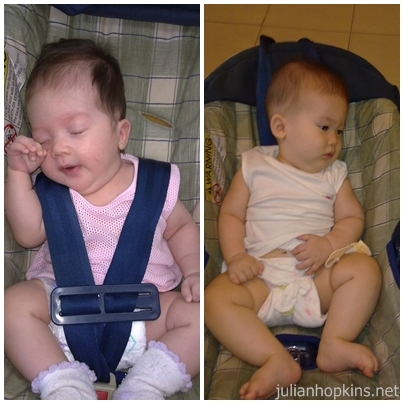 On the left 8 June 2010, on the right, 2 December 2010
OK time's up, had to include editing time too.
23.58
The 15-minute blog post.
I like to blog, but I can't afford to spend a lot of time on it. Solution: limit myself to 15 minutes per post.
All comments, critiques and corrections are welcome. Thank you.
Wednesday, April 28. 2010
At last we have our baby, from
inside the womb
to outside in the real world with us

He was born last Friday, 23 April, at 7.34am, and here is a quick account of it all. It's the first time I've been able to properly sit at the computer since he came, and he may wake up soon anyway.
WW was given pitocin to induce labour on Thursday at about 21.30. The doctor recommended inducing him as he was already officially 'term' (i.e. ready to come out) at 38 weeks +, and the amniotic fluid had been relatively low (aka 'oligohydramnios') for the previous four weeks. Actually, the need to induce for low fluid is debatable (see the conclusions of
this medical article
, or
this one
), but we went ahead with it, as he had a good weight anyway. Actually those articles mostly say that it should not be routinely done, but it's difficult sometimes to argue with a doctor... The whole pregnancy thing is a bit scary sometimes, and in the end one is just worried about getting the baby out safely, and the mother being safe too.
The midwife told me to go home and sleep, and to come back the next morning at 7, but things progressed quicker and I got a call at 2.30 to come in as the waters had broken already. When I got there at about 3, I could hear WW screaming in pain from down the corridor; the epidural was in the process of being put in, and the pain was still intense in spite of the pethidine she'd had earlier. Actually, that's one problem with inducing birth by using pitocin, it makes the pain more intense. Here are a page from
childbirth.org about the pros and cons of pitocin
, and one from the
NHS about its possible effects on mother-child bonding and lactation
.
We had decided to try to do as natural a birth as possible, but the epidural really helped. For the next 3 hours or so she dozed on and off, with the midwife monitoring the cervix size, contractions, and foetal heartbeat regularly. When the cervix had expanded enough, the midwife cut the epidural as she explained that WW needed to feel the pain a bit more to help her 'feel the need' for pushing (or something like that). Although the epidural in theory only stops the pain, but does not affect muscle control, it seems that it does interfere somewhat with the natural process, and the ability of the mother to react appropriately.
The final stage started at about 6.30. The doctor came in, and the midwife and 2-3 nurses were there too. I sat at the edge and tried to encourage WW as much as possible. Soon we could see some of Charlie's hair sticking out, and as she pushed more, his head slowly appeared bit by bit. Surprisingly, WW wasn't doing all of the screaming and swearing that I had been expecting

But I guess that's just because she was really focused on getting things right.
With each contraction, she had to push (as if you're doing a number two, the doctor kept saying), and maintain the push for as long as possible. Once she relaxed, you could see Charlie's head slipping back a bit. The midwife was pushing hard down on her stomach, and the nurses joined in a chorus of 'Push! Push! Some more somemore somemore!' I found that I managed to help by telling WW how far Charlie was out, and showing her with my hands around my head. Actually, a mirror would really have helped, so that the mother can see what is happening - it was really obvious how even a short break in the pushing would let the baby slip back a bit. Kind of like trying to squeeze the last toothpaste out of a tube, and the paste slips back when you relax your hold a bit.
And, then, suddenly his whole head came out. He was facing up (not the best position), and it was amazing to see his face all squashed up sticking out 'down there'. One more push and he all slipped out!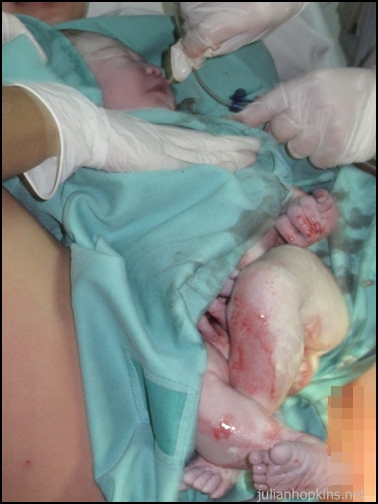 This picture is just after he came out, and you can see how blue he was. The medical team cut the cord and rushed him to the weighing station etc. I followed them and I was so scared when I saw how blue he was, and not moving. They pumped air into his lungs, extracted mucus from the lungs, rubbed his feet and chest. I guess it was a short time, but I was freaking out like crazy in my mind! But then, in a classic cliche, his first weak cry pierced the air, and my heart, and I almost cried with relief. I guess it must have showed because afterwards the doctor asked if I was OK.
But his breathing was still a bit dodgy - he was 'grunting' (that's the official term I think, but it sounded more like 'grinding' to me) and his chest was jerking irregularly, and after letting WW hold him a little, they brought him up to the nursery to put him under an oxygen tent thing, and monitored the oxygen saturation level in his blood (some info on
Neonatal respiratory distress syndrome
).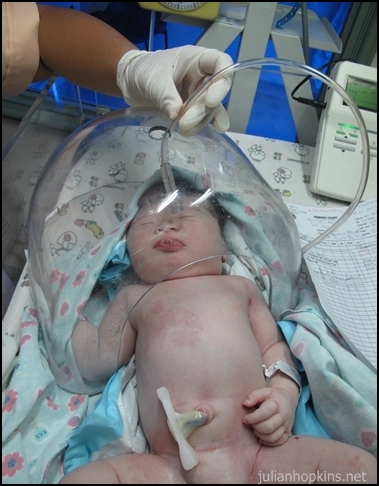 Fortunately, he was doing better in a couple of hours and WW could try to breastfeed him (breastfeeding is not as obvious as you would think it is, but it's important start trying to breastfeed as soon as possible, ideally in the first hour)
So when the grandparents, relatives and godmother first arrived, they could only look at him through the viewing window of the nursery.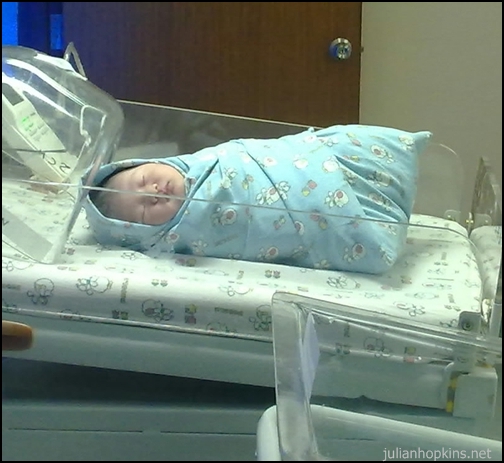 A couple more hours of observation, and his oxygen saturation levels were normal. The paediatrician said that he had had probably just had a little excess mucus in his lungs - and he was cleared to be able to come to our room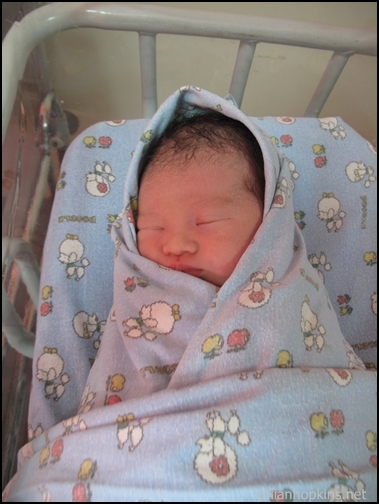 So, there is our little bundle of joy. He's five days old today, and we love him to bits.
(Page 1 of 1, totaling 6 entries)