Doing an interview recently, I realised that I am the epitome of the bad blogger! My crime? I am inconsistent - I blog in spurts, but not regularly. A good blogger needs to blog regularly (at least 3 times a week), or at least consistently (e.g. every Sunday), so that the readers know what to expect and don't waste their time. I suppose that with Google Reader or RSS one can get around that, but still...
Anyway, I will make an effort to be more consistent from now on (but I've said that before, haven't I?)
Anyway - a few things have happened since my last post: a couple of screenings ('District 9' - great!, 'Murderer' - pretty lame), a birthday party, I bought a new super chair, and continued to be stressed out by work

Yesterday, there was the launch of
'Project Alpha'
(recognise the design?)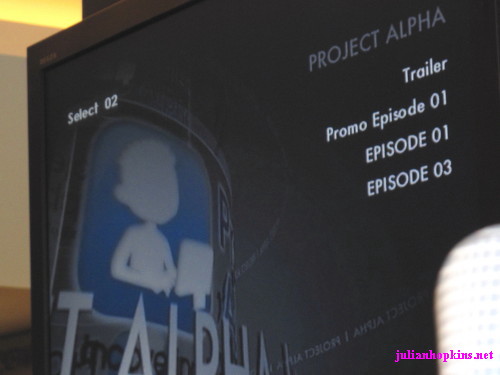 It was combined with an Adidas promotion at the Centre Court in Megamall - you could get a "Mystery prize" by saying the password. It's "Drymax", but don't all go rushing to use it. Unless you really want a sample of "Tropical Passion - Adidas fragrance for women" which is all I got, or even a keychain (
Tian Chad
got both). I was so not impressed...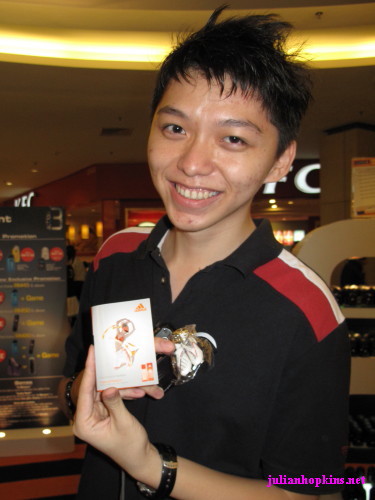 On the other hand, if you go there and buy Adidas shower gels and stuff like that to a value of RM45 or more (I think), you can win extra prizes (a bag, fragrance,...).
I also met
Casey Liew
, and
Dustyhawk
was also there, and helped me to choose a microphone afterwards, for my interviews.
After the trailer for Project Alpha was shown, there was a foosball competition. The
KennySia
and
Jojo Struys
team beat
Nicolekiss
and
(er sorry I'm not sure...)
beautifulnara
(thanks Casey!)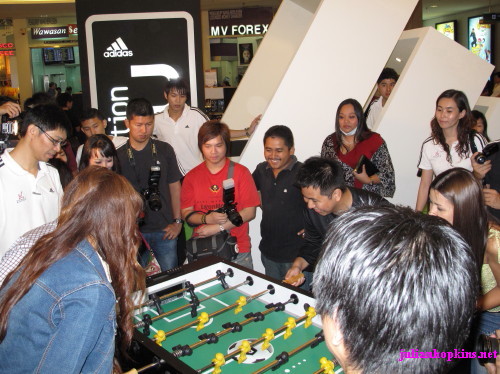 and, in spite of looking very focused,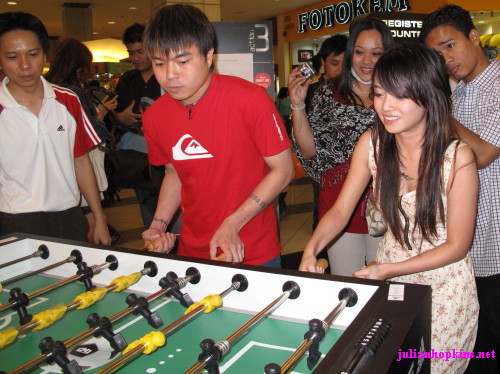 Sixthseal
and
Fourfeetnine
lost to
Redmummy
and
Budiey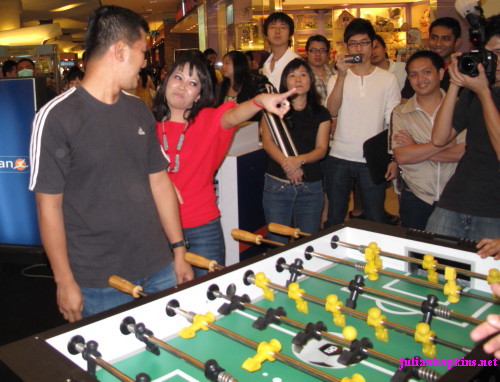 The final was won by the Kenny and Jojo team,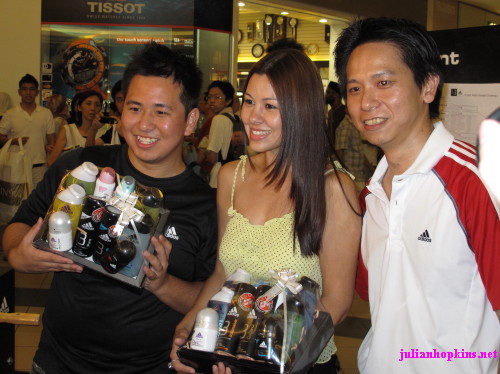 and everyone got something anyway

Ahh the life of a blogebrity, freebies galore...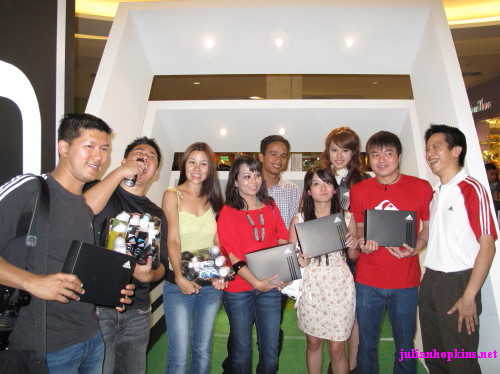 OK OK I know they work hard for it. By for example posting (and posing) regularly!
So that was that - I must say I'm intrigued by Project Alpha though - it's going to be an "Online TV Show" - kind of like the
Malaysian Dreamgirl
I suppose, but focusing on the life of bloggers.
When I think of it, calling it an "Online TV Show" is an interesting mix of terms - by definition, if it's online it's not television: in media studies terms I suppose what it means it is a television genre of programming, but it's distributed online.
It will feature one blogger every week, with a three minute segment every day. So it's like TV in that it is moving pictures with sound, broadcast at a certain time; but unlike TV because one can view it at any time, and it's short. Having it short suits online media - you can watch it in the time it takes to read a blogpost, and it's not going to take forever to download or cost too much if you're using a mobile device.
I must say, Malaysian blogging is always throwing up surprises. This is something of a glimpse into the future of new media I'd say. However, at this point the production of such a programme is taken over by professionals: my guess is that the next generation
produsers
, will be producing their own short videos. Sure you already have vlogs, but what I mean is that at some point, someone will be putting together an edited clip which would cover similar topics that blog posts do, in a way that is more than someone talking to a web cam.