I went for the
walk for media freedom
yesterday, seeing as All-Blogs was involved and my wife wanted to go also. You can get the details of the event from the links below, so I'd just like to mention the moments when blogs came up, and say something about the role of blogs as an
indexical symbol
.
First Ms. Norila Mohd Daud - the President of the
National Union of Journalists
spoke, she said it was an historic occasion where all stakeholders - journalists, bloggers, Benar - had come together for press freedom.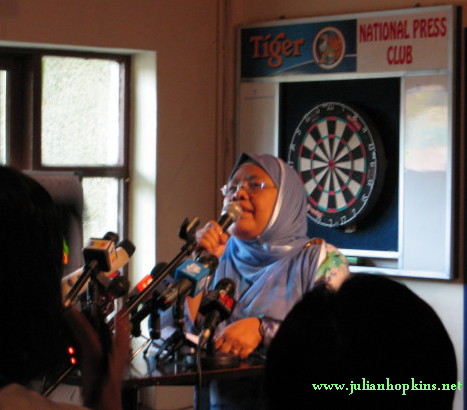 Then Gayathry Venkiteswaran, Executive Director of the
Centre for Independent Journalism, Malaysia
spoke, for her organisation and on behalf of All-Blogs and Benar. She basically argued that a free press is important for the country, and also emphasised that journalists and bloggers, need to be professional and responsible to make it work too.
Then the Minister in the Prime Minister's Department, Datuk Zaid Ibrahim, spoke. I was surprised that he had turned up and it is a sign of the times but, disappointingly for me, he didn't say anything about blogs - though he did say at one point that "control is elusive", referring to the ability of the government to control the spread of information. Overall, he concentrated on issues relating to media laws and how the media can organise itself.
Continue reading "The symbolism of blogs"