I'm starting a new category, to talk about things from my past. I used to travel quite a lot, and although earlier on I was 'too cool' to take photos (because that's what 'tourists' do), I do have some. So I'll try to have a picture and few comments about it.
This is my first one: taken in either Berlin or Warsaw in August 1991. I was with S; we had hitched from Brussels to Berlin, and took the train to Warsaw. The Soviet Union still existed then, though it was in its last throes, and the sleeper wagons that came from the USSR had the coat of arms of the United Socialist Soviet Republics embossed on the side.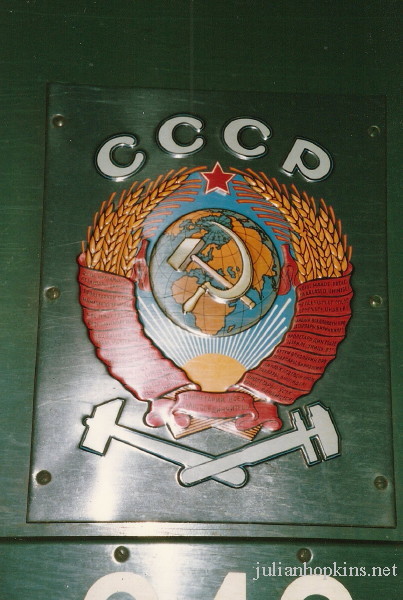 During the Cold War, there was a constant diet of warnings of how the Communists/the Russians/the Soviets wanted to take over the world. I was always suspicious of this propaganda, but later learned more about how deeply the Soviet Communist Party managed to infiltrate many organisations in the West.
This symbol, with the hammer and sickle stamped on the globe, was a powerful symbol of the internationalism of the Soviet/Communist ambitions and it was a bit creepy in a caricatural way.
The writing around the edges translates as "Proletarians of the world, unite!" and it's written in all the languages of the USSR I suppose (
clearer picture here
). It's a slogan from
The Communist Manifesto
by Marx & Engels.