Entries tagged as Miscellaneous
13.56
How to do a 15 minute recap of the year?
Answer - check out the archives on the right if you're actually interested, and here is a potted version.
Travel: only one trip to Singapore - probabably the least travelling I've done since I was fifteen and went on my first trip without my mother to Spain, Morocco, and the Netherlands on an InterRail pass.
PhD: it is a painful process, and I needed to get an extension of 6 months in November. I now hope to hand it in by the end of April, but it's going to be tough. But, as I've been telling myself and telling others - this is my last New Year as PhD candidate! It's Doctorate or bust this year!!
Academic stuff: I'm proud to announce my first (co-authored) published work! We got a chapter in an edited volume of cutting edge internet research - the chapter is "Fielding Networked Marketing: Technology and Authenticity in the Monetization of Malaysian Blogs", and the book is
Nexus: New Intersections in Internet Research

. I'd like to take this opportunity to thank Neal Thomas, my co-author, with whom it was a pleasure to work with, and the indefatigable editors, Daniel Araya, Yana Breindl, and Tessa J. Houghton, who made it all happen.
I also quite liked the article I wrote for
Off the Edge
- '
Not the MSM?
'
Apart from that, and many interesting things such as the SMCKL meetings, getting to know Twitter better, doing two podcasts, the MOST important, literally life changing, thing to happen was of course the
birth of Charlie
! Being a father is a constant source of an unique kind of pleasure, pure affect I suppose (for the Deleuzian amongst you); and also a nagging anxiety about wanting to make sure he is getting the best possible. Anyway, credit where credit is due - WW has and is being a wonderful mother, and the grandparents have been an unflagging source of support for which I am really grateful. And kudos to any single parent out there! I have no idea how you do it!
Happy New Year. Live life. Explore. Acknowledge your fears. Love.
14.11
++++++++++
The 15-minute blog post.
I like to blog, but I can't afford to spend a lot of time on it. Solution: limit myself to 15 minutes per post.
One link, one picture maximum.
All comments, critiques and corrections are welcome. Thank you.
Well the news here in Malaysia is quite exciting - Penang has gone to the opposition, Samy Velu is out...
Anyway, on a completely unrelated note, there's a short piece on
BBC
about a sailor who was on a ship that was sunk by the Germans in 1940. He was pulled out of the water and
They were taken to Narvik and transferred to a German ship where they signed an agreement promising that when they returned to Britain they would not fight the Germans.

"We had to sign a declaration saying we wouldn't take up arms against them.

"That really upset me because of course I wanted to go back."
Imagine! "Ve haff blown a hole in your Englander pig-dog ship and vish ve killed you. But since you made it out, pliss sign this and promiss you von't try to shoot us again. Heil Hitler!"
Then, they let him go! And when he managed to get back to England from Norway
Unable to return to the navy - because of his declaration not to fight the Germans - he joined Ford where he worked as an engineer checking aeroplane engines.
Two things amaze me here:
1. He actually stuck to his word. I wouldn't fell bound by it.
2. He was allowed to stand by it at a time when there was a universal draft.
Was that the true 'British spirit'? Or perhaps he was not judged suitable for other reasons...
Friday, February 29. 2008
Well, I didn't want to inflict it on the world, but here I am in bedroom splendour, denying Eeyore some tasty crisps...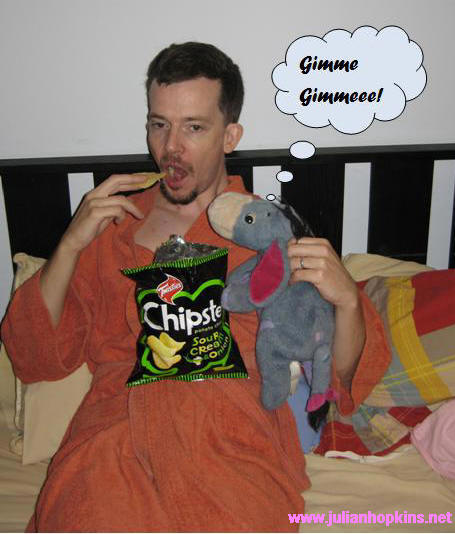 Happy Birthday Nuffnang! And, yes I want to go to the
Pajama Party
please

Thursday, February 21. 2008
I came across this the other day
It's the official seal of the Massachusetts Bay Colony, founded in 1629. You can't see it very well, but the Native American is represented as saying "Come over and help us"…
Interestingly, a Native American is also represented on the current day seal, though without the arrow (originally held downwards in a sign of peace) and no longer pleading to be force fed Christianity and foreign culture.
I wonder how many Native Americans are left in Massachusetts now? 0.6% of the population according to the
2005 census
.
So what you may ask? Well, an article (which I can't find anymore) made the point that the current attitude of Bush
et al.
, that they are doing the world a favour by spreading 'freedom' in Iraq and other places, is very much the same attitude that enabled the colonial nations to simultaneously destroy cultures and exploit people around the world while at the same time sighing about how tough it was to be so good to the natives…
Extracts from
The White Man's Burden
by Rudyard Kipling. It was written in 1889 after America took the Phillipines from Spain (
full text
)
Take up the White Man's burden--
The savage wars of peace--
Fill full the mouth of Famine
And bid the sickness cease;
And when your goal is nearest
The end for others sought,
Watch sloth and heathen Folly
Bring all your hopes to nought.
…
Take up the White Man's burden--
And reap his old reward:
The blame of those ye better,
The hate of those ye guard--
The cry of hosts ye humour
(Ah, slowly!) toward the light
"Why brought he us from bondage,
Our loved Egyptian night?"
Consider some more contemporary comments by American intellectuals (from
here
):
the US "has become an empire, the most magnanimous imperial power ever" Dinesh D'Souza
"And the truth is that the benevolent hegemony exercised by the US is good for a vast portion of the world's population. It is certainly a better international arrangement than all realistic alternatives." Robert Kagan
America has a "uniquely benign imperium." Charles Krauthammer
**Update 22/02**
Here's an
article about the American use of water torture in its colonisation of the Philippines
.
**Update 23/02**
Well, here's a quote that makes the point well I think, I came across it listening to a very interesting
BBC Radio documentary about Arab-Americans Marines who served in Iraq
. It's Bush announcing the beginning of the invasion of Iraq (18 March 2003):
My fellow citizens. At this hour American and coalition forces are in the early stages of military operations to disarm Iraq, to free its people, and to defend the world from grave danger. (George W. Bush)
... thanks, but no thanks mate.
Tuesday, February 12. 2008
I am a bit of an American Idol fan, especially for those first episodes where you have completely deluded people turning up. I guess you could call it taking pleasure from people's misery, but I prefer to call it 'observing the elasticity of aesthetic perception'…
Whatever. I find this time round Simon seems to have softened a bit, which isn't all bad as he is sometimes pretty harsh on contenders. But he has his fans too, and if you've been watching you couldn't have missed Renaldo Lapuz with his own composition "We're Brothers Forever". It's stuck in my head ever since I saw the annoyingly catchy thing.
He's been something of an instant hit,
a là 
William Hung, but as the internet has moved on a bit since then, there has been a slew of blog posts and YouTube remixes already.
"I'm going to make a prediction here, I have a horrible feeling that's going to be a hit record." (Simon Cowell)
I wonder what the ingredients are for this kind of celebrity? It's certainly not based on his singing skills, though he's not completely awful. Let's look at what he has: flamboyant costume coupled with humble manner, sincerity and a catchy song. One wonders whether the fact he's Asian/Chinese has anything to do with it: put bluntly, Asian/Chinese/Japanese can often be seen as non-threatening amusing foreigners… Also probably important is the implicit endorsement of the Idol judges: Paula and Randy sung and danced with him, and Simon made the back-handed compliment quoted above. Notice that William Hung got a "You're the best" from Paula (a video of his audition
here
).
There are issues of copyright, with some YouTube recasts of the American Idol clip being taken down (
here
and
here
). Importantly for Renaldo, his song is an original, so he can use it any way he wants – though apparently he's "under American Idol Contract until May" (
news.renaldolapuz.com
). So he has made
a ringtone
available for free; a game "Where's Renaldo" has been announced, and he is renting out his services – you can have him call your valentine, or have him attend events –
"Get his autograph! Yes songs! He has many original songs and he wants to sing them for all of you! One of them is dedicated to our Mothers!" (renaldolapuz.com)
Let me guess…
Continue reading "Renaldo Lapuz - A millions hits of fame"
Tuesday, January 29. 2008
Well here goes for a quick filler post; I'm still trying to write a chapter on theory that's turning out to be more difficult than I thought...
A poem titled, umm... dunno ... titles are always the last thing I do in a poem... ummm
beauty

The beauty within us
Struggles to survive
Inside is a gem
That is alive

The struggle inside us
Is a mistake
The beauty is spotless
The struggle a fake

01/08

(Page 1 of 2, totaling 11 entries)
» next page