Entries tagged as Malaysia
Wednesday, November 2. 2011
Imagine coming home one day and finding out that your brother has been taken away to do forced labour. You don't know when you will see him again, and you can't go to the authorities for help - because they are the ones who took him away. You suspect they will come for you next, so you take what you can on you back, in a suitcase, and leave your country - not knowing when you can come back.
The army committed human rights violations in connection with oil, gas, mining and hydropower development projects, including forced labour, killings, beatings and land confiscation. (Amnesty International 2011 Annual Report)
Imagine the police visiting the house of parents, who are soon to be 60 and looking forward to a quiet retirement. They tell them that their son has been involved with an NGO, and they believe that he is working with an ethnic independence organisation. They say: 'We will come back here tomorrow, and we want to see him here. If not…' - the threat is clear although unspoken. That night, the parents and the son take what they can on their back and leave to the next country.
The government continued to repress ethnic minorities protesting in relation to the elections as well as those who peacefully opposed the impact of development and infrastructure projects on the environment. Authorities also persecuted ethnic minorities for their real or suspected support of armed groups. (Amnesty International 2011 Annual Report)
All this has happened, and is happening, in
Burma (aka Myanmar)
. Many refugees from there have come to Malaysia - there are more than 90,000 refugees and asylum seekers in Malaysia, most of whom are from Burma.
Unfortunately for them, Malaysia does not recognise them as refugees, and this means that - amongst other things - they are not allowed to work legally. Because of this, in a bitter irony, many of them find themselves in forced labour right here in Malaysia. They cannot go home and they have to survive, so they take whatever job they can find. Often, unscrupulous and immoral employers exploit them as much as is humanly possible - denying them their full wage, locking them up, and threatening them with denunciation to the police (even though they themselves are doing something illegal by employing them).
The next time you get served by a waiter from Burma - think of this:
San (32), an ethnic Burmese asylum seeker, recalled how he was once confined by agents who promised him a job at the hotel. "He kept me at a house with other people from Burma and Indonesia, including 3 women. We were locked in when they went out. The agent said he would give me a job if available. There were three guards in the agent's house." Workers are usually shuttled back and forth from the restaurant to their living quarters. John is housed in a place he refers to as a "hostel," where he is not allowed visitors. He has to share a small room with five other people. (Witness accounts: Forced labour in the Malaysian service industry)
Or imagine how Min managed to keep his sanity when he was 'sold' for RM1,000 (note: an iPhone costs at least RM1,990) to a plantation owner by a restaurant owner who thought he wasn't "presentable" enough to work in the restaurant. He worked - with no pay - for a year, so that he could 'pay back' the money he was 'bought' with:
Min worked 11 hours a day, even when it rained. He was given only two meals every day, usually only rice and leftover vegetables from the plantation. "The boss gave me a container for me to collect rainwater for bath and other purposes." His main job was to spray insecticide, but he was not given a facemask. He even had to use clothes left by previous workers because the boss refused to "spend more money" on him.

Min said that the experience was really hard for him. "At that time, I couldn't even see myself as a human. The situation really drove me crazy and I felt like I wanted to die." It was also during this time that he heard about the deaths of his mother and younger sister. "There was no one for me to speak to. The pain I felt was unspeakable." (Witness accounts: Forced labour in Malaysian plantations)
Unfortunately, there are many more examples like this. In a recent survey, "61% of refugees and asylum seekers who had worked full-time in Malaysia had experienced forced labor." (See the video below.)
You can't change the world, nor help every refugee and asylum seeker out there, but you
can
make your voice and indignation heard. Ask the Malaysian government to recognise refugees and asylum seekers as humans who deserve the opportunity to live with dignity, free from exploitation and fear.
OK a rapid one to talk about the just-announced plan by the Malaysian government. Here are some details:
The 1 Malaysia concept is a brainchild of Najib to bring unity among Malaysians when he took power in April 2009.

Najib disclosed today the email account will allow direct and secure communication between the public and the government, and is part of a new one-stop web portal for government services.

Najib said the portal will be developed by Tricubes and provide services such as social networking, online bill payment and citizen application development to some 16 million Malaysians. (The Malaysian Insider)
It's the first time I've heard of a government supplying emails to its people.
I can see one advantage. I've been reflecting more and more recently about how the convergence of on and offline activities is developing a situation where people move seamlessly between these different spheres of social interaction. With smartphones this can be very obvious (i.e. the person you're talking with keeps tweeting while talking to you), and the directions in which the geolocational affordances of mobile telephony are opening up are as yet unclear.
But there are many other more prosaic aspects of the on and offline convergence: doing your banking online, arranging your party on Facebook, ordering a pizza online. These all require identification, and more and more we are seeing Facebook and Google profiles becoming the default 'ID card' online.
The problem is that these are commercial interests, and one's formal, legal, identity should be regulated by a responsible state. Leaving it up to commercial interests leaves open pathways to abuse. Not least, privacy: for example, I wish that there was a law that said that we can delete **all** our details from any website that we registered with - at the moment, you have to register with many websites just to access their services - imagine if a shop didn't allow you in unless you filled out a form with your name, phone number, etc, first? Why do we have to do it online?
So, the answer would be a centralised (or some form of distributed system, for greater security) repository which can confirm our identity on request (e.g. for age, like when YouTube says the content of a video is not for children), but not **share** our data with the website. In other words, like showing your IC to prove your age at a pub - they don't get to keep all your details, but they know you're old enough.
So, I see a future when there is a state-certified online identity system. It could be done through logging on with a fingerprint detector, or some such highly secure mechanism. Embedded chips why not.
Before you start yelling Big Brother! at me, hold on. I agree it is open to abuse, and some governments are not to be trusted. But if it was a situation where you don't need to identify yourself to surf the web, but if you want, you can use this ID to register with forums, shops, banking online, etc. it could be really useful. A way to protect your privacy. It could also be an effective way of separating children from adult content.
There has to be an iron-clad way of ensuring nobody can track your surfing practices based on your secure identity, i.e. no cookies to follow you around online.
So. The only good reason I can think of having a 1Malaysia email account is that it would be verified and connected to one's IC. Then it could start to be the basis of such a verifiable online identity - to be used as the citizen wishes. But without a really careful plan, and a really secure system, it is not likely to succeed in providing that service.
Saturday, December 11. 2010
Problem: I kind of miss blogging
Problem: blogging takes up time which I don't have
Solution: limit blogging time to 15 minutes
Problem: blogging typically takes more than 15 minutes because I want to provide links, photos, given careful and balanced arguments, etc.
Solution: one link and one photo maximum, don't get hung up with having perfect posts. Warn people that:
**What you see below are my unprocessed thoughts, please
ask me
, or leave a comment, if you want more information or want to question what I'm saying. I may well be wrong.**
Which is what I shall try to do.
14.44
Yesterday I was invited to speak on a podcast,
'Tech Beat'
(there goes the link), which is hosted by John Lim. It was interesting and with interesting co-invitees (or whatever they're called).
Anyway, I listen to many podcasts, and often find myself wanting to butt in, or wondering why the person said what they did. But I found out that it's not as easy as it sounds: I came away from the recording wondering if I should have said what I did, and how I could have said it differently.
There's one thing I want to develop a little more. John asked about the impact of blogs on the political scene in Malaysia, and will they make a difference in the next election. I said something about how they were really groundbreaking back in 2004-5, but now many of the SoPo blogs have lost something of their independence (e.g. Jeff Ooi, or Rocky's Bru), and there are also many more pro-government blogs. I concluded by saying that they may make some difference, but the elections will be decided on other things.
The last statement is obvious, people vote based on a whole host of factors.
Anyway, what I
should have said
was: it's not just blogs anymore. Back in the period leading up to March 2008 blogs were the driving online voice, and they brought a practical information distribution factor that bypassed the MSM, and also a - very important - symbolic energy that encouraged people to speak out and to imagine alternatives.
It's not just blogs. It's all the online media: Facebook, Twitter, blogs, etc etc. These have let the cat out of the bag. The powers-that-be will never have it the same again, where they could control information distribution quite effectively. Historically, it goes back before blogs also, to email and websites during the Reformasi period.
OK, that's it
14.59
A recent statement by the Malaysian Information, Communication and Culture Minister - Datuk Seri Dr Rais Yatim (
Dewan Rakyat: 2 Million Bloggers Proof Of Media Freedom In Country
) affirmed that there are two million bloggers in Malaysia.
I wish I knew where he got that figure – with a population of more than 26m, that would mean that about 7.7% of Malaysians are bloggers. Although I do think that blogs are proportionately more popular in Malaysian than many other countries, I have my doubts about this figure, especially since, of course, not all Malaysians access the internet. In December 2009 there was 31.4% penetration of broadband (
Broadband penetration rate surpasses 2009 target
), and in June 2009, internet penetration was
64.6%
(for more information, many useful stats are available at the
Digital Media across Asia
site). 64.6% of Malaysians means about 16.6m people. If two million were bloggers, that would mean 12% of Malaysian internet users are bloggers.
As a researcher of Malaysian blogs, I have long wanted accurate statistics on the overall Malaysian blogosphere, but eventually came to the conclusion that it is very difficult, if not impossible to get them. In a nutshell, these are the problems:
• Most Malaysian bloggers use platforms such as
Blogger
, and
Wordpress
. These are hosted in the US (I think, but not in Malaysia anyway). Most Malaysian bloggers in my experience do state their location in their profile, but not all. So, a crawl of these sites that picked up profile information would capture many of the Malaysian bloggers, but not all. I suspect this is what
Sysomos
did recently.
• The more serious bloggers usually have their own domain. Hosting is a lot cheaper with American or European companies. Hence the core of Malaysian dedicated bloggers will have their blog hosted outside of Malaysia. And their blogs will not be picked up in crawls of .blogspot blogs, etc.
• Many bloggers have more than one blog. Some will have many blogs. Many of these will be inactive. Any survey of blogs needs to have some measure of how active they are – for example by deciding that one post in the last three months means the blog is active.
• Private blogs (with password protection) cannot be crawled (thanks to
Tim Highfield
for this point).
• A proper survey of Malaysian blogs needs to look for blogs in English, Bahasa Malaysia, Chinese (Mandarin), and Tamil (this is probably the easiest problem to overcome).
Here is a little survey of figures/estimates of the population of the Malaysian blogosphere that I have come across.
June 2010
A
survey by Sysomos
gives some idea of the relative popularity of blogs in Malaysia, but as I
blogged about before
, without more details on their methodology this survey is not reliable. As it stands, it implies that there were either 1.7m blog posts from Malaysia when the survey was done, or 1.7m bloggers. Maybe this is where the Rais got his data from?
October 2009
Around the time of the
Nuffnang Awards
, Nuffnang said in a press release it had registered "more than 100,000 blogs hosted on various platforms", and the Singapore Co-Founder said in a
radio interview
that they had 40K blogs registered in Singapore. A bit of informed guesswork on my part leaves 50K blogs registered with Nuffnang in Malaysia.
In the survey I did last year (
myBlogS 2009
), about 36% of the blogger respondents were registered with
Nuffnang
or
Advertlets
. Taking that as a benchmark, my guesstimate of active blogs in Malaysia is 150-200,000 blogs.
April 2009
The
Young Asians survey by Synovate
was reported as showing that "Malaysian youth are active bloggers with close to half (48%) spending a portion of their time blogging." This refers to those aged between 8-24 years old. One could extrapolate from that how many young bloggers there are, but I don't have an equivalent breakdown of the age of Malaysians.
April 2008
A newspaper article quoted Dr Abu Hassan Hasbullah from University Malaya saying there are 500,000 active bloggers in Malaysia (
Blogging in Malaysia ranks among highest in the world
). There were no more details on the research, and I tried contacting the person quoted, but to no avail.
September 2007
Some research based on Microsoft's 'Windows Live Spaces' (
Research confirms boom in Malaysia's blogging scene
) said that "41% of Malaysians […] own a blog account" – but this is probably 41% of the respondents, and the total number of Malaysian respondents is not known. A good critique that I read at the time (but can't track it down) noted that the Windows Live Spaces blogs at the time had a blog as a default option, and that selecting the option did not mean the blog was active. It was also pointed out that Microsoft had an interest in promoting their new blogging service.
July 2003
The Great Malaysian Blog List
had 393 blogs listed, and the "VOI Blog Directory" had 567 blogs listed. There may have been overlap between these, and overall perhaps less than 1000 Malaysian blogs at the time.
If anyone has more accurate data on the number of blogs in Malaysia I would love to hear from you! For the moment I will stick with my estimate of 150-200 thousand active blogs. But I wonder how come I am estimating so much less than all the other sources, and I could be way off the mark.
Just a quick one to post a scanned copy of an article I had published in Off the Edge last month - it's about blogs in Malaysia and the future of blogs in general, hope you enjoy it -
click here for a pdf
.
OK, the title pretty much says it all

To get an overall view of the history of blogs in Malaysia, and my fieldwork, I've made a table.
Of course, this only represents what I know of, and the events and so that I was able to attend during my fieldwork. There are many many thousands of blogs out there, and I can never hope to cover all of what blogs have been to all bloggers over the years.
So - I'd really appreciate any feeback! Anything I've missed out, got wrong... please tell me!
It's too long to post as a table (or rather, I don't know how to convert the Word table into html), so I've
uploaded it as a pdf
.
Just to give you an idea of what it looks like, here's a screenshot - click on the picture to get the full version!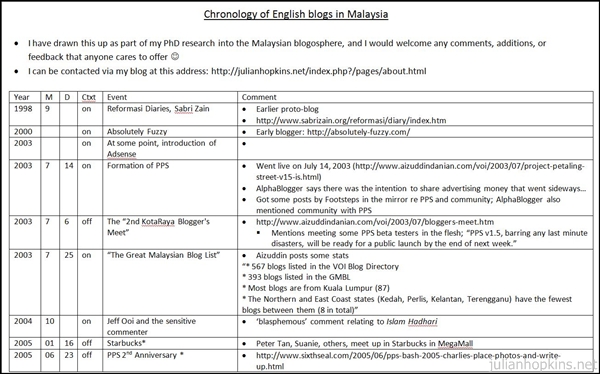 (Page 1 of 6, totaling 32 entries)
» next page