Just a quick one to post a scanned copy of an article I had published in Off the Edge last month - it's about blogs in Malaysia and the future of blogs in general, hope you enjoy it -
click here for a pdf
.
Tuesday, December 15. 2009
Home Minister Datuk Seri Hishammuddin Tun Hussein claimed that some bloggers, unlike local journalists, do not adhere to the rules and ethics of journalism in their bid to garner popularity.

Local journalists adhered to ethics but these bloggers did not, and this was what differentiated the journalists from these bloggers (The StarOnline, 15/12/2009)
I wonder what he would have to say about the two articles in The Star Online that
I blogged about last week
? "
Women with bigger breasts found to be smarter
" and "
Boob-staring good for men
" - both of which, through a simple Google search, can be proved to be fictional tabloid 'news' of the poorest quality.
Actually I had only noticed the latter article when I first blogged about it, but then another blogger (
Chang Yang - My Little Moments
) commented that he had seen a very similar one - and written to the Editor about it. Which reminded me that that was the responsible thing to do - maybe there's a rogue journalist, an inexperienced intern, or someone like that, who made an honest mistake. So I wrote to the Editor too.
Chang Yang sent an email on, or before, the 15 November; and I sent one on the 7 December. Well, frankly, I'm gobsmacked that the articles are **still** online!



I can't believe that there isn't someone in The Star who has the responsibility for reading 'Letters to the Editor', and who wouldn't do a simple double check of the articles! A serious newspaper's credibility, and revenue, depends on the accuracy of their reporting.
But then, given the hostility that the mainstream media often shows towards bloggers, I wondered whether it might have been because I mentioned blogging about it in my letter (though Chang Yang didn't)...
So, I thought I'd give it another try - here is the email i sent today, to editor@thestar.com.my
Dear Editor,

Two pieces carried by your online edition over the last two months are factually incorrect, and reflect the poorest journalistic standards. The articles are:

1. "Women with bigger breasts found to be smarter" (Compiled by WINNIE YEOH, NURBAITI HAMDAN AND A.RAMAN, 12/11/2009) - http://thestar.com.my/news/story.asp?file=/2009/11/12/nation/5092076&sec=nation
This is an invention that was originally reported in the "World Weekly News" in 2003. A simple Google search will confirm this.

2. "Boob-staring good for men" (Compiled by WINNIE YEOH, A. RAMAN and TEH ENG HOCK), 5/12/2009) - http://thestar.com.my/news/story.asp?file=/2009/12/5/nation/5241171&sec=nation
This fictional 'research' has been circulating since 1997. See this link for more information: http://www.snopes.com/humor/iftrue/breasts.asp

These articles have now been referenced by other newspapers and wire services, with The Star being quoted as the source. I think that you should investigate them and rectify the situation, in order to make sure that The Star's reputation does not suffer.

Yours sincerely,

Julian Hopkins

Address:
xxxxx
Kelana Jaya
Petaling Jaya
47301 Selangor

Telephone:
xxxxxxx

Anyway, this will be the last I post on the sorry affair (noting,
en passant
, that
The Sun's circulation has now surpassed that of The Star
).
Saturday, December 5. 2009
It's often been argued that one reason for the popularity of blogs in Malaysia is the restrictions on the mainstream media (MSM) by the government, which uses laws such as the
Printing Presses and Publications Act
, and
ownership by political parties
to ensure a compliant fourth estate.
That seems straightforward enough. But an interviewee (a popular blogger) surprised me by saying that she also thought that the poor quality of women's magazines explained why some blogs that talk about fashion, makeup, etc. are popular. There's no political reason why a woman's magazine should be mediocre: that's only explainable by poor management and/or insufficiently trained manpower.
Anyway - thanks to a tweet by
@kruel74
, I have come across one of the worst examples of journalism I can remember. Inspired no doubt by the sensationalist potential, The Star online announced "
Boob-staring good for men
" (
click here for a screenshot
)
Both Sin Chew Daily and China Press reported that a German research published in the New England Journal of Medicine showed that men ogling at breasts for 10 minutes a day was equivalent to a 30-minute gym workout.
Perhaps they were a bit dubious about this patently ridiculous claim, so they made a pitiful attempt to cover their butts
However, it was reported that reporters had attempted to search the article in the journal's website but failed. Thus, there were doubts whether there was indeed such an article in the journal.
First of all, if there are doubts that it is true, why the heck publish it? The only journalistic reason to do so would be if it was deemed to be of major importance to the public. Is a puerile booby-joke worth infringing basic journalistic fact-checking ethics? I don't think so!
Second. GOOGLE! Within two minutes, I found it on
Snopes
- the primary source for debunking c**p like this: this particular "Important if true" snippet
has been circulating since 1997
.
It's not surprising that readership numbers for newspapers are constantly slipping! THREE newspapers managed to print this rubbish!
As a lecturer, I find these kind of poor standards a real barrier to convincing bright, eager and willing students to uphold the highest standards, to not copy and paste, and to look for examples of good practice to follow. For their own self-worth, and to represent Malaysia to the world.
Anyway, I guess the silver lining is that they won't have to try very hard to be better than those they will hopefully replace...

**Edit**: Another blogger Chang Yang who commented (below) found a very similar piece of shoddy journalism in The Star a month ago, it was (probably not coincidentally) also about women's boobs:
"Women with bigger breasts found to be smarter"
sigh... (
click here for a screenshot
) He was more responsible than me, and
emailed the editor
- but to no avail apparently, the article is still online, and being
recirculated and requoted
by other people (most of whom, including bloggers, haven't bothered to check either - but then again, they're not paid to provide reliable information).
**Edit 07/12/09**: more evidence supplied by
Bintulu.org
This 'story' was also apparently picked up by
Asian News International
, and republished in
DailyIndia.com
; and
asiaone
via
Asia News Network
. My feeling for the two 'wire' services (ANI and ANN), is that they have automatic RSS feeds that come directly from The Star. Anyway, now this story has been given credence (for the credulous) by a leading Malaysian newspaper, cited in each occasion as the source of this story.
Last Friday was the preview of
Star Trek
, and
AMBP
had organised a gathering of Trekkies, Trekkers, and Bloggers. This was the second AMBP gathering I attended, last year
here
.
The event was emceed by the very capable DJs from Red FM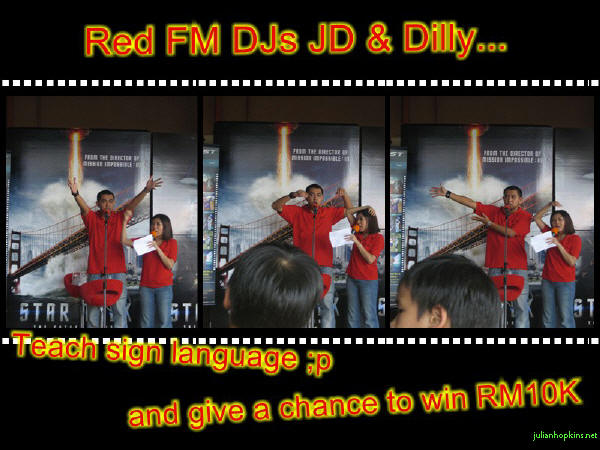 and of course Trekkies/ers were in evidence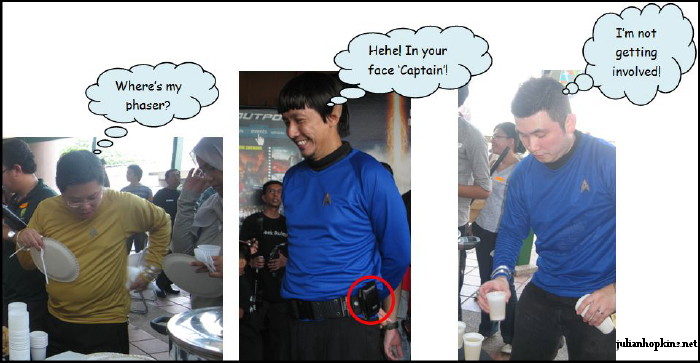 There was a treasure hunt organised, which I thought was pretty well put together - but I was by myself and it took well longer than I expected, so I had no chance to win the
Gopher GPS
which was the first prize. While I was going around the mall searching for clues I saw these happy shoppers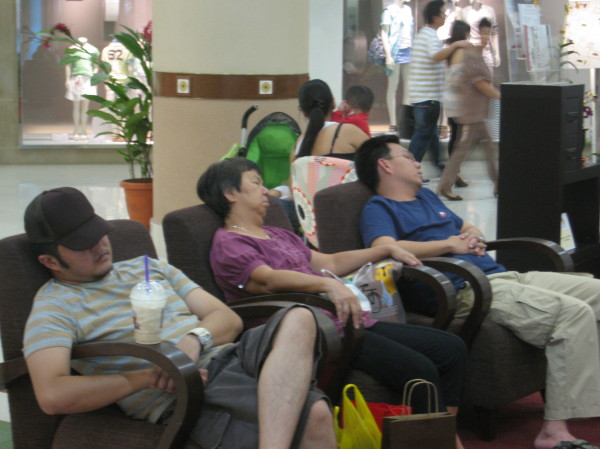 I also met
Horng
,
KY
,
Suanie
and
Josh Lim
! There were bloggers everywhere!
Afterwards, we took the opportunity to camwhore with Captain Kirk's chair
Continue reading "Star Trek Camwhores"
I've been meaning to blog about this but many things are happening...
Anyway, as readers of
joshuaongys
or
*fourfeetnine*
may have noticed, I appeared in an article by NST ten days ago.
Being interviewed was new to me - I've been asked my opinion on blogs a few times (e.g. by the
Committee to Protect Journalists
, the NST (last year sometime) and malaysiakini.tv - but nothing ever seemed to come out of it. This time, the journalist turned up with a photographer and the interview lasted almost an hour - with the photographer hovering around and snapping away constantly. It was an interesting chat, but it made me realise one thing for future reference - the journalist knows less about the subject than me, and therefore may not always be able to ask the right questions. No disrespect to the journalist here, who did a good job condensing my ramblings into coherent and concise points: it's a journalist's job to get information obviously, and if they knew everything they wouldn't have to interview people. But it made me understand more how politicians and people in the public eye must approach journalists - wanting to make sure that their own message is heard, whatever the journalist actually asks.
Another thought is how, as a blogger, I have already got quite used to putting stuff out there for all to see - which was initially a little worrying sometimes. With the interview it was different, however, because I had no control over what was written - the journalist was kind enough to do 'quote check' and show me the draft article for feedback, but in the end she could write whatever she wanted. With a blog I can think about it beforehand, and even if I want take it down afterwards (though that's not usually a good thing for bloggers to do).
Anyway, you can read the article and tell me what you think (click to enlarge).
In terms of research ethics, I also found myself thinking about how much I can say - I have done a few interviews with bloggers already, and learnt some things during them. But part of the conditions of the interview are that I only use that information for academic purposes, and also that I keep the information anonymised. So, for example in relation to how much people are paid for advertorials, I actually have more specific information but I thought that I had better not use it.
But in fact - not at all. It's been noted before (e.g.
by ShaolinTiger
) that appearing in the newspaper has little to no effect on incoming blog traffic; the same happened to me. See on the 18th (when the article came out) there is no change, but I got a huge boost of about 1800 hits on the 21st from
Audrey
whom I had mentioned in my Top 10 (check her out – refreshing attitude and daily whatevers are her thing). This really suggests one thing - people who read newspapers don't read blogs much, and vice-versa.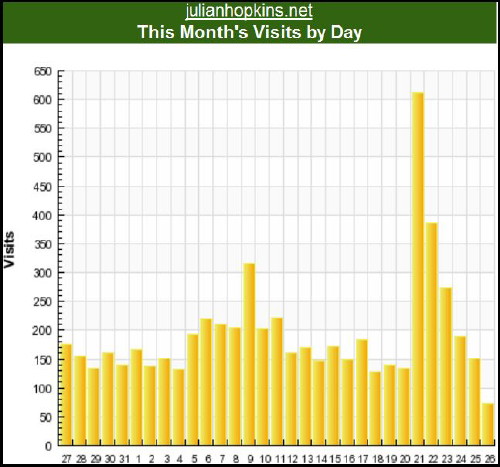 So, it's interesting to see how there are so many similarities between blogs and newspapers - they use words and images, they appear regularly and articles are written by individuals - but there are key differences. The blog is under the control of one person (with whom the readers can have some sort of direct relationship), but a newspaper is a large organisation; and although in theory they may share similar interests and concerns, their audiences are from different groups.
Wednesday, February 4. 2009
OK I'm dead tired - been a long day and tomorrow will be too. But here is my thought for the day.
Going back to 2004, when I first started blogging (you couldn't upload pictures to Blogger in those days), blogs were not well known at all. Mention 'blog' to average Joe and Jane in Malaysia, and they would be clueless.
Fast forward to 2009 and 'everyone' has heard of blogs. Even if they have never gone on the Internet, if they follow the news they will have heard of them. But they may not know much about them - in fact, they are most likely to assume that blogs are politically motivated tools for attacking the government
à la
RPK
.
In fact, however, most blogs are written by young (under 25) people, and cover relatively mundane topics such as films, shopping, restaurants, thoughts on life and friends, etc. Politics come very little into them (not to say that the bloggers mostly don't care about politics, but they don't talk about it much on their blogs in any case). For a sample of this kind of blog, check out Nuffang's
Innit
.
And, something your average Jack and Jill don't know either, some bloggers are making decent amounts of money from hosting advertisements and writing advertorials.
So - how did the SoPo blogs help the advertisement industry, in spite of the fact that most of them don't have ads? Well, this is just a tentative thought, but when you think of it, the main way in which blogs got more well known was via the political aspect – this is what first got noted in the MSM and so on. Later on other types of blogs started popping up in the press too - 'hot bloggers', food bloggers, drug blogger,...
The oldest newspaper clipping I seem to have is from 26 February 2006 - 'Bold Bloggers, Beware!' in The Sunday Star Education section; and Shaolintiger was one of the earlier bloggers to be
featured in a newspaper
in May 2005. But the first time I remember seeing Malaysian blogs mentioned was after Jeff Ooi was investigated in late 2004 because of a religiously sensitive comment about Islam Hadhari (ironically, it turned out to be a Muslim who had made the comment...) - this story first broke in
Berita Harian
on October 2, 2004 (more details
here
).
So in a way the SoPo blogs attracted the attention of the MSM, which generated the publicity which enabled lifestyle blogs to penetrate public awareness and attract attention from advertising agents, etc.
Just a thought...
(OK done my post for the day!

)
(Page 1 of 2, totaling 8 entries)
» next page