Entries tagged as Current Affairs
Saturday, February 5. 2011
I got this picture from the BBC, and it interested me because it made me think of the practicality, the logistics of organising protests.


For any military campaign to succeed, communications and supply lines are vital. In this case, the communications are probably more important, as the individual protestors will get their own food and water.

Imagine if you are a protestor. It's no fun, and it's scary. Your mobile phone must be a real source of comfort and support, and you get information that may warn you of attacks, and boost morale when Mubarak shows signs of conceding. And they are crucial in coordinating actions. Though of course it has to be noted that when the government shut down (or severely limited) mobile phone networks and the internet, they continued all the same. It is a testimony to their commitment and fortitude, and I wish them all the best.


17.43-17.59

++++++++++
The 15-minute blog post.
I like to blog, but I can't afford to spend a lot of time on it. Solution: limit myself to 15 minutes per post.
One link, one picture maximum.
All comments, critiques and corrections are welcome. Thank you.

Thursday, January 14. 2010
I love listening to podcasts - they are a great way to use some of that downtime in an interesting way - when you're driving, walking the dogs, cooking, and so on... I can listen to my favourite programmes whenever I want, pause them, rewind, turn up the volume (great for people like me with hearing problems), etc.
If you're wondering how to get podcasts, the first thing to know is that
You don't need an iPod to listen to podcasts!
(obvious to those of you who know, but not obvious to all). A podcast is just an mp3 file that you can download and listen to on any mp3 player, your phone (if it plays mp3 files), or on your computer, and some home stereo systems. If you have the proper equipment, and your mp3 player supports it, you can also transmit from an mp3 player to a car radio.
If you do have an iPod, then it can connect seamlessly with
iTunes
to update automatically when you connect it to your computer. But, you don't need an iPod to use iTunes - I like iTunes as it does really useful things like organising all my sound files in neat folders for me. It also makes subscribing to podcasts very easy.
When you subscribe to a podcast, this means that you tell iTunes (or other software too I suppose, but I never used another) to check online regularly and download the latest podcast. Most sites that offer podcasts also have a 'One click subscribe to iTunes' button which makes life easy.
Here are some of my recommended podcasts:
•
On Point with Tom Ashbrook
: a daily phone in talk show from NPR (public radio) in America. Invites knowledgeable guests and covers a range of subjects. A bit America-focused, but generally interesting, and I've learnt a lot about America too, since I've started listening to it.
•
BBC World Service
has many, including:
From Our Own Correspondent
: BBC's foreign correspondents do random stories that are not necessarily breaking news. Great snippets and insights into all parts of the world. My long term favourite.
Interview
: half-hour interviews with interesting people - politicians, business leaders, activists, celebrities...
Crossing Continents
: "On the ground reporting from around the world which focuses on the human dimension of the big international stories."
Examples of other choices are:
World Book Club
;
One Planet
;
Newsweek (Cantonese)
;
World Business News
•
Radio 4
Thinking Allowed
: Laurie Taylor usually has the author(s) of books on history, and social sciences, and host analytical conversations about the world we live in.
In Our Time With Melvyn Bragg
: "The history of ideas discussed by Melvyn Bragg and guests including Philosophy, science, literature, religion and the influence these ideas have on us today."
Woman's Hour: News, Politics, Culture
: Sometimes interesting daily programme on 'Women's issues'. I listen to it mostly for tips on bringing up children, but it also discusses other issues related to women - legal issues, art, whatever...
• Tech/Geek stuff
Digital Planet
: Weekly BBC techie podcast, with the latest on gadgets, and the effects of technology on society.
The Digital Edge
: local Malaysian weekly discussion on all things techie, geeky and related industry matters; hosted by
@johnlim
.
This Week in Asia
: Weekly
Singaporean-based
Singapore/Malaysia based techie discussion with a regional focus (thanks
@Cerventus
for the clarification); similar to The Digital Edge.
Digital Campus
: More or less bi-weekly. Based in George Mason University, academics discuss issues related to Digital Humanities - with a particular focus on history, libraries and museums.
Supernova Hub
: regular high calibre discussions with leading academics, business people and technology experts - you can learn a lot here!
Yi-Tan Weekly Technology Call
: this came highly recommended, but has yet to live up to expectations I'm afraid. The site is a bit messy, but if you want to subscribe via iTunes,
click here
.
TED Talks
: also highly recommended, but all online streaming video as far as I can see. TED means 'Technology, Education, Design', and there are regular top speakers (e.g.
Tim Berners-Lee
) who impart wisdom in relatively short talks.
• Finally,
The Teaching Company
has many great lecture series with proper academics teaching everything from
"Einstein's Relativity and the Quantum Revolution: Modern Physics for Non-Scientists, 2nd Edition"
(I actually understood quantum physics for a while!), through a
"History of Ancient Rome"
,
"History of the Bible: The Making of the New Testament Canon"
, to the
"Roots of Human Behavior"
. They're not free, but if you're lucky you may find someone with a copy to share.
Kim Jong-il, aka 'The Dear Leader', is a despot who lives in a world of luxury while presiding over famines, poverty and despair. Not to mentioning being responsible for kidnappping, blowing up a civilian airplane, and having a ridiculous perm
Apparently, he is something of a superhuman, for example writing six operas in two years and - when he was born - "The event was reportedly marked by a double rainbow, and a bright star in the sky." (
BBC
).
The personality cult of the Kims in North Korea is in many ways a reproduction of pre-existing religious practices - photos are treated with the reverence of religious icons and/or ancestral tablets and his presence is (reportedly) an occasion for emotional outbursts.
Not much to laugh about there, really, but this comment by an Italian chef made me laugh:
In 2004, he described to the BBC how he had given lessons to three army officers who took copious notes and asked detailed questions such as how far apart olives should be placed on each pizza.

Mr Furlanis said Kim Jong-il may even have visited one of the training sessions, being held on a ship anchored offshore.

"I am not in the position to say whether it really was him, but our chef, who had no reason to fib, was, for the space of several minutes, utterly speechless," Mr Furlanis said.

"He said he felt as if he had seen God, and I still envy him this experience." (BBC, emphasis added)
Hehe

The [Justice] minister [Mr. Chinamasa] said Zanu-PF would not allow an opposition victory, as this would be what he described as tantamount to slavery.

Asked whether the will of the people would be subverted should Mr Mugabe lose, Mr Chinamasa said: "If people attempted to unfree themselves, moves would be made to free them." (BBC, my emphasis)
In 1984 by George Orwell (
full text here
), one of the slogans of the Party is " Freedom is Slavery" and in one scene Syme, a colleague in the Ministry of Truth, explains some of the concepts of Newspeak and how it is aimed at eliminating free thought:
...what justification is there for a word which is simply the opposite of some other word? A word contains its opposite in itself. Take "good", for instance. If you have a word like "good", what need is there for a word like "bad"? "Ungood" will do just as well -- better, because it's an exact opposite, which the other is not....

How could you have a slogan like "freedom is slavery" when the concept of freedom has been abolished? The whole climate of thought will be different. In fact there will be no thought, as we understand it now. Orthodoxy means not thinking -- not needing to think. Orthodoxy is unconsciousness.' (Source)
Once again, I find that George Orwell managed to define the essence of totalitarian ideology and practice. How it requires an embracing of ignorance coupled with a sophisticated intelligence that identifies enemies and manipulates thought even at the most subtle psychological levels.
Unfortunately, with the statement above by Mr. Chinamasa, we can see that the arrogance and ignorance of those who deny humanity's most intrinsic defining nature - the will to question and seek knowledge - is still alive and well in the 21st century.
Well, not particularly sweet, but it's short and it makes its point - I'll reproduce it in full here:
The Threat of Section 1222

By James Rothenberg

31/01/08 "ICH" -- -- The White House has given ever-shifting rationalizations for invading and occupying Iraq, running the gamut from a claim of self-defense to a purported mission of bringing democracy and thus freedom to the citizens of that country.

Dissenters claim that the two central tenets were instead the establishing of a permanent military presence in order to control Iraq's oil resources.

Who's right? The White House or its dissenters? Recently some new evidence has been uncovered. Firsthand source material.

Lets listen to Bush:

"Today, I have signed into law H.R. 4986, the National Defense Authorization Act for Fiscal Year 2008… Provisions of the Act, including sections 841, 846, 1079, and 1222, purport to impose requirements that could inhibit the President's ability to carry out his constitutional obligations to take care that the laws be faithfully executed, to protect national security, to supervise the executive branch, and to execute his authority as Commander in Chief. The executive branch shall construe such provisions in a manner consistent with the constitutional authority of the President."

The President is claiming that Section 1222 could inhibit his ability to defend the Constitution, so he claims the right to ignore it. The drafters of the bill were also sworn to defend the Constitution. What are the requirements in 1222 that the White House finds so inhibiting?

Here is the entire text of 1222:

No funds appropriated pursuant to an authorization of appropriations in this Act may be obligated or expended for a purpose as follows:

(1) To establish any military installation or base for the purpose of providing for the permanent stationing of United States Armed Forces in Iraq.

(2) To exercise United States control of the oil resources of Iraq

No, this is not a formal confession from the White House. But it is as formal as you can get.

James Rothenberg - jrothenberg@taconic.net
(Source)
I wanted to double check the text of 1222, thinking that maybe the author did a bit of selective editing - but it's exactly as he said, in
The Library of Congress
.
So Bush is saying he either wants to establish a permanent base in Iraq, or "exercise United States control of the oil resources of Iraq"> I think it's the first that's the real problem for him, as the second is never going to be done directly and formally, but as much control as possible is exercised via the oil companies that have been guaranteed advantageous contracts in legislation passed by the Iraqi government. See
Blood and oil: How the West will profit from Iraq's most precious commodity
, or
Whose Oil Is It, Anyway?
(free registration needed).
Wednesday, October 31. 2007
I wrote before (
here
and
here
) about the American government beating the war drum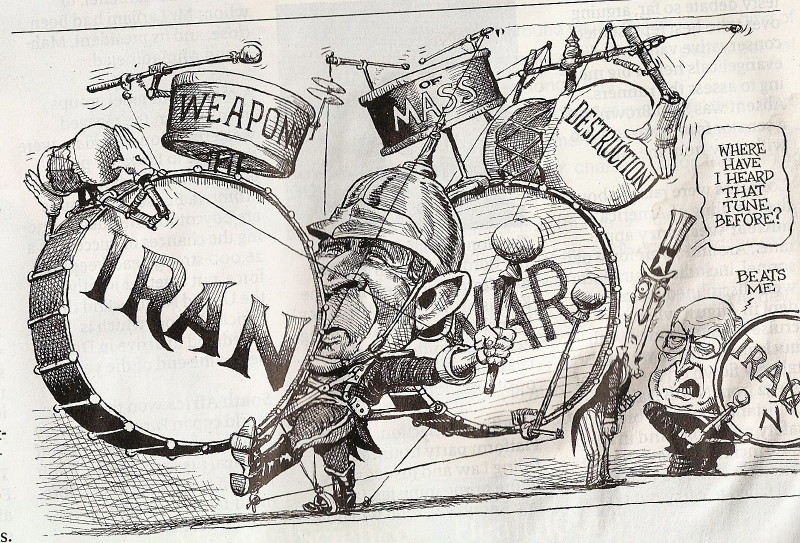 The Economist. 27 Oct-2 Nov.
An article by Seymour Hersh
gives a detailed outline of American activities in relation to Iran, and apparent preparations for an attack there. Read it: as usual he is lucid and believable.
The article suggests that the Americans know that they cannot sell a 'WMD' argument to Americans, so they need some excuse – to be able to attack in defence. Such an excuse could come from events in Iraq or Afghanistan, or even in Lebanon/Palestine/Israel, though that would be pushing it.
Amongst other things, a "European official" is quoted as saying: "once the Iranians get a bloody nose they rethink things."
Continue reading "More war?"
(Page 1 of 3, totaling 14 entries)
» next page