A few weeks ago (been meaning to blog about this before, but am busy) I got the chance to attend a talk by
Datuk Mohammad Nor Khalid
, or as most people know him, Lat. A national icon, he articulates the many facets of Malaysian society through his evocative cartoons.
He gave an interesting talk, going over his own life story, and making a few comments on the development of cartoons as an art and Malaysian society. Listening to Lat was almost like reading one of his comics, I felt myself slipping into a warm, cosy, other place, where hearts are bared on sleeveless arms and friends meet after school to play into the evening. It reflects the power of art, and Lat's artistic skill, that I could feel the nostalgia even though I am not Malaysian. His rendering of scenes of his early life, evoked that sentiment of cosiness which in me is associated with winter afternoons in a warm room, playing board games or reading a favourite adventure story.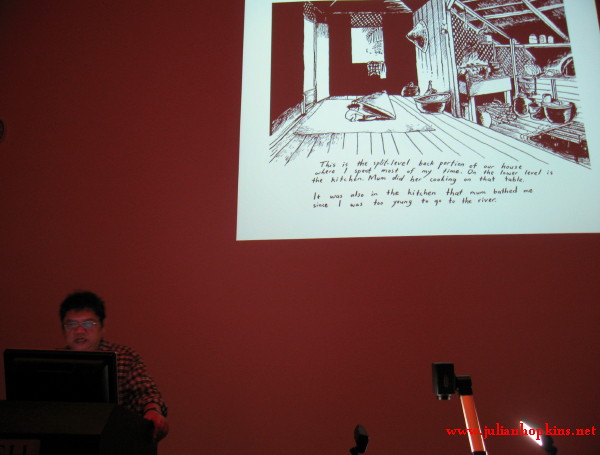 I was introduced to Lat's cartoons in 1987, the first time I came to Malaysia, and it helped me to understand many of the subtleties of Malaysian life. One cartoon I remember is where you see a news reader looking serious, with shirt and ties and reading the news; in the next picture, you see he has finished and is walking away from the desk, revealing his sarong. Maybe this is the essence of what Lat represents in his cartoons, reminding many Malaysians of their roots in kampungs and the chaotic developing cities of the sixties and seventies.
Continue reading "Lat - Malaysia's Cartoonist"