One of the main concerns that has been expressed regarding the recent Facebook IPO is whether or not it can monetise its massive user base properly. As Rushkoff (I think) has said, all of us who are on Facebook are its product, not its users. Our personal data is number crunched and requalified as advertising targets.
If you want to see this in action, just try changing your gender, or your age, your location or other data, and see the ads change.
There is a new feature on Facebook now that enables you to promote your posts (
all details and pics taken from here
).
So - in the example given. You take any post and say how much you want to spend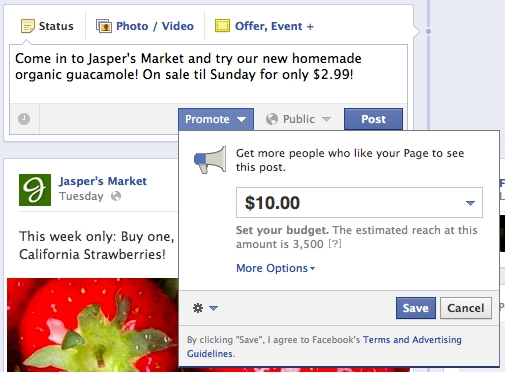 Then…
All promoted posts will show in the news feeds of the people who like your Page and, when they interact with the post, to their friends. These posts will be labeled as "Sponsored" in the news feed. Promoted posts will not be shown in the right-hand column of Facebook.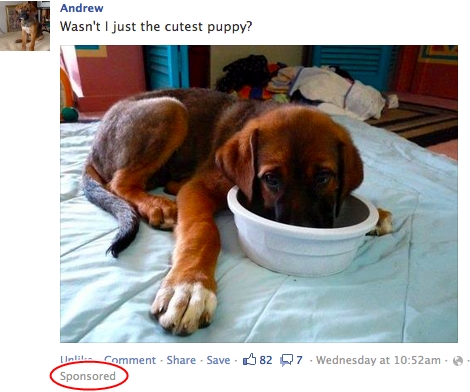 Your promoted posts will be seen by a larger percentage of the people who like your Page than would normally see it. It will also be seen by a larger percentage of the friends of people who interact with your post.
So – I guess this means that if you liked a page once, and never went back there (as happens), then instead of no longer showing up (as your feed is more likely to show those you regularly interact with) it will suddenly pop up. Also, it will be pushed to more of your friends.
It's not for everyone, you need to have at least 400 likes on your page, and it's limited to posts that you have done in the last three days. But the money is am "lifetime budget" so I guess if you pay a lot of money upfront it can keep running for a long time.
Also:
Just like with regular ads and sponsored stories, promoted posts will be reviewed by our Facebook Ads Team, but generally they should start running as soon as they're created.
I suppose this means that they do an automatic check for inappropriate content.
What does this mean? Well, just like all media we are going to have to get used to tuning out the advertisements, though these updates will look at first glance just like a normal one. By the time you have checked for the 'Sponsored' tag, you will have taken in much of the content. I doubt that Facebook will give you the option to not have any of these sponsored posts. One response could be to unlike the page, which may happen in some cases but most people will probably just live with it.
Over time, the interleaving of your personal posts and friends' posts with sponsored posts will highlight the commercial nature of Facebook, and therefore tend to make people more likely to leave to another service if they have the options.