I was lucky enough to be able to attend the
AMBP Smashin' Gathering
last Saturday. There were some interesting talks by bloggers
Kimberlycun
,
Peter Tan
and
Aizuddin Danian
(who founded
Project Petaling Street
).
Kimberly mentioned how blogging had 'changed her life', which also includes getting an all-expenses trip to Thailand next month (*jealous*) - she started with the Xanga platform back then and eventually went public with her name because "Narcissism is necessary... (her tagline) and what's the point of getting all that attention if people don't know who you are? Makes sense! Peter Tan mentioned how using a blog enabled him and other disabled people to reach out and complement the MSM in a significant way: we had a chat afterwards and reminisced a bit about the old
blogwar
days, which was when I first came across his blog; he also said something that sparked off a good idea - thank you Peter

. Aizuddin basically told the story of PPS, which initially was not meant to be for everyone, just for some selected bloggers. He's been a blogger since 2001!
Vin Sen from
CinemaOnline
talked about integrating Facebook and cinema marketing - one thing that surprised me was that companies can use Facebook features without paying for them, for example creating an event as a film or something. Finally,
Rohan Thomas
demonstrated a new Microsoft online service,
Popfly
with which you can 'mash' websites together and do fancy things like bringing your photos from Facebook onto your blog in a slideshow (there's an example on his
blog
, but it doesn't seem to work very well, or takes ages to download, or something). You can also make games. The principle of the application is that you don't have to write any code, but still, it looked like it would take a little learning to get used to it. I was impressed though, and it's a sign of things to come.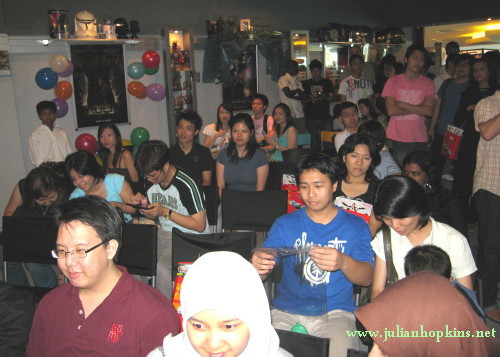 It was pretty full, and refreshments were provided - afterwards (above) there were multiple giveaways of tickets and cinema merchandise.
Attending 'blog meets' is very important for my research - it means I get to meet bloggers in person and, in a way, compare on- and offline patterns of behaviour. One thing I find kind of weird, is how you can talk about things with someone you haven't even met before - Reed explains it well
one of the consequences of meeting is a renewed faith in the continuity between texts and persons. At blog meets individuals find themselves launching into topics of conversation that they first picked up from visiting weblogs; instead of having to spend twenty minutes catching up, they find they can go straight to what they want to talk about. (Reed 2005:236)
I guess it's really just a lesson in how wrong it is to assume that online interaction is fundamentally different to offline - after all, it's still just people sharing thoughts and experiences and chatting together.
So when I met
Shaolintiger
and I saw he was doing some professional photography, I could reminisce about when he started, how his first camera got stolen, etc. Anyway, another thing I thought about was how I've been to meets organised by All-Blogs, Nuffnang, and AMBP and mostly I don't see the same people in the different meets - do people choose to 'affliate' to one group or the other? Though one person who was in two of those was
joshuaongys
, and there are surely others I don't know.
After that, I spotted
David Lai
doing the spoon bending trick. It's the first time I've seen it up close and it is very impressive - it's not just illusion by moving the hands around or something - the spoon is really bent! I didn't see where he got the spoons from, but they seemed completely normal when I handled them after. Then he did the clock trick: Shaolintiger held his watch between his hand, he asked for two random numbers between 1-60 - got 48 and 15, minused one from the other and when Shaolintiger opened his hand the minute dial was on 33!
Here's what I imagine was going on in their heads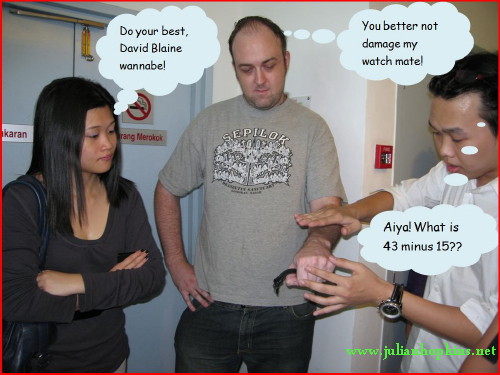 OK that's it from me, here are links for more if you like:
Before the event
Websites Made Simple:
Free Movie Screening of Hulk The Movie Today
sashi-isms:
http://sashi.wordpress.com/2008/06/08/ambp-smashin-gathering-for-bloggers/
After the event
Tallboyz:
AMBP Gathering, Increadible Hulk & The Happening
Daily Jots @ d2zone.net:
A Smashin' Gathering and a Movie
Hello, My Name Is Alice:
Alice was at the Smashin' Gathering for Bloggers! BUT...
Imbloggerash:
Smashin Gathering For Bloggers
Itulah Aku:
All Malaysian Bloggers Smashin' Gathering
*Joe~CooL*:
Smashin' Gathering for Bloggers
Joshuaongys:
Smashin' Gathering For Bloggers by AMBP
Joyce's Photoblog:
Smashin' Gathering for Bloggers
... who also pointed out an interesting aspect of the competition between Nuffnang and Advertlets
here
nenebubuchacha:
Sunday, June 15, 2008
Used "otomobil" review...:
I WON, I WON... Thanks to The...
**Update 18/06/08**
Adding some more posts on the gathering:
Dustyhawk :: Broken Mirror:
Gamma Rays and Chips with Fish
The Ranting Cynic:
AMBP Blogger Gathering
**Update 19/06/08**
CinemaOnline:
Smashin' gathering for Bloggers
++++++++++
References
Reed, A 2005, "'My Blog Is Me': Texts and Persons in Uk Online Journal Culture (and Anthropology)."
Ethnos
, vol. 70, no.2 pp.220-42, viewed 5 February, 2007
.

Trackbacks
Show preview

Well, I know I'm too late for the Wild Live Blogging, but I couldn't come up with any ideas before and I've been busy. But last night we had some fun with our dogs At the AMBP Smashin' Gathering we were given Shrek headbands (to be worn with caution t
Show preview

Last Friday was the preview of Star Trek, and AMBP had organised a gathering of Trekkies, Trekkers, and Bloggers. This was the second AMBP gathering I attended, last year here. The event was emceed by the very capable DJs from Red FM and of course